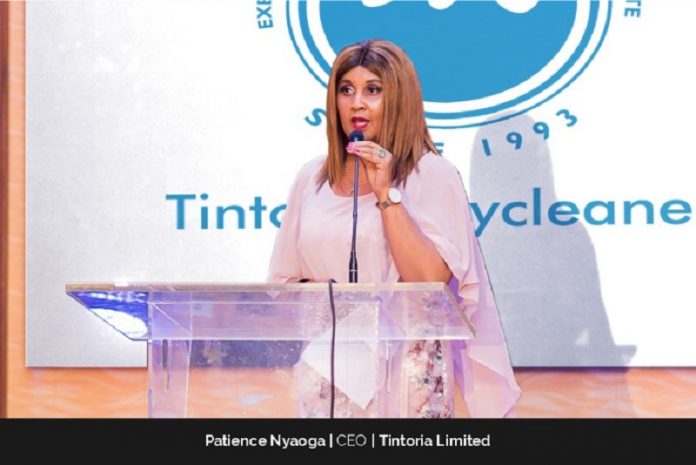 Patience Nyaoga, Managing Director and Owner at Tintoria Limited, founded the company to serve a purpose put in her heart and be able to join the business world. Her mission is to offer professional dry cleaning and laundry services and to maintain quality standards and customer services at affordable rates.
Established in 1993, Tintoria Limited offers a full range of cleaning services to suit their customer's business and budget. The company's vision is to be an environmentally friendly, world-class quality service enterprise, and the first choice for dry cleaning and laundry, utilizing state of the art technology.
Patience's vision for the company is to become No.1 dry cleaning service in Kenya and all-over east Africa, and possibly Africa, providing access to world-class services in dry cleaning and laundry to people in that part of the world, and to be a great institution.
A focused, supportive, and disciplined upbringing
Brought up in a family which had a strong value system, with consistent discipline and personal management skills, Patience had a focused upbringing, so it's no surprise that her primary objective in life is to be focused.
"We keep the focus. I was brought up in a family where I was a disciplined child and I feared my parents, as they were strict and had set very high standards for me, as the first-born child," she recalls. When Patience was growing up, she was always a confident child, thanks to her supportive parents who believed in her and her choices.
"I did not want to disappoint them. In the end it worked out for me. While I was doing it for them, it benefited me. I was guided by the Bible verse, Ephesians 6 verse 1 to 3 that says, Children obey your parents, so it may be well with you."
She says, "I had to overcome my fears and limitations, and I chose to follow my dreams and calling. But, by the grace of God, through prayer, the fears were overcome."
Patience believes that you must have a dream that drives you like Esther and have passion for your dream to take you through the challenges that will emerge.
"Never give up on your dreams. Let God be your guide, in both family and business," she advises.
Learning the skills required to build a successful business
Patience believes that success is being able to achieve a certain purpose, and while qualification is one of the tools of building a successful business, it's not the only one. She lists several factors that went into to successfully building Tintoria Limited:
Capital
Business acumen
A network of customers
Good workforce
Qualified staff
Strategy
Innovation
Creativity
Consistency
Goodwill
Family Support
Tintoria also maintains a competitive edge by building a good image through branding, and they stand out from the crowd by offering personalized and quality service to meet their customer's needs and wants in a timely manner, ensuring that their customers get value for money.
"We're guided by a code of conduct for staff, and company rules and regulations. Also, ethics is a major driver of our business. I have the necessary management and marketing expertise and experience, computerized systems in place, and steadfast, consistent support from my staff and family," says Patience.
She points out that having a savings culture is another important factor that goes into creating a success business. Having the mindset to set aside funds in order to achieve business objectives is necessary, and savings must be intentional. Business is service to others, and it requires commitment to others, including employees and customers.
Patience observes that business, at large, is a challenging venture and requires certain skills. One of these skills is financial discipline and prudent management of resources.
"Many women who lack this skill struggle in business. To be able to achieve these, funds are a prerequisite and it would be useful to have investments which can be liquidated in case of emergencies and cash. Therefore, investment in other assets is a good practice," she recommends.
Building a leading launder & dry-cleaning company in Kenya
Tintoria Limited (www.tintoria.co.ke) was established in 1993 as a private limited company and has grown to be one of the leading launders and dry-cleaning companies in Kenya. It specializes in executive dry cleaning, as well as institutional and commercial laundry and dry-cleaning services.
Tintoria's growth has been characterized by adding on corporate clients and opening up of new outlets that adequately address the increasing demands of their clientele. They focus on offering high quality services, with exceptionally high standards maintained at all times, always working towards achieving their mission and vision.
Tintoria's main factory and head offices are located in Nairobi, Kenya, along Westlands Road, off Mpaka road, which makes them strategically placed to respond to their customers' needs within their branch network. The company operates six days a week, from Monday through Saturday, from 8 am to 6 pm. They remain closed on all Sundays and public holidays.
Tintoria's branches are also strategically located to serve as collection points, where customers enjoy the comfort of delivering their laundry at a branch near their homes. Their collection services are also available at home or office, by dialing 0718 845 645 (charges apply).
Tintoria's branch locations are as follows:
Soin Arcade building, Westland's Road (Factory & Head offices)
Spring Valley Shopping Centre – Lower Kabete Road
Arrow House, – Koinange Street (City Centre)
Karen Triangle Mall – Karen Road
Village Market, – Limuru Road
ABC Place, – Waiyaki Way
Lavington Shopping Mall – James Gichuru Road
Parklands Sports Club – Ojijo road
Tintoria's factory is equipped with modern and high-quality machinery to ensure superior quality. These include brands such as Firbimatic, Ghidini, Camptel, and Indorsmach imported from Italy, and Nybort from Denmark.
Utilities, chemicals, and detergents are imported where necessary to ensure quality output by the machines, and their personnel treat all garments as per the sensitivity required.
Other materials are obtained from reputable international companies with branches in Kenya. With their high-quality machines and able personnel, the company is able to provide prompt, efficient, and courteous services to its customers.
Providing customers with quality assurances for peace of mind
Tintoria's highly trained staff are geared to ensure a pleasant, safe, and healthy environment for their clientele, providing services from dry cleaning, laundry, launderette, and light office cleaning to deep institutional cleaning, seat and carpet cleaning.
For their clients' peace of mind, pre-cleaning analysis on all items is done to ensure the correct procedures are followed, and post-cleaning analysis is carried out for quality assurance.
"Reflecting on the past two decades in business, what comes to mind are the opportunities where we've played a significant role for our esteemed clients. Along the way, we've worked through some very difficult times too, like the aftermath of the COVID-19 pandemic and the financial crisis/recession," notes Patience.
Tintoris has several permanent employees, all of whom are well trained technically and experienced in their respective fields. Their members of staff get frequent training from four Kenya consultants, including Diversey and Recours, to keep them updated with new developments, both locally and internationally.
The back-office staffs include the Management, including the Managing Director, the entire finance and administration office, and the marketing and the operations manager.
Tintoria also has pressers, machine operators, sorters, and a tailor that does some minor repairs at a small fee upon the customer's request, to ensure delivery on the cloths is much better than they found them. They also have a transport department, office messengers, and accounts staffs.
"We have excellent customer care staff that takes care of the customers' needs and ensures delivery of service to customer specifications. All these personnel maintain proper records and ensure reports are submitted periodically, as required by the line departments," says Patience.
To allow faster delivery of services, Tintoria Ltd. maintains a fleet of vehicles for collections and deliveries to and from their corporate clients. The services offered are value adding, which include:
Executive dry cleaning for business attire, casual wear, ceremonial attire etc.
Laundry services for commercial and corporate institutions, hotel industry, furnished apartments, educational institutions, etc.
Launderette services
Carpet and curtains cleaning
Cleaning of household furniture, office furniture, and car seat accessories
Minor tailoring and repairs
Office and house cleaning
Delighting customers with excellent customer experience
Over the years, Tintoria has enhanced customer engagement, and aligned with excellent customer experiences and measureable results linked to overall great service and a delighted customer.
"We're guided with our vision and mission of the company, as well as the code of conduct for our staffs. In an effort to be thoughtful, careful, and visionary about decision-making in Tintoria Limited, we feel it is important to set forth the processes and guidelines for each line department so that the end product is viewed by our customers as work perfectly done," notes Patience.
She also observes that the core values of the organization define how best they conduct the business and maintain it as the image of quality laundry and dry-cleaning services. These core values are:
Integrity – Tintoria Ltd. recognizes the benefits of having high moral standards and being honest in dealing with our customers.
Quality – Tintoria Ltd. strives to be a leading laundry service provider in terms of quality.
Professionalism – Tintoria Ltd. recognizes the benefits that accrue to our customers, suppliers, and staff when we do things professionally.
Teamwork – Tintoria Ltd. recognizes the benefits associated with sharing expertise, time, energy, and resources.
Creativity and Innovation -Tintoria Ltd. intends to be a nimble, flexible, and dynamic organization, able and willing to adapt to the evolving needs of members, and the shifting landscape of technology.
Diversity – Tintoria Ltd. includes multi-type shops, which operate locally and serve a diverse clientele, including personal and corporate clients. Tintoria Ltd. recognizes that their customers may have diverse missions, disparate resources and distinct needs. Decisions undertaken on behalf of the organization are made with the greatest respect and support of these differences.
Accountability – As a norm, it has been our joy to present the final product to our esteemed customers in a better way than we found them. We have always ensured that:

White items brought for laundry remain pure white.
Garments are smooth, soft, and smell fresh and clean.
All dirt on the garments is removed.
Cloths are neatly pressed and put on hangers.
There is no seam shine, no wrinkles, no dirt around trouser pockets or underarm sections of coats and jackets.
There are no collar creeps.
Patience remarks that Tintoria Limited has a competitive edge, and that without the key stakeholders i.e., suppliers and manufactures who usually advise and update them with new products and developments, it would be difficult for the industry to survive.
The company also sponsors trainings and workshops with suppliers and stakeholders to demonstrate the use of new products introduced to the market. "We plan to continue giving executive service to our customers and follow after our target market as per our strategic plan," declares Patience.
"To be an environmentally friendly world class quality service enterprise and first choice for dry cleaning and laundry utilizing state of the art technology"
Gaining recognition as an influential woman leader
Patience remarks that Tintoria Limited has also received several awards in recognition of the quality executive services that they offer to their customers, including the corporate world. The one she's most proud of is the Special Congressional proclamation, as well as the CELD Global Inspirational Women Leadership Award.
"This automatically qualified me to be inducted into the Global Women Leaders Hall of Fame. In the same vein, I was pleased to be informed of my emergence, after a critical selection process, as one of Amazons Watch Magazine's Top 100 Most Influential Women in Emerging Economies. This made me proud and humbled," she states.
Patience also observes that maintaining a balance in personal and professional life is a give and take scenario. "I have always strived to keep this balance between family and business, though it is not always easy to achieve a perfect balance due to various dynamics. I have shared responsibilities, as I cannot do everything on my own. I'm grateful for a supportive spouse and good workers generally. I believe in relationships that build you up," she concludes.