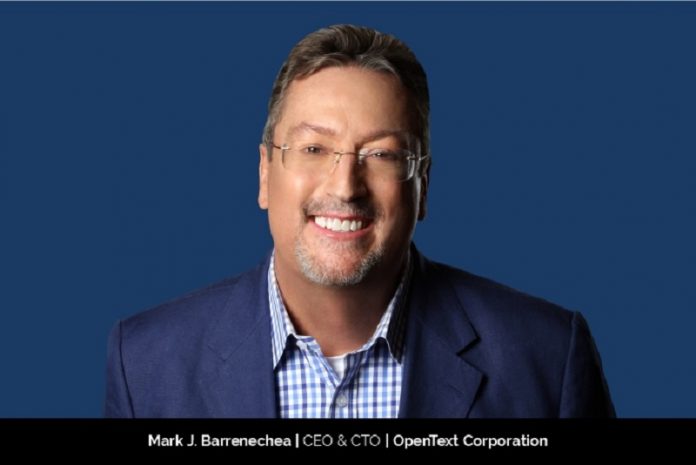 Mark J. Barrenechea is the CEO and CTO of a global top ten software company and Canada's largest software company, OpenText. Since assuming the position in 2012, Mark has driven incredible growth as the company has transformed into a Cloud business and continued to push the boundaries of information management.
As a world leader in information management, OpenText helps companies in securing, capturing and governing information on a global scale. Mark's innovative ideas and commitment to exceeding customer expectations have helped the company to scale exponentially during his tenure.
Mark's role as the CEO and CTO of OpenText reflects his background as an engineer, and his belief in the importance of innovation in driving company growth. In an exclusive conversation with Mark, we have captured his insights on technology, the changes that have occurred over the past year, and the role of OpenText in this important and fast-changing industry.
What is your perspective on the challenges we have faced over the last year?
Over the past year and a half, COVID-19 has brought about not only a health crisis but also economic and social crises that have exacerbated inequalities that already existed in our society.  At the same time, we are going through the fastest technology disruption in the history of the world. The shift to Industry 4.0 had already resulted in a huge increase in connectivity, automation, AI, and computing power.
I believe that these converging factors together are resulting in what I like to call the 'Great Rethink'.  For society, this means we need to find new and better approaches to healthcare, diversity, social justice and environmental issues.  And for businesses, this has highlighted the importance of digitization and automation. If you hadn't already invested in digital transformation, it is now more crucial than ever.
This past year has been incredibly challenging, but there are also lots of reasons for optimism. The innovation we have seen during the pandemic has been staggering. Consider how we went from being unaware of COVID-19 to the ideation of vaccines, to development, approval, and now, distribution and immunization, in only a year.
"The learnings from this grand experiment have been—for many companies—surprising, powerful, and even an affirmation of our collective resilience."
How should companies be thinking about this moment?
The pandemic will eventually end but work from home – or work from anywhere – is here to stay. Direct-to-consumer has exploded. Contactless is the new normal for every customer experience, from payment, to pick up, to delivery. Supply chains are going digital, becoming more mobile, and regionalizing.
The pandemic has also forced a huge shift in time-to-value. Five years ago, companies would wait two years to deploy an ERP system. Now, the expectation is that you will have a solution in weeks, or even days.
Organizations need to respond by fundamentally rethinking their approach to both business and technology. First, everyone must invest in digital transformation. Projects on the IT wish list for years are now central to the fundamental success of the business. Second, organizations need to be more agile, flexible, and empathetic to the needs of employees, customers, and partners.
We have never moved so fast, yet we will never move this slowly again. Change is going to continue to come quickly, requiring agility in every process from procurement to HR.
Tell us in brief about the services of OpenText.
OpenText was founded 30 years ago to commercialize search technology from a University of Waterloo project to digitize the Oxford English Dictionary. Since then, we have moved from search, to web-based document management, to a much broader approach to Information Management in the Cloud.
Information Management is about organizing, storing, connecting, and analyzing information to help companies become more intelligent, connected, and secure.  We create cultures of knowing through software.
We have recently simplified our offerings to five clouds, four deployment options, and one technology platform, called OpenText Cloud Editions. Our five Clouds are: the Content Cloud, which powers modern work, the Business Network Cloud, which connects  global commerce, the Digital Experience Cloud, which creates modern consumer engagements, the Security and Protection Cloud, which strengthens cyber resilience, and the Developer Cloud, which provides developers access to Information Management as a Service.
Our goal is to empower growth in organizations of every size, by maximizing the value of their information through a cloud-based, fully integrated information management platform.
"It's clear that information management's time has come. Our vision at OpenText is to build the most comprehensive information management cloud platform in the world. With the introduction of our new architecture, Cloud Editions, we are able to deliver on that promise to our customers. "
How has this past year changed OpenText specifically?
Because we had invested in digital solutions and processes, flipping the switch to remote work was seamless from a technology perspective.
Throughout the pandemic, we have supported our customers in delivering vital services. This has included supporting pharmaceutical companies in conducting vital R&D remotely, helping manufacturers shift their supply chains to respond to global changes, and empowering companies to communicate effectively with their customers.
Overall, we have 75,000 enterprise customers, 11 million cloud subscribers, and 100 million end-users, and we have been able to support them all seamlessly over the past year. We have transacted trillions of dollars in e-commerce, and in the last quarter alone we had more than 500 professional service deployments – all managed remotely.
We also used this time to improve our own cyber resilience, deploying our own Carbonite back-up solutions to every employee endpoint across our company. In this way, we can ensure that our mission-critical information is protected and available to our more than 14,000 employees, wherever they are working.
We will go back to the office when it is safe to do so, but it will be a hybrid approach that takes advantage of what we've learned over the past year. Innovation benefits from proximity, and our offices will remain important hubs for us, but we also know that we can be productive remotely – and we plan on taking advantage of that flexibility for employees and talent recruitment.
What are the core values of OpenText?
At OpenText, our belief is that information and knowledge make business and people better, and we aspire to be the leading cloud-based Information Management company. To do this, we empower digital businesses of all sizes to become more intelligent, secure and connected.
Our passion is to deliver customers compelling innovations that provide a competitive advantage, to provide passionate, skilled and diverse employees an inclusive environment where they can thrive, and deliver shareholder value through growth, profits and capital efficiency improvements.
Underpinning all of this is the OpenText Way, and our core values: Be deserving of trust, Sweat the details, Aim high, We not I and 'the unexpected wow'.
How do you ensure a culture of innovation in your team and in the company?
When it comes to innovation, you need to be curious, always be learning and seek diversity of thought. Translating ideas into great products or services at scale across an organization requires a culture of Intellectual Bravery.
This is the culture we strive to implement at OpenText, and some of the key elements include: being a serial innovator, taking your finger off the fear button, encouraging others to think beyond their roles, as well as having a transparent and constructive approach to feedback. Most of all, it means being fearless.
As leaders, we need to create vision and strategy, and to connect that strategy to great execution.  By living at the intersection of great people, great ideas and driving results, we can foster this culture.
Can technology be used for good?
I fundamentally believe that innovation, information and technology can be for the good. Whether it is optimizing visual displays to improve cancer detection, storing vital data to aid the UN's response to refugee crises, or tracking materials to support ethical supply chains, OpenText products are helping businesses to make a difference.
I have the honor of leading a team of more than 14,000 employees located in 35 countries around the world, and seeing them step up to help our customers and communities over the past year has been truly inspiring. This included small, local initiatives, as well as the launch of our Voyager Fund, which donated more than $1M to food banks around the world.
This past year, we also launched our inaugural Corporate Citizenship report to track the progress we're making on environmental, social and governance goals. We look forward to reporting back annually on the important progress that we're making.
"At OpenText, we believe that we can make positive changes for the businesses we work with and the communities we live in".
What is your message to aspiring business leaders?
Be your best advocate. Find your passion and take control of your path. Career paths are not like ladders. A ladder implies a straight path―a singular path, organized and straightforward―and to advance up the ladder one needs to knock others off. Career paths are more like obstacle courses. You need to weave and navigate as the terrain requires.
Be endlessly curious and build the most influential network of friends, colleagues, and associates. When people find their passion, they do their best work, and are fueled to find self-fulfillment. This too, makes the world a better place.
After many years of success, Mark is best defined as a humanist, technologist, and a mentor. But above all, he is a life-long learner, with a passion for continuous innovation. His desire to create and lead has helped grow OpenText into the market leader in Information Management and make him an inspiring CEO for these turbulent times.