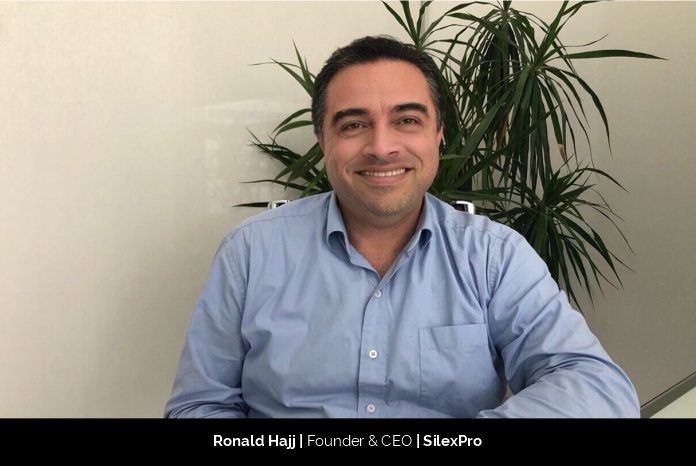 Technology is changing everyday with the adaption of innovation. Albeit, we love the traditional or conventional way of operation, but we also crave for something new that simplifies the process more efficiently. When it comes to the functionality of a huge business, the existence of technology is a need to avoid manual errors. With a view to improvise businesses these days, Ronald Hajj, CEO and Founder of SilexPro started his innovation journey in the field of visual communication and group collaboration. SilexPro is the successful outcome of more then 25 years of product experience and knowledge that has led the company to becoming one of the leading companies in its field. The company specializes in integrating some of the latest technological trends into businesses. We are privileged to feature the professional success of Ronald, as he shares his journey with us.
The Idea that Led to the Foundation of SilexPro
Technology can be classified as constructive or destructive. A constructive technology is any technology that enhances the way we work or serves our societies to leverage the human values and strengthen the social bonds. A destructive technology is one that destroys our human values and our societies, such as weapons. Ronald has always been passionate about constructive technology and strongly believes that a real positive technology helps strengthen our natural behaviors and our bonds with nature. In the visual communication and collaboration field, technology should help connect people from around the globe in the most natural ways. Ideally, people should feel as if they are sitting in the same place and around the same table.  This innovative thought led to the founding of SilexPro.
Ronald foun­ded Sil­exPro with the objective to enh­ance the w­ay people ­communicat­e and coll­aborate ove­r video, a­nd to make­ group vid­eo meeting­s more nat­ural, m­ore enjoya­ble and ce­rtainly more product­ive. SilexPro quickly accumulated key experience in designing and integrating customized complex full-fledged smart conference rooms. Then with the change and evolution of the market trends towards smaller and more flexible huddle rooms, they saw the need to create a new generation of visual collaboration endpoints.
Their accumulated experience gave them an edge to create advanced solutions combining the technologies already available in the market and their own. Thus, the company invested their ability to integrate advanced personalized features into large complex environments in creating their unique Silex PTE products.
Like every other company, SilexPro too had their challenges to face. Battling with traditional mindsets was one of the primary huddles they had to overcome. People try to stay in their comfort zone and may not venture and try new concepts and technology easily, this creates resistance to any change even if it is positive. When you create a new concept, it is imperative that it should be coupled with market education and awareness. Market education on a large scale was the second challenging impediment as it requires good marketing plans and strategies and usually big investments to spread the idea.  However, SilexPro was determined to overcome every challenge and they did so under the resourceful guidance of the leadership and the hardwork of a skilled team.
The Pro Services of Silex
SilexPro has a proven experience in designing and integrating customized complex full-fledged smart conference rooms. This gives them an edge to create advanced solutions combining the technologies already available in the market on their own. As a result, they can integrate advanced personalized features into large complex environments to create customized and unique smart collaboration rooms.
SilexPro was among the first companies to introduce its' clientless CYOD (Connect You Own Device) concept. Today, they continue in this track, with their new ClickShow systems. Their innovative solutions, and unique designs with the advantages they offer draws the attention their potential customers.
SilexPro has designed the Silex PTE which are unique all-in-one group collaboration systems to be used in the center of the table. The Silex PTE video agnostic systems offer a single hardware for all platforms and are currently the only devices that provide a truly natural group collaboration experience while leveraging the video client of your choice.
The Silex PTE new generate on endpoints were designed from scratch to include the following:
Multiple interactive touch screens providing a seamless multi-sided whiteboarding experience, and an exceptional viewing experience.
Multiple cameras (3 or 4) for a 360 degrees coverage of the room from the center of the table
Central speakerphone for radially symmetrical coverage
Intelligent 360 degrees voice tracking
Wireless presentation system based on market standards like Miracast, Airplay and ChromeCast.
The Silex PTE systems, will leverage group collaboration experience on any platform and add the following advantages:
Agnostic videoconferencing (gives greater compatibility)
Zero installation required
Win 10 based (allows an intuitive usage)
Excellent room coverage from the center of the table with a perfect framing of participants (up to 360 degrees – no more partial coverage problems)
Perfect Eye contact
People perfectly framed by the cameras (and they all look the same size on video)
Intelligent 360 degrees voice tracking from the center of the table (covering all directions of the rooms)
Effective Center of Table collaboration and annotation without leaving your seat
Best viewing experience (everyone sees the screen from the same distance)
It Takes a Great Leader to Build a Successful Company
Ronald graduated in 1993 as a Telecom engineer, and worked as a technical engineer in the Data Communication field, till late 90's. Since early 2000, he focused on video conferencing and video collaboration, and Unified Communications solutions, acting as reseller/distributor for companies like Aethra, Sony, Avaya, Polycom, and many more. In parallel to his main job, in 1995 he started teaching Telecom and Multimedia at university. This parallel track helped Ronald discover the fire and passion in young students. In 2013 he started exploring this promising potential, and in 2015 he started SilexPro with some partners who believed that they can bring about a positive change in the UC and video collaboration market through innovation. Their marketing Slogan at SilexPro is "Innovation, beyond imagination" which perfectly reflects their philosophy.
As the CEO of SilexPro, Ronald's favorite role is "dreaming" and driving innovation. "I always "dream" and keep stretching my own and my team's imagination, for new ideas that can help enhance meeting experience and natural video collaboration. Some dreams/ideas cannot be fulfilled today because of technology limitations, so I focus on those ideas that can be fulfilled with the foreseen technology.", says Ronald.
His other responsibilities as CEO include, driving the team with great passion, driving the daily business, and the company profitability. Ronald is proud of his passionate team at SilexPro who strongly believe in their ability to positively disrupt the market with innovative ideas.
"When I see how customers are using and benefiting from our technologies, I just feel proud! When we develop and introduce new concepts to the market, I just feel proud! This feeling of pride gives me and my team all the needed energy to overcome all the challenges and keep growing and growing…" Ronald adds.
The Upscaling Graph of the Company's Success
SilexPro, is growing in three main areas:
Designing and building Smart meeting spaces
Designing, building and promoting Center of Table collaboration systems (Silex PTE), which makes video collaboration experience much more natural and enjoyable and productive
Promoting clientless CYOD systems
Enhancing video collaboration experience and productivity through AI
Ronald metaphorically compares the growth of the company with the growth of Cedar trees. Cedar trees growth is relatively slow compared to other trees in nature, but this tree is extremely strong and resilient, and could easily live for 1000s of years defying and resisting to all nature's harsh conditions. Since its inception in 2015, SilexPro has been steadily growing, despite all harsh market conditions in this period. Their strong roots (experience), coupled with their flexible adaptive market approach, will help SilexPro drive faster growth in the next few years.
The Distinctive Features of SilexPro
SilexPro stands out of the crowd with their new Center of Table (CoT) concept, that makes the group collaboration experience feels more natural. They are actively promoting the Silex PTE series which are agnostic all-in-one Center of Table (CoT) visual collaboration systems.
SilexPro is the first company in the market who dared to defy the traditional ways of conducting video meetings by introducing its disruptive true all-in-one Center of Table concept. SilexPro believes that meetings can be conducted more naturally, and people can be much more engaged during video meetings when the remote participant appear in the center of gravity of the meeting (which is the center of the table).
Additionally, a lot of new collaboration platforms are being introduced nowadays like: WebEx Teams, SFB/MS Teams, Zoom, Videxio, Avaya Equinox, and others. Most of the hardware video endpoints are linked to one of these platforms and cannot be used with other platforms. The Silex PTE products are conceived to be agnostic and work on any platform and they are natively compatible with any flavor of WebRTC solution. These factors distinguish SilexPro from the lot.
A Vision of Achievement forms a Motivated Team
SilexPro's vision is to merge Innovation, Technology and Elegance to create a unique engaging meeting experience, virtually involving all senses. Their mission is to allow their customers to enjoy a better meeting experience. Passion for what they do, and the pride of their accumulated achievements keeps the team motivated to keep performing better each day. SilexPro is a small seed that is creating a positive disruption.
SilexPro is introducing new concepts to the market, like the Center of Table collaboration concept. "Comfort zone" culture is the main challenge that they still face. However, through market education, and getting more and more customers to use their solutions and discovering the great benefits, and through them spreading the word to the whole world, is an efficient way to overcome this "fear of change" culture.
The Path to a Favorable Future
Wide spreading of the business relies on a few main aspects that the company will focus on:
Keep on enhancing the company's "addictive" products and technologies and make them more appealing and more addictive. (when customers start using and enjoying Center of Table collaboration coupled with smart AI features, they will never go backward!)
Organically growing their chain of committed resellers and distributors across the globe
Steadily proliferating in new huddle spaces: It is very important to mention that when customers buy their products, they do not need to buy any other component for the huddle room. Because everything is built-in in their product. (touch screens, cameras, speaker, wireless presentation system, all-in-one PC,…). So, when you get into a huddle room, SilexPro become the absolute rulers of this smart space!
Despite all challenges the future of SilexPro looks promising. Ronald has a remarkable description about the future of the company. "I'm working with passion to organically grow my venture. When it grows, it will be more visible, and when it becomes more visible, it will certainly attract the attention of bigger fish in the market, and open their appetite… This is the harsh reality of the market and we must accept it. So, either it gets swallowed by a bigger fish (who hopefully will put more muscles to drive my concepts further), or in case it manages to escape this fate, it will join the big fish club! In both scenarios, I hope that my mission to drive positive changes to the way people meet and collaboration will be successfully accomplished!", Ronald says.
SilexPro explores technology with innovation and new trends to enhance and better customer experience. Their products, services and solutions are unique that foster positive and efficient outcome. The team of SilexPro is all set to create history in the book of innovation under the expert guidance of Ronald and the future indeed is promising, as they lead the way to be a pro of the industry.