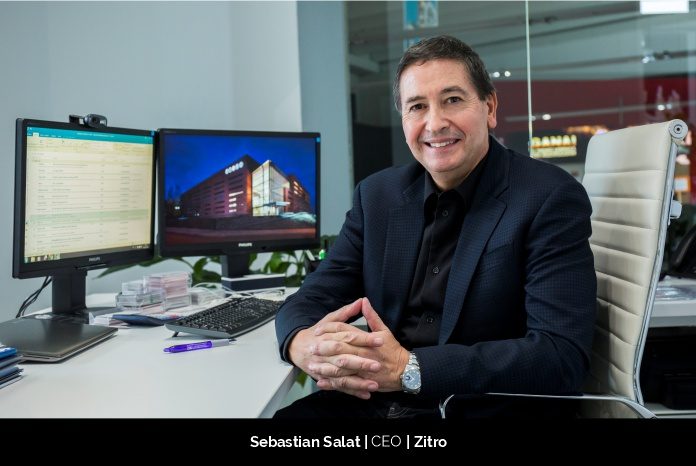 Having a vast 35+ years of extensive working experience with big giants in the gaming industry, Sebastian Salat, CEO of Zitro, is well-versed with all the ins and outs of the domain. Besides focusing on market expansion and catering to customer's needs, he grabs new opportunities to keep a steady flow of innovative ideas in his company and pave the way to the top.
Stacking up bundles of experience
Sebastian was a young engineer in electronics when he joined CIRSA, one of the largest European slot machine manufacturers and casino operators. In that company, he worked for great, inspirational leaders. They taught him the greatness and excitement of the gaming industry, and he was gladly abducted into it.
He spent 16 years as the managing director there and gained valuable experience. From CIRSA, he moved to WMS Gaming, Inc., now part of Scientific Games, where he was President International for another 16 years. Then, Johnny Ortiz offered him his current CEO position at Zitro. Besides that, he has been a Board Member of Grup Peralada for 18 years. Grup Peralada is a large Spanish casino operator with casinos in Spain and Latin America. All these top-level positions allowed him to gain valuable insights into the gaming domain and evolved him into a seasoned leader.
He stresses the point by adding, "I have had the privilege to work for great leaders and mentors that opened my mind and heavily impacted my career. They somehow crafted my management style. I am still learning today from Johnny Ortiz's passionate personality and his determination to accomplish the goal to grow Zitro as one of the global gaming industry leaders."
Rising against all odds
Sebastian believes that challenges certainly stimulate creativity and force people to see things from a different perspective. They also help people to discover what they are capable of to a point they did not even know. When he was working for WMS, back in the year 2001, the team had a major software issue that put the company almost out of business for one year. He adds, "Our stock sank, and both regulators and customers were very upset with us. We were forced to put in place a technology improvement plan to get out of that hole. One year later, we launched an impressive state-of-the-art platform and multiple innovations that totally changed the gaming industry. Thanks to the challenge of that software roadblock, our company reinvented itself, and we managed to become a recognized market leader in a record time."
Overview of Zitro and its Innovative services
Zitro was founded in 2007 by Johnny Ortiz. Beginning with video bingo gaming machines, the company managed to continuously move forward and expand its product list. At the beginning of 2016, Zitro initiated a new beginning with the presentation of the first video slot games. More recently, they also committed more resources to develop their presence in the online markets through the Zitro Digital division.
Today, Zitro is a world leader in the gaming industry. It has conquered some of the most diverse markets, and is recognized as a point of reference in technology, innovation as well as profitability throughout the world. Zitro stands out from the competition due to its team of super talented professionals that come up with great ideas and later turn them into terrific products, thanks to its ability to use the utmost cutting-edge technology.
Solid Culture and Unique USPs
Fostering a strong culture where cross-pollination occurs via internal and external channels, Sebastian always tries to maintain a culture where candid ongoing communication is a cornerstone to promote company growth. They also listen to their customers, employees, as well as partners for gathering their ideas, suggestions, and needs. This compiled information is what fuels the company's innovation engine ahead.
He adds, "Since Zitro is a relatively new supplier, we understand there is only place in the market for us if we manage to offer distinct, high-performing products. How do we do it? Zitro has a huge participation footprint spread across three continents. This is not only a solid recurrent revenue business but an extremely powerful tool to know the players better and identify their likings by exposing our newest innovations to them before we commercialize any product broadly." Thus, they make it a point to always keep testing all their new products rigorously prior to making them available to 3rd parties. This makes them commercialize ultimate games that possess a high quality and are proven to engage more people.
Steering Zitro to New Heights
As the CEO of Zitro, he is particularly focused on Zitro's International expansion and growth. For him, every day holds a new set of responsibilities and challenges. Owing to this, he constantly interacts with all the teammates in charge of the international operations in Europe, Latam, Asia, and the USA, as well as carries out intense interactions with a plethora of departments such as Product Management, Game Development, Engineering, Compliance, Manufacturing, Legal, etc.
Sharing his best recognitions, Sebastian considers the gratitude of his employees and the appreciation and friendship of all the happy customers as his chief achievement.
Enjoying his work, he is glad to see how his efforts are paying off in the form of Zitro's growth internationally. He is happy to meet different customers from a myriad of continents. Even all his employees are driven by similar feelings. They know every new machine placement is an opportunity to gain another supporter for their company, and it is another step towards their ambitious goal of being one of the top gaming industry leaders.
He has a unique success definition, which defines his overall work ethics. He states, "Success can be measured with the number of people that are able to live a better life because of what you have created. Business success, wealth, and recognition are, in a great manner, the consequence of caring for your employees' needs and respecting and supporting your business partners."
Charting the future roadmap of Zitro
Having attained a dominant position in Europe and Latam, Zitro has much more to offer since they are expanding their work in other continents. He wants to help Zitro to emerge as a global leader. He mentions, "To be part of an exciting project, like Zitro's, is not just a job, it is a true privilege."
Feeling satisfied both financially as well as witnessing Zitro's upward growth trajectory to build a mid-size company into a serious World-class contender, he is all set to embark on the exciting journey that lies ahead of them!