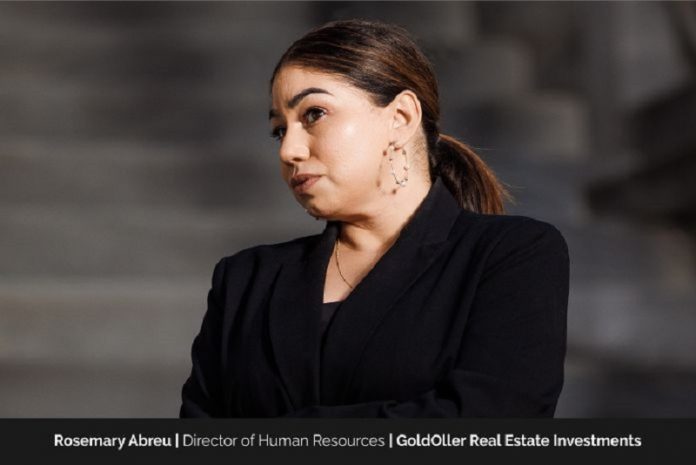 Rosemary is different from your typical Director of Human Resources. She leads the HR department for a national real estate investment company and has contributed to many of the company's successes under the age of 40. With a focus on employee-centric processes, a healthy workplace philosophy, and a collaborative spirit, Rosemary has helped revolutionize the culture at her company.
Conversely, preferring to work quietly behind the scenes, she almost gave up a chance that would mark her career.
Rosemary had spent some years climbing the corporate ladder before being presented with the opportunity to manage an entire HR department. Initially intimidated by the challenge so early in her career, she declined the offer. However, company executives recognized her capability and pushed her to become one of the company's most inspirational employee success stories. With a passion for helping others and a commitment to creating a better workplace, she has become one of the driving forces behind the growth and development of GoldOller Real Estate Investment's HR department.
"Don't let fear or the idea that you're not ready hold you back from doing anything."
Taking a Leap of Faith: Joining the HR Industry
Rosemary joined the HR industry during a time when most companies were still recovering from the Great Recession, which had a significant impact on the workforce. Many employers needed help to regain footing, and HR professionals had to adapt to a rapidly changing landscape.
She was still in college when she was approached by a friend in the real estate industry who offered her a kickstart to her career with a part-time admin position. Her potential was first recognized here, and shortly after, she was promoted to a role in the company's HR department. A decade ago, her journey into a corporate position was seen as unconventional since completing higher education was necessary for individuals to pursue specific career paths. Rosemary considers herself fortunate to have landed at a company that recognized talent beyond a resume.
Relative to Rosemary's journey, one missed opportunity in the HR industry is the need for more diversity and inclusion. When companies fail to seek out and embrace diverse perspectives and experiences actively, they miss out on the creativity and innovation that comes from having a diverse workforce. Studies have shown that diverse teams are more likely to develop innovative solutions and ideas, and companies prioritizing diversity and inclusion have more potential to outperform their peers.
As a Latina woman, Rosemary recognizes the importance of diversity and inclusivity in the industry. She has implemented policies and programs to promote a progressive work environment at her company, where everyone feels engaged and empowered. Under her leadership, communication is vital. She encourages an open-door policy, values employee feedback, and recognizes the importance of building respectful relationships with colleagues.
For Rosemary, HR is not just a job; it's a calling. She sees HR as a unique opportunity to positively impact employees' lives by supporting their personal and professional growth. Her passion for helping others drives her work, and she takes immense satisfaction in seeing employees grow and develop in their careers.
"I looked up and by the time I realized, this is who I was when I grew up."
Culture of Collaboration and Innovation at GoldOller
GoldOller Real Estate Investments is a leading privately held real estate investment and management firm headquartered in Philadelphia, PA. Since its inception, GoldOller has built an impressive portfolio of over 30,000 multifamily units across the United States, making it a formidable player in the real estate industry.
As a company, GoldOller Real Estate Investments places a high priority on integrity in its processes and decision-making. These values are crucial for building a successful and sustainable business.
GoldOller leaders encourage creativity and autonomy among its team members to foster a culture of innovation. This approach helps the company get ahead of the competition and continuously improve its services. In addition, they emphasize the implementation of employee-centric policies.
"It's important to hear from our team members and to support them in their personal and professional growth. Our employees are our most valuable asset; we invest in them by providing the necessary resources and support to succeed. We believe in empowering our team members to think outside the box," says Rosemary.
GoldOller Real Estate Investments has committed to fostering a work environment that promotes growth, creativity, and open communication. These values have helped us to build strong relationships with our clients and partners, and we will continue to prioritize them as we move forward.
Rosemary says, "I am a fan of all the technological advancements, especially those that streamline HR processes. However, balancing tech use with the core human element is important to avoid getting lost."
Changing the Perspective
Rosemary believes that her work as Director of HR at her company has improved how its employees view the HR department. Feedback from her recent employee interactions shows that most employees at her company see HR as an advocate working with them rather than against them.
Her top responsibility was to change and promote the workplace culture within the company. She understood that creating an inclusive culture required tangible actions that addressed the diverse needs of employees. One of her fundamental contributions to this effort was creating a paid maternity leave policy that was later expanded to parental leave to include all genders.
"Implementing the paid parental leave policy was one of my proudest moments," Rosemary recalls.
Recognizing that change requires full leadership cooperation, Rosemary is thankful for the guidance and support she receives from the company's executives. It is by partnering with leadership on the commitment to providing a great employee experience that has led GoldOller to become one of the top places to work in Philadelphia several years in a row and, most recently, one of the Best Places to Work in Multifamily and Best Place to Work in Multifamily for Women.
Rosemary emphasizes recognizing their achievements, providing growth opportunities, and fostering a positive work environment to motivate employees. She believes creating a culture geared toward employee growth and continued learning is vital to a thriving workplace culture.
Her efforts have not gone unnoticed; she was recognized with the Torch Carrier of the Year award in 2016 for exceeding expectations and the 10-year tenure award last year, including a paid vacation.
"You must earn respect and trust in humans by being human. I emphasize the human part of HR", Rosemary says.
Balancing Personal and Professional Life
Rosemary, a mom of two, understands the importance of balancing personal and professional life. For her, this balance is crucial for emotional well-being and productivity. She prioritizes family time, takes time for herself, and practices self-care.
"Being present in the moment with my family when I am away from work is my priority," Rosemary admits.
It's important to her that her team also practices a healthy work-life balance. To help her team achieve this, she encourages them to use their PTO and set realistic boundaries. She understands that a happy and healthy team is a productive team.
Current HR Trends
The world of HR is constantly evolving, and Rosemary and the other executives at GoldOller are hitting all the marks highlighted by recent research into HR trends.
A trend that has gained momentum in recent years is the focus on employee well-being and mental health. With the COVID-19 pandemic highlighting the importance of mental health in the workplace, Rosemary and her company recognized this and took steps to support their employee's mental and emotional well-being.
Another trend shaping the future of HR is the growing importance of diversity, equity, and inclusion (DEI). Rosemary recognizes the value of having a diverse and inclusive workforce and continues to take steps to promote DEI at all levels of the organization. This includes implementing inclusive hiring practices, providing training and resources to promote cultural competence, and creating a culture of belonging where all employees feel valued and respected.
Technology is also increasingly important in HR, with many companies adopting new tools and platforms to streamline HR processes and improve the employee experience. Implementing AI technology and machine learning are the trends that Rosemary looks forward to at her company.
She notes that these trends are shaping the future of HR and have the potential to significantly impact the way we work and the role that HR plays in the workplace. She agrees with HR experts that the companies who stay informed about these trends will be better equipped to adapt and thrive.
"Organizational resilience and value are built on strong relationships and collaborations, and creating an employee-centric culture is crucial to achieving long-term success," says Rosemary.
Message to Aspiring HR Professionals and Business Leaders
In today's fast-paced business world, HR professionals and business leaders play a vital role in shaping the culture and success of an organization. They create inclusive, supportive work environments that foster growth and development while also setting the vision and strategy of the company.
Rosemary encourages young and aspiring HR professionals and business leaders to focus on developing their soft skills and leadership qualities like communication, self-awareness, authenticity, and humility.
She emphasizes the importance of inspiring and motivating team members to be creative, accountable, and collaborative. This can lead employees to take ownership of their work, feel valued, and contribute to the company's growth and success.
What's Next?
Rosemary Abreu is not just an accomplished HR professional, she is a change agent, a trailblazer for Latina women in corporate leadership roles. And her impact extends beyond GoldOller. She advocates in her community for women and minority empowerment and has become a role model for young professionals. She inspires many and is a reminder that with consistency, good intentions, and a commitment to authenticity, anyone can overcome challenges and create a successful career and purposeful life.
"I hope to be a better version of myself – healthy and happy. To continue to expand my mindset and elevate as an individual. Those around me will always benefit from my continued growth and elevation."
As Rosemary continues to make waves in the HR industry, we can't help but wonder what she will achieve next.
Learn more about GoldOller at
https://goldoller.com/