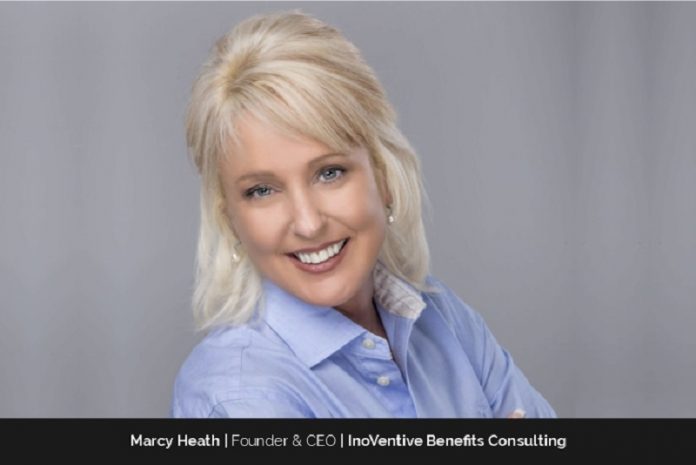 Marcy Heath, Founder & CEO of InoVentive Benefits Consulting is a nationally recognized leader in the healthcare space with over 26 years of experience in advising employers with innovative benefit strategies.
She is a cost-cutting expert who is proactive in the pursuit to change how employers manage their healthcare supply chain while improving employee benefits and increasing bottom line profits for employers.
Armed with an in-depth understanding of the intricacies of healthcare finance, Marcy assists employers in obtaining a measurable return on their employee benefits investment, and increasing their profit margins while empowering their workers to achieve better health outcomes with less out-of-pocket spending.
Helping businesses manage their healthcare supply chains
Marcy began her insurance career working for her dad's company in high school. She then worked briefly for a benefits firm in Atlanta before returning to West Georgia to open her own business.
Having always had a passion for working with employers and employee benefits, Marcy started InoVentive Benefits Consulting in 2015, and has not looked back since. She is on a mission to alter the way businesses manage their healthcare supply chains, while also boosting employee benefits and increasing bottom-line earnings.
"I have the opportunity to work with many outstanding employers searching for innovative ways to cut the second largest expense on their balance sheet… employee benefits. Additionally, I assist employees with finding benefits that meet the needs of their families while saving money, so it's a 'win-win' for everyone!" she points out.
An established industry thought leader and Certified Healthcare Reform Specialist, Marcy has been a featured speaker on several platforms, providing valuable insight into ACA law, guidelines and compliance with the law, and controlling the healthcare business unit to provide massive savings for employers.
She is also a HERO Club Member and was voted West Georgia's Insurance Professional by Times Georgian/Gateway Beacon.
Marcy has been recognized by many organizations during her career and has won several awards, including the National Association of Health Underwriters (NAHU) Circle of Excellence Soaring Eagle Award, the NextGen Agency Growth Award, the Employee Benefit Advisor's (EBA) Top Women in Benefits Advising Award, and the Fast Ascent Award by the Association Insurance Leadership.
She is a member of the NextGen Benefits Mastermind Partnership – an elite national network of strategic, forward thinking business consultants and advisors. Marcy also has a love for combining her business with giving back to numerous charitable organizations, and is a past Rotarian, past Haralson County Chamber Board Member, and CASA Board Member who supports her local Community.
Increasing access to high-quality care with InoVentive
InoVentive Benefits Consulting specializes in healthcare supply chain management, allowing organizations to budget with confidence and predictability while lowering employee out-of-pocket expenditures, and expanding access to high-quality treatment.
InoVentive empowers executives throughout the Southeast to effectively and efficiently manage the often ignored healthcare supply chain. InoVentive's Strategic Benefits Planning process allows employers to maximize corporate profit while generating superior employee results, achieving a negative trend on healthcare costs.
One trend that Marcy continues to see in her work is employers exploring different, unique ideas and solutions for their employee benefits spend. She points out that many are tired of the healthcare status quo and continual double-digit rate increases. CEOs are savvy and generally open to other options.
"My role is to help employers manage and mitigate risks within the healthcare supply chain," states Marcy. As a recent success, an employer saved $600,000 annually with the implementation of cost containment strategies provided by InoVentive Benefits Consulting.
With a consultative approach and implementing innovated solutions, Marcy has successfully helped employers slash their medical spend. She explains that, instead of the cookie cutter approach to healthcare, she chose to seek out solutions that offer tangible benefits for her group clients.
In addition to leading InoVentive Benefits Consulting, Marcy is also an author, and has co-authored a book with several of her peers, entitled Next Generation Healthcare, which rejects the benefits status quo, and helps employers reclaim control of their benefits spend, and create true value chains that deliver quality, affordable healthcare for their employees.
Success is living a life of value
Marcy definition of success is measured by the difference she makes in the lives of others, especially her clients. "So many people view success in terms of money and/or power. For me, I choose to live a life of value, rather than stature. I believe if you take care of others, they will take care of you, and that has served me well in business," she states.
Marcy reflects that her journey as a leader has been a very personal one of growth, self-reflection, and transformation. "Owning a business is not for the faint at heart. I have learned to adjust the sails when the wind changes direction, to accept failure as a part of success, and to empower those around me, so they too can be successful," she notes.
Marcy also believes that challenges make you stronger because they provide an excellent opportunity for growth. They test your resolve and commitment to your goals and, when you overcome challenges, you are stronger, both mentally and emotionally.
She points out one challenge that stands out for her is being a female CEO in a predominantly male-dominated field. "When working with employers, I am genuine in my approach, but direct in my delivery. It is imperative that they feel they can trust me and that I am a valued part of their team," she states.
Another valuable lesson Marcy that learned, after the demise of an insurance carrier that she represented, was the importance of resiliency, perseverance, and doing what is right.
"This process was not easy for those involved, especially my clients; however, through hard work and determination, I made sure my clients' needs and concerns were heard and addressed," she recalls.
Take the risk… the reward is worth it
As CEO of InoVentive Benefits Consulting, Marcy defines the company's business strategy and leads the formulation of initiatives to support the company's mission and vision.
Additionally, she oversees the adequacy and soundness of the company's financial structure, reviews the company's operating results, and takes steps to ensure that the appropriate measures are taken to achieve targeted results and drive the company to anticipate market needs.
As a result of her commitment, InoVentive Benefits Consulting delivers products and services that exceed and shape customer expectations with a focus on measurable, profitable growth.
"I am fortunate to have an exceptional team who are just as vested in the company as I am. I have worked to create a company culture where everyone is valued and plays an integral role in the company's success. I value my team's input, feedback, and commitment to my clients, as well as the company," says Marcy.
Marcy maintains a balance in her personal and professional life by taking time away and prioritizing what is important. "I stay on top of my schedule and try not to let one creep over too much to the other," she notes.
She observes that there's much she would like to continue to achieve and there are always more dreams of things we want to do. "I am tremendously blessed to have accomplished so much thus far, and look forward to what the future holds," she says.
Marcy's message to aspiring business leaders is to take the risk… because the reward is worth it! "Truly, it is hard work and the days are long, but you'll never know how successful you can be if you don't take the risk," she advises.