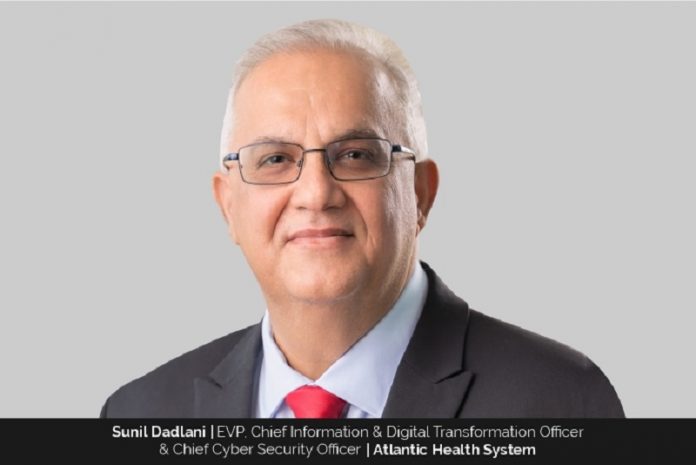 Sunil Dadlani, EVP, Chief Information & Digital Transformation Officer & Chief Cyber Security Officer at Atlantic Health System (AHS) believes that to achieve success, one must find purpose, set meaningful goals, and pursue growth in line with their values and aspirations.
"Success is subjective and a diverse concept, varying from person to person based on their values and goals. It encompasses desired outcomes, fulfillment, and accomplishment. Definitions for success can range from career achievements to personal relationships, financial stability, and/or recognition for making a positive impact," he elaborates.
Sunil's career began in the telecom sector with Siemens and Motorola, then transitioned to software companies like Novell, and later into media entertainment with Sony Global. Over the span of 20+ years, he has had the privilege of working for global Fortune 100 companies in various industries across five continents.
"I had the opportunity to lead digital transformation for the NY State Department of Health before taking on the role of EVP, Chief Information & Digital Transformation Officer at AHS for the past three years. Throughout my professional journey, I have worked across four continents and in more than 20 countries," he shares.
To enhance his leadership and management skills, Sunil pursued multiple master's degrees and executive leadership programs from prestigious institutions like Harvard, Wharton, MIT, Cornell, Columbia Business School and University of Phoenix.
Making a Difference in People's Lives Through High-Quality Care
Sunil's decision to join AHS was influenced by various factors: an interest in science and medicine, alignment with the organization's mission and vision, a passion for driving excellence in healthcare, a sense of purpose to make a positive impact on people's lives, satisfaction and fulfillment, an exemplary world-class leadership team, a positive organizational culture, job responsibilities, and collaboration with a strong technology team and cross-functional stakeholders.
Atlantic Health System (AHS) is one of the most credible and integrated healthcare systems in the country. It is a non-profit healthcare organization based in Morristown, New Jersey, serving communities in northern and central New Jersey, as well as eastern Pennsylvania.
Atlantic Health System has seven award-winning, nationally and globally recognized hospitals, over 400 ambulatory sites supported by approximately 20K team members, and a network of over 4000 physicians serving over six million healthcare consumers and patients.
Sunil observes that one of the key differentiating factors of Atlantic Health is its commitment to providing high-quality, patient-centered care. The organization focuses on delivering comprehensive healthcare services across a wide range of specialties and medical disciplines. "I'm fortunate to work for an organization driven by a mission to make a difference in people's lives through high-quality care," he declares.
Building The World's Most Credible and Integrated Health System
Sunil points out that the healthcare industry is heavily regulated, complex, and undergoing constant disruption from various factors such as rapidly changing regulations, emerging technologies, consumerization, workforce shortages, shrinking margins, higher cost of care delivery, new entrants in the industry, changing reimbursement models, increased data breaches, and cyber-attacks.
In addition to these disruptive forces, the following factors create an additional layer of complexity to leading in this industry:
Healthcare knowledge doubles every 73 days
Healthcare data constitutes 33 percent of world data
There's an increasing number of interoperability & data issues to tackle.
"Despite the challenges, it's an exciting time to be a healthcare leader. I've been fortunate to receive multiple global industry recognitions, including awards for CIO of the year, Healthcare Innovator, Digital Technology leader, and Innovation & Business Value awards," he shares.
Sunil's vision is to have Atlantic Health System become the world's most credible and integrated health system, providing the highest quality of care and wellness. Above all, he takes pride in leading a diverse, patient-centric, and tech-savvy IT team dedicated to delivering exceptional results and wants to do his part to make AHS one of the best places to work in the world.
Sunil's plan to accomplish these goals involves continuing to work tirelessly with the best people in the industry who are committed to improving healthcare with laser focus and flawless execution to achieve mission-critical priorities, including enhancing patient outcomes and safety, achieving operational efficiencies, promoting health equities, and addressing healthcare disparities for all.
"By being more adaptable and open to change, the more easily you're going to navigate the disruptions happening in the industry."
An Adaptive Leader Dedicated to Delivering Exceptional Results
As EVP, Chief Information & Digital Transformation Officer & Chief Cyber Security Officer, Sunil's scope of responsibility spans various domains and primarily focuses on building and managing world-class digital technology infrastructure, cyber security, and data privacy frameworks.
He partners with colleagues to establish strategic plans and priorities, create technology roadmaps, prioritize investments, and leverage cutting-edge technologies to drive growth and operational efficiencies. Additionally, he has developed cloud-based enterprise data and analytics platforms, driving innovation and digital transformation through collaboration with stakeholders and a robust vendor ecosystem.
As an adaptive leader, Sunil's responsibilities are multifaceted and include strategic planning, technology management, compliance, budgeting, stakeholder engagement, innovation and digital transformation, and leadership to ensure the effective use of technology and information systems in delivering quality healthcare services.
As a Chief Information Officer, some of his responsibilities include:
Technology Strategy: Developing and implementing the health system's overall technology strategy aligned with the organization's mission and goals.
Information Systems Management: Overseeing the selection, implementation, and maintenance of electronic health record (EHR) systems, patient management systems, and other healthcare-related technologies.
Data Management: Building state-of-the-art analytical platforms and enabling data-driven decision-making across the organization. Ensuring the security, integrity, and availability of patient health information and other sensitive data while adhering to privacy regulations such as HIPAA.
Infrastructure Management: Managing the organization's IT infrastructure, including servers, networks, and data centers, to support reliable and efficient technology operations.
Vendor Management: Establishing and maintaining partnerships with technology vendors to acquire necessary software and hardware solutions.
As a Chief Digital Transformation Officer, Sunil's responsibilities include digital transformation efforts, such as leading the organization in digitizing and modernizing healthcare services and processes to enhance patient experience and engagement. This includes implementing telemedicine, remote patient monitoring, wearables, connected devices, AI/ML-enabled clinical and non-clinical transformations, and incorporating VR/AR and Natural Language Processing technologies.
As a Chief Cyber Security Officer, Sunil is responsible for developing and implementing a comprehensive cybersecurity strategy to protect the health system's information assets from cyber threats. This includes overseeing day-to-day security operations, monitoring network traffic, investigating security incidents, and managing incident responses.
As a leader with three significant roles, Sunil's primary focus is to harness technology to improve patient care, enhance patient experiences, and ensure the security and privacy of sensitive healthcare data. By driving digital innovation and implementing robust cybersecurity measures, he aims to support the health system in delivering high-quality care while maintaining the trust of patients and stakeholders in the organization's capabilities.
Sunil's personal goals include advancing Atlantic Health's vision and mission with a focus and priority to make a positive impact on the health and wellness of the communities it serves.
"Disrupt yourself before someone else in the industry disrupts you."
Supporting, Inspiring, and Empowering a New Generation of Leaders
Sunil believes that developing the next generation of leaders is essential for tackling future challenges and opportunities in the industry. Identifying potential leaders within the organization and providing mentorship and guidance are crucial starting points. Additionally, he lists the following areas that are important to continuously reinforce:
Leadership development programs, workshops, and training to enhance skills and knowledge
Encouraging participation in conferences and networking events to broaden exposure
Working on challenging assignments and opportunities provides a great opportunity to gain practical experience and confidence
Sunil prides himself on being a role model and offering ongoing support to inspire and empower the new generation of leaders, who will one day make a positive impact on the healthcare industry. He ensures a culture of integrity and innovation by leading by example, setting high ethical standards, and fostering a transparent and accountable environment where honesty, ethical behavior, and compliance are valued.
"I encourage open communication, invite diverse perspectives and ideas from team members, and promote a culture of continuous learning and improvement. I empower team members to take calculated risks, experiment with new ideas, and embrace innovation. I support professional development opportunities, when possible, encourage collaboration across departments, and recognize and reward innovative thinking. By creating a culture that upholds integrity and fosters innovation, I have established a foundation for trust, creativity, and advancement within the health system," he affirms.
Additionally, Sunil aims to mentor and coach the next generation of leaders and team members through strategic workforce planning and succession planning, providing mentorship and skill development. Furthermore, he's committed to giving back and serving underserved areas in education, healthcare, and wellness awareness with his personal time.
Embrace The Vision and Purpose of Your Work
Sunil observes that our hyper-competitive, fast-paced world demands speed, agility, and adaptability and that the process of overcoming challenges prompts self-discovery and self-reflection, leading to the development of positive character traits like perseverance, determination, patience, and empathy.
In addition, challenges foster personal and professional development by building resilience, adaptability, and problem-solving skills to navigate uncertainties and bounce back from setbacks, while enhancing innovation, critical thinking, and the ability to analyze situations differently.
Sunil shares that his role requires unwavering commitment while maintaining a balance, and some of the strategies he employs include effective time management, delegation to empower team members, open communication with the team and superiors, and prioritizing self-care and well-being through exercise, rest, and engaging in hobbies.
"To motivate and empower my team, I ensure clear communication of the organization's goals and vision, recognize and appreciate their efforts, provide professional growth opportunities, empower them with autonomy in decision-making, and encourage open feedback and communication for continuous improvement," he remarks.
In his message for aspiring business leaders, Sunil urges them to do the following: "Embrace the vision and purpose of your work and its impact on communities and societies. Prioritize continuous learning and lead with integrity, upholding strong ethical standards. Foster diversity, inclusion, and gender balance while embracing innovation, change, and agility. Focus on customer value, teamwork, and collaboration. Learn from failures, adopting a fail-fast-learn-smart approach. Strive to balance work and well-being and give back to the community beyond business endeavors."
"Be comfortable while being uncomfortable, as a new normal would be created every day."