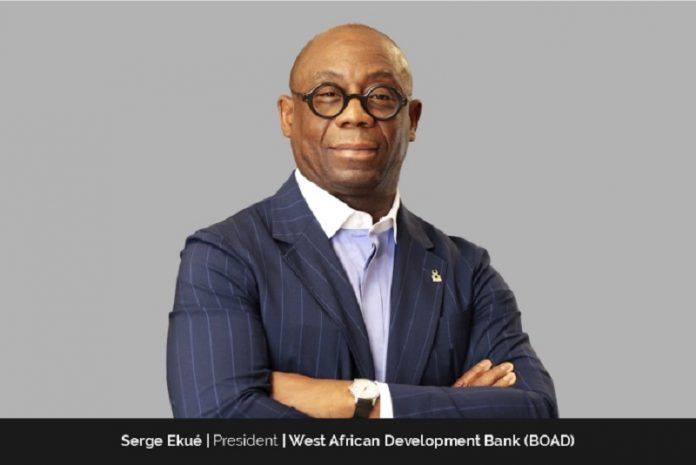 As President of BOAD, the West African Development Bank, Serge Ekue's vision is to enhance the development of the West African region, either for the public or private sector.
BOAD, the West African Development Bank, is the common development finance institution of the member countries of the West African Economic and Monetary Union (WAEMU). As a Development Finance Institution, BOAD looks to the future of Africa, and specifically, to the advancement of the West African Monetary Union region.
Making BOAD a solid DFI with enhanced lending capacity
Before joining BOAD, Serge Ekué was a well-known authority in financial and capital markets, who oversaw Natixis' Corporate and Investment Banking (CIB) as Country Manager for the UK in London, for six years from 2010 to 2016. In addition, he served as the Head of Global Markets for Europe, the Middle East, and Africa (EMEA).
Serge Ekué is a graduate of the Institut d'Etudes Politiques de Bordeaux, and holds an Executive MBA from HEC Paris, as well as a postgraduate degree in banking and finance from Paris V University. He has over 20 years of expertise in international finance, structured finance, and markets, and has held significant roles across the globe.
With a strong belief in Africa's multigenerational workforce and dynamism, Serge Ekué's vision for the future of the West African Development Bank is making it a solid DFI (Development Financial Institution), with enhanced lending capacity, financially supported by both public and private sectors, across the eight WAEMU countries.
Serge Ekué notes that, while the public sector is poised to strengthen the social and economic ecosystems by promoting infrastructure, sustainable energy, health and education facilities, and improving the living conditions of communities, the private sector holds a legitimate position to create future jobs, while boosting inclusion, increasing wealth generation, and ultimately, paving the way for WAEMU countries to move up from low-income to upper-middle income economies.
Providing critical support in fostering West Africa's economic growth
Serge Ekué explains that BOAD is an international public institution whose purpose, as stated under Article 2 of its Articles of Association, is to promote the balanced development of its member countries and foster economic integration, within West Africa by financing priority development projects.
BOAD beholds the capacity to attract international investors into bonds denominated in foreign currencies, for them to support WAEMU's development. By successfully connecting WAEMU with those investors in excess of cash and bridging financial gaps, the West African Development Bank provides critical support in fostering the region's economic growth.
Its main objective comes down to the increase of the Bank's capital (US$1.5 BN); the Bank's equity capital doubled, will enhance its financial capacity, upgrade its rating to secure more attractive financing conditions, and better finance its economies.
President Ekué believes that they need to focus on their strategic goals while keeping marching, growing, and tackling their greatest challenges. He notes that while the goals and tasks in leading an organization towards its success have never been easy for anyone, building on past experience and current global challenges prompted him and his team to take the step of faith and drive BOAD, to leapfrog in all socio-economic areas for the betterment of its communities.
Centered on sustainability in today's finance world
BOAD's objective is to support its governments with a package of over US$300 million at a subsidized rate. In the wake of COP 27, BOAD is sustainability-centered in today's finance world.
It is accredited by the three Climate Finance Facilities (GEF, AF, GCF). Since 2009, BOAD has been sitting as an observer at the UNFCCC and has been actively participating in discussions on devising an international Climate Finance system.
Serge Ekué remarks that, in the context of the global economic situation, they have endeavored to swiftly complete this process, which will be effective by the end of the year. As a short-term measure, they have launched a quick impact emergency program (Songtaaba) to enable their member governments to address the various shocks, specifically the impact of the war between Ukraine and Russia on food and gas prices.
BOAD, the West African Development Bank, has adopted a deeply rooted ESG approach, aligning its strategy with Corporate Social Responsibility (CSR) guidelines. The bank helps provide funding to major development projects, thereby allowing them to raise long-term senior debts at affordable costs.
As a result, the bank has successfully issued the first ESG bond, at a cost below the issuance cost of most issuers in the region. Providing affordable funding to support development projects stands as BOAD's contribution to ultimately lower the debt service burden for most countries in the WAEMU region.
President Ekué notes that it is not possible to fund or implement the development path without being sustainable-oriented. "It's my belief and desire to work and see all BOAD Climate and Biodiversity actions focused on this trend. I believe it is the only way to successfully achieve development," he declares.
The core values that embody their mission as an institution
Serge Ekué explains that, at BOAD, their core values of Integrity, Agility, Corporate Responsibility, Teamwork, Professionalism, and Excellence, embody their mission and what they are as an institution. These values guide the decisions they make and the actions they take.
As President, Serge Ekué's responsibilities are numerous and geared towards equipping the bank with the resources to support major investment projects in its sub-region and delivering a more significant impact and improved living conditions within its communities.
Concerning staff motivation for best service delivery, Serge Ekué points out that the best working conditions and fringe benefits, as well as attractive take-home pay, are being provided to the staff for comfort, high performance, and efficiency. More so, these will further be improved to accommodate change and ownership of projects at the staff level.
As the President of a financial institution and family head, President Ekué manages his everyday schedule and commitments with the support of the bank staff, including BOAD's two VPs. "I can work on key strategic issues and easily set guidance and due diligence to get things done, whilst making sure that our lives, by and large, are not adversely impacted by my workload," he maintains.
With due respect to his team's motivation for best service delivery, Serge Ekué notes that he does maintain continued interaction and communication for onward transmission of instructions and directives relating to the tasks to be executed at all levels.
For President Ekué, the best recognition or client feedback that makes him proud as a leader is in the day-to-day positive impact that they have on the lives of their communities, through what the bank provides as input and support to its member governments, and the private sector in the sub-region. "The well-deserved applause and praise should go to the bank staff for their relentless work," he insists.
It always seems impossible until it's done
In terms of influencing future generations, Serge Ekué believes in the importance of getting them to understand the key mission and focus they should have, as present and upcoming generations working tirelessly and creating innovation for the advancement of the other sleeping giant, Africa.
President Ekué also observes that, while success often appears as a long path amid hardship, it may also be referred to as a continuous and long-lasting effort toward recognition, accomplishment, and prosperity. He shares the wisdom of President Mandela, who once declared, "It always seems impossible until it's done."
Noting that there's a long way to go and many steps to take, to get things done and achieve success, Serge Ekué shares a quote from a man he admires, the African-American performer and talented actor, Mr. Denzel Washington, who said: "Ease is a greater threat to progress than hardship. So, keep moving, keep growing, keep learning. See you at work!"