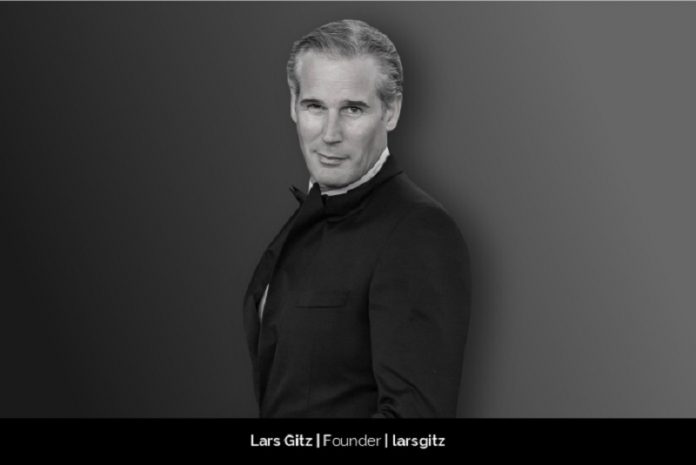 Being passionate about architecture and creating innovative solutions for the clients, Lars Gitz, Founder of Lars Gitz Architects, leads the company in the right direction. He makes brilliant and spectacular designs that boast themselves of sustainability and creativity. As an architectural expert, he knows the tiniest details of all the elements and aims to deliver the best solutions for everyone. He aims to take the company to the next level by expanding the client base and delivering solutions that serve them in the longer run.
In this exclusive interview, we have showered light on the journey of Lars and how he is infusing the power of sustainability in the world of architecture.
Blending with architecture
At the time of selecting the education domain to pursue a full-time career, there were many choices in Lars's mind. He was looking for something where he felt there was an opportunity to be a part of shaping the future, so he chose architecture as he also loved being an architect. He adds, "It has a perfect combination of the artistic and the given professional circumstances and challenges, which have to be solved in each project. I also enjoy the interaction of designing in the studio and being on construction sites and watching the construction take a real shape."
Seasoning with time
Just like a good wine takes time to get the flavor, an entrepreneur also has to go through different life challenges to hone his skills and evolve into a mature leader. Lars believes that while climbing the ladder of success, challenges and failures are bound to come. They are a part and parcel of the whole journey, and he tries to look at the bigger picture rather than losing hope and being a victim of tough circumstances. He stresses the point by adding, "I store them in the back of my mind as yet another learning, and then my mind is looking forward. I usually say that there is a reason why the windshield of a car is larger than the rear window."
When he was still a student at the Royal Art Academy in Copenhagen, he was lucky to win a competition about Future Student Housing in Denmark. Inspired and motivated by this achievement, he opened the studio when he was still studying at the Academy, with no experience at all in the aspects involved to run a start up and witnessing real business. So, during his first years, he had a steep learning curve. However, Lars held his nerve and widened his skills to tunnel through the challenges boldly. He expresses, "There were so many things I didn't know about, so it was a lot of learning by doing. Shortly after I graduated, we got the assignment to design the WHO-World Health Organisation European Headquarter, which was an important project for the studio at the start."
Creating a difference with Lars Gitz Architects
Lars Gitz Architects is a Scandinavian-based international studio for sustainable architecture, planning, and design. The studio is recognized for consistently challenging traditional preconceptions of space and form, and through their unique Scandinavian design, they tend to bring extra values into the projects.
Over the past more than 20 years, they have evolved into a full-service consulting company and assists and advises clients in all aspects regarding architecture and the planning of physical surroundings.
Lars adds, "Every day we create architectural quality based on innovation, experience and Nordic values. This assures sustainable and aesthetic solutions with lasting value for clients, occupants, and society. We are recognized and awarded for setting new architectural standards due to our strong focus on the functional, artistic and social value of architecture."
Revamping the architecture industry 
Based on Scandinavian modernism up through the last century, it has been Lars's vision to search for a new architectural whole that creates a greater harmonious dialogue between the individual and architecture. Based on the individual's existence and being in relation to the surrounding space, traditional perceptions of space, form, and materials are challenged in order to achieve an architectural balance that simultaneously challenges and provides harmony to the individual. The architecture domain has undergone continuous development since the last century.
After Postmodernism in the 80s, a myriad of ideologies were tested to try to find a viable path for the architecture of the future. In Scandinavia, architecture has been characterized by a minimalist approach since the mid-1990s. Despite its qualities, in minimalist architecture, Lars finds there is often a lack of dialogue between man and architecture. In the worship of the regular spaces and the small details, in the final architecture, an absence of humanity often arises, both for the viewer and for those who have to live or work in the created framework.
Sharing a glimpse of his huminalism approach, Lars expresses, "My architecture is an attempt to connect man and architecture, where the qualities of architecture do not lie in detail but in a balance between architecture and man. A link between minimalism and humanism, a kind of "huminalism," as I call it. The starting point is to create a more 3-dimensional architecture, where functions, surfaces, and volumes are split into individual elements and then reassembled into a composition. The individual volumes and functions appear solely as independent units, at the same time as they are part of an overall joint composition that together provides a 3-dimensional overall experience of the building. The window sections are located at the rear edge of the facade to highlight the whole more 3-dimensionally. Landscape and building volumes are seen as cohesive equivalent units."
Driving the wheel of the company on its values
Lars thinks it is important that as a leader, one should try to represent and reflect the values that one wants to have in the backbone and the identity of the company. He states, "In our studio, we have written down the core values for us, which are simplicity, clarity, honesty, and passion. With these core values, we want to produce architecture and design beyond normal standards, strongly focused on professionalism, credibility, innovation, and loyalty. I also believe in the Law of Attraction, which basically means that if you visualize and believe in your goals with a positive mindset, they will be fulfilled along the way."
Besides this, at Lars Gitz Architects, men and women are paid equally for doing equivalent jobs across the practice. They believe in creating an inclusive working environment for all, which is based on merit and encourages their talented team to produce their best work. They continue to try to ensure that their policies and practices are fair, including reviewing their pay decisions each year as part of their annual performance and pay review.
Lars mentions, "We are committed to acting ethically and with integrity in all our business dealings and relationships and to implementing and enforcing effective systems and controls to ensure modern slavery is not taking place anywhere in any of our supply chains. We ensure that there is transparency in our own business and our supply chains, consistent with our disclosure obligations under the Modern Slavery Act 2015."
Spearheading with a holistic approach
At the studio, the team looks to set new global standards by fostering a design approach that uniquely integrates architecture with environmental concerns, resource-consciousness, healthy project finances, social responsibility, and good craftsmanship. Their design solutions are methodically and holistically created following a rigorous analysis of the local context.
Lars adds, "Sustainability is at the heart of everything we undertake. We audit all projects against global standards while developing bespoke strategies that drive our environmental agenda. To build sustainably requires us to design holistically, and our unique integrated design approach enables us to develop innovative strategies that have a firm focus on the future of the environment."
The team keeps a steady inflow of creative ideas and starts every project with a fresh approach. They aim to tailor a custom solution for their clients. The passion for design runs deep in the studio and is shared among everyone working there.
Lars explains, "New projects are always started up by a smaller team led by the partners. The team that starts a project sees it through to completion, thus providing continuity throughout. We always consider the built environment as a totality and to apply a truly integrated approach to a responsible design."
Combating Pandemic Woes
Working at Lars Gitz Architects has been a fully satisfying experience. When the COVID-19 pandemic disrupted the business operations all around the world, even then, they remained calm and didn't panic at all. At that time, they also faced a setback. He shares, "We saw a period of about three months where several projects were put on hold. The parties involved were worried about what was happening, but after some time, the projects were started again, and at the moment, the building industry in the Scandinavian countries is in full swing."
Thus, along the entire pandemic experience, he learned that staying patient for some time always pays good results in the long run. This pandemic also proved to be the best time to re-assess their company conditions and adapt to the new remote working environment. Adapting to this change also helped them stay ahead of all other competitors in the industry.
By holding onto their strong company values, they are able to face all types of hardships and clear all the obstacles on their way until they reach the ultimate success.
An Ambitious project manager
Lars considers himself less ambitious as a person; however, very ambitious as a project manager. Owing to his consistent efforts, he has gained a plethora of accolades as well as recognition by giving more attention to their studio. It has also opened pathways to continue pursuing their passion for shaping a bright future architecture and human life.
He states, "Recently, we have been awarded the WA-World Architecture Award, Architect of the Year World Award, Iconic World Award, Building Of The Year Award, Most Innovative Sustainable Architecture Studio Award, Project of the Year Award, Build Architecture World Award, Muse World Award, TITAN World Award, Lux Life World Award, WAN–World Architecture News Award and MIPIM Award. We are always very honored and grateful for the recognition and awards we receive."
Being an architect is a way of living
Lars has always considered architect not just a profession but a way of living. For him, there is no clear distinction between his personal and professional lives. "I think quite a lot of people in the creative world feel the same way. Your mind in some way always wants to puzzle with ideas and designs, and I embrace it as a positive way of life for me, and I wouldn't have it any other way," says Lars.
Not just this, being a sports fan, he always tends to find time to include sports in his daily routine. It is because he enjoys sports and loves the physical energy boost as well as the mental balance that they impart. In a week, he always switches between workout and running sessions and also expends time on sailing and handball.
Charting a promising future Ahead
Lars holds a long-term strategic vision for his venture to holistically create architecture and design beyond normal standards, which is based on Nordic values and adapts to future global challenges. He knows that he can surely achieve it with the combined efforts of his clients to join forces and create an amazing world of new opportunities for a more sustainable, smarter, and connected living environment.
Personally, he states, "My mission is to keep on challenging the traditional preconceptions of space and form and try to create outstanding buildings that reflect a unique design vision and craft. I believe that we as architects have a social responsibility for participating in shaping a better world for the future." He wants to whole-heartedly dedicate his life in keeping up with this responsibility to carve a beautiful world for the upcoming future generations.