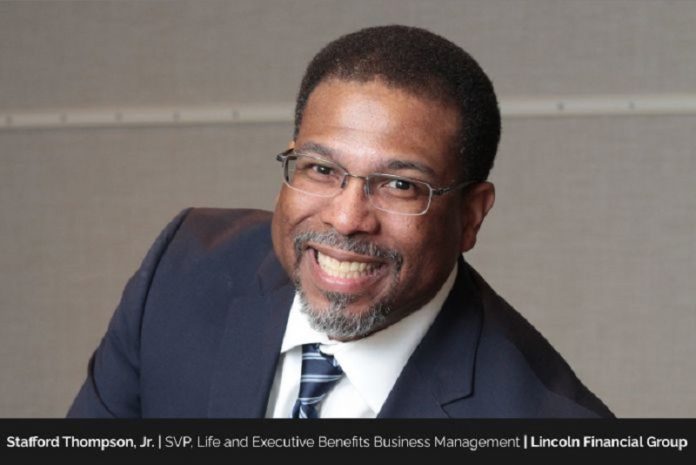 Stafford Thompson, Jr., Senior Vice President of Life and Executive Benefits Business Management at Lincoln Financial Group, has been named one of "The 10 Most Inspiring Black Corporate Executives to Follow in 2023." This distinguished recognition is a testament to his impressive accomplishments and exemplary leadership style.
Thompson has played a pivotal role in enhancing the brand's life insurance business by delivering various solutions that cater to customers' financial security needs. He stands out as an exceptional leader who actively fosters a culture of employee engagement and advocates for diversity and inclusion within the industry. His impact extends beyond the company's walls as he remains committed to making a positive difference in the community.
Before joining Lincoln in 2018, Thompson held various leadership and actuarial roles at prominent companies such as SCOR Global Life Americas, Transamerica Reinsurance, North Carolina Mutual Life Insurance Company, and Cigna. He holds a B.S. in mathematics with a concentration in actuarial science from Florida A&M University. He is a Fellow of the Society of Actuaries and a member of the American Academy of Actuaries.
Regarding success, his definition has evolved from focusing on financial gain and professional advancement to a continuous pursuit of personal and professional growth.
"I also believe I am successful when I can help others be successful, which is why I am a passionate advocate for representation, access, and opportunity for diverse talent. While money may have been (and still is) a motivating factor early on, I have discovered I cannot be truly happy unless I am impacting company culture," says Thompson.
In today's exclusive cover story, he shares his insights on the evolving landscape of the insurance industry, the unique challenges and opportunities facing industry professionals, and his vision for the future. Our readers will be privileged to understand Thompson's inspiring journey and leadership philosophy.
The Inspiration Behind a Leader's Journey to Success
This veteran leader understands that leading an organization to success is challenging. However, his upbringing instilled a natural inclination toward leadership and a desire to help teams succeed.
While growing up, Thompson's father was an exemplary role model, leading various church and fraternity initiatives. As a youth, he followed in his father's footsteps and assumed community leadership roles in the Boy Scouts, academic teams, and other endeavors. This early exposure to leadership and the pursuit of success has stayed with Thompson throughout his life, extending even to areas beyond his professional work.
For him, leadership is not just a responsibility but a passion that has driven him to positively impact every sphere of his life. His innate desire to help teams succeed and his dedication to serving his community inspired him to take bold steps toward personal and professional success.
Stafford Thompson, Jr. on Lincoln Financial Group's Growth Strategies and Achievements
Lincoln Financial Group, a leading financial services company, offers a wide range of services through its two business units – Retail Solutions and Workplace Solutions. Retail Solutions focuses on Individual Life and MoneyGuard, Individual Annuities, Executive Benefits, Insurance Operations, and Wealth Management, while Workplace Solutions offers Group Benefits and Retirement Solutions.
Thompson has played an important role in driving the company's growth and success. Leading the product teams for Individual Life, and Executive Benefits, Thompson has implemented various growth strategies, resulting in several notable accomplishments.
Under his leadership, Lincoln Financial Group has maintained 23 products and revised them to comply with the 2020 changes in life insurance regulation. The company has also achieved top-10 sales in every line of business it competes in while meeting its profitability targets. These achievements testify to the company's commitment to delivering innovative solutions catering to its clients' diverse financial needs.
Lincoln Financial Group's Century-Long Commitment to Integrity, Growth, and Innovation
Since its inception in 1905, Lincoln Financial Group has remained dedicated to delivering financial peace of mind to its clients through its comprehensive range of financial products and services. The company's unwavering commitment to integrity, innovation, and growth has cemented its position as a trusted brand in the insurance industry.
The brand's strong foundation of integrity and growth helped it weather the storm during the Great Depression. In 1968, Lincoln National Corporation (LNC) became one of the first insurance holding companies in the industry, reflecting the company's commitment to growth and innovation.
Today, Lincoln Financial Group continues to build on its legacy by offering innovative solutions that cater to its clients' diverse financial needs. Stafford Thompson, Jr. credits the brand's success to its prudent stewardship, innovative offerings, and compassionate service.
With its unwavering commitment to serving its clients with excellence, Lincoln Financial Group is well positioned to continue leading the insurance industry for generations to come.
Championing Integrity and Innovation: Lincoln Financial Group's Core Values
Lincoln Financial Group, a company with over a century of experience in the financial services industry, is a brand that stands for integrity, innovation, and service.
"Our values are modeled after the character and ideals of President Abraham Lincoln. Our integrity guides every decision as we strive to build a better world with greater financial security and opportunity for all," notes Thompson.
At the heart of Lincoln's success is its unwavering commitment to doing the right thing and supporting its customers every step of the way. Lincoln is passionate about helping build financial strength, security, and prosperity for its customers, communities, and country.
The company's core values include integrity, responsibility, diversity and inclusion, innovation, and community. Lincoln fosters a culture of integrity by hiring employees who embrace its values and empowering them to make ethical decisions.
Lincoln's commitment to responsibility includes offering innovative solutions that meet the evolving needs of its customers. At the same time, its dedication to diversity and inclusion ensures that every employee feels valued and heard.
Finally, Lincoln's culture of innovation is fueled by the company's belief that the only constant in life is change. They constantly explore new ways to improve their products and services, leveraging technology to make financial planning easier and more accessible for their customers.
Innovating to Stay Ahead in the Finance Industry
As the financial industry becomes increasingly competitive, Lincoln Financial Group remains committed to staying at the forefront of innovation. The company has dedicated teams focusing on understanding the competitive landscape through industry sources like LIMRA and market metrics, enabling them to stay abreast of industry changes and trends.
According to Thompson, innovation is a market obligation. Lincoln has introduced several new products and features that have significantly impacted the market. In addition to product innovation, the company focuses on how process improvements and investing in their people can be transformative.
Lincoln Financial Group's commitment to innovation has not only helped the company stay ahead of the competition but has also influenced the finance industry as a whole. As the company continues to drive transformative change and introduces new ideas, it sets the bar higher higher for its peers and pushes the industry forward.
Lincoln Financial Group's Accolades
Lincoln Financial Group has been recognized in various ways, including being named among America's Most Responsible Companies and America's Most Trustworthy Companies by Newsweek in 2022 and making it to Forbes' list of Best Employers for Women. The company has also received several awards for workplace diversity and innovation.
As a leader, Thompson takes great pride in receiving client feedback that demonstrates the company's commitment to excellence. He says, "We pride ourselves on being a great place to work and a great company to work with." The best feedback for Thompson and his team is when clients express their trust in the brand, saying, "We believe in Lincoln."
"We believe in Lincoln."
Behind the Scenes with Stafford Thompson, Jr.: Leading Lincoln's Life and Executive Benefits Business
As the Senior Vice President of Life and Executive Benefits Business Management, Thompson is responsible for driving the expansion and diversification of Lincoln Financial Group's life insurance products. With a focus on product development, pricing, and management, he is dedicated to meeting clients' needs in both core and emerging markets. His leadership style includes high transparency, support, and direct communication, ensuring everyone in the organization is heard, respected, and motivated.
Looking Ahead: Vision for the Future of Lincoln Financial Group
Every leader has a vision for their company, as it serves as a roadmap for the organization's future. A leader's vision outlines the company's direction, the goals it should strive to achieve, and how it plans to get there. It serves as a beacon of hope for employees and gives them a sense of purpose and direction.
As the Senior Vice President of Life and Executive Benefits Business Management at Lincoln Financial Group, Thompson has a clear vision for the company's future. He believes Lincoln can make a real difference in communities by providing financial literacy, products, and tools that ensure families can manage their financial needs in life and death. In addition, he believes in exploring and connecting with broader communities to provide employment opportunities and access for all people. "I am not happy if I can't impact company culture," shares this seasoned executive. His passion for helping others achieve financial stability closely aligns with Lincoln's mission, and he is committed to making that vision a reality.
"Be visible. Show up, show out, move up, help out."
Finding Balance: The Art of Work- Life Integration
In today's fast-paced work environment, achieving a work-life balance is crucial for professionals to maintain their physical and mental well-being, reduce stress and burnout, and promote overall job satisfaction. By allocating sufficient time and energy to their personal and professional lives, professionals can improve their productivity, enhance their job performance, and strengthen their personal relationships.
When asked how he strikes this balance, Thompson highlights how Lincoln's CEO, Ellen Cooper, frequently discusses the value of balancing work and personal life to create a healthy environment for everyone. This theory is equally important for him. He has periods of intense concentration on the job and other times when he is glued to his loved ones. The most important thing to him is for everyone to know how much he values them. He often shares stories with his staff about his daughter Mikayla and her passion for dance. Thompson is always excited to report on her latest dance competition achievements. He's also well-known for his enthusiasm for golf and a local brew in Tennessee. He believes encouraging his staff to talk about and appreciate what makes them happy outside of work has helped them be more productive. In his words, "By being ourselves and bringing our best selves to work, I believe we stay motivated together to produce our best products."
Advice for Aspiring People of Color in Business and Leadership
Thompson encourages aspiring people of color in business and leadership to take advantage of the now-available opportunities. He advises them to be visible and to make sure they provide access to others coming behind them. Visibility is key to removing any doubt that talented professionals of color exist and are ready to lead, he says.
He stresses the importance of overcoming the aversion to acknowledging one's own accomplishments and ensuring that others also acknowledge them.
Thompson's message to aspiring leaders of color is to "Be visible. Show up, show out, move up, help out." Having others to share experiences with and receive guidance from along the way makes overcoming obstacles and celebrating successes much more rewarding. He concludes. "It's also important to remember that no one does this alone. Build your support community and enjoy the journey together."
Stafford Thompson, Jr. is an exemplary leader who is widely admired for his inclusive and welcoming approach to the workplace. His approach to the ever-evolving corporate world is persistent, adaptable, and visionary. As a leader within the company, Thompson has helped Lincoln Financial Group continue to uphold its century-long reputation for honesty, expansion, and innovation, as well as its dedication to its customers and the local community. His knowledge of the insurance market and how it is changing has helped the organization immensely.