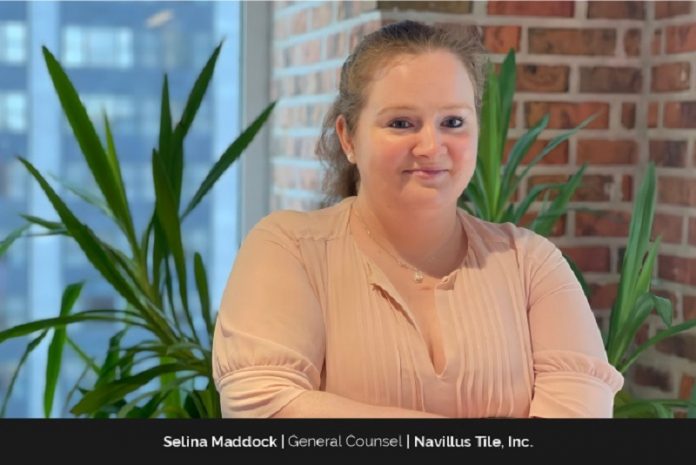 Selina Maddock is General Counsel at Navillus Tile, Inc., a New York City-based construction company specializing in general contracting, design-build, high-end concrete, masonry, tile, stone, marine, and carpentry.
She joined the Navillus team in late 2016 and provides expert and strategic legal advice to the Navillus management team, managing all the company's legal matters, including the drafting, reviewing, and negotiation of all types of construction-related agreements.
Discovering a passion for law
Born and raised in Ireland, Selina moved to NYC after completing her law degree. Prior to law school, she earned a BA in Microbiology from Trinity College Dublin. Her original plan was to study medicine but, in the end, she went down the legal route, a decision that she knows was the right decision.
"After high school, I went to Trinity College Dublin and studied science, obtaining a BA in Microbiology. I had originally planned on studying medicine after I finished my Microbiology degree, but I took a year and did a diploma in legal studies and decided I liked law more than science, so instead of going the medicine route, I went to law school," she recalls.
After law school, Selina originally planned to go to Asia and teach English before she returned to Ireland to sit the Irish bar exam but decided to travel to the U.S. for 12 months first.
In the end, she never left the U.S. and joined an immigration law firm in downtown Manhattan that handled Navillus' immigration needs. She spent several years there before Navillus asked her to come in for a chat to see if she would be interested in joining them, and she said yes.
Helping Navillus provide outstanding service and craftsmanship
Selina notes that Navillus employs approximately 500 employees at any given time (depending on the project load) and has a gross annual income of roughly $250 million.
The firm has pre-qualifications from numerous commercial and government agencies and works with many agencies, such as the New York City Housing Authority, New York City School Construction Authority, New York Transit Authority, and The Port Authority of New York and New Jersey.
Selina observes that while Navillus also performs work for various private clients, they don't do as much private work as they used to. The biggest reason for that is because the private market has gone non-union, and as Navillus is a union contractor, they're unable to perform the concrete superstructure work like they used to several years ago, when union contractors dominated this work. However, Navillus is committed to providing outstanding service and quality craftsmanship on all their projects, regardless of whether the projects are private or public.
With a focus on cost estimation, value engineering, and project management, the company works on many of the city's highly recognized infrastructure and private-sector projects.
Some of these include constructing the world's largest memorial waterfalls at the site of Ground Zero, restoring some of the city's most historical subway stations, restoration of the Brooklyn Bridge, installing complex stone and tile work at Madison Square Garden and the Apple Flagship store, as well as restoration and new building work for many of the city's agencies.
A commitment to integrity and social responsibility
Selina points out that, since 1987, Navillus has made it their mission to operate honestly and fairly. "The efficiency in our day-to-day operations, and our long-term trusted business relationships with our clients, demonstrate our commitment to integrity at every level," she states.
Navillus hopes to foster long-term relationships with their clients, employees, and collaborators by remaining transparent and upholding ethics. Their employees are recognized and rewarded for their performance and principles, allowing the firm to nurture a positive and collaborative atmosphere and professional culture.
Navillus believes that motivated employees result in a successful company and that a successful company, in turn, exceeds its clients' expectations.
Selina notes that social responsibility is a core value of their company. They believe in the importance of giving back to the community, and actively seek to increase their philanthropy strategies annually.
"We are proactive in ensuring that we are socially responsible to the communities that have provided Navillus with growth opportunities," she says.
Supporting the public by giving has been the cornerstone of the company. With this, they are conscious in their decision-making process, and each year, they ensure that they collaborate with, or support organizations that uplift the community.
"This dedication has influenced our culture here at Navillus, and we believe in giving capital, resources, time, talent, and expertise where possible," says Selina. "I want to see Navillus grow and perform work outside of New York City and perform construction that we haven't traditionally performed."
Communication is critical
Selina agrees 100% with the statement that "challenges make us stronger." She found that working in an extremely fast-paced environment, where multiple people need something from you all at the same time, gives one no choice but to survive.
"You have to learn to adapt quickly, and once you overcome something that initially seemed impossible, having to do the same thing again is literally a piece of cake," she observes.
Selina points out that she cannot recall the number of times that she has had to do something at Navillus where it seemed impossible but managed to do it regardless.
"For me personally, the biggest roadblock that has taught me very valuable lessons, both professionally and personally, is self-doubt – believing that I don't have what it takes, or thinking I don't know enough, or am afraid of sounding foolish," she admits, while noting that, in reality, everyone has similar fears of self-doubt.
Nobody knows everything, she says, and once you can recognize that, and not be afraid to admit when you don't know something, things become a lot easier.
"I think people have more respect for someone who will put their hand up and say I don't know the answer to that or let me get back to you," Selina clarifies.
She points out that being able to say that you don't know the answer to a particular question actually gives a person a stronger character, and commands more respect, than someone pretending to know everything, and who, in actual fact, knows nothing.
Selina notes that communication is critical in everything and that, once the lines of communication are open, things like integrity and innovation just flow. Since starting at Navillus, she has learnt that an explanation with every instruction or task goes a long way.
"The person you're asking to do something understands why such a task is being asked of them, how it will benefit the company and the need for it to be done. It becomes so much easier for people to approach you, whether with new ideas or problems, or whatever the case may be. So, talk, talk, talk! It makes everything so much easier," she recommends.
Women must support each other
Selina points out that there are simply not enough women in either construction or the legal field, and to the extent that you meet female attorneys, they always seem to have a male supervising attorney.
"I recall many instances being in a courtroom where the ratio of male to female attorneys was something like 10:1 and, being a female attorney, it is something that really stood out to me," she observes.
Selina experienced the exact same thing in the construction industry – and remembers when she was only with Navillus for a couple of months and had to attend a meeting trying to get a project closed out.
"I walked into the room, and it was me and 15 men, which was so beyond intimidating," she recalls.
Selina hadn't studied engineering, or anything related to construction in school, and suddenly she was thrown into a situation where all eyes were on her, and she felt that she had more to prove, just by virtue of being a female, and being the only female in the room.
"Likewise, the first meeting that I participated in with Navillus' surety company was daunting. Again, I was the only female in the room," she points out.
As a result, Selina believes that it is so very important for female professionals to support other females and stick together, recognizing the additional challenges that they face.
Being female does not entitle you to special treatment
However, Selina does not think that being female entitles one to special treatment. Her belief is that an individual should be rewarded based solely on their performance and the work that they do, and one's sex should simply not come into the equation.
"I think it is very important that being a female professional is not used as an excuse for inadequate performance of a particular task, or that a woman should receive special treatment by virtue of being female," she cautions. "This is the most important thing to remind everyone, not just women."
Selina points out that, if we work as hard as our male counterparts, then we should be treated and recognized as such, but that it goes the other way too. If we do not perform and work as hard as our male counterparts, then we shouldn't be treated the same.
She also reminds women that they are as good as any man, if not better because everyone knows that women are skilled at multi-tasking in ways men simply are not.
Balancing work and life in an organized and respectful way
As the General Counsel of Navillus Tile, Inc., Selina's responsibilities extend to providing expert and strategic legal advice to the Navillus management team and managing all the company's legal matters.
"The one word I'd use to describe myself is organized," she states. "As Navillus is my only client, each question or task from whomever in the company is as important as the next, so no day is ever the same."
Typically, her day consists of emails, calls, meetings, and more emails, and with so many projects, as well as the company's executive team and the various departments, there is always something that needs to be done or answered or addressed, and often she ends up getting those requests all at once.
Selina believes that respect is what helps her maintain a balance in her personal and professional life. "I know that probably doesn't make sense, but I think if you show respect to those you work for, you will receive respect back, and that respect will allow a balance in both your professional and personal life," she elaborates.
Selina notes that it comes down to an understanding that you work hard at your job so that when you're off the clock, you're off the clock. "I'm the type of person who works extremely hard, but if I need to go to a doctor's appointment or take care of something during the workday, there isn't a problem," she says.
She hopes to see Navillus grow, to do work not just at a city level, but state and countrywide. She also wants to see Navillus move to do work in other states, so that wherever you go in the country, the Navillus name is known, and is synonymous with quality construction.
"No matter what I do or have done in the past, I always want more. I want to learn more. I want to be challenged more. And that desire for more makes taking a chance at something new a whole lot easier," she states.
For Selina, success isn't about receiving recognition or praise, or being told that you have succeeded, but about the respect that you have earned and seeing actual results. Real success isn't just about the result, but the path and the relationship it took to get there.
Her message to aspiring businesswomen is that believing in yourself, and getting rid of self-doubt, is the single most important thing that anyone, male or female, can do. Once that self-doubt is gone, everything changes.