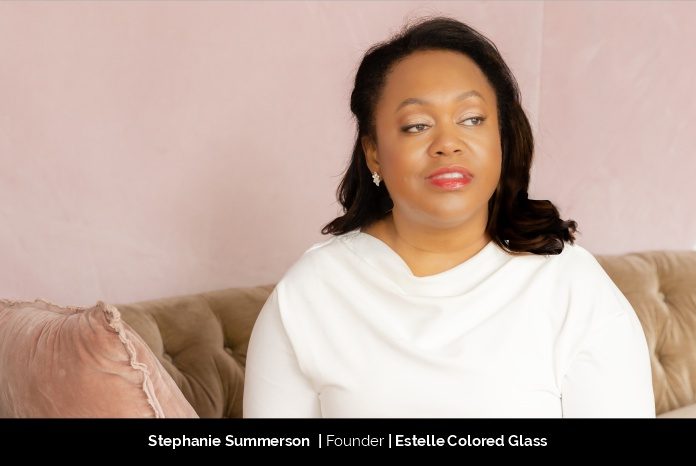 "Estelle Colored Glass is inspired by my grandmother, Estelle, who loved antiquing and had a special day of the week where she visited her favourite shops looking for new treasures in small neighbouring South Carolina towns," says Stephanie Summerson. She is the Founder of Estelle Colored Glass, a luxury brand of hand-blown and specialty-made coloured glass cake stands and stemware in a mix of jewel tones and soft pastels.
The Estelle Colored Glass collection is comprised of original commissioned pieces made by glass artisans in Poland at a glass making company with a rich 100-plus-year-old history. Estelle Colored Glass pieces are best described as "jewels for your table." We just hope our vintage-inspired yet refined and modern coloured glass collection starts a revival of coloured glass that is reminiscent of a past time.
Inspiration to Start with Estelle Colored Glass
Stephanie had the privilege of accompanying several of these treasure hunts over the summer months, from her early youth to her college years. Her favourite collection, which she was always adding to, was colourful glass. This was the beginning of her fascination with tinted glass.
Stephanie's grandma used her colourful glass pieces frequently during Sunday dinners. She was well-known for her culinary prowess, and each meal was delectable. On Sundays, she usually baked a handmade dessert for her family and friends who would often drop in for an afternoon visit. Her grandmother's trademark dessert was a delicious vanilla pound cake made from scratch and served with a side of strawberry jello topped with whipped cream on a colourful glass cake stand. She says, "The moist pound cake with the chilled jello and creamy whipped cream were a delectable blend." She goes on to say that it was under her grandmother's instruction that she acquired her first basic culinary methods, spending considerable time in the kitchen with her and accompanying her on shopping excursions. She owes her a debt of gratitude for instilling in her the skill of being a gracious hostess. She opines, "I hope our heirloom quality pieces help create special memories for you just like the memories I have of time spent with my grandmother, Estelle, affectionately also known as Big Mama."
Success that Inspires
Stephanie's ambition was to go to law school and become an attorney, which she did for ten years before deciding to start her own business. She quickly concluded that she preferred the business world to the law.
Stephanie worked on Estelle Colored Glass for five years before bringing it to market. When she was looking for colourful glass pieces for her new house and couldn't locate any, she came up with the idea for the business. Her paternal grandmother, Estelle, who is the brand's namesake, exposed her to colourful glass on antiquing visits.
Committed for Authenticity
Stephanie believes that demonstrating a strong work ethic and ensuring that her underlying values are visible in the workplace are important. As an entrepreneur, she values success above all else. She does, however, strive for efficiency.
The team at Estelle Colored Glass offers a wide range of coloured glass goods, such as glasses and cake stands, that help enhance home entertainment and make excellent gifts. She says, "The goal was to start a revival of coloured glass and that is essentially what we have done, which is truly rewarding." She also adds that there are not any other brands offering the extensive coloured glass selection that Estelle Colored Glass offers currently.
Being an Entrepreneur
Stephanie wears the hats of mediator, strategist, creative director, and morale booster throughout the day. When she is not immersed in these tasks, she has discovered that developing new methods to communicate the brand's narrative is the most efficient use of her time.
Stephanie believes that becoming an entrepreneur has given her the freedom to create the work-life balance she wants, and that it has been both hard and gratifying. She states, "I tell my team all the time, I want them to find ways to use their time wisely and leave the building to get to their lives."  She further adds that lots of companies' executive staff members work four day weeks and the entire team has the option to leave by noon on Fridays.
Proud Moments
Stephanie recalls how pleased she was to have an article published in the New York Times and to have been featured on the Today Show. She says "I am so grateful for every magazine and newspaper mention."
Stephanie's immediate objective is to continue presenting the Estelle Colored Glass' story and sharing the family legacy, which will be two years old this October.
Experienced Guidance
Stephanie's advice for emerging entrepreneurs is to "Delays in opportunities and lack of resources have taught me to persevere, so be guided by your strengths and never give up pursuing your dreams."