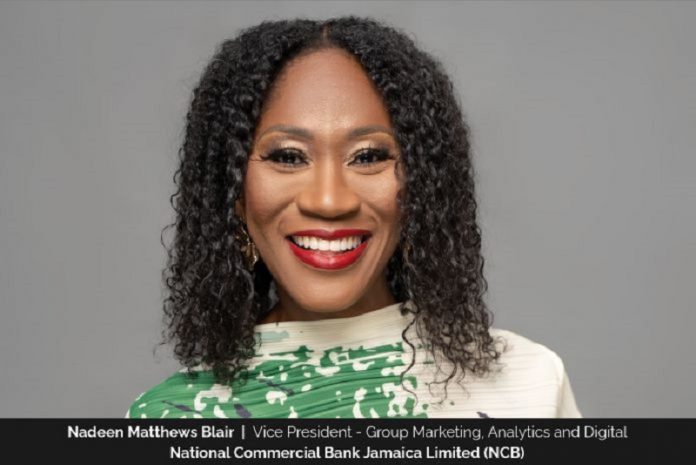 Meet Nadeen Matthews Blair, Vice President – Group Marketing, Analytics, and Digital Transformation at National Commercial Bank Jamaica Limited (NCB), whose exceptional leadership and innovative thinking have earned her a place among "The 10 Most Influential Black Corporate Women to Watch in 2023."
Nadeen has spearheaded NCB's digital transformation strategy since 2016, which has revolutionized the banking industry in Jamaica. Under Nadeen's leadership, NCB launched the first known Agile Lab in the English-speaking Caribbean, which has played a crucial role in driving the bank's digital transformation efforts. Her digital transformation focus has led to the development of ground-breaking products and services that have transformed the banking landscape in Jamaica.
"The mind is everything. What we think we become." – Buddha
In addition to her role, Nadeen also serves as the CEO of N.C.B Foundation, the philanthropic arm of the National Commercial Bank Jamaica Limited. She has shifted its primary focus to enabling Jamaica's digital transformation efforts by investing in education at the primary, secondary, and tertiary levels, with a special focus on expanding the country's pool of digital talent, such as software engineers, data scientists, artificial intelligence and cybersecurity experts, and digital media creators.
Nadeen's accomplishments have been widely recognized, including being named one of the Top 25 Most Innovative Bankers in Latin America by FinTech Americas in 2017 and 2018. With her exceptional leadership skills and a keen eye for innovation and transformation, Nadeen Matthews Blair is a true inspiration to women in the corporate world and beyond.
In this cover story, we delve into Nadeen Matthews Blair's journey to becoming a prominent figure in Jamaica's banking industry, her vision for NCB's future, and her impact as a trailblazer for women in the workplace.
Timeline of Nadeen Matthews Before NCB
Born in Jamaica and raised in the Bronx, NY, Nadeen Matthews Blair's journey to becoming one of Jamaica's most influential business leaders was not easy. But with the unwavering support of her parents and a tenacious spirit, she navigated the challenges of inner-city life and emerged as a top-performing student.
After graduating from a prestigious high school, Nadeen earned her Bachelor's degree at Binghamton University (State University of New York), and her MBA degree at The Wharton School, University of Pennsylvania, with the help of academic scholarships. She then honed her skills in finance and strategy during stints at JPMorgan Chase and McKinsey & Company before returning to Jamaica to take on a new challenge.
As the Head of Digital Transformation for National Commercial Bank Jamaica Limited and CEO of its Foundation, Nadeen is driving innovation and transformation in Jamaica's financial sector. Her dedication to empowering women and fostering inclusion has earned her recognition as one of the Caribbean's most influential businesswomen.
But Nadeen's accomplishments don't end there. She is also a devoted wife and mother of two girls, balancing her demanding career with her family life.
"Throughout my career, I have been most challenged in instances where I did not have a sponsor/champion, a supportive team, or when I could not find meaning in my work. I have intentionally sought out situations where these factors align, which has helped me grow professionally and feel fulfilled." – Nadeen Matthews Blair
From Dream to Reality: Nadeen Matthews Blair's Inspirational Journey to Leadership
From a young age, Nadeen dreamed of making a difference in the world and becoming a leader in her community. Her parents encouraged her to pursue her passions and provided her with the guidance and support she needed to succeed.
The inspirations go back to childhood.
"When I was a young girl, I pretended to be a teacher with my dolls as students. The theme of education has been a constant throughout my life as I have taught my sisters, friends, colleagues, and mentees, though never in a formal capacity.
As the CEO of the N.C.B Foundation, our primary focus is on digital education to accelerate Jamaica's digital transformation. Growing up, I wasn't exposed to many people in business, and since representation matters, it wasn't initially in my career consideration set.
 My journey in business began when my father expressed concern about me majoring in history, prompting me to transition to Financial Economics and Business Management. I thoroughly enjoyed my Accounting and Marketing classes, which led me to pursue my first job at Chase Bank, now JPMorgan Chase. Since then, my business career has flourished."
Nadeen Matthews Blair also gave keynotes about success.
"The illiterate of the future are not those who can't read or write but those who cannot learn, unlearn, and relearn." – Futurist Alvin Toffler
According to her, success can be defined as the accomplishment of personal or collective goals and aspirations. She believes people often struggle with identifying personal goals that defy societal expectations and are authentic to who they are, what they value, and truly want for their life. Therefore, she believes the first dimension of success is the ability to be very clear and true about your desires and your related goals and aspirations.
The second dimension of success is the extent to which you have achieved the goals you defined. Nadeen emphasizes the importance of setting specific and measurable goals to track progress and celebrate successes.
Certainly, failures are an inevitable part of success, and Nadeen Matthews Blair seems to agree as she said:
"Setbacks are a normal part of the cycle of life, and we should expect them. When everything seems to be going smoothly, it may be a sign that the end is near. Conversely, when everything is going poorly, it may indicate that we are on the cusp of a breakthrough. Recognizing and accepting this reality allows us to handle life's inevitable ebbs and flows with greater calm and composure.
Over the years, I have learned that the most significant antidote to any roadblock or challenge is one's mindset. You can choose whether to view the challenge as an opportunity or surrender. When you focus on the opportunity or the lesson, there is always a brighter day on the other side of the roadblock or challenge."
How does NCB stay ahead in the competitive Banking and Finance Industry?
NCB recognizes the importance of keeping up with industry trends, including the growing competition in the banking and finance sector. To achieve this, the organization's leadership regularly reviews industry journals, attends conferences, and reviews annual reports and strategies of global industry players. NCB recognizes that competition also comes from non-financial institutions, including tech and manufacturing companies that offer financial services. Therefore, the company looks beyond its industry to understand emerging trends and stay ahead of the curve.
However, NCB believes staying informed is just one aspect of staying ahead. The organization focuses on what the customer is saying, and execution, which converts research and ideas into value. They invest time in understanding consumer sentiments and behavioral shifts and leveraging multiple data points to prioritize strategies and initiatives that align with their goals. By relentlessly pursuing its aspirations and delivering exceptional value to stakeholders, NCB strives to remain a competitive banking and finance industry leader.
The Driving Force: Nadeen Matthews Blair's Impactful Role in NCB's Success Story
As the Head of Digital Transformation for NCB, Nadeen Matthews Blair played a crucial role in developing and implementing the bank's digital transformation strategy. Under her guidance, NCB launched innovative products and services that have revolutionized the banking industry in Jamaica.
One of the key achievements was the establishment of the first Agile Lab in the English-speaking Caribbean, which enabled the bank to accelerate innovation efforts and bring new products to market more quickly. Since formalizing its digital transformation journey in 2016, NCB has witnessed a significant increase in the utilization of mobile banking apps for routine financial transactions, and digital account opening platforms for deposit and investment accounts in the Jamaican market.
NCB has been a pioneer in several key areas, including its fully pre-approved digital loans and credit card solutions for qualified customers, powered by advanced customer analytic models, and its GoIPO digital initial product offering platform. These innovative solutions have not only shaped the industry but have also transformed customer behavior. Nadeen's visionary leadership has been instrumental in positioning the company as a digital innovation leader in the region.
The organization is committed to pushing boundaries and delivering exceptional customer value under her guidance. With Nadeen's dedication to innovation, NCB is poised to continue driving transformation in the banking industry in Jamaica and beyond.
While talking about her leadership journey, Nadeen Matthews Blair said:
Reflecting on my leadership journey, I am reminded of the essential ingredients that have fueled my success: determination, hard work, and calculated risk-taking. These values have been the backbone of my growth, and I have been fortunate enough to receive guidance and support from colleagues, friends, and family who have believed in me every step of the way.
Throughout my journey, I have made it a point to pay it forward and give back to my community, which has been an immensely rewarding experience.  However, I have also recognized the importance of self-reflection and continuous learning, seeking feedback, and identifying areas for growth and improvement. By embracing these values, I have been able to unlock new opportunities and achieve greater levels of success.
Above all, my leadership journey is a testament to the power of perseverance and a strong support network. As I continue to navigate the challenges ahead, I remain committed to pursuing excellence and positively impacting the world around me.
"Insanity is doing the same thing over and over and expecting different results." – Albert Einstein
Nadeen Matthews Blair's Vision for NCB
Nadeen Matthews Blair's vision for NCB is fully aligned with the company's vision to create a world-class financial ecosystem that powers the advancement of individuals, businesses, and communities wherever it operates. She finds it inspiring to work for an institution that sets the bar high, refusing to be limited by what is thought to be possible for a company headquartered in a developing market. They continue to aspire to achieve global benchmarks and to continually evolve its business model to meet changing consumer behaviors and ensure long-term sustainability.
By embracing banking-as-a-service and forging strategic partnerships with regional and global players, NCB is building a comprehensive financial ecosystem that offers customers a seamless and unparalleled experience. The ambitious nature of its roadmap is driven by NCB's steadfast commitment to creating a world-class financial ecosystem that sets the standard for the region.
Nadeen's Personal Goals
Nadeen firmly believes that personal and professional life should not be viewed as separate entities. There is only one life, and our goal should be to live it fully and meaningfully, guided by our core values and aspirations. In this regard, she resonates with Thasunda Brown Duckett's analogy of living life like a diversified portfolio. Like any investment portfolio, our life decisions will have ups and downs, and we may occasionally make mistakes. However, by regularly reflecting on our goals and rebalancing our decisions, we can achieve a life that aligns with our vision of what is full and meaningful.
As a devoted mother, she is focused on raising her daughters to be resilient, honest, and kind individuals with a strong sense of self.
Nadeen is also passionate about contributing to the digital transformation journey of her beloved Jamaica, leveraging her experiences at NCB and lessons from other countries. With a keen eye for opportunity, Nadeen is committed to supporting the growth and development of the broader Caribbean region, constantly seeking new ways to make a positive impact.
And when she isn't working tirelessly to make a difference, Nadeen loves nothing more than traveling the world, exploring new places and cultures, and broadening her horizons.
Aspiring Message for Black professionals and Businesswomen
In her inspiring journey as a successful Black businesswoman, Nadeen Matthews Blair has learned valuable lessons she wishes to share with aspiring women entrepreneurs. Her experiences have honed these lessons, and she hopes to pass them on to help others on their own journey. Here are some of her key pieces of advice:
Firstly, be bold and take risks. Don't be discouraged by naysayers and share your aspirations with others. You never know where help might come from. Additionally, don't be afraid to fail. Regret is often worse than failure, and failures are just stepping stones on your path to success.
Honesty and courage are also key – be honest about your values and aspirations and have the courage to make decisions that align with what you want out of life. Learn from your mistakes, give yourself grace, and be a continuous learner, seeking out new knowledge and skills.
Surrounding yourself with supportive people is important, and you should also be supportive of others. Furthermore, for women, becoming financially literate and independent is essential, as a high salary doesn't necessarily equate to financial independence.
What Lies Ahead
Nadeen Matthews Blair is a visionary leader committed to driving transformation in the financial industry and beyond. Her passion for innovation, customer-centricity, and collaboration is inspiring, and her personal goals and advice serve as a testament to her dedication to personal and professional growth.
With her leadership, NCB is well-positioned to continue setting global benchmarks and creating a world-class financial ecosystem that powers the advancement of individuals, businesses, and communities wherever it operates.