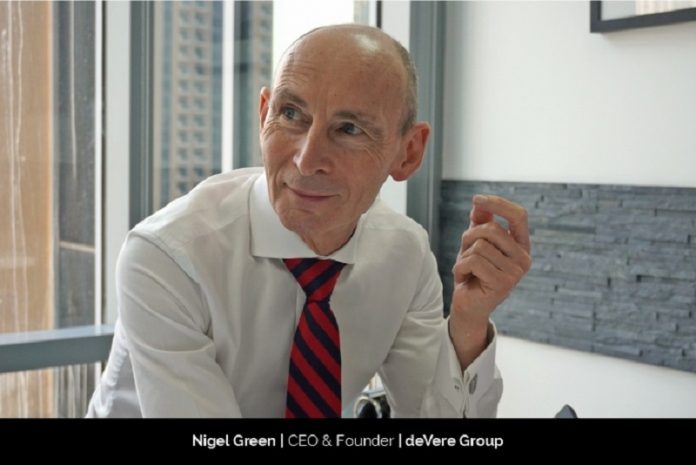 The importance of good financial advice cannot be stressed enough, especially at a time when the Covid-19 pandemic has upended businesses and lives across the world and has forced governments to make radical policy changes which affect people's financial planning strategies. Without strong financial planning, leadership teams and individuals cannot navigate the current post-pandemic era. And no other independent financial advisor understands that more than deVere Group, one of the world's leading independent financial institutions. Working with their clients round the clock, they are ensuring their financial well-being. They are not only making their clients feel secure about their current financial situation, but they are also developing clear and practical financial plans and market-leading solutions to secure their future financial goals.
Founded in 2002, deVere Group continues to evolve, adapt, and outperform the competition in the financial space because of their founder and CEO Nigel Green's hands-on leadership. As the head of a top financial company, he steers from the front. He is involved in all the major decisions of the group and their 100+ different entities. And, to achieve the company's goals, Nigel says, he not only "leads from the front" but also "works side-by-side" with his teams.
A man with a sharp, ingenious mind, Nigel has always been able to correctly perceive a gap in the market and the opportunity that it presents; then offer a solution to fill that gap. When a young Nigel went to Bermuda on a business trip, he noted that it was hard to find good financial advice outside the country. Expatriates and international investors had trouble developing proper strategic financial plans as financial advisors had no specialist service to offer them.
"I discovered there was a gap in the market to give sound financial planning advice tailored to the needs of expatriates and international investors around the world," Nigel says. He returned home from Bermuda and started the groundwork for the launch of deVere Group.
From a Single Office in Hong Kong to Hundred-legal Entities  
Soon after his return from Bermuda, Nigel founded deVere Group in Hong Kong in 2002. Started from a single office, the company has grown into one of the world's largest independent financial advisory, asset management and fintech organisations. Today, they have a strong global presence, more than USD12 billion under advisement from some 100,000 clients.
Year after year, deVere Group has been in the pole position. It is a "major challenge" to maintain the number-one position in an industry that is highly competitive and continuously evolving, Nigel points out. With hard work, sustained commitment, and expertise, deVere Group have created a story of growth and success for themselves. But, it is their ability to consistently adapt and improve that has made them the leader in the financial space. "If you want to stay ahead, you've got to be constantly looking at new ways of doing things, and getting better as you do so," Nigel says. "I think this is one of deVere's greatest strengths as a company."
Extraordinary Range of Products and Services  
deVere Group are known for their distinctive range of products and services, such as wealth management advice, fintech propositions, investments, life assurance, family protection, education planning, retirement, inheritance tax, and succession planning. They have made a habit of introducing new low-cost financial solutions in the market, to meet the evolving expectations of their clients.
Separate divisions, including deVere Tax Consultancy, deVere Foreign Exchange, and Legal Services, complement the company's core services, Nigel says. And deVere Group were one of the first to recognise the disruptive potential of fintech services. And, because of the head start, they are now "universally regarded" as the leaders in the fintech space. "We believe clients want bespoke advice backed up with innovative technology," Nigel says. "We continually strive to develop next-generation financial technology propositions that will meet the needs and wants of our clients. These include deVere Vault, deVere Crypto, deVere Core, deVere Investment, and deVere Catalyst."
Seeing the rapidly rising demand for the company's products, Nigel and his team realised that they would have to make their fintech apps' set-up process for onboarding fast, user-friendly, and more secure. That realisation resulted in the development of Ident Me. Nigel describes it as a "hassle-free, simple and safe way for clients to provide identity verification for themselves via a KYC – know your client – form." And Ident Me also features a notary services function, which is a first for the international financial services and the fintech sector.
deVere Group have also penetrated the market for digital payments. Their deVere Vault, a trusted single card, multi-currency service, allows account holders to load and convert money in up to 27 currencies. It has made cross-border payments affordable and accessible to everyone on the planet.
And the other much-talked product of deVere Group is deVere Core, which enables clients to monitor their investments in real life from wherever they are. Leveraging this product, clients can also keep themselves informed about the latest news and events that may impact investor returns. "They can also use the direct line or the chat system to ask questions and clear their doubts," Nigel says. "And clients can also keep in touch with their consultations through the advisor section of deVere Core."
In addition, in 2018, Nigel – with characteristic intuition – launched the pioneering deVere Crypto, a cryptocurrencies exchange app – as he believed (way before many people had even heard of Bitcoin) that crypto is "the future of money."
People are wary of investing in funds, as they are daunted by the investment process and the unfamiliar terms. deVere Catalyst, developed by deVere Group, has taken the hassle out of investing, Nigel says. It also gives those who have little or no investment experience the opportunity to invest in well-balanced funds at a fraction of the price. "We are helping them reach their life-enhancing, long-term financial goals," Nigel adds.
Continues to Outperform Competition  
The market for financial services and fintech is highly competitive. The increasing competition or disruptions, however, have not impacted deVere Group's growth and success story. They have gone from strength to strength since their launch in 2002, and no competitor has been able to take the pole position away from them. Nigel says that they have continued to outperform competition thanks to their "global presence, strength and resources which feed into having the industry's top advisers, offering the widest range of services – including a suite of fintech apps, market-leading low-cost financial solutions, innovative investments with specialist fund managers, insurance, property, tax consultancy, mortgages, and fx, amongst others – and world-class governance and compliance procedures."
Also, deVere Group's services and products provide clients with peace of mind, as they feel that they are on track to secure their long-term financial goals. And clients also gain a sense of freedom and security, Nigel says.
Leading from the Front
deVere Group's current status as the financial service and fintech behemoth, serving millions of happy clients across the globe, is largely due to Nigel's impeccable leadership qualities..
When Nigel started in the industry as a young man, he had to compete against older employees who had more experience. "I knuckled down and worked as hard as I could, indeed harder than all of them, and gained all the knowledge and skills in order to become the most successful manager in the firm I was working for," Nigel says, remembering his initial days in the industry.
At his first job, Nigel also probably learned about the importance of hiring the right people and trusting that they would accomplish a task efficiently. He says that as a "hands-on" leader, he has no qualms of talking to anyone in the company. He does not take into account people's positions before speaking to them. He speaks to everyone across the company. But that does not mean that Nigel micromanages. "I think that is a mistake, as you should have the right people in the right positions and be able to trust them to carry out their roles in the best way possible."
Nigel is an inspirational CEO whose motivation and guidance inspire everyone involved with deVere Group of companies to give their best. And his vision and valuable inputs on the "direction of travel" have made the company an indestructible, top-player in the financial space, which is undergoing significant disruptions.
Loves Talking to People across the Globe 
In the post-Pandemic world, Nigel spends most of his time in the company's multimedia studio, talking into a screen. Before, he would usually criss-cross the globe, holding meetings and speaking to his teams working at different entities. "I used to be flying around to each jurisdiction, pretty much all the time," Nigel says. "Yes, obviously, this has changed since the start of the coronavirus pandemic."
As someone who can see something positive in every situation, Nigel has made the best use of Zoom. "Working this way I'm speaking to more people, more often and doing more than ever before." On a daily basis, Nigel talks with the key people and managers in the company, wherever they may be — from New Zealand to Latin America.
"I like to speak with them early on in their day so I can have the most positive impact on them," Nigel says. "As we are a truly global group of companies, this means very early starts and long days. But speaking with our teams is what I love to do the most. There's always a lot happening, exciting new developments to push ahead with and lots of buzz and energy, which is an inherent part of the deVere culture."
Nigel now believes that most of the day-to-day meetings can be done via Zoom. It, however, does not mean that he no longer plans to meet his team in person. "I will, of course, still be going to meet our people around the world," he says.
Plans for Future of deVere Group 
Nigel has a clear vision for deVere Group. He wants them to continue to innovate and deliver flawless services and products to clients across the world. Highlighting that deVere was the very first international advisory firm to actively develop and promote fintech, Nigel says that they remain the biggest and most successful fintech provider in the financial space. He, however, is not someone who believes in resting on one's laurels, so he is neither contended nor ready to rest on the company's already impressive track record in fintech.
"We will continue to expand our suite of innovative wealth tech products and services that are frequently first-of-their-kind," Nigel says. "Put simply, there is no other firm that can come close to deVere in fintech development, innovation, and implementation – and we're only just getting started."
Nigel points out that advances in fintech are happening at a lightning pace, and it has already radically reshaped how financial services are structured, delivered, and consumed. "We're only really just scratching the surface."
Fintech is going to cause more disruptions in the traditional financial space. Nigel says that deVere Group are ready to occupy a permanent pole position in the fintech market by delivering a flawless service, free-from-mistakes and misguided bias. And, they will put their clients in the very best financial positions through bespoke financial advice and innovative fintech solutions.
***************************