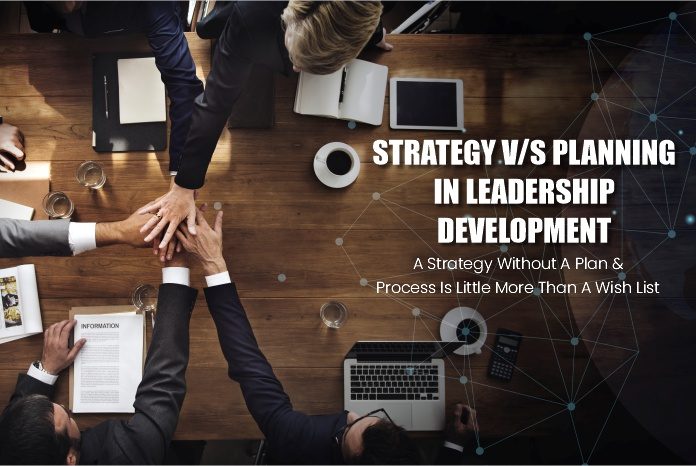 Leadership consultants will work with you to define your assessment needs and goals. An effective way to be a great leader is to plan ahead and strategize effectively so that your team members know what is expected and call look up to you in case there is a bump in the road.
Strategy v/s planning – is there a difference?
Oftentimes, the words "plan" and "strategy" are used interchangeably. The meanings of the words are quite similar; a method for achieving an end. However, there are strong differences between these words.
Planning is a forethought of what is to be done in the future, but Strategy is a blueprint of what you want to be and where you want to be. Both Planning and Strategy are made by the top-level managers as they know the mission and vision of the organization clearly, so they will make their plans and strategies to take a step forward towards their mission and vision.
What is a Plan?
Planning is an organized process of thinking in advance about a future action. It means the preparation of the plan, i.e. the sequence of steps that will help in achieving organizational objectives. Planning is a future-oriented activity that takes place in routine decisions and it requires good judgment skills for choosing which action is to be done earlier or later to avoid overlapping actions. Determine your goals. Create and assign measurable action steps with a timeline. Verify progress by regularly reviewing the outcomes. Adjust the plan – repeat.
Five steps are outlined below for every leader to take to build a great development plan:
Consider your business needs and goals
Talk to your employees
Consider different types of training and development
Establish the objectives and goals of the plan
Measure success
Types of plans include:
Operational: Focused on specific, routine procedures and processes
Financial: Must be rooted in reality and universally accepted
Tactical: Concerns about the responsibility and functionality of lower-level departments
Succession:Don't skip a beat should a major player suddenly depart
Contingency: Be proactive in vetting a researched and realistic backup
What is a Strategy?
Strategy is an action that managers take to attain one or more of the organization's goals. It is where you focus your efforts to achieve your goals, and how you will succeed. It defines a specific course of action that will take you from where you are now to where you want to be It is very flexible and open to adaptation and change when needed. A strategy is most useful when creativity, collaboration, and innovation are of the utmost importance. A strategy can surprise, impress, and put you on track to becoming a competitive powerhouse.
The building blocks of building a good strategy include the following actions:
Framing the right questions
Learning from the past
Diagnosing the whys
Forecasting the future
Searching potential pathways
Choosing how to integrate
Tools and Process – how is content delivered
Committing to change
Resisting old ways of working – evolving when it's necessary
Be clear and concise
Strategy vs Plan in Business
The business plan provides a written tour of your business operations. This plan identifies the business' models, missions, and objectives. A business team may have a plan to roll out a new product. A business team with a strategy will take the lessons learned from the past to determine what can be done differently, earlier in the process of product development. Innovation will be applied throughout the design and manufacturing processes.
You can get ahead of the game in the business world by coming up with a great strategy and planning effectively. The boundaries of the strategic plan are defined by the contents of the business plan. Business traditionalists often explain that business plans are used for new companies and strategic plans are used for established companies. This is untrue. Mature businesses often review their business plans annually to benchmark financials and verify that the business is on course to success.