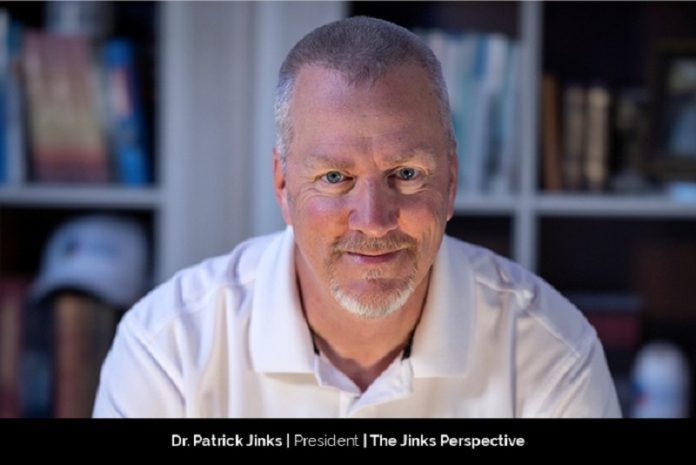 Nonprofits need strong, capable, and thoughtful leaders at the helm so that organizations can become responsive, sustainable, and successful. These leaders have to perform and deliver to people even in the midst of constant challenging circumstances. Given the demanding nature of the job, some leaders struggle to steer the organization efficiently. Coaching is one of the ways by which they can acquire the essential skills and transform their leadership approach. Dr. Patrick Jinks, Founder and President of The Jinks Perspective, provides much-needed guidance to leaders, enabling them to enhance the way they lead.
Dr. Jinks has deep experience coaching nonprofit leaders. He is also a multi-time best-selling author, award-winning photographer, and professional speaker. His speaking stages range from TEDx to The United Nations. He is a member of the Forbes Coaches Council and a regular contributor to Forbes.com. In addition to his own best-selling Strategic Fail, he has co-authored books with Jack Canfield, creator of Chicken Soup for the Soul, and world-renowned executive coach Dr. Marshall Goldsmith. If one has to pick a word to describe Jinks' coaching mentality, it would have to be "accountability."
Founding a Coaching Business for Social Sector Leaders
A young Patrick wanted to make his mark in the field of journalism. So, he worked in print media for about 10 years. After that, he decided to change gears and took up a leadership role at a local United Way. At the time, when Jinks accepted this opportunity, he had little idea that he would spend the next two decades in senior leadership roles within that network. He had even less of a clue that his role at United Way would prepare him for what he is doing now. Both his marketing and leadership careers provided the perfect blend of assets to launch a coaching business that supports social sector leaders.
Dr. Jinks somehow always found himself in jobs where he could do something he was really good at. When he paid attention to what others were telling him about what he was good at, a light bulb really came on in his head.
Often, Jinks heard people him that he was a good listener and good at taking complex ideas and simplifying them. They also pointed out to him that he had an inherent gift for making people see things differently. "All of those things come together for an effective coaching business," says Jinks.
In his professional circle, Jinks is known for his ability to listen to clients, synthesize all the various elements they give him, summarize them, and then reflect back to them in more simple terms. "Patrick's magic sauce is his ability to listen and discern," Monroe Free, CEO of Habitat for Humanity in Greenville, SC, says. "When he reflects back what he has heard, doors open."
Everyone has gifts and talents. Jinks believes that the secret to success lies in the ability to use those gifts and talents in a way that contributes value where it is needed while providing a healthy livelihood. When that happens, it moves from being work to being purposeful. In his two decades of nonprofit executive leadership, he has leveraged his gift in many different ways.
One day, Jinks reached a decision point when he wondered, "Do I continue making my unique gifts only one aspect of my job, or do I take the leap and launch a business where that gift could flourish as the primary value proposition for the people I serve?"
When Jinks decided to start his coaching practice, everything aligned with true north. His purpose, his gifts and talents, his vocation, and a set of practices and activities that provide fun and fulfillment all came together.
Unique Coaching Model
The Jinks Perspective is not a consulting organization. It has built a solid reputation as a coaching organization, and its coaching model empowers leaders to advance their work with meaningful action. Jinks has been recognized as a "game changer" in USA Today®, and a "master of success" in The Wall Street Journal® for his unique approach to lifting the social sector.
As someone who held nonprofit executive leadership roles for two decades, Jinks is keenly aware of the unique challenges leaders in the social sector face. He notes that change happens too slowly, scarcity is the prevailing mindset, and leadership is lonely. Under his exemplary leadership, The Jinks Perspective is striving to help social impact leaders move more quickly, focus on assets and abundance, become more agile, and lead with clarity, simplicity, and alignment.
In order to guide boards, staff leaders, and executives, Dr. Jinks taps into a coaching method that offers few answers to them. Instead of bringing answers to their problems, he brings the right questions and a process for facilitating the kinds of conversations that draw out and elevate the best thinking of leaders. "It's not that we don't arrive at answers – it's that we pursue the answers together," says Jinks. This coaching approach is effective in 1-on-1 executive development as well as in teams.
The nonprofit sector addresses a myriad of social issues such as homelessness, hunger, education disparity, and domestic violence. Dr. Jinks has no deep expertise in any of them. His expertise lies in facilitating the right conversations and helping his clients arrive at shared, committed action. The real experts are the leaders who lead nonprofit organizations and their partners. Dr. Sue Buchholtz, who leads a national nonprofit serving people with disabilities, is one such leader. She has embraced Jinks' coaching method and speaks highly of it.
"We hire consultants when we need advice and expertise on our business. But when we need to think at a deeper, more strategic level, we engage Patrick," Dr. Buchholtz says. "There's something about his coaching method that draws out our best."
Leveraging a proven coaching model, Jinks and his team facilitate strategic planning, measure and drive employee and board engagement, strengthen leadership on teams, and support executives in lifting their leadership to greater heights.
Loyola University's Dr. Julie Darnell worked with Jinks on a national health equity project led by Americares and the National Association of Free and Charitable Clinics. She, too, believes in the coaching model used at The Jinks Perspective.
"It is his skill at facilitation that sets him apart," Dr. Darnell says. "His curiosity, commitment to equity, and preparation position him as a partner, so he is now my reference point for judging any facilitator."
The next iteration of The Jinks Perspective includes going deeper with the organizations it serves. Jinks reveals that they are moving toward a model of long-term partnering with their clients, rather than one-offs.
Challenges and Growth
Like all influential and inspirational leaders, Dr. Jinks has experienced plenty of failure. And every time he failed, he tried to view himself as a learner, not as a loser. Now, when he looks back, he is amazed to note that many of his disappointments have merely been pivot points to something better and more meaningful. As a result, he has reached a point where he avoids fixating on problems and obstacles. "When the focus is the roadblock, we miss opportunities for creativity," he says. "This principle was driven home for me when I took up motorcycle riding a few years ago."
Jinks explains that on a bike, if there is a rock in the road, and he focuses on that rock, he will hit it every time. The bike goes where the rider is looking. Likewise, according to Jinks, the organization or the team will go where the leader is looking. So instead of asking "What are the obstacles in front of us?" he tries to ask, "What will it take to achieve the goal?"
Dr. Jinks believes that The Jinks Perspective has grown because he has grown. He is no doubt the frontline of the brand for the company, but he makes sure to surround himself with people who can challenge and inspire him to do better. Jinks has a small team of people who are committed to excellence and share the vision for what they are trying to achieve.
Jinks also has done something that not many solopreneurs think about. He has recruited a formal, cross-sector Advisory Board from across the country who push and challenge him to be innovative and distinct. This board consists of Emmy award-winning filmmakers, angel investors, social sector leaders, other coaches, marketers, educators, and others.
Even with all that Jinks strives to do to build the company, he believes that the success of his clients determines the success of the business. "Their success is our success and vice versa," Dr. Jinks says. "This is because we are a mission-driven coaching business."
No Typical Work Day
Like most solopreneurs, Jinks wears many hats. He is the CEO, the COO, the CMO, the CFO, and the CIO. The responsibilities that come with these leadership roles may seem daunting to others, but not to Jinks. "It is a big part of why I love the job," he says.
There is no typical workday for Jinks. He may spend an entire day facilitating a board retreat while spending another day writing content, hosting a podcast show, planning and budgeting, or facilitating one-on-one coaching calls with the executives he serves. So, how does he maintain a work-life balance? "When you are in business for yourself, work and life blend," Dr. Jinks says. "And when your work is fulfilling a deeper purpose, it is part of your life. It is as much who I am as it is what I do."
So far, Dr. Jinks has been able to balance his time with his family with his ambition for the success of the business. He has no desire to be the richest coach in the industry or have the largest client list. He believes that balance occurs when the business provides fulfillment and a sufficient living and quality of life for his family and him.
Accomplishments of a Successful Solopreneur
For Dr. Jinks, the rise of The Jinks Perspective to success and significance is a huge professional achievement. It has required courage, grit, perseverance, and innovation. Earning his Ph.D. in organizational leadership has been equally satisfying in terms of personal accomplishment. While these are some of Jinks' own individual performance accomplishments, his outward leadership accomplishments are revealed through the success of others. Knowing that he has played even a small role in someone else's growth and development is an "incredibly fulfilling" experience for him.
Dr. Jim Smith, a 30-year coach and trainer at the Center for Creative Leadership and founder of Leadership Systems, Inc., where Jinks was certified, says Jinks keeps his clients in the driver's seat. "Patrick's knowledge of the nonprofit arena informs his questions, not his answers," Dr. Smith says. "This allows the coachee – not the coach – to be the focal point."
Dr. Jinks considers himself successful. It is because he feels he is in control of his life, good at what he does, and that what he does adds value for others. He has a sense of meaningful identity and purpose.
Changing Landscape of Coaching
Coaches are a dime a dozen. There are life coaches, career coaches, health and wellness coaches, leadership coaches, business coaches, and more. Dr. Jinks notes that in today's gig economy, practically anyone can be a coach simply by launching a website and getting a logo. "This is not to insult any aspiring coach, but rather to point out that finding an effective, qualified coach can be difficult in a sea of coaches," he adds.
Fortunately, the coaching industry is moving in the direction of professionalism. Jinks points out that credible and robust certifying entities are helping to lift the legitimacy of trained coaches. He emphasizes that this can be the differentiating factor in an industry where entry into the market is easy.
Jinks also believes that coaches must think about relevance in a changing workplace landscape. Coaching in virtual settings requires a unique set of skills; flexibility is king in the workplace these days, and coaching is no different.
"We have to understand our clients' need for flexibility and innovative approaches," Jinks says. "We are also not unlike most businesses that have to create accessible, relevant value." In addition, we have to strive to expand our coaching reach through video platforms, podcasts, and creative coaching applications like cohort-based, online, and hybrid coaching programs.
Message to Aspiring Coaches
In his message to aspiring coaches, Dr. Jinks says: "Know your why before refining your what or your how. When you operate with purpose, on purpose, your impact is immeasurable."