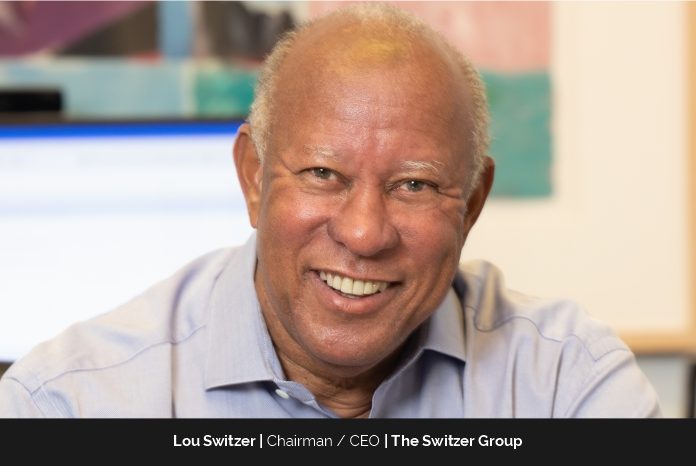 An office space needs to have a sophisticated and appealing design in order to create an environment where the mind can focus and be productive. The ideal workplace setting combines aesthetics and functionality without being overly distracting. To increase productivity and foster a healthy work environment, several businesses are thinking about incorporating aspects of office interior design into their workplaces. To promote a healthy, secure, and productive atmosphere, there is a need for an understanding of the significance of office interior design as well as a comprehensive approach to implementing it.
A renowned designer, Lou Switzer is the founder, chairman, and chief executive officer of The Switzer Group, one of the most prestigious interior architecture companies in the nation and consistently ranked among America's 100 Design Giants in annual revenues. A business leader, cultural trailblazer, and acclaimed interior designer, he singlehandedly established one of the first minority-owned design firms in the country. The Switzer Group's reputation for excellence has been guided by Lou.
Following the Vision
"You can dream, create, and build the most wonderful place in the world, but it requires people to make the dream a reality."- Walt Disney
Mr. Switzer obtained expertise working for a number of design businesses over the years, and he also held the role of assistant director of facilities planning at a big corporation firm. This affected his leadership style and how he saw the need for careful leadership. Respect for others was one of the most important lessons Mr. Switzer ever learned. Through managing projects and collaborating with a wide range of experts—architects, contractors, landlords, and developers—he came to see the value of effective leadership that places a strong focus on clear communication and strong organizational abilities. Mr. Switzer's inspiration to take the step stemmed from his original vision and the belief in his abilities attained through his hard work. He had the drive to go out on his own, take the risks, and reach for his dream. Mr. Switzer adds, "In some ways it was not a choice; it was always something I knew I was meant to do."
The Switzer Group
The Switzer Group is an interior planning, design, and workplace strategy company that provides comprehensive services in branding, environmental graphics, design and documentation, construction, and strategic planning and analysis. The expansion-related growth plans that have been put in place over the past 48 years have been partially prompted by the ongoing success they have encountered along the road.
The Switzer Group creates spaces that exemplify the brand values of its companies and directly enhance people's pleasure and productivity. By pushing the boundaries of design to create spaces that are completely integrated into their site, program, and people, the practice is transformed. Design quality, practical leadership, and a dedication to sustainability, diversity, equity, and inclusion are some of its defining characteristics. Furthermore, the strategies, which are constantly evolving and expanding, are inherent in the nature of creativity and innovation. The company is constantly exploring new ways to grow and improve.
Comprehensive Offering by a Great Team
The Switzer Group provides furniture consultancy, interior planning, design, strategy, sustainability, and other services. Its projects benefit from a methodical evolution through a number of design-process steps to address the specific spatial and business difficulties faced by its clients. When it comes to discovery, visioning, and planning, the team starts each project from scratch, letting the unique cultures of each client and their organizational demands inform its strategy. The team bases its projects on client involvement, teamwork, and the capacity to strike a balance between originality and unconventional thinking and competencies for detail-oriented work and efficient execution.
Uniting Innovation and Integrity
Integrity starts at the top when Mr. Switzer started his firm, his personal standards played a large role in the firm's culture. He also values those who demonstrate integrity and innovation and encourages this in all aspects of daily life at the practice. He shares, "Our core values consist of integrity, teamwork, excellence, respect, and dignity. Our design intent dictates that we are not bound by one design style or direction and are always challenging ourselves to push beyond the accepted parameters to arrive at innovative solutions."
At the Forefront of Office Design
The competition was fierce when Switzer Group first opened its doors 48 years ago, and it has grown more intense over time as more decision-makers and participants are now involved in the process of awarding a project. To guarantee that the environment at Switzer Group not only draws talent but also develops that talent, Mr. Switzer made it a point to invest in the company's office space and talent pool. The people and the talent are what make it possible to keep one step ahead of the competition. Mr. Switzer thinks the group has had a wide impact on the industry as a result. For instance, the company was among the first to invent hoteling. Mr. Switzer shares, "We were commissioned to take 400,000 SF of office space in various locations and condense and relocate it to 100,000 SF by implementing hoteling and comparable innovative strategies."  Today, Switzer Group is at the forefront of the new office paradigm, which sees a new way to work in the office through a hybrid approach. It is currently designing and delivering hybrid offices for a number of clients.
Renowned for Excellency
The Switzer Group has been honored with many awards over the course of its history. While it is hard to pinpoint which one is the best, two in particular stand out. Being inducted into the Interior Design Magazine Hall of Fame in 1993 and the Minority Business Hall of Fame and Museum are notable.  Its client feedback, fortunately, is very consistent and has resulted in 92 percent repeat business from satisfied clients. Mr. Switzer states, "We are extremely proud of the work we have done and that our clients ask us to come back time and time again. We were honored to have Stanley Abercrombie state:"
"The Switzer Group is one of the firms that has contributed to a 'Design Revolution of 100 Years' that has changed our world." – Stanley Abercrombie, Interior Design Magazine – 2000
Leading by Demonstrating Values  
Mr. Switzer's responsibilities as chairman and CEO are holistic. He oversees operations, administration, new business, and leadership. He is very engaged with the studio on various different projects and provides leadership, mentorship, and encouragement. Mr. Switzer keeps his employees motivated by example. He believes, "A great way to motivate and foster employee talent is to offer them the freedom to express themselves through their gifts and to actualize their potential." He saw his own creativity and passion flourish when someone gave him the freedom to achieve things. Additionally, it may be very motivating to acknowledge excellent work and to foster an atmosphere where mentors assist and support new workers.
Mr. Switzer has an outlook on the world of labor. He has a strong sense of dedication. Every day, he puts in a lot of effort to make the Switzer Group one of the most reputable design businesses in the nation. To accomplish this, he comes to work with all of his might, all of his energy, and all of his commitment to doing his absolute best for both his clients and his staff. He thinks the best way to inspire and motivate his staff is to live out these ideals.
Supporting the Young Generation
Only a few minorities were employed in the business in 1975, when Mr. Switzer founded his company. His lesson would be to work hard and never give up because he has always been an optimist.
Mr. Switzer enjoys motivating the next generation of leaders by praising them and giving them chances. He is very hands-on and interacts with the studio every day, chatting, working on projects with them, and exchanging ideas and approaches. Additionally, he offers opportunities to young professionals who have just graduated from college and has established a scholarship fund at Pratt University. In 1995, he was also given the "Man of the Year" award for his outstanding accomplishments and support of the Ace Mentor Foundation, of which he was a founding member.
True Success comes by Values
"Success is not final; failure is not fatal. It is the courage to continue that counts."
Mr. Switzer's vision of success began when he was in the 4th grade! That is when he discovered his passion for design and the built environment. He was fortunate to have a relative who was an architect who helped nurture his dreams.
"Go as far as you can see; when you get there, you'll be able to see further." – J.P. Morgan
Another key component to Mr. Switzer's definition of success lies in his leadership values, which include leading by example. He says, "Do what you say and say what you mean. Use honest weights and scales when making decisions and treat others the way you would like to be treated. There is no substitute for authenticity. And when you put yourself in someone else's shoes and try to understand their worldview, you are likely to come away with a greater understanding of them." He also suggests to always try to be courageous and strive to be a visionary, but never abandon the traditional values that have remained tried and true – such as hard work, dedication, and quality.
Heading for New Directions
During working hours from Monday through Friday, Mr. Switzer devotes every hour of every day to his work, his vision, and his career. On the other hand, he makes sure to prioritize spending time with his family in the evenings and on the weekends.
"When you have a dream, you've got to grab it and never let it go." – Carol Burnett
Mr. Switzer's vision for the future of The Switzer Group is to see it continue on its well-established trajectory of innovation, creativity, and growth.  Currently, the group is relocating its offices to a new location. This will provide another new opportunity to affect a reset and invigoration that will carry it forward in new directions.