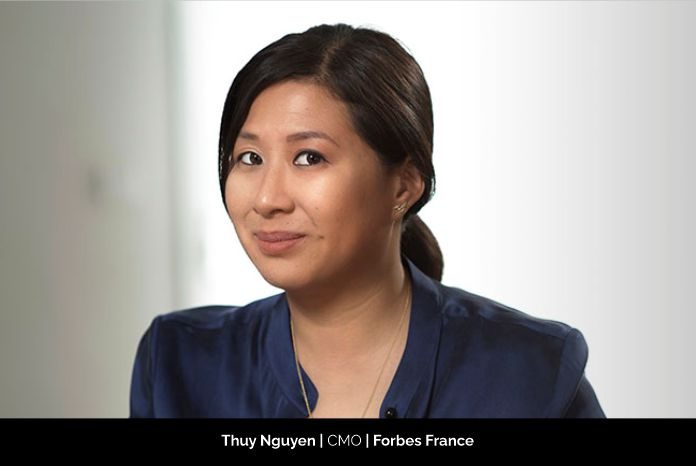 Forbes is a brand name uncovering success stories of remarkable leaders from all over the world. With Thuy Nguyen leading the marketing operations of Forbes France, France has unleashed some truly inspiring stories. Sharing her success as the CMO of Forbes France, she has firmly believed in Robert H. Schuller's quote 'Spectacular achievement is always preceded by unspectacular preparation.' Thus, according to her, success is the outcome of both failures as well as incredible experiences and the one who never gives up and stays resilient in the endeavor by trying new ways.
Plunging into the marketing industry
After completing her studies in international business, rights, and laws, she took this role as an opportunity and has never looked back since then. Thuy says, "I like the 'marketing' role because you can put inside many missions and business projects that require versatile skills. Also, to be honest, I had not expected to be in charge of marketing in the media industry."
Joining forces with Forbes France was a Fortunate encounter for Thuy. She was chased by Dominique Busso, CEO of NetMediaEurope (A European and IT media group). At that time, she was working for an IT and Data company, and he offered her the opportunity to run the marketing department of the group across Europe. By recruiting one more associate with them, all three embarked on the mission launch of Forbes in France.
She expresses, "Before expecting recognition, it is important to give recognition to people that have helped you to be where you are. That's why I am very grateful to Dominique Busso, now CEO and founder of Forbes France, for giving me the opportunity to discover the media world and to work beside him."
She states everything was possible as she was pushed by her passion, integrity, and freedom. Further, she believes that these three ingredients have helped her do all the jobs, and thus, her job title doesn't matter as long as she can learn fresh concepts.
Inspired by Admiral Mc Raven's quote, 'If you wanna change the world, start off making your bed,' she feels that to achieve great things, starting by accomplishing the day's first task is quite important. For her, the little things matter a lot.
Also, every life experience teaches a valuable lesson. She adds, "I have done a lot of 'student jobs' (waitress in a restaurant, barmaid, teaching evening course, post mail for an art gallery, animator in a supermarket, hostess, clothes store saleswoman, paste posters, gardening, cleaning the house and take care of neighbor dogs) and I can tell it taught me a lot and still today, the lessons learned through them are precious."
Thus, she also encourages more and more people to try and gain experience in other jobs or missions where they need to step out of their comfort zone.
Redefining the marketing strategies of Forbes France
Forbes owns a worldwide reputation, and Forbes France is a crucial part of this Forbes network.
Launched in 2016 on the web and 2017 in print, Forbes France mainly showcases the success through portraits of leaders telling their entrepreneurship stories. There are unique rankings (billionaires, 30under30, etc.) of successful people doing business and their great stories.
In France, business successes are not recognized enough in comparison to other countries in the world. Moreover, launching the American magazine Forbes inside the various French landscape media was a challenge.
However, the word 'Entrepreneur' comes from French roots, and French people are inventive, curious, and have great productivity. The magazine also holds a similar spirit and mission: Talk positive, think positive, and act positive!
So, the team wants to spread the roots of the magazine throughout the country.
Thuy adds, "In the nearest future, we are actually developing the Club Forbes, a strong and influential network place where decision-makers can be members."
Balancing Work and Life
As the CMO of Forbes France, Thuy is responsible for taking care of all the marketing and ad operations. Owing to the recent company establishment, she has to wear multiple hats along with handling her small team.
Being the in-charge of managing client campaigns, communication, and community management with the team, she plays a key role in establishing win-win partnerships and recruiting agency partners for fast-track sales growth. She even organizes a plethora of physical and digital events and strives hard in fulfilling tech and digital projects.
She even coordinates different ad-operations projects with the sales, translation, and editorial team and loves that everyday is a new day carrying new challenges and roles.
She opines, "Taking the wrong train can get you to the right station." Thus, her numerous past entrepreneurship experiences had developed her ability to anticipate risks, solve problems and make smart decisions. She knows that generating good revenue, and a great team are key factors for a company's success. For her, Patience, determination, integrity, curiosity, and passion drive success easily.
Thuy is a mother of 3 young kids, and her work-life balance has helped her gain valuable entrepreneurship experience. She keeps completing work as per priority and loves to keep her team motivated. She further adds, "I am not a fan at all of micro-management. I encourage the team to use initiative and to get responsible. I privilege the teamwork on project management despite hierarchy management."
Future Roadmap
Forbes France is working diligently to enhance and increase its magazine subscription. Their teams are making the youth aware of the importance of investing in themselves. Through Forbes magazine, people can get inspired by reading about different models.
Thuy shares, "This is the best investment that all French should do! The subscription is 30 € for 4 magazines per year. The price of one restaurant or few pints of beer."
Personally, she is passionate about different cultures, history, and arts and wants to help people and the youth to find out their inspiration, creativity, curiosity, and hope! She has even developed a free application named Okupy.fr that is useful for families and young people to search for upcoming cultural activities in France.
Thuy's message towards businesswomen is 'Scratch my back.' This principle has already helped a myriad of Businessmen and united in business.