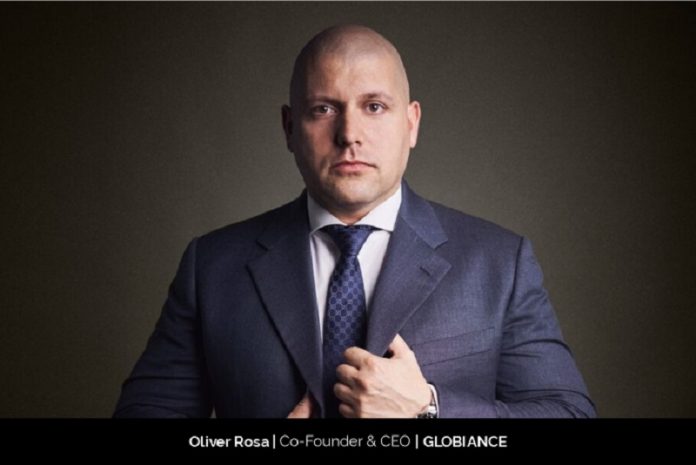 As Thomas Edison reads, "Many of life's failures are people who did not realize how close they were to success when they gave up," the underlying message of this remarkable quote isn't only about success or failure, but it's also about the unique path of entrepreneurship.
Oliver Marco La Rosa, Founder and CEO of Globiance, believes that the moment a person decides to become an entrepreneur, he/she sets out on a journey that is highly uncertain and doesn't guarantee success. Yet many extraordinary minds with risk-taking attitudes leave their comfort zones and follow their passions which may make them sound crazy. However, they lead a fulfilled life without the regret of not pursuing their dreams. All in all, it is all about pushing the limits, chasing the north star of your life without getting caught in the outside noise.
Before finally launching the Globiance platform, Oliver and his team had to demonstrate a lot of patience and resilience. He adds, "It was one of those times when you know that there's light at the end of the tunnel, but until you finally see a beam of that light, it's just plain darkness." They went through that phase by showing faith and hard work, and it eventually defined the success of the Globiance brand.
The road to glory
Starting his career as a systems administrator in a telecommunications company, Oliver pivoted out from the corporate sector and stepped into the entrepreneur world, following his passion.
He founded his first IT company by renting out game servers for Esports in 1999. Server Arena, rented game servers to clans as the first company in Europe in a time when the word Esports was not heard of. He adds, "We had kind of a monopoly on the German market for some time before the competition woke up and realized that there is real money in the games. So, in 2002, the company was sold to Gamigo AG."
After this, he went into the banking support sector, where he worked for over 13 years filling up his experience meter and getting deep insights into the market.
Oliver mentions, "I became an independent IT service provider, managing numerous projects, and worked for eight years at Citibank as a team leader of the external Server and Production Support team. In 2012, we moved our HQ to Malta and provided 24/7 IT support to banks in seven European countries until early 2018."
While serving in the support sector, an idea to build a financial services company sparked in Oliver's mind. Backing up his skills and experience, he nurtured the kindling in his mind and developed his own company, Globiance, in 2018, with the help of his supporting wife, Irina La Rosa.
With an aim to provide financial freedom to all the people around the world with Globiance, he is steering the wheel of the company on the right path.
No pain, no gain
Oliver firmly believes that there is no real growth without pain, and it always gets harder before you level up. While climbing the ladder of success, it is obvious to face several roadblocks and challenges. A successful leader has to reflect on his previous mistakes and learn the hidden lessons without being a victim and losing all hope.
Oliver expresses, "Since I decided to start my entrepreneurial journey and launch my first company, each day has brought a set of new challenges. Looking back on those challenges, I am now thankful for the opportunities that they brought for me to be a better entrepreneur."
During his journey to success, he learned several valuable lessons, but he holds three of them very close to his heart. First, read the small print, give attention to the details no matter how busy things get. Trust is a luxury, and not everyone can afford it, so always be cautious. Second, always have a plan B. As life is uncertain, so is the market. A person can never know how things will unfold while pacing up towards one's goal. So, it is safe to calculate the risks and never put all the eggs in one basket. Having a plan B will boost your confidence giving you a backup to fight against the odds of life.
The third and most important one, always deem about the market and client's needs. Oliver states, "Besides our main business of IT Support for Banks and before Globiance, for years, we developed products that nobody asked for and it turned into a big waste of resources. Today, we listen to our client's needs and develop and amend our products accordingly."
Overview of Globiance services
Globiance provides financial services for corporate and retail customers. The Globiance platform covers the exchange and trading of crypto and fiat currencies (SGD, EUR, HKD, GBP, USD, etc.), stable coins in major currencies, payment solutions, and worldwide transfers.
Globiance is one of the few platforms with a global approach and additionally features integrated individual bank accounts for each client while focusing on the user experience of buying and selling crypto combined with the ability to instantly withdraw fiat to the integrated accounts.
"Using our Crypto Processing Gateway, our clients can pay with crypto instead of their credit cards. Useful for all businesses and mainly effective for high-risk industries, our product can be utilized at lower fees, no risk, no rolling reserve, and offers definite transactions. It is available in a white-label version for the merchants and can be seamlessly integrated into their platforms," adds Oliver.
Sailing the company through the changing landscape
Currently, the whole financial sector is witnessing a major shift in people's priorities when it comes to taking charge of their financial freedom. Time immemorial traditional systems have failed to provide substantial returns, and this has led to the digital revolution, which has further given rise to elegant decentralized solutions.
The ecosystem of Decentralized Finance (DeFi) allows individuals to be benefitted via the smart contracts that are running in the automated systems. These highly innovative products drive the DeFi market rather than a centralized entity such as a traditional bank. A digital revolution of this kind unfolds a sense of surreal financial freedom to a wider audience and even opens up pathways to neglected 1.7 billion people who don't even own a bank account (as per 2017 Global Findex).
In early 2020, DeFi protocols were launched on the Ethereum Mainnet. Since then, exponential growth can be observed in the Total Value Locked (TVL) in DeFi smart contracts. Oliver adds, "As per a recent article by Coindesk, DeFi is not a $100B sector. Yet we believe that we are at a fairly early stage as there is still a market of about $640 trillion to $1 quadrillion of traditional derivatives and financial marketing waiting to be disrupted."
Since the dawn of the company, Oliver has visualized to make Globiance a globally recognized and regulated brand, allowing them to serve international retail and business clients. He laid a strong foundation and hardwired the agile approach deep into the roots of the company to fill true colors in his dream.
Oliver expresses, "We take pride in being agile. That's the way it should be in such a young industry like ours. Our strategy has been flexible from the beginning as there's no certainty around what will happen tomorrow. Hence, we do our research, stay updated on the industry trends, and deliver the most valuable services in favor of our clients. We also amend our platforms and strategy according to the market needs."
Oliver now enjoys the perks of a solid team of highly dedicated professionals who are extremely passionate about the industry. They resonate with the mission of the company. Constant innovation and passion for delivering optimal solution are two strong pillars of the company that keeps everyone motivated even in arduous and uncertain circumstances.
On top of that, the whole team maintains a culture of integrity to pave the way to the top. Oliver says, "Our team is public, and we offer a fair and transparent partnership to our clients, so they trust us with their assets. Having made a ton of progress already, we still have a long way to go to reach that goal. I'm sure that we will get there with consistent diligence and the correct approach, and considering the potential of blockchain technology, it is a great time to be alive and hustle."
Life as the CEO
As the Co-founder and CEO of Globiance, Oliver wears multiple hats with no typical day-to-day tasks. He is managing the overall operations of all the company departments efficiently even while working virtually. All this has been possible owing to his diligent efforts to propel more success and growth in the company.
Being an industrious leader, he keeps his three-task list prepared in the morning so that all the crucial tasks get completed till the next morning. However, during the day, there are many new challenges coming his way that need his attention. Thus, there are no scheduled days for him, and every day is a new day with new responsibilities.
Keeping a challenge-driven approach, Oliver feels that working at Globiance has been quite hard for him. He shares, "We began at the right time, endured when the industry was thought to be dead and continued to contribute to a financial revolution. We had a vision that we fought for and brought to life after many hurdles, and I motivate myself every day to execute to the best of my potential."
Motivation acts as a catalyst to boost employee productivity and bring forth the best version of everyone. With the elevated competition in the industry, all the company's teams are devoted to optimizing their current products and adding a dash of innovation to the new ones. Thus, all employees strive for that extra mile to attain the top position in the business and render supreme services.
Oliver says, "Globiance has a stellar reputation for being a trusted financial services partner, and we are committed to keeping it the same. We believe in offering premium customer service as it defines who we are and what we believe in." Therefore, all the team members are quite supportive and always available to cater to the varied needs of the customers and resolving customer queries in a stipulated time frame.
He believes the COVID-19 pandemic brought more balance in his personal and professional life. Adapting to the remote working environment has helped Oliver and Irina to spend more time together with their family.
He shares, "I wouldn't say that the working hours have lessened, but in fact, I believe that we have become more focused and effective as we can take small breaks and spend more time with our children. For instance, spontaneously, we can decide to take a morning or an afternoon off for some family activity and continue to work later in the evening. I enjoy this freedom a lot."
Promising future of Globiance
Globiance is all set for future expansions as the company is spreading its wings and applying for more licenses globally. Currently, the company is able to reach most clients. However, he understands that having a local presence imbibes more trust in their brand name. Therefore, hiring more local staff makes their brand stand out and fulfills the cultural aspect of every market individually.
Oliver says, "There are many regions that don't have the luxury, or, say, basic availability of local banking. Those regions will profit the most from this financial revolution as we will be offering a platform to our clients globally to do their daily transactions, participate in DeFi offerings, as well as trade and keep their savings in any currency."
With such bright dreams, he aims to make Globiance a perfect banking solution and make a significant difference in people's lives.