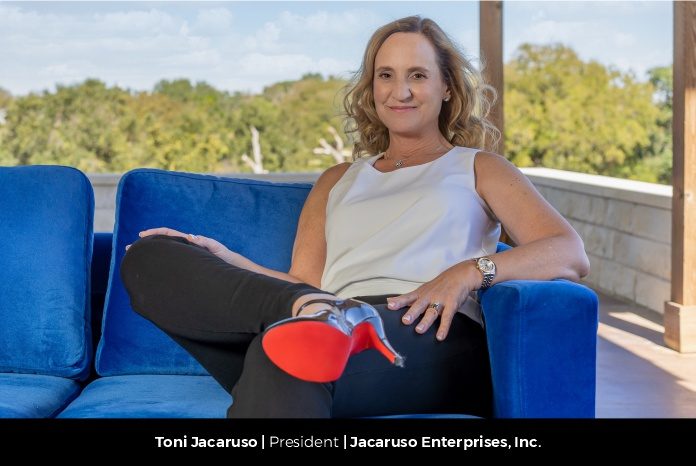 In 2007, Toni Jacaruso built Jacaruso Enterprises  with the foundational idea: "Do what you love, with people you love, and help others."  Since then, the company has been using cutting-edge sales strategies to help hotels increase revenue and market share.
Based on her extensive knowledge of hotel, sales, marketing, and operations, and belief that geography should never be an impediment, Toni formed a diverse team of industry specialists. Officing remotely throughout the US, they improve each hotel's performance and profitability by marketing to the right guests, and securing new business.
A sought-after keynote speaker with over 25 years of experience, Toni's transformational sales concepts have changed sales methods and sharpened the competitive edge of thousands of General Managers and Directors of Sales. In an exclusive interview with CIO Views, Toni shared her exceptional journey as a leader.
Every leader has a unique definition of success. Tell us about your thoughts about success and why do you feel that?
Defining success can be tricky. When I had my first hotel job at 16, I immediately developed aspirations of being promoted to sales manager because I thought success would be not having to wear a uniform or a nametag. When I started my own business, I thought success would be to make a profit, any profit, in the first year. Later, I thought success would be when the company reached $1M in revenue, or when we had 2,000 customers. Each time I achieve a specific goal, my definition of success changes.
Over time, I have learned that successfully achieving goals is very different from living a successful life. I now consider the true measure of success to know that I try to live a life I am proud of and help other people in a profound way along my journey.
Leading a company to success is not an easy road to take. What inspired you to take the step of faith? What led you into the hospitality industry?
When I had the idea to start my company, I got the feeling of being really excited with a slight twinge of fear. At my best points of inspiration, that's always the feeling I get. It lets me know the Universe is gently tugging me and I'm onto something great. Taking the risk to keep going did take a lot of faith, the guidance of a mentor, and the support of my husband.
I first landed in the hospitality industry by accident. At age 16, I was babysitting for a general manager who lived in the penthouse of a hotel in downtown Minneapolis. It seemed pretty nice to live in a penthouse, so I asked him for a "real" job. He hired me as a night manager (a.k.a. night auditor – it's all in the marketing!). From my very first position, I took eagerly to the industry and progressed through just about every hotel job possible.
Challenges make you stronger. What is your take on this? What were the roadblocks that taught you valuable lessons in your professional journey?
I think the job description of an entrepreneur should simply read, "Tackle roadblocks."
Early on, I had a disregard for roadblocks and a high tolerance for risk. At my first job, I approached the Director of Sales to ask if I could work in the sales office while the current salesperson was on leave. She scrutinized me intently for a moment and then asked, "Can you type?"
I replied instantly, "Yes." She agreed to let me try the temporary position starting on Monday. It was Thursday. I jumped in the car and raced to the community college to enroll in a typing class so that I could learn to type over the weekend. One roadblock down, a thousand more to go.
I had challenges from day one in my business and still have them today. When you create an innovative service or product, there is no map to follow. But there are people who have had similar experiences. I surround myself with entrepreneurs who share their experiences with me, which helps me avoid pitfalls and find resources quickly to overcome challenges.
The most valuable lesson I've learned is that you can never underestimate the power of hiring exceptional employees. At the height of the pandemic, when no one was traveling, our incredible team banded together and created a network that collectively found leads for all the hotels we supported. Our employees successfully secured millions of dollars in new business for our hotels, helping them keep staff employed and their doors open.
Tell us in brief about Jacaruso Enterprises.
I started Jacaruso Enterprises with the foundational idea: "Do what you love, with people you love, and help others."
At the time, the business model was unusual – an all-remote, distributed workforce of professionals using technology to engage with customers and co-workers. The service we provided created a new category in the hotel industry and has opened hundreds of new doors for major hotels and boutique properties throughout the US, Canada, the Caribbean and Latin America.
We've grown by hiring amazing people who are experts at what they do, committed to their fellow team members, and dedicated to the hotels we support. Jacaruso Enterprises has made the Inc. 5000 list of Fastest Growing Private Companies in America four years running and has been named one of the Inc. 5000 Best Workplaces. At its (pre-COVID) height, the company had 150 employees and 2019 revenues of $18 million. Throughout our 14+ years in business, we've continued to innovate to meet our customers' needs in the ever-changing hospitality landscape.
Tell us about your contribution in redefining the hospitality industry.
Traditionally, hotel sales activities were managed by a Director of Sales who worked on-property with a team of sales managers, catering managers, and sales coordinators. Their job was to maximize hotel revenue by selling sleeping rooms, special events, meetings, conventions, food & beverage, and special amenities such as spa services, packages, or leisure activities.
In 2007, we pioneered what was then a new idea: remote hotel sales service. This provided our clients with a trained sales expert, ready on day one to start bringing new business into the hotel, all at a fraction of the cost of hiring and training an on-site employee. We work closely with most of our hotel clients on a regular, ongoing basis. We also handle pre-opening sales for new hotels as well as short-term sales support for hotels with a vacancy in their sales office.
Our offerings continue to expand to meet new needs. JE most recently launched a virtual hotel sales & operations training platform. We designed it based on our successful experience helping hotels find customers traveling today, elevate service delivery to reach their peak performance, and drive revenue results. The subscription-based training was recognized as the Best Service to Combat and Reduce the Impact of COVID-19 by the CEO World Awards and continues to be utilized by hoteliers and management companies across the US.
How does Jacaruso Enterprises stay abreast with the growing competition in the industry? What makes Jacaruso Enterprises different from its competitors?
We are aware of our competitors, but we don't spend a lot of time thinking about them. Our focus is on continually looking for ways to move the industry forward and innovate our service to provide the highest value for hotels that do business with us. Even so, there are significant differences in our service compared to competitors, namely our connections, our team, and our results.
Within each major hotel brand, we have long-standing partnerships as well as connections with key stakeholders and decision makers at the executive level. We have a rigorous process for finding the best people to hire, a supportive company culture and generous benefits packages. The skill and dedication of our team drives results for our hotels every day. We track these results with leading-edge technology that delivers interactive reports to each customer detailing their return on service.
How do you wish to influence a change in the generation as a woman in lead?
There is still a significant gender gap in executive leadership and entrepreneurial ventures. The way I influence change is by being the kind of woman people want to work for and do business with. I want women to see that being female is not a detriment to owning and leading a profitable company.
Tell us about your life before Jacaruso Enterprises.
I've always had an entrepreneurial streak. In my neighborhood growing up, I built a successful babysitting enterprise, hiring friends as my "employees" and taking a cut so I could continue to expand the business. When I was old enough, I got a job at a Holiday Inn in downtown Minneapolis. From there, I built a 20-year career in the hospitality industry, eventually holding director-level positions for some of the largest hotel brands in the world. I then moved into a role as Vice President of Sales for a hotel management and asset company with annual revenues close to a billion dollars. Unfortunately, I wasn't happy. I spent so much time running from crisis to crisis that I didn't stop to reflect on what I really wanted to do. I was stunned, but relieved, when I was fired from that job.
Soon after, I found myself in an airport in the Caribbean, sitting on a 4-hour layover before the flight to my final destination. With nothing but time on my hands and airplane napkins, I plopped down on the floor at the gate and began writing. An hour later, an impressive napkin mosaic was spread before me, detailing things I love to do, things I like to do, and things I will never do again! Those ideas became the foundation of Jacaruso Enterprises.
Fast forward to today. I am continually grateful to the people who choose to work for me and who foster a culture of mutual respect. I am humbled by our success.
Tell us what marked the beginning of your career? What has been the best recognition that you have received as a business leader?
I told you the story of my first job. It led to a career that progressed alongside my studies to earn an undergraduate degree in Hotel & Restaurant Management and later an MBA. I'm most proud of the company's public recognition on the Inc.5000 List of Fastest-Growing Private Companies in 2017, 2018, 2019, and especially in 2020, when we were also in the Inc.5000's Best Workplaces. That was the year the earth stood still, and all travel came to a halt. We managed to stay in business and maintain our customer base when many independent travel-related companies closed their doors. That feels validating to me as a business leader; perhaps even more than the awards we've received.
What are your responsibilities as the President & Founder of Jacaruso Enterprises? Walk us through your regular day at work. Also, define yourself in one word.
One word? Competitiveness! I'm not sure a "regular day at work" exists for me, which is one of my favorite things about my job. I participate in weekly meetings with my executive leadership team and meet each week one-on-one with my direct reports. Every day, I put on workout clothes in the morning and hope I make it to the gym before dinner! It's about 50/50.
How do you maintain a balance in your personal and professional life? How do you keep yourself motivated to deliver the best services?
Balance is a unicorn. If you find it, take a picture because you may not see it again! The idea of balance for me is equanimity. Regardless of what I am doing, I want to be fully present. I find equanimity through daily meditation, frequent contact with people I love and lots of practice.
Motivation has never been an issue for me. I am naturally driven and have a thirst for learning. These characteristics continually lead me to innovations that improve our customers' experience and our results.
What are your plans for the future of Jacaruso Enterprises? Also tell us about your personal goals as a leader. What is your message to aspiring women in leadership?
The future is bright for Jacaruso Enterprises. We plan to continue our aggressive growth strategy through innovation. My goal is to work myself out of a full-time job at JE. Our leadership team is filled with the highest talent density in the history of our company. With them handling the day-to-day operations, I can work on other projects, such as the new travel company we launched in 2020.
My advice to aspiring women in business is to ask for help often, don't blindly follow advice, and trust your instincts. When people told me my ideas wouldn't work, I'd never earn enough money to retire, and employees wouldn't leave a job with a known entity to work for a start-up, I replied, "Watch me." If you can find it, there is power in a strong network of women you are close to. They will love you enough to tell you the truth.