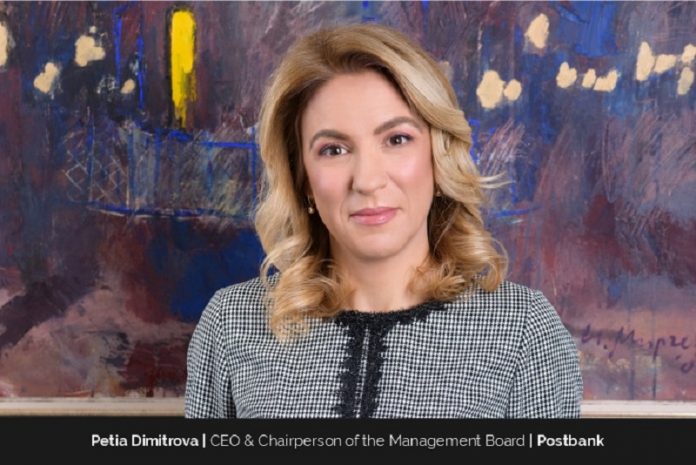 Where Diligence meets Excellence
What does it take to be a successful woman CEO and ace it? How often does diligence meet excellence? Isn't it great to be working with a company that ascribes its success to its team members?
Petia Dimitrova, the CEO and Chairperson of Postbank's Management Board, with her laser sharp focus and single-mindedness, stands tall amidst other luminaries in the banking arena. Having started her journey with Postbank in 2003 as Chief Financial Officer of eight subsidiaries of Eurobank group in Bulgaria, to becoming its Procurator in 2005, and eventually running it flawlessly as a CEO, there are umpteen lessons in leadership that one can learn from her. Under her aegis, Postbank cracked two significant and successful deals during 2016-2019, namely acquiring and integrating Bulgarian branch of Alpha Bank and Piraeus Bank, strengthening its position as a systemic bank in the market.
Redefining Success
Petia believes that success is a relative term; and its dynamics and parameters change from person to person. In her world, success stems from a personal satisfaction with what has been achieved and more often than not, it always comes to those who are prepared for it. It also translates into strenuous effort and long working hours. However, the most significant ingredient of success is team-work.  She asserts that working with right people who are true professionals, by your side, plays a decisive role in the company's success and growth.
She takes pride in sharing how the 30th anniversary of Postbank showcased its journey of becoming one of the most successful, innovative and leading systemic banks in Bulgaria. Its raging success can be reflected in terms of its accomplishments like ranking 3rd in terms of loan portfolio and deposits and being the 4th largest bank in terms of assets with over ten percent of market share. With 200 branches across the country and 3000 employees, Postbank has also bagged more than 100 awards in the realm of digital innovation products, services and social responsibility policies. It is also a matter of joy for her that Postbank has emerged as a credible institution, wherein the customers' present and future needs are always taken care of.  With a touch of humility, she credits this humongous success to all her colleagues, clients, partners and share-holders. To quote her: "That is why for me the success is in building a good team of professionals with whom you can look forward boldly, creating a universe of opportunities for the clients."
Dealing with Challenges
All paths to greatness are fraught with challenges and Petia knows this. She is not oblivious to the mammoth task of handling everyday issues that crop up every now and then. In fact, she takes them into her stride and confidently walks forward in the direction of her dreams. She shares how challenges have taught her to be more patient, set goals and motivate people around her to give their best to materialise them. Recalling one of such challenges, she talks about the acquisition of Piraeus Bank, Bulgaria in 2019, which prompted her to develop the requisite skills and move forward. The natural aspiration to increase market share by organic growth as well as acquisition of strategic players, has worked well for the growth of Postbank.
The Uniqueness Quotient-Corporate Philosophy
Sharing about the uniqueness quotient of Postbank, Petia shares how customer experience and contentment is at the heart of their endeavors. They are continually trying to improve the existing vast portfolio of products and services. Further, acknowledging that the future of banking is undoubtedly digital, and that 'Speed' is the key to greater consumer traction; they have also launched mobile wallet of a new generation called ONE wallet that offers many banking services through phone to the consumers. For instance, there is an option of adding and managing all bank cards, ensuring contactless payment at POS terminals, card management in a mobile wallet, opportunity to add loyalty cards from different merchants and attractive discount vouchers.
Interestingly, among the many firsts, it is credited as the first bank in Bulgaria to offer a Smart POS, an innovative and quick solution for contactless payment as well as the first one to offer a metal credit card in the Bulgarian market – MasterCard Universe. Their current focus and deliverable is instant payments, under the Blink Program of National Card and Payment scheme. The investment in modern digital zones and revamping of branch networks, have also been an area of focus during the past two years. All these steps, are indeed, a reflection of the company's consistent urge and commitment to address changing needs of customers. The deeply ingrained core values of customer satisfaction, happiness and being of service, find a home in almost all day to day practices of Postbank.
Tides of Change – Adjusting the sails
Being constantly proactive in the banking field for a long time, Petia shares how the industry has undergone a sea-change over the years. She is enthusiastic about how the new technological solutions and innovations are being well accepted by society at large. It is a positive sign that today's consumers are quite conscious and willing to manage their finances by utilising innovative solutions to create a sense of ease in their lives. Her strength has been in identifying these changing tides, and creating a work space over the years that could adapt to change. It is reflected in the fact that Postbank already created and implemented a sustainable digitalization strategy years ago, offering maximum flexibility, along with innovative services to its customers. Further, it has also signed an agreement for large-scale strategic partnership with Doverie, a leading Bulgarian Pension Assurance Company, to sustain its strong connection with non-banking financial institutions. In her expert opinion: "Financial institutions will continue to look for the balance between digitalization of their banking services and a personalized service approach in the future".
Cultivating Integrity – Inside Out
Integrity is an integral part of Postbank's culture. It engages in customer-centric policies, and strongly adheres to its core corporate values of innovation, empathy, meritocracy, teamwork, respect for people, creativity, trust, efficiency, quality and social contribution. An active social responsibility policy which includes working in the relevant areas like education, environmental protection and innovative practices, is the hallmark of its winning strategy.
Touching the Sky
When asked about her greatest achievements, Petia says "Over the past years, my greatest achievement is the team we built, retained, and significantly expanded over time". The power of a professional team, coupled with 30 years of industry experience, has driven them to the zenith of excellence and expertise. She feels grateful to have proactively participated in creating and continually writing the bank's history, in spite of the complex internal and external situations. She also clearly resonates with the bank's success as hers and mentions how the integration of the Alfa Bank Branch in Bulgaria (2016) and followed by the successful acquisition of Piraeus Bank Bulgaria (2019) in a short span of four months, stands as an epitome of unparalleled success in their long journey. She is also proud of Postbank receiving awards in the category of the best consumer digital bank and the best mobile banking apps, for a second consecutive year, conferred by the world Finance Digital Banking Awards 2021. Best Retail Bank 2021 and Award in the efficiency category are yet other additions to an already impressive line-up of milestones that Postbank has achieved under her leadership.
Work – Life Balance- A Utopian Dream or reality?
One wonders how could someone work so incredibly flawlessly, and yet find time for enjoying life. Is work-life balance really a myth? Not so for Petia. She is crystal clear about her priorities and has a sense of raw honesty about her as she remarks, "To achieve work-life balance is not easy. Some do it better than others, I think that my experience plays a big role here". Highlighting the significance of adaptation, discipline and compromise in life, she shares how she has consciously cultivated the difficult, yet valuable skill of switching off work to be fully present in the lives of her loved ones. While she often succeeds, there are some days when work demands her entire being and attention. In such cases, she makes a deliberate attempt to restore the lost balance by, "reading a good book, skiing during the winter months, or taking a short family trip when I have the time. My workday is usually full of meetings, and in the evening, I always try to spend time with my family".
The Inner Drive and Sense of Fulfilment
The responsibility factor is what drives Petia to be consistently focused on work and strive for excellence. While she is entitled to some degree of freedom, it comes with commitment to diligence and persistence. She believes that her team members are also motivated by the fact that they are working with a constantly evolving and an innovative financial institution. They all live and work amidst the recurrent change; and develop a sense of fulfilment at the end of the year, for having given their best. In fact, it is easy to succeed with a self-driven motivated leader at the helm; and Petia has proven to be so, not for a day or two; but almost two decades.
The Roadmap to Future
The rapidly changing banking industry and customer needs, warrant a future ready strategy. Keeping this into account, Postbank has been engaging in deliberate and conscious strategies to bridge the divide between the bank and its customers. Striving for the perfect client experience, they have been discussing and utilizing innovative ideas to achieve it. Petia also shared how over time, her personal goals have become aligned with others in her team and as a leader, she consistently tries to acquire new learnings and qualities. Her advice to the young and aspiring businesswomen is succinct: "I would advise the young ladies who have set out on this path to listen to the people around them, to look at the tiniest details, to be authentic, and to embrace change as a natural state".
Be the Change you want to see in the World
Having traversed the road of success, Petia understands and roots for creating and sustaining a positive change in the world.  She believes that people must contribute to their immediate systemic structures and environment, to create a synchronous and harmonious world. Reiterating Postbank's vision and mission she points out, "As one of the leading banks in the Bulgarian market, Postbank will continue to pursue a long-term and sustainable social policy in all areas", already mirrored in initiative like their own innovative digital platform "Universe of Opportunities" aimed at encouraging and supporting social entrepreneurship ideas. Offering innovative digital solutions, developing green initiatives and contributing to excellence in education, are the key focus areas at Postbank and Petia is assured that they would always stand for "Be the Change you want to see in the world."