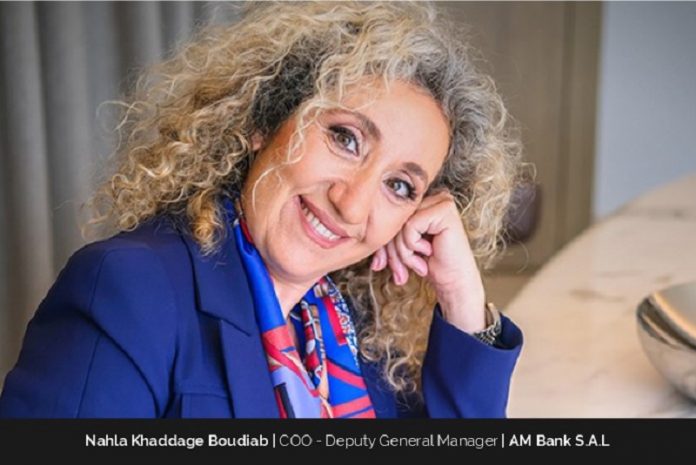 A woman in a traditionally male ecosystem is still a waging war of the genders, but a consistent one. As more women step out into podium and take charge of fighting these biases with grit, determination and intellect, the battle will only continue to weaken. One such woman standing tall and proud in an industry historically solicited by male members, is Dr Nahla Khaddage Boudiab, COO – Deputy General Manager of the AM Bank of Lebanon.
In her position, Dr Nahla is playing a pivotal role in bringing success, fame and recognition to the bank, that was honoured with the Excellence in Strength, Operations and Resilience Award by the international community including, World Union of Arab Bankers.
Organizations need to recognize the importance of having women in their executive level because, not only do they compete well in technical skills, they also bring to the organization a natural ability to create collaboration, a sense of belonging and are outstanding at driving innovation and agility, which are core elements that will strengthen a company's ability to compete in today's global economy.
As the head of the Women Empowerment for the World Union of Arab Bankers, Dr Nahla's journey into banking was a 'giant leap in faith'. "I come from the consulting industry; working with one of the top 5 consulting firms in the world shaped my thought process. But real knowledge comes from solving real problems, from activating your employees' potential, from creating a culture that supports its people, from achieving organizational growth responsibly, from creating an organization that is at the core of human life, an organization that serves its employees as well as its customers and trusts that these values will make success imminent. Real knowledge comes from bringing people in the organization together to manage unpredicted crises, it comes from the recognition that it's not about products and services, it's about turning your organization into a community which will drive the fulfillment of customers' needs. It is these beliefs that drove me to take the leap of faith!  I was privileged to find a chairman whose values are aligned with mine, and when there is alignment of values there will be success."
Dr Nahla measures success by the positive impact on human lives, this includes employees and customers. "I strongly believe that the most precious element in life is the person and everything we do should aim at improving the life experience of people.  This personally drives me and I do my best to apply it in my personal life and in my professional life.  I also strongly believe the way you treat people will materialize in the bottom line of the company and its sustainability."
As would anyone on the path to successes, Dr Nahla was no stranger to tackling challenges. However, unlike most, she considered them as signs to shift direction rather than roadblocks, a formula that has worked in favour and support. "This means that if we want to see things clearly we must keep our "interpretation engine" fit! Important tips on how we do that:  Take time to nourish your thoughts because they are the only entry point to your emotions which devise your perceptions and shape your behavior. Be selective of what you allow into your thoughts!"
Claimed to be the first bank to have brought the concept of credit cards to Lebanon, AM Bank is a name synonymous to innovation and progression, a testament of which is seen in its many accolades. " AM Bank has always been a pioneer, many of the things we have done were done for the first time in our industry.  It is the bank that brought the concept of credit cards to the country, the only bank that has a flat organizational structure, and some of our products and services are unique, such as the delivery service, online banking platform, to name a few.  The bank has been receiving around seven international awards every year and in the last two years we received the resilience award – something I am truly proud of, because this award shows that our values were seen clearly in our industry. We are a community, a group of people who love the organization and everyone in it.  We trust each other, we support each other, when a member of our organization falls everyone runs to help them stand again.  People who have experienced this level of connection transmit it in the way they deal with customers. And this is transmitted into the bottom line"
Nurturing the Untamed
As is the bank, Dr Nahla is a woman of innovation too, proven by multiple international leadership awards she received, the Innovative Leadership Award in 2019.
"There are several elements that change our global environment, technology has integrated all country economies into one global economy.  This is an important event because agility, innovation and human potential are finally receiving the credibility owed to them.  We are shifting from managing people like robots to finding ways to unleash their potential and this will drive a major leadership shift because the core purpose of leaders has changed.  Today's leaders must activate the powers of people around them and this will push them to evolve their skills and their leadership approach.
I am proud of releasing the "leadership fear" and evolving to someone who leads with my heart and soul.  I am proud of evolving from being a shrewd leader that focuses on profitability at the expense of people, to a leader that drives profitability through the activation of the organization's people.
Dr Nahla feels honoured to have led a 'rich life' thus far yet. A testimony of this is reflected in her new book, 'Untamable' to record her life events that have been 'intense and interesting'. Released in the US a few months ago, Untamable covers a series of topics such from immigration, to hunger, to bullying, to workplace harassment, to illness and much more. "I have experienced it all, and my life has been rich.  I called the book "Untamable" because people are untamable and we need to stop taming them because we are afraid of what they might do.  Untamed people are magnificent and it's time to allow this magnificence to sculpt our world."
A banker's life
AM Bank and its operations remain a core part of Dr Nahla's life today. Starting with a review of core operational ratios aimed at identifying potential risks and irregularities that need reflection and mitigation, she moves on to scan the branch network and back office. In the midst of this, she ensures that there is an open channel of communication with the teams – in the form of guidance and also motivation. "Regardless of my workload, people of my organization come first.  If anyone needs anything, we are there to support, because we recognize that it is our people who are transmitting our values to our customers and we need to care for them. We simply walk the talk!"
She explains that given the circumstances that the country is facing, the main purpose of her interaction is to spread a daily dose of "motivation" and to reassure the teams that 'we are one and no matter how challenging the day will be, we will manage it together'.  "I cannot provide visibility on how events will unfold in the country,  but I can ensure bonding, emotional security and I can ignite passion to help everyone see the opportunities in the challenges we are living. This is what shapes our culture, in fact winning the resilience award two years in a row is a result of this culture. You may be surprised that this is a daily task, but given the instability of the country on the economic, political and security level, my daily interaction with the organization is critical to ensure resilience. In one word, I see myself as untamable as a person, as a leader I am an "inspirer".
In the matter of building a balance between work and life, Dr Nahla takes a uniqe approach with her perspective. "Creating a balance between two elements means that they are separate, so instead of struggling to create the balance, why not integrate them so they become one: one life that contains multiple activities that nourish our thoughts and keep us in a state of love. I have one life and within this life I perform multiple activities including sports, cooking, managing a bank, authoring books, coaching and mentoring, socializing with friends etc…. if each of these activities fuel me with the emotions I need to grow, i.e love, thought nurrishment, curiosity and knowledge etc., then that means I have a balanced life."
She feels that there is a need to balance our professional and personal lives only because we 'separate them'. Rather than viewing professional life as an activity that drains our energy and personal lives as an activity that brings relaxation, she believes that focusing on ensuring that 'we are nourishing our thoughts and emotions in every activity we perform including our professional jobs, can create a balance effortlessly. "The real question we need to address is what do we want to feel as we perform all activities of our life? For me it's love, so I will bring love into all aspects of my life, I made it a foundation of my organization's culture, and I ensure it is dominant in every activity I perform and that gives me balance and happiness."
Known to be the first bank to invest in a technology start-up in 2013 under BDL's Intermediate Circular 331, Dr Nahla aims to continue with the quest towards a more efficient and digitised banking environment for the convenience of its customers. She envisions a stronger digital experience for customers, continuing the bank's automation processes and to adapting new technologies. "We will create touching customer experiences, we will bond with our customers so that they feel part of our community.  And together we will remain in inquiry mode, looking for the best technologies that will improve the quality of life to all AM Bank community members.  We will ensure our people learn and feel love inside the organization, we will ensure we create value for society and for humanity.  And we will do all this while increasing shareholders' value!"