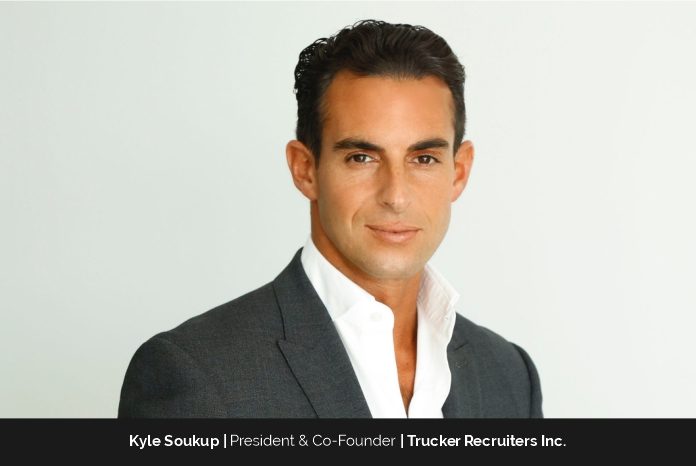 Kyle Soukup, President & Co-Founder of Trucker Recruiters Inc., is shaking up the transportation and logistics industry. Through Trucker Recruiters, a new platform that's already proven to be a game-changer for many, he and his pioneering team have helped redefine recruitment and supply chain staffing for the modern age. With plenty of discipline, motivation, and a powerful growth mindset, they're on a mission to help motor carriers find great drivers for their open positions, and vice versa.
In 24 hours or less, carriers can log on to the platform, find a Class A driver who meets their requirements, and start the hiring process. All candidates are pre-screened, and only qualified Class A drivers are allowed onto the platform. Kyle and his team have already rolled out Trucker Recruiters in the Midwest, and plan to expand nationwide—with the goal of becoming the go-to providers of Class A recruitment across America.
Journeys, Disruptions, and New Beginnings
Kyle describes himself as a disruptor, and, fittingly, his current career started because of a disruption. When his family's three-generation car business failed, he created Soukup Marketing to support up-and-coming businesses with their branding and marketing needs. As a marketing agency owner, he offered comprehensive strategies and unique storytelling that helped set his clients apart from competitors.
It was another disruption that prompted the birth of Trucker Recruiters. When COVID hit, Kyle and his long-time friend and business colleague Alex Shiyan—a fellow entrepreneur—started brainstorming ways to solve the supply chain crisis and driver shortages plaguing the logistics and transportation industry. Out of that conversation, Trucker Recruiters was born founded by Kyle and Alex, who were soon joined by Clint Hanner. It was the combination of Kyle's marketing and innovation expertise, Alex's sales tactics, and Clint's industry knowledge that gave Trucker Recruiters a running start and helped catapult it into the spotlight.
Of course, the disruptions are far from over. "We face roadblocks every day," Kyle says. "But because we've gathered a team of hardworking individuals who are as dedicated to this vision as we are, we manage to evolve with each challenge. Then it's on to the next one. It's never easy, but thanks to challenges and roadblocks, we're constantly evolving and improving our product."
Reflecting on his career thus far, Kyle is proud of what he's achieved but far from satisfied. Used to disruption and transformation, he hopes to take Trucker Recruiters even farther in pursuit of remaking the industry and permanently solving supply chain challenges for truckers and carriers alike.
Freedom to Think Outside the Box
That may seem like a lofty goal but supported by a team of leaders and change-makers who are just as committed as he is, Kyle has no doubt they can achieve it.
In his own words: "Passion and belief are central to what we do, so we only recruit team members who share our belief that the industry needs to change and feel strongly about what Trucker Recruiters can become. Many of our employees have worked in other recruitment settings and they often tell us that we do the things other recruitment companies only talk about. That, and just leading by example—by always giving 100% to everything we do at Trucker Recruiters—is how we stay motivated."
In the end, that motivation becomes its own reward. For Kyle, the best recognition is not an award or honor, but the satisfaction of helping his employees play a pivotal role in changing the industry—and seeing the satisfaction that gives them. To that end, Kyle and his team devote themselves to training new employees, helping them complete the journey from beginner to expert, giving them freedom to think outside the box, and fostering a healthy work environment where initiative and innovation are celebrated.
Leading By Example
As President of Trucker Recruiters, Kyle helps set the standard for that innovation. Leading a team of industry professionals, he's currently working on evolving the Trucker Recruiters web-based application to make it easier and more intuitive: a seamless system motor carriers nationwide can smoothly navigate to hire drivers with a few clicks. According to Kyle, there's always room for improvement, which is why he's constantly challenging both his team and his administrative panel. Without those daily challenges, Trucker Recruiters wouldn't be what they are today: a resilient, revolutionary platform set to transform the industry.
Of course, he's aided in that effort by his Business Partner and Co-Founder Alex Shiyan, and by the Trucker Recruiters Director of Operations, Clint Hanner. Kyle credits their belief in the shared vision of Trucker Recruiters, along with their strong leadership and work ethic, as key to the success of the company. For example, it was their complementary backgrounds and large networks that allowed the three of them to grow Trucker Recruiters from 0 to 70 employees in just a few months.
That in itself is an impressive accomplishment, but there's more to come. And until it does, Kyle is 100% dedicated to the work. While he admits to being a bit of a workaholic, it's that enthusiasm and drive that power his success.
"I've always struggled with that balance," Kyle says. "It helps that I have a wonderful wife and son who make disconnecting from work very worthwhile. At the moment, though, as we try to get Trucker Recruiters up to the standard, we want it to reach, there are no days off."
Into the Future
What is that standard they want to reach? In Kyle's own words: "There are more than 3 million Truck Drivers in the U.S., and we won't stop until all 3 million are on our platform."
But it's about more than just the numbers. While Kyle jokes that he would love for Trucker Recruiters to achieve fame and fortune, what he really wants is to see something he's built from scratch make a difference in people's lives.
"I build brands for a living," Kyle says, referring to his marketing background. "For the first time I am able to see my visions through from the ground up, not someone else's. Being able to deliver this life-changing product to the masses would be an achievement beyond my wildest dreams."
To other leaders and entrepreneurs, his message is "Don't give up. Starting a company is insanely hard. You'll be under constant stress; you'll have a lot of people depending on you and you'll have a lot of sleepless nights. But if you're building something that you believe in, keep at it. Hold on to that belief, work your tail off, and don't ever give up."