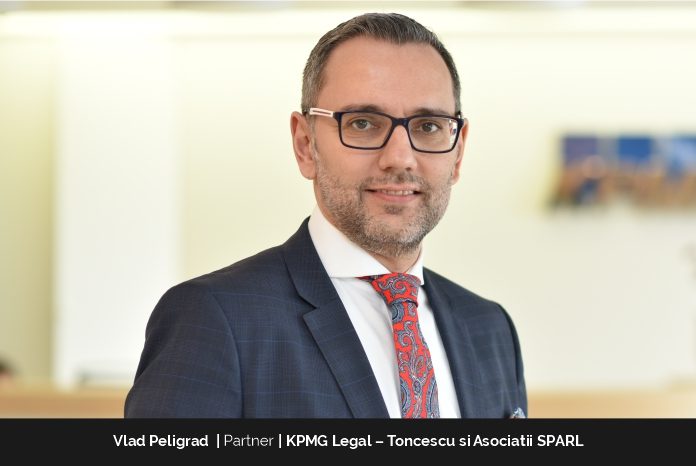 Vlad Peligrad, the Partner of KPMG Legal Romania, has a wealth of experience in dispute resolution, insolvency laws, fraud investigation, and crisis management. Additionally, he has amassed significant transactional expertise in bank lending and real estate financing transactions, as well as project finance, infrastructure, concessions and PPP projects, and FIDIC contracts, both in Bucharest and New York. He earned his LL.M. from the George Washington University Law School in Washington, D.C., and has a Ph.D. in law.
In the 2016 Client Choice Awards, Vlad was the sole winner of the Litigation category for Romania. He serves as an arbitrator for the Bucharest International Arbitration Court and the Court of International Commercial Arbitration, both of which are affiliated with the Romanian Chamber of Commerce and Industry (BIAC). Vlad has taught corporate law, commercial contracts, and transport law for 12 years at the Law School of the University of Bucharest and regularly publishes articles in legal and business reviews.
The Curious Journey to Transformation
Since the beginning of his career, Vlad has aimed to work in a global setting and have access to the knowledge of law firms with a global network. In his experience as a junior, it was obvious right away that he had entered a new phase of his professional development and that he would have to put in a lot of effort to adjust to the high standards of the legal profession around the world. He acquired the skills of organization, rigor, and initiative while working for a law office of one of the BIG4 companies. He recalls, "Continuing my career with international law firms, including one of the Magic Circle law firms, I had access to cutting-edge know-how and integrated the highest standards of legal services on the market."
Before joining KPMG Legal, Vlad was a counsel at a Magic Circle law firm with a presence in Romania, where he worked for more than 11 years. Before that, he worked for another international law firm and for the associated law firm of another BIG4 firm in Romania.
Vlad comments, "I am still dreaming and therefore, I am continuously setting new targets. So far, I can say that I have reached all the relevant milestones I have set for my professional career."
Leading KPMG to New Heights
Vlad joined KPMG Legal as a partner in February 2019 with the specific goal of expanding the L&DR practise and working together with Laura Toncescu, head of KPMG Legal, to restructure the legal services team.
Since Vlad joined the company, KPMG Legal has developed its team and is the obvious choice for its clients. The firm offers legal services to the highest international standards available on the market while maintaining reasonable fees. Vlad adds, "I am referring to an entire team effort. Without the right people and mindset, we would not have succeeded. The firm went through an almost full reshape to become one of Romania's most comprehensive providers of legal services with high standards."
In KPMG Legal, Vlad is the head of the Litigation & Dispute Resolution practice, and is also in charge of overseeing other practices, such as: infrastructure and public procurement, CRSI, energy and natural resources.  He states, "My team is the best recognition I have-any contribution I can bring to their development, their successes, each challenge we overcome, these are a reflection of my work as a leader and are most fulfilling to observe. It is amazingly rewarding to see my former trainees and students grow to their potential, and this is an important part of my work."
Currently, KPMG Legal provides a broad variety of legal services and, in cooperation with other KPMG network experts, we provide integrated services with a 360-degree perspective on any problem.
In terms of numbers, the outcomes of the team's work over the previous three years are reflected in a significant yearly growth in revenue. We now have 28 lawyers with expertise in all areas of law who have graduated from the top universities in Romania, the United States, the United Kingdom, France, and South Africa, and have international experience gained at reputable international law firms like those in the Magic Circle.
Currently, KPMG Legal is a leading legal company, advising clients on some of the biggest and most complicated transactions on the market and successfully defending clients in complex litigation and arbitration proceedings.
Insights into Success
"Success is not easy to define, as it is not easy to achieve," says Vlad. Success for him means having a place where one can use and develop one's strongest skills and make a valuable contribution with an impact on oneself and on others, as well as achieving a good balance between work and personal life. However, in Vlad's opinion, being successful is not a fixed point that you reach in time.
It's more of a continuous journey. He believes, "The journey and the people who walk alongside you define success."
Vlad considers that his definition of success has changed over the years, and he is sure that it is still developing. He recalls, "Right after graduating law school, I realised that, besides having a fulfilling professional life, it was equally important to me to give back by investing my time in forming new generations of legal professionals. My academic activities became a piece of what success meant for me and greatly contributed to the development of this concept." He further adds, "Now, people around me have become more and more important, a significant part of the journey to success. I cannot consider myself professionally successful if my team is not feeling the same. I measure my success by looking at the success of my people and how my former students, now colleagues, grow into amazing legal professionals."
Vlad considers that the essential elements in his situation were constant studying (which also involved finishing his coursework with an LL.M. and Ph.D.), touring the world, and savouring all interactions with individuals from various racial and ethnic backgrounds. An international setting gave him the ability to widen his perspectives and taught him to always be open to new chances and come up with creative solutions.
Another important part of Vlad's definition of success comes from his family. He tells us, "I am a proud father of a 4-year-old kid and my success now is reflected through his eyes. Being a father has given me valuable lessons on core values in life and reminded me of the joy of discovering the world."
Vlad is sure this definition of success will continue to develop, as he discovers new ways in which he can have a positive impact on the community and his team.
Every Failure is a Sign of a New Beginning
In the 21 years of Vlad's legal career, while being a lawyer, a law school teaching assistant, and an arbitrator, he lost track of his list of failures. He states, "I have not kept a score of fails, but I have kept track of the learning which they generated and will integrate these lessons into future plans."
One of the lessons Vlad learned during his career journey is that changes and challenges can come with incredible new perspectives that one may have missed.
Vlad initially believed that he would only practise as a transactional attorney for the rest of his life, without representing clients in court. But just as he was about to make a change in his professional life, he and his team at one of the largest international law firms were given their first litigation case. He then considered that case, the experience his team had had, and the kind of change and challenge he was unexpectedly facing. He tells us that it opened his eyes and his mind to a whole new dimension of his work, so much so that he switched his main practise to litigation. The unexpected change turned out to be far more complex and interesting than many transactions and a switch towards a new professional calling.
Vlad is now working in cross-practice teams and using his background as a transactional lawyer to bring a new approach in court.
Keeping Curiosity Alive
Vlad is continuously curious, and he is continuously learning, which keeps him motivated in all he does. Moreover, having a great team around him motivates him even more, as they are all extremely passionate about what they do, and they generate amazing creative energy together.
He states, "One of the main advantages in KPMG Legal, that makes a difference and motivates our people, is being open and transparent with what we do and making people feel included."
According to Vlad, being honest is a crucial quality for a strong leader. Being honest helps individuals understand what they are working for, how they contribute to the company, and most importantly, how they will be compensated for their job.
Vlad has learned over his career that a lack of openness results in individuals feeling excluded and working without a clear goal, which over time results in a drop in motivation. As a result, "at KPMG Legal, we are able to clearly communicate a team's vision and provide the necessary assistance for them to accomplish their objectives" says Vlad.
Views on Personal Goals and Professional Goals
Vlad's plans for KPMG Legal – Toncescu si Asociatii can be defined as follows:
To remain the Clear Choice for their clients.
To become the number one law firm affiliated with a Big4 in Romania.
To be one of the main engines of growth for KPMG.
On a personal level, he hopes to live a more flexible and open-ended life, spend quality time with his family, and raise his child well.
The advice Vlad gives to aspiring attorneys is to never stop learning, to be open-minded and seize any opportunity that comes your way, to be diligent and proactive in your job, and to never give up on your dreams.