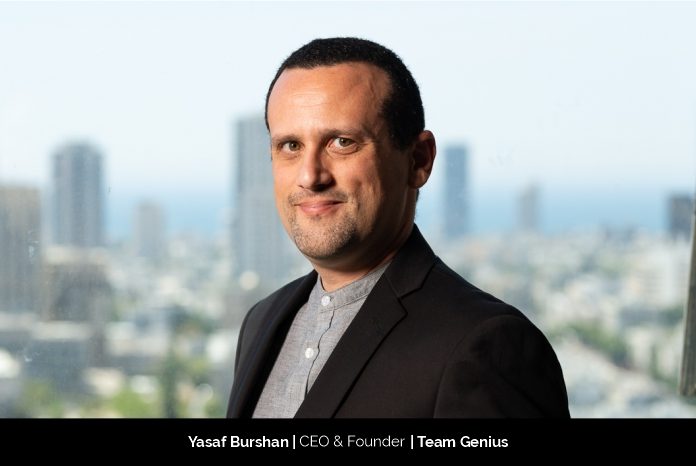 Through providing an unparalleled customer experience, I applied all the wisdom and skills I gained in my career as an IT executive managing large-scale projects and programmes into the customer journey and project management methodology of Team Genius, "says Yasaf Burshan. He is the CEO and Founder of Team Genius, a firm that makes it easier for coaches, influencers, and mentors to succeed online by removing all technological barriers.
Yasaf had a successful career as an IT executive before founding Team Genius. He worked in the defence, financial, and retail sectors for 25 years, and is best known for his job as Head of IT for IKEA Israel which he successfully fulfilled for almost a decade and had the pleasure of being a part of and contributing to the success of such an incredible business. He says "We scaled up from 1 to 6 stores, implemented massive upgrades to the infrastructure and laid the foundations for additional future growth. It was an amazing experience on both the professional and personal levels."
Yasaf has invested significant resources on personal development in the previous five years, from events and seminars to a Platinum partnership with Tony Robbins, to earning an NLP master's certification, and more. Throughout this journey, it became obvious to him that his creativity and voice had been stifled by his surroundings as he grew up, awakening him to make the decision to let them out. Team Genius plays an important part in this healing process, not only by allowing Yasaf to express himself creatively, but also by allowing creators all around the globe to unleash their creativity as well. He says, "I do have to give one special credit to Gay Hendricks for his book "The Big Leap" that inspired the name Team Genius. Gay, if by any chance you get to read this, I can't thank you enough. You inspired me beyond words."
According to Yasaf, Team Genius' approach, along with its enthusiastic and dedicated team, creates a one-of-a-kind experience that results in 40% client retention. In such a competitive industry, he considers seeing such a high proportion of return business to be a great achievement.
Team Genius; a True Digital Partner
The aim of Team Genius is to inspire and empower creators to make an impact. The team does this by bridging the technological and human divide. That is to say, it offers Digital Strategy Consulting Services and assists customers in selecting the appropriate technologies to operate their businesses efficiently. The team also provide Business in a Box solutions, in which they identify a specific collection of tools that each creator, coach, or mentor requires based on the type and stage of his business, without compromising on the personal touch each creator, and business so rightfully deserve.
Team Genius is a Thinkific agency partner, and it provides its customers with cutting-edge online course creation and marketing services, including everything from setting up the course and website to integrating with every other aspect of the business by harnessing the power of business automations, to creating high-converting sales funnels and paid advertising campaigns. Because the path to the zone of genius is not one that can be taken alone, knowledge brokers may obtain all of the resources and assistance they need in one spot. Yasaf asserts, "We are there to support, empower and guide them every step of the way."
CEO of Team Genius
Preserving and developing the culture of Team Genius is at the top of Yasaf's priority list. He says, "I ask myself every day, did I show up today to be the owner and CEO that Team Genius deserves? What and how can I do better?" He feels that getting team members to engage in projects from the beginning of budget estimations motivates them. He says, "If you participate in the design phase, you are more likely to be motivated to succeed."
Yasaf also ensures that Team Genius as a brand and the culture it symbolises is well-known and draws in the ideal clients. On a personal level, Yasaf is inspired by the success and influence of the creatives with whom the firm collaborates. He understands that the number of people he can reach and the topics he can educate are limited. When he empowers the creators individually and as a team, however, there are no boundaries to the number of people he can reach or the topics he can cover.
Love, Communicate, and Live
"Communication," according to Yasaf, is the key to achieving balance. He claims that at home, he maintains an open and honest conversation focused on each other's goals and needs, rather than pointing fingers and complaining about what's missing. Every morning, he spends a few minutes doing a romantic or funky dance with his wife, then they set aside 90 minutes for each other to complete their daily rituals (meditation, power breaths, coffee, etc.) so they can get the day off to a good start. He says, "I'll be the first to admit that we are not perfect, but we are constantly getting better and better and that's the most important thing."
Learn to Accept
"If there is one thing I know, it is that plans are good for paper, or for the spread sheet that we use to write them on," says Yasaf. People tend to overestimate what they can accomplish in a year and underestimate what they can accomplish in a decade, according to him. This viewpoint simply accepts the reality that setbacks are unavoidable.
He believes that sometimes it's the universe just testing one's determination to reach that goal, or the time is just not right. He says, "The bottom line is that I realised right at the beginning that every roadblock is an opportunity to ask more empowering questions and look at reality using a different set of glasses."  
A Multilayer View of Success
Success, according to Yasaf, may take various forms. He measures his success by the number of satisfied clients who tell him how their problem has been resolved or how they have learnt a new skill as a result of working with the team. Positive feedback regarding the quality of the service, he believes, is also a success.
Success, according to Yasaf, also includes seeing empowered workers and how they are better today as a result of learning and, hopefully, sharing something new. Yasaf says, "Success is seeing something that we planned for a long time come into shape and come to life, meaning that our vision was right."
Developing in Order to become more capable
Team Genius was founded as a worldwide business with brilliant individuals working from home. This is also the way forward for the company. By the end of 2022, Yasaf expects the business to have grown in size and formed a team of 10-15 talented individuals, and this is only the beginning. Within three years, he envisions it being Thinkific's largest Expert-Agency partner for bespoke solutions, integrations, and business automations. He says, "I see Team Genius as something more than just a company or an organization. Team Genius has a spirit, a sole and a culture that I am committed to nurturing, promoting and witnessing how it grows. "
Yasaf's mission is to found an organisation that empowers creators by giving them the skills and information they need to become better at what they do and more effective at how they do it.
As per the company's mission statement, Yasaf also sees its mentorships programme evolving and growing at a global scale.  He says, "Providing young entrepreneurs with the skills and encouragement to pursue their dreams by delivering technical, personal, and business education. This will also include a scholarship programme to support and uplift candidates from less-empowered groups and provide them with the skills they need to become creators of the new world. The scholarship programme will also provide employment opportunities. Our leading students will get the opportunity to work with us after graduation and gain experience. "
According to Yasaf, Team Genius will continue to provide its customers with proven platforms and solutions to run their businesses effectively through partnerships with well-known brands like Microsoft and Monday, and it will continue to form new successful partnerships with world-class leaders, speakers, and creators to empower them to make an even greater impact. He states, "The future is bright for us. I am very excited."
More information, please visit http://geniuszonedigitalstudio.com/