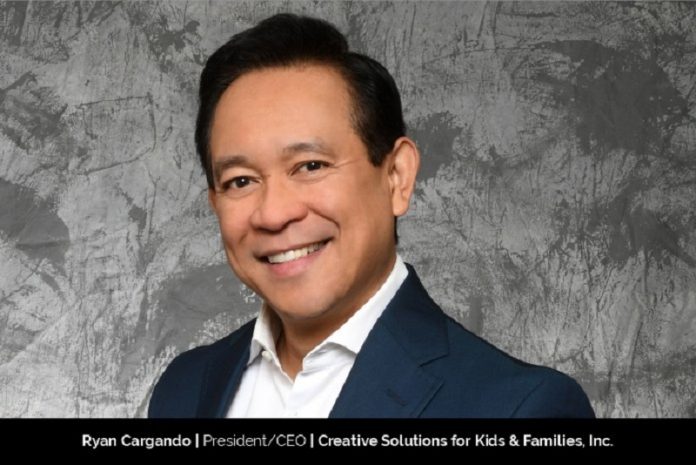 As Founder and CEO of Creative Solutions for Kids and Families, Dr. Ryan Cargando is a "Social Impact Leader" with more than two decades of leadership experience in the child welfare and healthcare industries.
Creative Solutions for Kids and Families, the company Ryan created in 2005, has a solid reputation for providing stakeholders and partner organizations with high-quality standard services thanks to his entrepreneurial spirit and principle-centered approach to business and organization.
In the book "From Small to Large: Growing Social Impact Organizations," written by Zoot Velasco, MBA professor and director of the Gianneschi Center School of Management at California State University, Fullerton, Ryan's leadership style was featured as one of the case studies.
Leaving the priesthood to become an educator, entrepreneur and social worker
At 12 years old, Ryan wanted to become a Catholic priest and entered St. Pius X Seminary in the Philippines, where he completed his high school education and a Bachelor's Degree in Philosophy. Thereafter, he pursued Theology at the Ecclesiastical Faculty of the University of Santo Tomas (UST), Manila, Philippines, the oldest university in Asia and the largest Catholic university in the world.
Ryan left his priestly formation and proceeded to study philosophy. After completing his Master's Degree in Philosophy, Ryan taught philosophy courses at De La Salle University in Manila, one of the most prestigious universities in the Philippines. After several years of teaching, an opportunity opened to pursue graduate study in the United States, and eventually, Ryan earned his Master's and Doctoral studies in Philosophy at La Salle University.
He became a Thomas Merton scholar and worked on two research topics for his graduate studies, namely "The Political Meaning of Christianity" and the "Meaning of the Human Person." Ryan believes that Thomas Merton's insights into our human pursuit of the meaning of life are as timeless as the "human" quest for authenticity. This specific journey was instrumental in crafting a person-centered therapeutic approach in his program and services.
After completing his doctoral studies, Ryan returned to the Philippines, where he was offered two concurrent positions, one as Director of Local Governance for one of the largest non-government organizations, a position funded through USAID (United States Agency for International Development), where his responsibilities entailed providing training for local governance to cities and municipalities.
The other position entailed becoming the youngest Dean at age 29 of the Colegio De La Purisima Concepcion Graduate School in the Philippines. This role allowed Ryan to engage in an educational tour program in other countries, such as Thailand and China. In addition, he was asked to provide lectures to the Philippine National Police in the government's professionalism program.
It was during this time that Ryan's first wife was diagnosed with breast cancer and the entire family decided to return to the United States for treatment. This event led him to care for his wife until her demise in 2002. After her death, Ryan started his real estate investing business.
A passion for advocating social impacts with an entrepreneurial style
Ryan's transformation into child welfare and healthcare leadership was rather providential. He embarked on this mission to explore 'what's next of my life' after his first wife lost her battle with cancer. As a single parent tending to two very young children aged two and five, he was doing social work, and eventually assumed the administrator position for a treatment foster care program.
Concurrently, he also invested in real estate, which later evolved into buying and flipping residential properties. This journey harnessed his leadership skills, and business acumen, and provided the funding to establish Creative Solutions for Kids and Families (CSKF) in 2005, with a mission to provide high-quality and effective therapeutic foster care services serving abused and neglected kids.
CSKF's mission is to provide therapeutic services to children and families and promote their safety, well-being, and permanence. Their services are trauma-informed, and their team of professionals is composed of social workers, therapists, behavioral specialists, parent-partner, and peer specialists who work together to meet the needs of children and youth placed in their agency.
CSKF serves Tri-County Areas of Southern California and has two offices – one in the city of Riverside and the other in Moreno Valley, California. It has an outpatient mental health service in the community, providing services to children and families. In addition, it also serves unaccompanied immigrant children.
"To live a fulfilled life, we need to keep creating the 'what is next', of our lives. Without dreams and goals there is no living, only merely existing, and that is not why we are here." – Mark Twain
Providing specialty mental health services to vulnerable populations
At the forefront of CSKF's therapeutic service delivery is their specialty mental health services. The organization provides systematic access to mental health services, which is crucial to the stability, health, and well-being of the persons served. Their clients have been abused and/or neglected by biological parents or significant others, which often resulted in traumatization.
As the psychological toll of these traumatic experiences can be debilitating, the services of CSKF are designed to assess problem areas and medical necessity. Based on this assessment, they develop a care plan that aims to reduce functional impairment and symptomology, with an objective of restoration, improvement, or maintenance of functioning, with the specific goals of personal development, independent living, and/or self-sufficiency.
Ryan notes that the issues we face today in mental health have become more complex with the impact of isolation and experiences of the COVID-19 pandemic. "We observe a growing trend of suicide among teens and young kids. We also see an escalating number of children and youth with severe anxiety and depression. Mental Health emergency visits increased 24 percent for children ages 5 to 11, and 31 percent for those ages 12 to 17, according to CDC," he observes.
Ryan believes that emergency visits can be mitigated with more widespread outpatient care. While CSKF's behavioral service team works diligently to meet the needs of the children placed in their homes, they also provide services to children and families through their outpatient mental health program, by visiting homes in the community through referrals.
"I believe that at the forefront of our 'therapeutic service delivery' is mental health. It has a profound impact on families, particularly with the type of population we serve – children and youth who experienced child abuse and/or neglect," says Ryan.
He also believes that the significance of technology cannot be overstated. The industry can benefit further from increasing the use of user-friendly technology that will encourage clients to pursue mental health services with culturally and linguistically attuned options on how to connect with the providers in real time according to their comfort level.
Furthermore, Ryan envisions a HIPAA-compliant technology, that will allow them to collaborate with other child welfare services and mental health entities through information sharing, using a streamlined system to provide data and outcome measures.
Under Ryan's leadership, CSKF has evolved into various services, which include intensive services designed for at-risk children and youth with severe behavioral issues; services for medically fragile children; therapeutic and specialty mental health services, outpatient mental health services; and recently, services to unaccompanied immigrant children from Central America and other parts of the world  to the United States, through the federal government's program under the Office of Refugee Resettlement.
With this new venture, CSKF has now extended its social impact from the local communities to children coming from other countries. Under the treatment foster care program, CSKF fulfills its mission by placing children with resource families, where they receive therapeutic services to enhance their emotional, social, educational, and psychological well-being.
Through a talented and experienced staff, as well as foster parents who are committed to helping them, the organization acts as a catalyst in reunifying the children with their families. Ryan envisions CSKF as maintaining its relevance and broadening its impact beyond its current program and services. He plans to grow CSKF's mental health program to include a wide range of services and scope of coverage.
Ryan is also working to expand their treatment foster care program for unaccompanied immigrant children and enhance its clinical services within this sector. As they venture into building infrastructure for additional programs, he envisions an opportunity to branch out of California, and open new sites in other states within the next five years.
Creating an impactful organization
Ryan recalls that when he decided to leave his full-time management position to focus on establishing CSKF, the first five years of building the organization were extremely challenging due to constant business demands while adapting to the complex problems that came with growing and developing a robust team.
Ryan advocated meaningful staff engagement in achieving the organization's mission. Additionally, he was mindful of how their values and beliefs were related to achieving the organization's mission, including serving clients from a customer service standpoint and providing high-quality and effective services.
Through this process, Ryan was able to envision the most effective approach on how to best serve the clients while building an impactful organization. This part of the journey also allowed CSKF to establish its own business culture, and work towards attaining financial stability.
Reflecting on what inspired him to take a leap of faith in building the organization, Ryan recalls his father, who was in public service, and his mother's propensity to take risks as an entrepreneur.
"In some ways, I followed my parents' footsteps," he remarks. "I developed a passion for advocating social impacts while flourishing into a strong leader with solid business sense and entrepreneurial style. It was a challenging but rewarding road that allowed me to gradually establish a mission-driven organization with the ability to promote social impacts while remaining financially stable."
Ryan's background in child welfare includes social work, management, and administration of foster care treatment. His ambition for creating a therapeutic program, that later included specialized mental health services for children and families, was sparked by the breadth of experience that had shaped him.
Ryan's commitment to his team was centered around having a goal and making a difference. He feels that their inner feeling of passion and happiness is driven by seeking out and discovering their "why." Under his direction, CSKF has started other programs such as Intensive Services Foster Care, Medically Fragile Services, and most recently, helping unaccompanied immigrant children.
CSKF's growth and success can be attributed to its ability to remain focused on its mission to deliver high-quality services and effective programs. This is evident through their accomplishments, including a three-year certification from CARF International (Commission on Accreditation of Rehabilitation Facilities).
Building a thriving organization through the recession
By the beginning of the 2008 recession, CSKF had grown to about $1.5 million with contracts in several counties. By the end of the recession in 2012, the organization's growth doubled with approximately $3.3 million in earnings. By 2018, Ryan was able to achieve 271 percent growth during the challenging times in US economy. From 2018 to the present, Creative Solutions has continued to grow over 50 percent," he declares.
In 2020, an article published by the Director of the Gianneschi Center for Nonprofit Research at the California State University Fullerton named Creative Solutions as a "Recession Star" among 29 out of 6,450 organizations. The article described CSKF as one of the 29 organizations that started small during the economic downturn in 2008, grew by more than 200 percent during the recession, and continued to grow by 2018.
However, Ryan maintains that his greatest achievement was to be recognized as a social impact leader. Social impact organizations are mission-driven and positioned to grow, compared to those that only focus on funding and profit. He believes that CSKF's distinction as a "Recession Star" can be used as an inspiration to other small businesses in the United States, and in the world, during this time of global recession.
"I believe that a business thrives when it can provide value to consumers and impact their lives and the communities. I am proud to lead a dedicated group of social workers, therapists, staff, and the management team, and earned their partnership and contribution," Ryan declares.
As the President and CEO of CSKF, Ryan is responsible for the strategic direction of the organization, including the effective delivery of programs and services to the clients, commitment to continued but stable growth through expansion of contracts, partnerships, and advocacy toward social impact and outcomes.
This effort includes implementing well-thought-out strategies, incorporating an effective risk management plan and accessibility plan, and continually evaluating the organization's performance outcome. At the core of all this effort is sustaining the operation by ensuring fiscal solvency.
Celebrated for his sense of purpose and leadership virtuosity
Ryan believes that an influential leader creates social impact and influences others to find value in their mission. His background in philosophy and various leadership and management roles have helped him navigate the business operation of CSKF.
His combined education, training, and experience allowed him to implement critical thinking in developing conceptual frameworks, analysis, and formulating practical applications in the areas of staff development, policies and procedures, strategic direction and management, customer service experience, and performance and outcomes measurement.
Additionally, Ryan's business experience from real estate investment allowed him to develop the skills needed to make sound financial decisions – fiscal management (e.g., budgeting), forecasting, and risk management that facilitated the organization's solvency.
The following five attributes delineate Ryan's overall business expertise:
Dynamic Leadership
Mission-Driven Social Impact Mentality
Network and Strategic Partnerships
Innovation and Quality
Earned Income
Ryan's journey as an influential leader in the healthcare industry was reflected in one of the case studies from the book, "From Small to Large: Growing Social Impact Organizations," written by Zoot Velasco and published in 2021 (under Kendall Hunt Publishing).
The book also profiled CSKF as a "social impact leadership and organization," and featured Ryan as one of the case studies among the five organizational leaders in the book, which was based on the earlier research and published article naming CSKF as a "Recession Star."
CARF, an international accrediting body in healthcare services, described CSKF in their various surveys as follows:
"Mission-driven, value-based philosophy, and provides a strong platform for the provision of quality services to children in care. The executive leadership team of CSKF is composed of individuals that are experienced and present a level of competence that is celebrated by the organization's leader. The organization is financially solvent, well respected by the community stakeholders, and provides high-quality care. Referral sources highly regard the quality services and consider the organization to be a leading provider as a result of its effective outcomes."
As a founder and leader, Ryan has made it his life's work to provide effective programs and services to clients and make a significant social impact on them and the community. His sense of purpose and leadership virtuosity were affirmed by the following various survey findings from CARF:
The organization is recognized by its partners as providing excellent training and support to resource families.
The organization's employees are passionate about their work and are continuously striving to find opportunities to better the lives of children and youth in their care.
The diverse staff of CSKF provides a culturally and linguistically rich environment for children in care and resource families.
CSKF has recruited loving and dedicated caregivers (foster parents), many of whom have been with the organization for years and attest to the positive changes that the organization has made in the lives of the children, youth, and families served.
Success is about giving value to others and impacting lives
Ryan believes that success is actualizing our existential purpose and discovering our meaning as humans. He believes that our purpose is to give value to others, impact lives, and have a fulfilling journey in our lifetime. We experience the impact of success when we find balance and alignment with our physical, emotional, mental, and spiritual life, and also develop meaningful relationships.
"I believe that attaining complete growth in all these elements will allow us to gain a feeling of success," he maintains. "The road I have traveled began with self-reflection of how I can contribute and make a significant social impact in the world."
Ryan realized that the specific components that allowed him to grow and succeed involved; taking risks, having a strong sense of service, and humility, being resilient, and creative, possessing clarity of purpose, accountability, and compassion, and having the ability to build strong relationships – these are the foundation of what made CSKF a successful organization.
Ryan credits his success in leading CSKF as being complemented by a gifted, talented, and passionate staff, who chose to be part of a mission-driven agency and partner in the vision.  He believes that his success as a leader is also defined by his journey to sustain his team's passion, and empower them to become leaders themselves, and together, create social impact.
Learning to view problems as opportunities
Ryan admits that the death of a loved one was the most challenging journey he has gone through so far. Losing his first wife of eight years to cancer was the most devastating event in his life. He did not even get the time and opportunity to grieve, because he had to stay strong for his two very young children, at that time. "However, with God's grace I gradually picked up the pieces," he recalls.
During this difficult period, Ryan developed resiliency, patience, perseverance, compassion, and the ability to view problems as opportunities. He also became cognizant of his ability to make a difference through CSKF. These lessons revived his interest and passion to lead and work with people of different backgrounds.
Additionally, Ryan learned to navigate through a myriad of concerns and barriers, which were often attitudinal. "While people are the strength of an organization, I found that it is also messy to work with people, and I must develop the skills to influence, otherwise, it will be very difficult to lead," he reflects.
Ryan believes that a life well-lived must be purposeful and intentional in promoting health, relationship, and financial affairs. He engages in various activities that promote his health and wellness, including prayer, meditation, reading, walking, exercise, and travel.
"I also enjoy cooking for my children and savor the time spent with my wife, Jennifer, whom I married five years after I became widowed. Additionally, I found it enriching to prepare healthy meals and share them with those we love. This lifestyle has maintained my energy and motivation to maintain a dynamic life," he reveals.
Ryan keeps his team motivated with his vision by communicating to them their strategic direction and sharing values and principles that resonate with them. He encourages them to understand why their mission is important, and why they need to work together to achieve this vision.
The recipe for building a good business
Ryan leaves us with the following words of wisdom for aspiring leaders: Discern your purpose and passion. Leadership must be built based on the foundation of your purpose and the conviction of creating value for others to follow. As a leader, we must set an example of values and principles as guiding our actions.
These are principles of service, honesty, accountability, respect, patience, humility, and resilience which set the foundation of our work's standard of practice. I believe that our principles are profound, and we tend to gravitate toward becoming purposeful and, in the process, influencing others.
I found that when we are invested in our mission to add value to others, we also receive the return on our investment through increased referrals and partnerships, staff retention, and trust from our clients and stakeholders. In my view, this has been our recipe for building a good business.
"People often think that they need their lives to be fully functioning before they can find their purpose. Don't underestimate the transformational power of purpose." –  Garrison Cohen