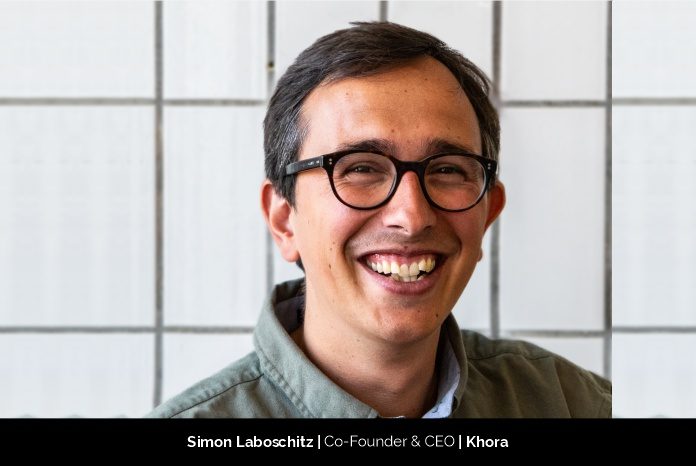 AR and VR hold the power to push boundaries of human existence to the levels no one could have imagined before! Unleashing the potential of Virtual Reality and Augmented Reality, Simon Lajboschitz, Co-Founder of Khora Virtual Reality is working hard to fulfil new projects that have the ability to transform people's lives and he is quite proud of that. He shares, "I fell in love with the world of VR the first time I tried it in a museum in New York. I was amazed by the ability VR has to magically transport people to other places and worlds."
He had completed his BA in Philosophy and Masters in Business before entering the corporate world. After gaining 7 years of immense experience as a Brand and Concept Leader in the retail industry, he connected with Peter Fisher to release Virtual Reality content during his leisure hours. Later, they both founded Khora Virtual Reality together in November 2015 with the sole aim of exploring the different applications of immersive technologies and working on bringing an impact on society. The path has never been easy for both of them, he further adds, "We face obstacles all the time, both technical and ethical – but with our creative approach to obstacles we always find a solution. Where there is a will there's a way."
Prime Services and Culture of Khora Virtual Reality
Khora came into existence as an award-winning Virtual Reality (VR) and Augmented Reality (AR) production studio that had wide experience in developing unique content within multiple applications. Right now, the company has 20 full-time employees with a portfolio comprising of over 200+ VR/AR applications. Also, they have successfully hosted 800+ workshops and events till date. The team is dedicated to exploring the highest potential of VR and AR via meaningful collaborations as well as partnerships.
The team works in numerous domains and has expertise in multiple technologies and understands how and why businesses and institutions are working in these emerging mediums.
Ensuring a strong culture is essential to maintain peace in the organization. In order to achieve that, he says, "We have a very close relationship with our customers and we make sure to listen to their needs and fears. As a lot of our customers don't really know the VR and AR world that well, we make sure to guide and educate them when we collaborate on a project. We do this to make them feel safe in the process."
Simon's Contribution in AR/VR Industry
Since all technologies change overnight, Simon has keen interest in sharing his knowledge via conducting more and more campaigns, education as well as training in the field of VR and AR. He shares,"Especially with corona, we have seen a need for digital approaches and new ways of having immersive experiences but in the safety of your own home. Also from an environmental approach we see VR and AR being the possibility to take people to places they would normally travel to by plane or car. So VR and AR can help companies with a green approach."
The company has even implemented several projects to mark a difference in the society. He shares that "The CHALLENGE Project" has been a breakthrough in their journey so far. This specific project provides necessary assistence to develop a novel therapy so that they can aid all the apeople who are suffering from different auditory hallucinations, particulary, hearing malevolent voices.
He says, "I'm really proud of how we include a virtual reality simulation training program and voice modulation in real time, which will enable the patient to face their malevolent voices and lessen their control over the patient's life."
Working on this project helped them to bring change and they expected patients to be capable of developing their new skills as well as strategies so as to cope up using their malevolent voices. Such treatment also brings a revolution in the effectiveness of existing treatment of auditory hallucinations and that too at a relatively cheaper price.
Handling Job roles
As the Co-founder, Simon feels the need to jump between both the macro and micro levels of work with ease. He shares, "Being able to look at the organization from a bird's eye view to make sure that the company is steering towards its vision while remaining true to its mission. And at the same time being able to cover small detail aspects of the business, which provide vital support to the daily operations."
Being a super-ambitious team with a creative mindset, their approach is quite widened with personalized ideas in all aolutions. He says, "Given the fact that we're a team of 20 extremely talented fulltime employees we have the opportunity to really create immersive XR content – and I must say that each and every one is always working hard on every production."
He feels that Workplace is the second-home of every employee. Thus, he keeps his employees motivated by treating them as a member fo a large family. Not just this, they even support each other in work and follow a down-to-earth approach. Even, they ensure that while hiring, such crucial aspects are taken care of so as to employ talented, passioned, ambitious and down to earth people in the team. He feels such people stay aligned to the company's goal and give their best in everything they do.
Future Planning for Khora Virtual Reality
Going global is the key for them. He adds, "We're constantly working with adapting new technology to AR and VR but our focus right now is multi player in VR so you can be more people in a VR experience at the same time or meet virtually and Volumetric that can create a new dimension of reality to AR and VR.
Most of our client are in Denmark, but we're seeing a big potential international. But Europe are still not that evolved in terms of VR and AR so we're able to be one of the top companies here in terms of VR and AR production.