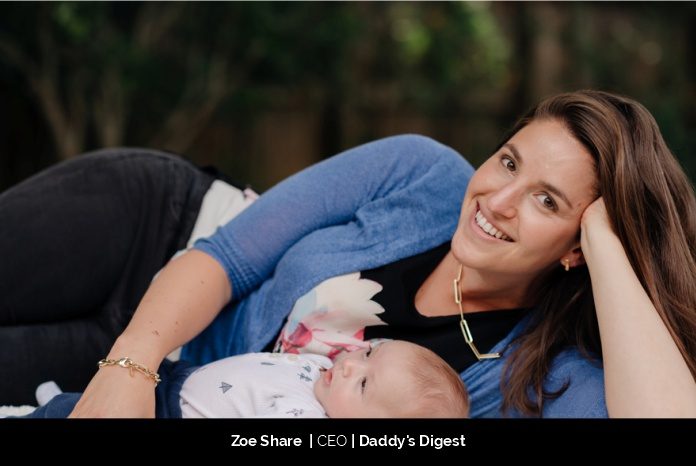 Most successful leaders are extremely optimistic and inspiring. These traits are imbibed in Zoe Share the Canadian CEO of Daddy's Digest. "All our dreams can come true if we dare to pursue them" – Walt Disney. Successful people are not just gifted; they work hard, then succeed on purpose. These brilliant business minds set up a business or an organization by taking risks.
Zoe is an ambitious businesswoman who believes that communication and collaboration can start a positive conversation and impact values-based businesses' bottom lines. Growing up she always wanted to be a teacher. "I loved to read and write and I thought I would be a teacher during the year and write books over the summer holidays," she states. That was her choice until she found that teaching was not the right path for me. In partnership with Founder, Vickram Agarwal, she strives to leave an impact on the DD audience – driving change in the conversation and creating voices for all parents.
Self-belief And Hardwork Always Earn You Success
Zoe thinks success is important, but not necessarily the traditional definition of success. She also believes with success, you need to set your goals, your boundaries and set the narrative for your day. "Then the question becomes, was I successful in fulfilling what's important to me? Taking care of myself was not always a priority, but it has become a major part of my success journey since becoming a mom while running a business," she states.
Setbacks are a vital part of growth. Challenges are an opportunity to develop and be culpable to staying on the side of positivity. It certainly is more difficult to consistently take this attitude, but it's not impossible. Having young children during the covid pandemic as a female entrepreneur pushed Zoe to ask herself questions about her priorities and her wellness. She wouldn't call these setbacks, though, she calls them parts of her journey that helped her get to a clearer and happier future.
Daddy's Digest And Its Services
Our society has been built around gender-specific roles, women being the primary caregivers and father's being the bread earners. The world eventually paved the way for women's rights bringing women into mainstream jobs like men. However, still, there are certain areas where outdated mindsets and gender roles exist. This is exactly what Daddy's Digest wants to change.
Daddy's Digest is a media publication. It is an online magazine, website, video, and audio channel focusing on all things fatherhood and family. They explore current affairs, popular culture, human dynamics and ask the world some tough questions. They mostly featured opinion pieces and editorials written by real dads. They guide you like consulting a professional before deciding for your child or your own situation. They create and curate daily with in-depth features, personal stories, and expert advice to help both men and women be better partners and parents. Their aim is to help their audience to experience parenting from a different perspective.
They work with advertisers but are most passionate about helping dads get access to resources. If an advertiser wants to utilize their services, they need to be excited about paying it forward to dads in need! Daddy's Digest is different from its competitors because it takes on a more holistic approach. They don't want to spam their audience with ads. They simply want to give everyone an opportunity to share their thoughts and perspectives.
Zoe wants to change the story for modern dads. They have a publication with almost 900,000 in its audience and are building THE DAD CAVE, a members-only dad community as well as THE DD LEARN portal, which is for dad-entered education and workshops. "My vision is to create an entire ecosystem for dads – events, awards, products, and most importantly, a place to talk, feel better, and connect with others," she explains.
Work-Life As A Businesswoman
As a CEO, Zoe is responsible for the overall functioning and success of the business. Balancing family life and business is no easy task. Zoe values creating meaningful communities, amplifying the voices of people from all walks of life, and giving back- specifically to families, parents, and children. She states that she feels extremely fortunate that her skills and passions are united in her business life and also that she has the privilege of being an entrepreneur while also being a parent.
Her advice and message for aspiring business leaders would be – Be patient with yourself and the people you care about. Be decisive with people who are messing with your energy. You set the intention for your day and time, no one else! Live your life. "Luckily-  I am still young and have time to enjoy these learnings," exclaims Zoe.