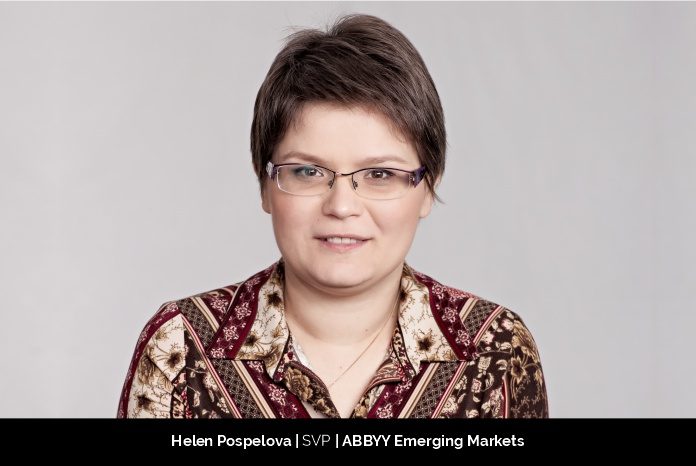 Digital transformation is leading the world to new horizons, and the leaders investing in it are reaping fruitful results. Helen Pospelova, Senior Vice President of ABBYY Emerging Markets, has a unique success mantra. For her, success is neither the final destination nor the finish line. Being on a dynamic path, you can always look back at yourself and compare the changes. As this is an infinite process, analyzing the past is the key to keep moving ahead.
She adds, "they say the 21st century encourages 4C: creativity, communication, collaboration, and critical thinking. The future belongs to companies capable of nurturing those skills among them. It is time to be hungry for creative and augmented teams."
Climbing the ladder of success
Helen completed her master's program in Applied Maths from the Lomonosov Moscow State University in 1990 and, in the next two years, attained her MA degree in Computer Science from the same university. She always had an interest in trending technologies and their power to change the world. To add more skills to her skillset, she recently completed the Stanford-NUS Executive Program in International Management at the National University of Singapore and Stanford GSB.
Having a passion for working with Asian culture and a keen interest in ground-breaking technologies allowed her to see the hidden potential in the IT sector. She stepped into the corporate world as a software engineer with TSD Inc, Japan. Returning to Russia, she joined Samsung Research Center in Moscow as the acquisition manager for cutting-edge software technologies. She always aimed to introduce advanced solutions to broader audiences, discovering and developing new markets for the industry know-how. In 2002, she joined forces with ABBYY.
The key for forming successful international partnerships and alliances lies in the ability to build strong cross-cultural connections. Finding a unique approach to people from different countries allowed her to develop effective networks across borders, which fueled the company's growth.
"We are working as the center of competence for our partner's needs and project requirements, bringing a unified IT umbrella for different and peculiar countries of Asia & Africa," Helen explains.
Redefining the digital intelligence industry with ABBYY
ABBYY is a Digital Intelligence company. The team empowers organizations to access the valuable, yet often hard to attain, insight into their operations that enables true business transformation. They believed that data is a valuable asset and provides the fuel for digital transformation. When enterprises are finally able to access the wealth of data that exists about the performance of their processes and the content moving through them, they gain the critical insight that's needed to raise their Digital IQ.
"ABBYY customers and partners can be found in almost every vertical and region in the world. ABBYY technologies are used by more than 5,000 companies, including many of the Fortune 500 in finance, insurance, transportation and logistics, healthcare, and other industries. ABBYY Digital Intelligence platform is designed to allow organizations to deploy solutions in standalone configurations or as a tightly integrated extension of industry-leading RPA, BPM, and packaged application solutions," Helen proudly shares.
Helen believes that today in the 21st century, everything is changing at a fast pace. The digital industry has a capricious nature, and there are unexpected turns while progressing in the domain.
She stresses the point by quoting a thought from Nassim Taleb's the Black Swan: The Impact of the Highly Improbable, "Consider a turkey that is fed every day by friendly humans. The turkey has a firm belief about the general rule of life. And right before Thanksgiving, something unexpected will happen to the turkey. It will incur a revision of belief." She expresses that the general rule of life also resonates with this notion.
Curiosity to innovate and willingness to embrace change are the two prime pillars that allow the company to stand its ground in the corporate world. Having both the trait in her arsenal allows her to fuel the company's development to the next level and beyond.
She adds, "Everyone wants a customizable solution that probably will consist of many small bricks and fit each other like pieces of the puzzle. The solution that will solve the specific business problem and today we see a boom in so-called citizen developers who are actually creating automation inside their business environment."
ABBYY works on the same principle and redefines digital intelligence by building a new future on cutting-edge AI technologies.
Work-life Balance
Balancing health, family, work, and social life is crucial to maintain harmony throughout all life aspects. "It is essential to find this golden middle, to equilibrate between all spheres of your life. You work then shift your attention to something else, your hobby, or the best moments with your family, then again upskill your knowledge with new studies," says Helen. She also keeps the learner alive and encourages her colleagues to enhance professional development and attend training programmes, webinars, and other relevant courses for their career's courses. Qualifications should be beneficial for growth but should never interfere with family time or time spent in nature.
Charting the future trajectory of IT
With the pandemic disrupting everyone's lives starting in 2020, a New Normal was born that brought a boost in the technological sector and pushed the world to adapt to digital transformation. Thus, it is time to embed technology into our lives and bring digital inclusion.
Since robots can only contribute to complete routine tasks, the future holds the power of augmented AI. The technology will be extensively used to groom human teams with better analytics and data so that they become quick decision-makers.
Being the leader, she is responsible for creating a culture where everybody's growth and professional development are taken care of. She feels that mutual trust and respect are two vital pillars of every developing company. Further, diversity and differentiation are the strongest characteristics of a particular team, and it leads to the successful implementation of the New Normal. Adding diversity can be synonymous with adding a "female touch" to streamline the progress and growth of a strong company.
Tackling "the new normal" triumphantly
Sharing the secret sauce of handling "New Era" successfully, she states, "The victory in the New Era will be claimed neither by people nor individuals, but by teams. The teams that have implemented AI technologies and learned to properly augment their projects. The teams that know how to treat people— and AI as well — with dignity and respect, which allows them to stay ahead of competitors, both in terms of speed and accuracy of solutions. The teams which acknowledge and appreciate all the members, including the robots, and utilize each other's strengths in the best possible way!"
Thus, now is the time to create dream teams that have mutual trust and respect and can face all challenges boldly. Such teams develop superb growth strategies that are accepted by all members happily. Such teams add value to customers and society, as they strongly believe in "doing well by doing good." She proudly shares that ABBYY Emerging markets Team is one such cool dream team!