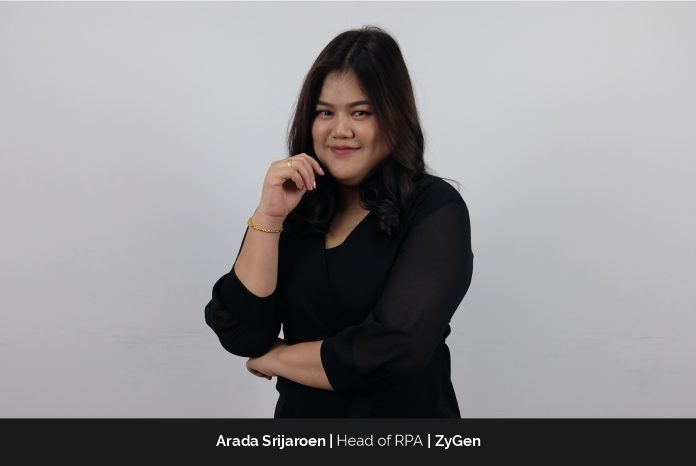 ZyGen Company Limited (ZG) was established in 1999 as a professional consulting service firm specializing in SAP with its main office based in Thailand. ZyGen initially offered a limited range of SAP consulting services but has since expanded its offerings to become a comprehensive provider of SAP consulting services. The company now provides both business and technical consulting services, allowing it to retain its current customer base while attracting new clients. Moreover, ZyGen continues to evolve its business and has transformed itself from an SAP consulting company into an innovation company.
ZyGen's RPA team upholds a culture of integrity by implementing several components. They set an example by always leading by actions rather than just words, maintain an automation-first mindset, and leverage automation internally to enhance their own business operations. Furthermore, the team has a thorough understanding of the processes that are most suitable for automation, ensuring that they only automate tasks that are beneficial for the organization.
"Innovating a better future for people and businesses to grow sustainably."
Meet the Expert
With more than a decade of experience in various industries, Arada Srijaroen has held multiple roles such as Automation Consultant, and Team Lead. Her expertise in automation includes working with Robotic Process Automation (RPA) in different industries such as Oil & Gas, Banking, Retail, and Insurance. She has been responsible for the robotic operating model and managing the development of RPA delivery capabilities to clients.
As an expert in RPA, Arada helps define and implement the most effective approach to creating RPA capabilities within and across organizations to clients. This approach is based on industry best practices and tailored to meet the unique needs and dynamics of each organization.
Driving Sustainable Growth
ZyGen's purpose is to create a better future for both people and businesses by promoting sustainable growth. While some providers focus solely on core business solutions such as ERP, ZyGen offers innovative consultancy services to its clients. The company has extensive experience in delivering RPA Blue Prism services across various industries, including Banking, Energy, and Manufacturing. Additionally, ZyGen has developed AI solutions and services such as OCR in Thai language.
In today's challenging economic climate, businesses are constantly searching for innovative solutions to stay ahead of the competition. With so many technological advancements occurring at a rapid pace, it can be difficult for businesses to keep up. ZyGen collaborates with its clients to leverage new innovations and help them achieve their goals while promoting sustainable growth.
Customer–Centric Approach to Innovative Consultancy for Better Business and Life
ZyGen understands the importance of customer success and always strives to offer appropriate solutions and excellent services to its customers. The company prioritizes its customers' needs above its own, and its staff takes great pleasure in knowing that their solutions have helped their customers' businesses and their people. This customer-centric approach is aligned with ZyGen's mission of providing "Innovative Consultancy for BETTER BUSINESS and LIFE."
ZyGen's commitment to customer satisfaction has been recognized by many of its clients, who have complimented the company's service-oriented mindset and flexibility. These satisfied customers often spread the word about ZyGen's products and services, helping the company earn their trust and confidence. As a result, many of these customers continue to use ZyGen's services repeatedly, which is a key factor in the company's sustainable global expansion.
Enabling Automation First Approach
According to Arada, IT companies play a crucial role in helping businesses navigate the challenges and opportunities presented by the rapidly evolving digital landscape in today's era.
In the current economic climate, it is essential for businesses to adopt an Automation First approach to survive. Failure to switch from manual to automated operating models can prevent a company from becoming a business leader. Intelligent Automation solutions, including RPA and AI, are critical components for building a stable and sustainable foundation for businesses.
Choosing the right processes for automation is equally important. By doing so, organizations can ensure their business operations continue uninterrupted while also freeing up employees from repetitive tasks. This approach can lead to cost reduction and increased revenue in the long term.
Customer Acquisition and the Value of Intelligent Automation Tools
ZyGen's growth stability hinges on two key factors: maintaining its existing customer base while simultaneously expanding it by attracting new customers. To achieve the latter, the company must ensure that the buying process is quick and straightforward. To this end, ZyGen should offer affordable, ready-to-use or semi-ready products and services that are attractive to potential customers.
To effectively attract new customers, ZyGen must demonstrate the value of RPA and AI tools in enabling Intelligent Automation across their entire organization. It is essential to educate customers that RPA and AI are not just tools but a necessary part of their journey towards achieving sustainable growth. If customers perceive the true value of these tools, they will recognize their benefits and be more likely to use them, leading to increased revenue and sustained growth for ZyGen.
"Trustworthy partner who help to make SUCCESSFUL BUSINESS with its HAPPY PEOPLE."
Utilization of Cutting–Edge Technologies
As an IT consultancy, ZyGen firmly believes that successful companies in the IT industry achieve their success by leveraging technology effectively. To this end, ZyGen utilizes a range of cutting-edge technologies such as RPA, data analytics, and virtual platforms to cater to our customers' diverse needs.
For example, ZyGen has developed an automation monitoring room in virtual space that utilizes Microsoft Power BI embedded in the virtual platform to monitor the utilization of Robotic Process Automation.
Creating a Supportive and Flexible Environment
At ZyGen, setting clear goals that are aligned with the company's vision and shared by every team member is a top priority. The company takes pride in delivering work that provides maximum benefits to its customers, and it strives to create an environment that enables its employees to achieve this goal. To support its employees, ZyGen actively encourages them to acquire new knowledge and skills in cutting-edge technologies, while providing them with the necessary support, systems, infrastructure, and work environment to improve their morale, productivity, growth mindset, and can-do attitude.
To further facilitate its employees' success, ZyGen has made changes to its company rules to provide more flexibility. Employees are no longer required to work from the office, allowing them to spend more time with their families while staying connected with colleagues and the company. Additionally, ZyGen provides a Merged-Reality workplace to maintain good relationships, which fosters a sense of community and teamwork.
Becoming Leading Intelligent Automation Consultancy
As part of this transformation, ZyGen has identified RPA and AI as technologies that have the potential to revolutionize organizations globally. These technologies not only automate manual tasks, but also empower employees to work more efficiently and produce exceptional results for their organizations.
With RPA and AI, employees can automate tasks with ease, without requiring extensive programming skills. ZyGen is excited to offer RPA and AI technologies as part of its new innovations to better serve its customers.
In line with ZyGen's overarching vision of "Innovative consultancy for BETTER BUSINESS and LIFE," the RPA business line under Arada's leadership aspires to become Thailand's leading intelligent automation consultancy. Rather than solely focusing on technical implementation of specific RPA cases, Arada and her team aim to position themselves as trusted partners and advisors for Thailand's leading enterprises in the realm of RPA.
The company's goal is to provide sustainable roadmaps and solutions that will aid customers in achieving successful business transformations, rather than merely providing temporary fixes or quick solutions. By prioritizing long-term success and a holistic approach, ZyGen's RPA business line hopes to become the go-to consultancy for intelligent automation needs in Thailand.