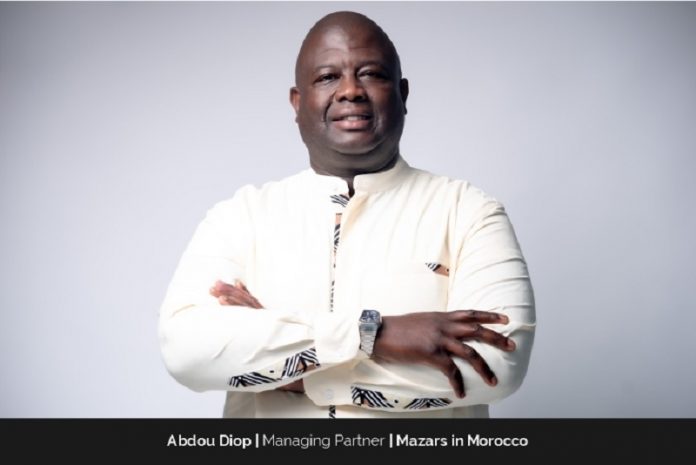 Abdou Souleye Diop, Managing Partner of Mazars in Morocco comes with over 30 years of experience providing Audit and advisory services across the African continent. He has engaged with several countries such Ivory Cost, DRC, Congo, Burkina Faso, Comores, Mauritania, Burundi, Senegal, and Madagascar; he has worked with multiple governments, public interest companies, and other large companies on a range of strategic subjects, sector reforms, and development policies. He has also accompanied numerous Companies in their development on the African continent, providing valuable insights into economic sectors such as telecom, infrastructure, health, agriculture, finance, and more.
As the chairperson of the African Committee within the Moroccan Employers' Association, also known as the Confédération Générale des Entreprises du Maroc (CGEM), Abdou Diop is responsible for strengthening economic relations between Morocco and its partners on the continent. He has played a significant role in developing Moroccan private sector strategy in Africa, carrying out several actions to enhance cooperation between Morocco and African countries. Abdou Diop's expertise in economic and geostrategic analysis, regional integration, and knowledge of the African continent has earned him recognition as an expert on implementing the African Continental Free Trade Area (AfCFTA) and Africa's response to the Covid-19 crisis.
Mazars, an international group specializing in Audit, Tax, Advisory, Accounting, and Legal Services, relies on the expertise of over 42,000 professionals worldwide. As the Managing Partner of Mazars in Morocco, Abdou Diop leads a team of over 350 auditors and consultants who bring together their skills to support clients of all sizes at every stage of their development. His leadership has contributed significantly to the business development of Mazars' activities in Africa and the Middle East.
Abdou Diop's dedication to promoting economic growth across Africa is reflected in his achievement of the Senior Executive Program focusing Africa at Harvard University. He is also a counselor in public policies and national/sectorial strategies for many African governments at the highest level.
Diop is multilingual, speaking French, English, Arabic, Hindi, German, Wolof and more, and regularly provides insights through articles, publications, moderating, and panelist services in forums and international conferences.
Recognition & Accomplishments
In recognition of his exceptional leadership skills, Abdou Diop has won several prestigious titles and awards. He is also listed since 2021 and every year among the 100 personalities transforming Africa. With his wealth of experience, expertise, and leadership skills, Abdou Diop is a true inspiration for future corporate leaders to watch.
According to Diop, the path to success is through embracing diversity and turning setbacks into opportunities. In the early years of his life, he was fortunate enough to experience life in various countries, each with its distinct culture. This invaluable exposure contributed significantly to the development of his unique personality. Navigating through these diverse environments, he embraced the finest aspects of each culture, which he then shared with those around him.
"Whatever you achieve without impact on others is just selfishness."
Definition of Success
Abdou Diop believes that success stems from the practical application of one's skills, management style, expertise, and soft skills to accomplish specific goals. However, he also emphasizes the importance of learning from setbacks, turning them into valuable lessons that propel one forward.
To Diop, the most crucial aspect of success is its potential to positively impact society, individuals, or even an entire continent. This notion of success transcends mere personal accomplishment, elevating it to the level of inspiring and empowering the younger generation. He aspires to be a role model for young people seeking purpose and direction.
Abdou Diop took a step of faith and started his inspirational journey into the Audit and consulting industry. His path to success was not easy, but his professional growth is a testament to the power of determination and mentorship. After completing his higher education in Morocco, he had the privilege of meeting the late Masnaoui, a remarkable individual in the auditing and consulting field and founder of the firm in Morocco. Masnaoui became his mentor, offering guidance and support that proved invaluable in his career.
Joining Mazars, Diop was resolute in his ambition to make a mark in the dynamic auditing and consulting industry. He approached each new opportunity with hard work and perseverance, steadily climbing the ladder of success. Today, Abdou Diop is proud to serve as the Managing Partner of Mazars in Morocco, a testament to his unwavering dedication.
Throughout his career, Diop has been driven by his commitment to impact the world positively. He has worked as a consultant to develop public policies and national strategies, striving to make a meaningful difference. Over the last two decades, Abdou Diop has made significant contributions to positioning Morocco as a leading economic force in Africa while advocating for his vision of Africa We Want.
The Importance of Conviction in Abdou Diop's Success Story
Countless challenges have marked Diop's inspiring journey, each an opportunity for growth and learning. As a man who embraces challenges, he has always ignored negative energy and naysayers, staying true to his convictions and following his path.
Throughout his career, Abdou Diop has encountered those who believed that, as a foreigner, he could not become a partner in his firm or that there was no hope for Africa's future. Even during the Covid pandemic, when he expressed his confidence in Africa's preparedness and voiced his belief that strict lockdowns were unnecessary, he faced criticism from those who doubted his optimism. But he remained steadfast in his convictions, and he succeeded.
Moreover, through these experiences, he learned some valuable lessons that have helped him on his journey:
– Firstly, hard work always pays off.
– Secondly, it's essential to follow your convictions.
– Thirdly, even if you are the only one holding a particular viewpoint, keep your   mind open if you believe you are right.
– And fourthly, always act in the best interests of the community.
For Abdou Diop, these challenges have made him more robust and confident in his ability to analyze and anticipate.
How Abdou Diop is making a difference in Morocco?
Over half a century ago, Abdou Diop's company Mazars emerged as a prominent force in the audit, tax, and consulting sectors. Under Diop's leadership, the firm maintains a robust international presence while remaining deeply rooted in its local territories. Committed to Morocco and Africa's economic and social development, Mazars consistently endeavors to improve the communities it serves.
Diop's firm is responsible for fostering a reliable economic landscape, delivering exceptional value to its clients, and cultivating a rewarding environment for its skilled professionals. Through Diop's guidance, Mazars in Morocco continues strengthening its position as a vital contributor to the region's growth and prosperity, inspiring confidence in its clients and team members.
Harnessing Expertise for Growth: Abdou Diop's Role in Reshaping Mazars
Abdou Diop played a pivotal role in the growth and success of Mazars in Morocco since he stepped up as a leader when the firm's founder decided to transition the reins to the younger partners. His extensive expertise, particularly in Audit and consulting, spans Morocco and Africa, enabling him to work with many clients, including large public and private companies, international donors, and governments. In addition, Abdou Diop has been involved in numerous projects encompassing strategic planning, sectoral reforms, and development policies.
He also contributed significantly to the expansion and growth of various Moroccan companies on the African continent. These companies include entities from diverse sectors, such as banking, insurance, telecommunications, industrial production, and real estate operations. In 2019, Diop founded a new business unit dedicated to Africa, further strengthening the firm's presence on the continent.
In 2011, adopting a collegiate governance model aligned the firm's vision and strategy with the Group to which it belongs. This integrated partnership model presents significant opportunities for the company, showcasing Diop's strategic leadership in redefining and driving Mazars in Morocco toward continued success.
The Pinnacle of Success: Diop's Most Cherished Leadership Milestones
Abdou Diop's journey as a successful leader is marked by several proud moments and significant achievements. One of his most remarkable accomplishments is his triumph of starting as a trainee in a small firm with around 30 individuals and eventually becoming a managing partner of a large company with over 300 employees in the local market. In addition, his role in developing the Group across Africa further bolsters his sense of pride.
Another accomplishment Diop takes great pride in is becoming the face of the Mazars brand in Africa. His diligent work across the continent has made the brand recognizable and strongly associated with Africa, reflecting his commitment and dedication to his profession.
Abdou Diop also derives immense pleasure from witnessing the growth of younger professionals within the company, particularly when one ascends to the partner role. Collaborating with colleagues to help people develop and guiding them toward partnership is something he values greatly.
Finally, from the beginning of his career, Abdou Diop's work in Africa and his deep understanding of the continent have established him as an expert. His ability to consult on significant issues related to the continent and provide valuable insights on various topics is an accomplishment that fulfills him. His hard work and dedication to becoming a true expert have culminated in these outstanding achievements.
Leadership Lessons from Abdou Diop: The Importance of Vision, Humility, and Succession Planning
Abdou Diop believes that four essential qualities define an effective leader. The first and foremost is having a vision. A great leader must be able to envision and pursue ambitious goals, fostering ambition and vision within their team. Abdou Diop asserts that many leaders, particularly in public service, must improve, emphasizing the importance of dreaming big.
The second essential quality for any leader is humility. Abdou Diop stresses the importance of keeping sight of one's origins and maintaining modesty to nurture solid human relationships, treat people well, and effectively mobilize others. He encourages leaders to prioritize humility and return to the basics.
Thirdly, Abdou Diop advocates for leaders who empower and enable the people around them to shine. He dismisses the notion that dimming the lights on others will make a leader shine brighter, insisting that helping others become great is the key to personal greatness. He shares the wisdom one of his mentors passed on: "The bigger will be big when the smaller becomes bigger." By helping others grow, a leader will feel more significant.
Lastly, he emphasizes that a good leader must always have a succession plan. Recognizing that leadership is not lifelong, he underscores the importance of preparing to step down and pass the torch to someone else. Ensuring that the organization continues to thrive after a leader's departure is a critical mindset for successful leaders to adopt.
A Multicultural Foundation: Abdou Diop's Life Before Mazars
Before joining Mazars in Morocco, Abdou Diop's life was rich in multicultural experiences. His journey began as a student in Morocco, where he earned his degree. From a young age, he had the unique opportunity to accompany his parents to various countries, such as France, Australia, Malaysia, India, Senegal, and Morocco, where he ultimately decided to settle down.
This exposure to diverse cultures at an early age proved invaluable to Diop, who continues to cherish and draw upon the multicultural background it has provided him. When he embarked on his professional journey, Mazars in Morocco became his first and only job, shaping the leader he is today.
The Art of Maintaining Work-life Balance and Motivating Teams
Abdou Diop is a seasoned business leader who believes in the mantra "Work hard, play harder." He emphasizes the importance of working intelligently in demanding industries while maintaining a balance by incorporating leisure activities into daily routines. This approach allows individuals to reflect on their progress satisfactorily, knowing they have achieved more than work.
In recent years, the trend of combining remote and in-person work has gained traction, and Abdou Diop understands the value of this flexible approach. By allowing each individual to find a rhythm that suits them, the hybrid model can help promote a healthy work-life balance. Diop also recognizes the significance of dedicating time to personal pursuits and family.
Incorporating his philosophy on leadership, Abdou Diop says, "Humility and caring are what make the difference between leaders and inspirational leaders." He believes that by embodying these qualities, leaders can motivate themselves and inspire their teams to share the same vision and strive for excellence together.
Embracing Diverse Responsibilities: A Day in the Life of Abdou Diop
As the managing partner at Mazars in Morocco, Diop embraces various responsibilities. In addition to leading the Moroccan office, he serves as a board member for Mazars in Africa, where he spearheads business development across the continent. Moreover, Abdou Diop chairs the African Committee at the Moroccan Confederation of General Enterprises, a prominent private-sector organization.
Abdou Diop's daily routine is characterized by its dynamic and diverse nature. For example, one day might begin with a simple office meeting, transition to a conference where he is a featured speaker and conclude with a client board meeting in his capacity as an auditor. Another day could entail a 16-hour journey from Casablanca to Johannesburg via Dubai to oversee Mazars' regional financial services. His work's constant variety and challenges ensure that he remains engaged and driven to make a difference.
He chooses "impactful" as a fitting descriptor when asked to define himself in a single word. He is motivated by a desire to have a positive impact and is consistently engaged for a purpose in all his endeavors.
Ambitious Growth Plans for Mazars: A Global Perspective
Abdou Diop's ambitious vision for Mazars in Africa extends beyond the company's current success. Having dedicated years to promoting the brand across the continent, he proudly acknowledges that Mazars has climbed to fifth among Audit and consulting firms in Africa. Yet, Abdou Diop's aspirations reach even higher, aiming to elevate Mazars to the third spot within the next five years.
To achieve this, Abdou Diop plans to expand Mazars' footprint and strengthen its brand presence throughout the region, focusing on consistency and alignment with their core philosophy of "Mazars, the right fit." He believes that by staying true to these principles, the company will continue to flourish and attract new clients.
In Morocco, Abdou Diop aims to maintain Mazars' leading position and pursue further growth by introducing innovative services tailored to the evolving needs of their clients. In addition, he emphasizes the importance of prioritizing corporate social responsibility (CSR) initiatives and executive learning programs, as well as enhancing the company's publication and technology tool offerings.
Ultimately, Abdou Diop envisions a future where Mazars creates more opportunities for growth and leadership, fostering the development of emerging leaders within the organization. His commitment to nurturing talent and driving the company forward ensures that Mazars remains a formidable force in the industry in Morocco and on the global stage.
Guiding Principles for Future Business Leaders
Abdou Diop believes a clear sense of purpose is vital for aspiring business leaders. He often emphasizes the importance of questioning oneself about the reasons behind their actions and the impact these leaders wish to create. Abdou Diop believes that if accumulating wealth is the sole motivation, a leader's life will ultimately be unfulfilling and devoid of any meaningful legacy. Thus, young leaders need to reevaluate their purpose and the impact they are making continuously.
Diop reiterates the significance of remaining grounded and maintaining humility. He advises future leaders to stay true to their core values and not succumb to external pressures that may push them to change their authentic selves. Abdou Diop insists that, as a leader, humility is the key to success and true fulfillment in both personal and professional life.
Conclusion
Abdou Diop's personal story, enriched by a multicultural upbringing and a steadfast commitment to having a purpose beyond wealth accumulation, offers an inspiring example for future business leaders. In addition, his emphasis on humility, staying true to oneself, and caring for others sets him apart as an inspirational figure in today's corporate world. His dedication to nurturing the talents of those around him and empowering others to achieve greatness demonstrates his belief that a great leader can elevate the people they lead. In addition, Abdou Diop's commitment to fostering a work-life balance for himself and his team also highlights the importance of maintaining a healthy balance between professional and personal life to promote long-term success.
Abdou Diop's forward-looking approach to the future of Mazars in Morocco and Africa is a testament to his visionary leadership. By focusing on expanding the company's footprint and adapting to clients' evolving needs, Abdou Diop aims to propel Mazars to even greater heights in the coming years. In addition, his emphasis on corporate social responsibility, executive learning programs, and technology tool offerings reflects a leader who is not only business-savvy but also profoundly aware of the broader impact of his organization.
As a leader with a genuine concern for the development of new leaders, Abdou Diop's focus on succession planning and creating opportunities for growth within Mazars is a prime example of the legacy he hopes to leave behind. This approach showcases his understanding of the transient nature of leadership and the importance of preparing the next generation to take the helm.
In conclusion, Abdou Diop's story is a powerful reminder of the impact that purpose-driven, humble, and a caring leader can have on the business world and society. Aspiring business leaders can take away invaluable lessons from Diop's experiences, vision, and approach to leadership.