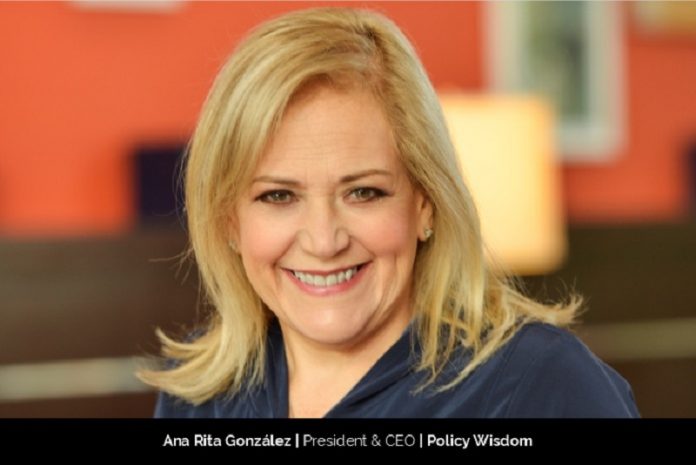 Ana Rita Gonzalez is a trailblazer. At 51, she started Policy Wisdom LLC, a fully virtual health policy consulting firm. She founded it in 2010 when virtual consulting was not a usual business model. And, in order to shape policies, Ana Rita adopted a science-driven, methodological approach instead of lobbying, which was the norm at the time.
Always a disruptive talent, Ana Rita became the first non-medical hospital director in Puerto Rico in 1987. This job taught her that there were no limits to what she could do if she armed herself with knowledge, the tools, the attitude, and a strong team to work with. Success and achievements have not made her pompous. She continues to be grounded and inherently a good person, believing that it is most important to do good unto others.
As CEO of Policy Wisdom, Ana Rita is spearheading a change in the ways public health policies are shaped. "I'm inspired by the possibility of making a difference to public health globally and by the opportunity to provide women and men with a working environment that is driven by a balanced life, respect, teamwork, and caring," she says.
Founding Policy Wisdom  
The idea for Policy Wisdom came from Ana Rita's passion for policy shaping. And as she had no desire to follow the well-trodden path of treating policy shaping as a craft, she established a consulting firm that believes in the science of policymaking. Ana Rita explains it is a science that includes not only knowing and understanding the scientific evidence but acknowledging the cultural and social ethos, and the political dynamics of the country or region being studied.
Along with passion, there is also the unconditional support and love of her husband that reassured and encouraged Ana Rita to take the leap into entrepreneurship. Her husband is her business partner as well. "It is great to have your biggest fan at home," she says. "We are each other's biggest fans and having each other is the best thing that happened to us." Setting examples that are worth emulating extends to Ana Rita's personal life as well, as she adopted her husband's adult son and daughter in 2019. As she says, "we adopted each other."
Unique Model and Creating Different Methodologies
Policy Wisdom's unique, virtual business model allows it unlimited access to bright minds across the globe, with targeted and diverse skill sets. Their expertise helps companies and organizations that are looking to understand and shape policies to impact public health worldwide.
"Our objective is to partner with our clients to support them in addressing their challenges and seizing opportunities," Ana Rita says. "This was our goal in 2010 and continues to be a unique niche."
And, as Policy Wisdom works on the science of public health policy shaping, it has created many different methodologies to support its clients. Based on the specific client needs and the environment they face, the most appropriate methodology is applied to address their needs and objectives.
Policy Wisdom is able to provide unique solutions because of its evidence-based approach, which expands and adjusts to each client, project, and situation. "Our approach, our team of professionals, and our virtual business model allow us to build long-term partnerships that are the basis of our success," Ana Rita says.
Integrity, Innovation, and Competition
Ana Rita has built a consulting firm that believes in walking the walk. It never claims what it cannot accomplish, and because of that, even after more than a decade since its inception, it has always stuck to high standards and integrity. "We operate Policy Wisdom consistently with a set of moral values and high ethical standards," she says. "We also ensure consistency and honesty in all interactions. And most importantly, we walk the walk."
Innovation at Policy Wisdom stems from trends and trust. Ana Rita and her team imagine the future of health policy based on science and trends, and following that, they think of developing new methodologies and being ready to address these trends.
Policy Wisdom has built a partnership of trust with their clients, and they come back to them with new, different, and more complicated challenges every time. It also makes them spring into action and develop new methodologies.
Competition is not what pushes Policy Wisdom and Ana Rita to innovate, improve, or recalibrate their strategies. Rather than focusing on what their competitors are doing, they focus on continuous self-improvement and on producing the best possible outcome for their clients, providing the highest quality, best thinking, and passion to each project they have.
"Collaboration and high integrity are at the core of everything we do," Ana Rita says. "We foster a respectful and cooperative team environment in which no work is beneath nor above us, and in which no one is better than 'us' together."
Life Prior to Policy Wisdom
Ana Rita has been blessed with a wonderful life. She grew up in a loving and stable family, and her parents often told her that she could be anything and everything she wanted to be. "Amazing" is how Ana Rita describes her academic life. She had great professors and wonderful mentors who pushed her to become the best she could be. She earned a Doctor of Science degree in Health Policy and Management from Johns Hopkins University and a Master's degree in hospital administration from the University of Puerto Rico. Ana Rita also completed graduate studies in health planning from Cornell University.
Prior to founding Policy Wisdom, Ana Rita managed hospitals in Puerto Rico, worked at World Health Organization (WHO), the Pan American Health Organization (PAHO), and Fleishman Hillard. She says that there was one common element in all the jobs she held in the early part of her career: "I was given blank canvases to define how to approach my work." That, coupled with the Johns Hopkins University doctoral program that taught her how to think logically and strategically, allowed Ana Rita to develop a skill and a liking for establishing connections and pulling from her experiences to build solutions. "That is when I understood the meaning of wisdom, thus a perfect entry to the name of our company," she says.
Ana Rita's father used to tell her, "Never have a job you cannot leave, because it means that you might be forced to be unfaithful to your values." Ana Rita adds that it is also true because it is important for self-growth and self-strengthening.
"When I left my WHO and Fleishman Hillard jobs, I went out of my comfort zone and each time I found a way to express my passion for public health policy in another dimension," she says.
Setbacks Are Important Experiences
Like most successful leaders, Ana Rita, too, has encountered challenges. But she has never let them overwhelm her. Instead of letting anxiety and stress become a reaction to a challenging situation, she has always tried to see the possibilities it brings. And she tries to be in a constant state of learning, adapting, and relearning. "In this ongoing learning journey, setbacks and 'detours' are not roadblocks but rather important experiences to learn from."
Early in her career, she faced a hostile group of key personnel at one of her jobs. She recalls that on her third day in the organization, they informed her that they would not support her appointment because she lacked formal education in a specific body of knowledge and she was too young for the job. Hearing that, Ana Rita did not flinch or give a feeble reaction. She thanked them for the notification and advised them "I had a job to do and no time to waste on distrust from unsupportive staff."
A couple of the individuals in that meeting came a bit later into Ana Rita's office and told her they would support her since they had daughters her age, and there was no excuse to not support her. Shortly thereafter, they were able to secure significant accreditations and achievements for the organization.
"This experience taught me the importance of maintaining my focus on the goal, to dedicate time to what matters, to recognize that everyone can add value regardless of their age and prior experience, and to trust in the abilities of people until they prove unworthy of such trust," Ana Rita says. "Since that moment it became very clear to me that I will always set people up for success, never to fail."
Leading an Amazing Team as an Atypical CEO
Ana Rita takes her role as the CEO very seriously. She ensures that Policy Wisdom stays true to its mission, vision, and values, and is achieving its strategic goals. Her responsibilities also include overseeing the company's performance, development, business growth, innovation, and financial health. However, Ana Rita most enjoys being an advisor to key clients and their team – being accessible to them, helping them create and innovate, and recognizing their achievements.
And, as her mom taught her, "never ask someone to do what you are not willing to do yourself," Ana Rita does not mind rolling up her sleeves and doing what needs to be done when it needs to be done.
"In essence, I'm a cheerleader for my team and a typical mom that coexists in a business environment," she says. "My team calls me Mama Bear. I think that I'm a bit of an atypical CEO."
She takes great pride in the selection of her staff. It is not only because of their education and professional credentials but also because of their attitude, willingness to learn, teamwork capability, commitment to excellence, open-mind, cultural sensitivity, and their own desire to lead a balanced life. "My team is so amazing professionally and personally that they keep me on my toes," she says. "I'm always searching to add value to their work and to each of our deliverables."
Ana Rita's team member, Jolanta Sabbat, expressed: "We have something very special in Policy Wisdom. There is no criticism, no pointing the finger, no looking for a scapegoat when things are not ideal, no negativity, no foe. Instead, there is help, encouragement, friendship, and love. Not to mention intellectual prowess. This goes up and down, across and diagonally."
Work-Life Balance 
Maintaining a work-life balance is a real challenge for most leaders. Ana Rita meets the challenge by knowing what is truly important in her life and by keeping an eye on that target.
A firm believer that one's thoughts and attitudes can either help one feel in a state of balance or make one feel always behind, Ana Rita says, "I counteract that by knowing that I always do what is most important in life. If you know that you are doing what is important, you motivate yourself."
"Lastly," Ana Rita adds, "my biggest motivation is for my family, which we call the Fab4, to feel proud of me, to know they are my utmost priority."
Success Is Achieving Harmony
In Ana Rita's dictionary, success does not mean being rich or becoming an award-winning entrepreneur. She describes it as reaching a point where what one thinks, what one does, and how one feels are in harmony – both in personal and professional life. And, for her, the truly important accomplishments in life are living at peace, being generous in supporting the needs of others, recognizing life's gifts, and being in a constant state of gratefulness, feeling blessed for what one has accomplished in life.
"I'm a firm believer that you can design the life you will love, and living that life is being successful."
"Being at peace is the most undervalued/underrated asset in a person's life."
Vision and Future Plans 
"Growth with a conscience" is Ana Rita's vision for the company. It means to continue to do what they do best, not diverting away from their core expertise, continue to develop their team to become the best versions of themselves, continue to accept the challenges of their clients to address new opportunities and develop more methodologies for them. "As a company and as individuals, never be power-hungry, always be wisdom-hungry," Ana Rita says.
One of her personal goals as a leader is to preempt everything that surrounds her. For example, believe in people before they believe in themselves, generate solutions before the problems reach their maximum level, and see opportunities when they are just seeds under the ground.
Message to Aspiring Businesswomen 
"Be wisdom-driven and not power-driven" is Ana's message to aspiring businesswomen. She believes that wisdom is the quality that encompasses the most and is mainly observed when one expresses and practices it in the approach to life and when making decisions of any kind. "It implies an amalgamation of knowledge, experience, a deep understanding, and acceptance of whatever life throws at you," Ana Rita explains. "Wisdom often carries optimism, peace, and balance and creates a permanent state of gratitude."
She also tells aspiring businesswomen that wisdom-driven individuals will always act as team players and set people up for success, no matter what position they hold, and will never settle for average or good, but rather always strive for great.
Best Recognition
"The best recognition has been the trust of bosses, colleagues, clients, and of course friends and family," Ana Rita says. "That is unmatched."