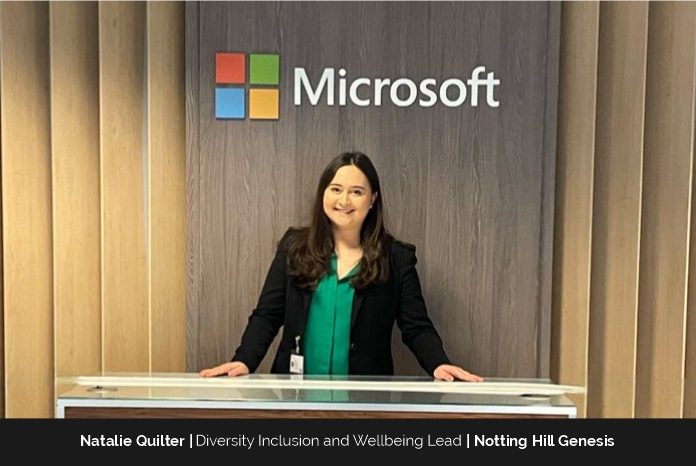 A catalyst for positive change, Natalie Quilter, a determined and empathetic leader, strives to drive meaningful progress through her work, dedicating her career for the same purpose. Through strategic leadership, open communication, and genuine empathy, Natalie aims to create an organization where everyone feels valued, supported, and empowered to thrive in their personal and professional lives.
For Natalie, success in business means being able to make a tangible difference by dismantling obstacles and outdated norms that hold people and progress back. "It's about being a trailblazer, challenging the status quo, and creating a more inclusive and equitable environment for everyone to thrive," she states.
Deriving Strength & Courage from Personal Experiences
Natalie's vision for D&I leadership extends beyond mere representation to actively cultivating an inclusive workplace culture that supports the well-being of every individual.
Natalie's personal journey as a carer for her mother has been a significant inspiration for taking the step into D&I leadership. Since she was 9 years old, Natalie has dedicated herself to caring for her mum, and while she says that it has been a fulfilling and meaningful experience, she's also witnessed the misconceptions and barriers that exist when it comes to balancing caregiving responsibilities with a career.
"I've seen first-hand how being a carer shouldn't hinder one's professional growth or aspirations. In fact, it has taught me valuable skills in empathy, adaptability, and resilience – qualities that I believe are essential for effective leadership. I want to be an inspiration and a living example to others, showing that caregiving experiences can be an asset rather than an obstacle in the corporate world," Natalie states.
Natalie's younger brother played a crucial role in shaping her journey. His courage coming out as gay and embracing his true identity despite societal challenges had a profound impact on Natalie. Witnessing his strength and determination to confront adversity fuelled her passion to make a significant impact in the field of diversity and inclusion. "I believe that everyone should be free to bring their authentic selves to work without fear of discrimination or bias," she asserts.
Whilst Natalie embraces her caring responsibilities, it is well documented that caring can have a significant impact on health and wellbeing with 60% of carers reporting a long-term health condition or disability (Carers UK analysis of GP Patient Survey 2021). Natalie herself was previously diagnosed with depression, however this has given her a deep understanding of the struggles people with long-term health conditions face in society and why she believes we need to actively talk about mental health to ensure we can all thrive. As following on from the diagnosis and support from the NHS and her network Natalie progressed to interim leasehold manager then operations manager and now Diversity Inclusion and Wellbeing Lead showing you can overcome obstacles when the right support is in place.
"I firmly believe that a company's success is closely tied to the well-being of its employees, and I want to create an inclusive environment where everyone feels supported and empowered," Natalie states.
Family and Friends – The Best support System
Natalie is proud and grateful for the support her family and friends has given during her endeavours, and more recently her partners family who also champion and support her work, which Natalie is very thankful for. She realises and understands the value of the privilege of having a strong support network around her.
Natalie's dad's unwavering dedication is truly admirable. Her dad who is now retired, worked all hours to ensure a roof was kept over their heads, and did whatever he could to ensure his children could have the best childhood possible even though it was different to many others. He was also the person who developed Natalie's love for football and in particular Arsenal. Attending matches together became a heartfelt expression of gratitude from her father and a cherished shared experience. As she grew older, Natalie's love for Arsenal deepened, and it was reinforced by the club's own commitment to diversity and inclusion and unwavering support for the women's game.
Natalie's nan has also played a pivotal role. Whenever her mum had serious relapses even after giving birth to her, she stepped up and took care of Natalie, and to this day she continues to support and guide her at the incredible age of 90.
Finally, Natalie's auntie has been a significant pillar of strength, especially when she went through her own mental health battles. "All these people and their support have made me the person I am today and I cannot thank them enough," she says.
Notting Hill Genesis – An Inclusive Housing Association
Currently working as the Diversity, Inclusion and Wellbeing Lead at NHG, Natalie has played a pivotal role in ensuring the organization is an even more inclusive place to work than it already is. During her tenure Natalie has introduced several new benefits to support staff including those undergoing fertility treatment, financial coaching and most recently, Natalie introduced the companies first group of deaf awareness ambassadors, having undergone British Sign Language training they look to support and welcome staff, residents and people from the Deaf community.
Notting Hill Genesis is one of the largest housing associations in London, providing homes to around two in every 100 Londoners, building on a proud legacy over almost six decades as an innovative and important player in the capital's housing story.
They are committed to working better together for our residents, providing safe, warm and comfortable homes where they can live their lives well.
Building on Natalie's work, Notting Hill Geneses are positive about diversity and are proud to be part of the Change the Race Ratio campaign, a Disability Confident Employer, Stonewall Diversity Champion and signatories to G15 diversity pledge. This is alongside several other fantastic pledges that Natalie sourced and leads on, including Firm Foundations, the Pregnancy Loss pledge and Harry's Pledge supporting a range of groups including young people and carers.
Natalie's core responsibilities at Notting Hill Genesis
Encompassing a wide range of critical tasks aimed at fostering an inclusive and supportive work environment for all employees, a regular day at work for Natalie involves a combination of strategic planning, engagement with staff, and implementing initiatives to promote diversity, inclusion, and well-being. Her major responsibilities include overseeing significant items like gender and ethnicity pay gap reporting. Additionally, she creates and leads the development of the organisation's comprehensive ED&I action plan, which serves as a roadmap for achieving their diversity and inclusion objectives.
Natalie's time involves chairing meetings with staff networks and sponsors, providing a platform for open discussions and collaborations on diversity and inclusion initiatives, their wellbeing steering group where they actively review their EAP and benefits data to ensure support is being utilized and to identify any gaps. Natalie also chairs the inclusion steering group, which plays a pivotal role in governing and guiding the implementation of Notting Hill Genesis' ED&I action plan.
Natalie's training as a mental health first aider, race ally and chair of the carers network enhances her ability to fulfil her role effectively. "It equips me with the knowledge and skills to provide empathetic support to those in need and contribute to creating a safe and understanding environment for individuals from diverse backgrounds," she explains.
Creating A Lasting Positive Impact Professionally
The best recognition Natalie claims to have received as a leader was the incredible honour of being selected as a finalist for Young Person of the Year 2022 by Investors in People. This prestigious award acknowledged and celebrated her significant contributions in raising awareness of carers in the workplace, going beyond the confines of her own sector and raising awareness in several industries.
Natalie had the privilege of sharing her insights and experiences as a carer through engaging talks at prominent companies like Siemens and various conferences and roundtables such as the social housing roundtable on LinkedIn. These platforms provided opportunities to shed light on the challenges faced by carers and the importance of fostering a supportive environment in the professional world, along with the amazing external agencies and pledges out there especially in the UK such as Harrys Pledge.
Furthermore, Natalie's had the chance to make a lasting impact by writing a case study for the National Housing Federation. This case study offered a blueprint, laying out the steps required to establish a robust and effective carers network within organisations. By doing so, she aimed to inspire other companies to follow suit and create workplaces that cater to the needs of carers, fostering a culture of understanding and inclusivity.
Within her own organisation, Notting Hill Genesis, Natalie's took the initiative to introduce a range of initiatives that better supported carers in the workplace. These efforts included providing necessary resources, updating of policies, offering flexible arrangements, and cultivating an environment of empathy and support.
Being an Inspiration & Advocating for Positive Change
Natalie's personal goals centre around increasing awareness of Diversity, Inclusion, and Wellbeing, particularly in supporting carers in the workplace. She aims to achieve this by actively engaging in talks and consultancy dedicated to these important topics and has set up her own website NataliesTalks.com to ensure she can offer this to companies globally. Through opportunities such as speaking engagements at Microsoft and participating in panels like the Business Disability Forum and London Build, Natalie has already started building a reputable platform to amplify these essential messages.
In the UK, recently there was the Carers Leave Act passed, which gives employees a statutory right to a week's unpaid leave to care for a dependant. Natalie actively advocates for extending this to paid leave since carers save the UK economy £162bn annually.
Natalie believes that the support and dedication of a carer not only makes a difference to our loved ones but the economy too, and only through awareness raising and teaching can this be achieved.
To aspiring leaders, Natalie's valuable advice is: No matter your background, you have the power to achieve greatness. Your journey, challenges, and triumphs make you uniquely qualified to make a difference in the world.