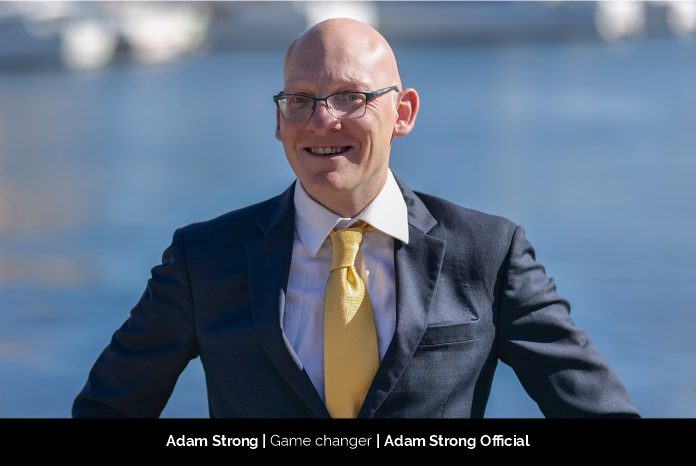 Growing and leading a company is no easy task. "Stepping from a conventional job into running your own business, or if you've been running your own business for quite some time, is one of the most difficult things that you will ever do," says Adam Strong, Founder of The Game Changers Experience.
Today, Adam is a business strategist, author, and public speaker who specialises building purpose led, highly profitable and scaleable business in less than 12 months through a 5 step methodology.  Adam had a challenging and inspiring upbringing. He says, "I don't come from a wealthy background, and growing up was tough. I lived with my mum, who was a single at and my middle brother and we lived off the state."
Adam began his entrepreneurial journey when he was 11 years old. He was walking through a natural reserve when he noticed all these golf balls; the next day, he returned with a bucket and began leaping into rivers, searching through bushes and vegetation, and collecting all the golf balls that had been lost. A pair of golfers approached him and asked if he would sell any of them. This is where Adam learned about sales and negotiation. He was well aware that branded golf balls, such as Slazenger, Dunlop, and Nike, were far more valuable than normal golf balls. Adam had the upper hand in talks since he knew this. He recalls, "I would always pitch higher, and they would pitch lower, and we would do a deal somewhere in the middle." He further adds, "These experiences have helped me build strong core foundations and an understanding of how to run a company."
Adam is a former elite athlete who spent three years training with Olympic and World Champion Sir Mo Farah. He teaches his clients how to maximise profitability by developing purpose-driven, results-oriented, and impactful companies using the same skill set he developed as an exceptional athlete.
Experience as a Public Speaker
Adam's first public speaking experience came when he was approached by a legal firm to give a talk about the release of his first book, "move it or lose it," which he had authored. The book's theme was aimed at working professionals who believed that if they did not invest in their health, they would not be as successful. Adam recalls, "It went badly wrong; I didn't really prepare myself for a roomful of lawyers and solicitors that were so disengaged because they were already subconsciously thinking I needed to get back to my desk and trade hours for time. Also, I didn't have a connection and they couldn't relate to me."
Adam finds that connection is critical, especially in building a business in the digital world. Since that time, he has learned the importance of preparation. This has led him to interview some of the world's leading business leaders and disruptors from around the world, from the likes of Marshall Goldsmith, the number one executive coach in the world, to Dr. John Demartini, who's the world's leading authority on human behaviour, to Jack Canfield, who co-authored the 57 series of Chicken Soup for the Soul. Adam asserts, "I've also had the privilege of interviewing people like Evan Carmichael, who's the YouTube sensation. I've managed to interview and speak with so many amazing people. We've collaborated, partnered, and explored opportunities." These experiences have opened up lots of doors for Adam and he is now being featured on the All American Speakers Bureau alongside some of the world's leading speakers such as Barack Obama, Bill Gates, Sir Richard Branson, and more.
Adam loves sharing his stories with the audience. He just published his third book, called "Play the Game," which became a bestselling book in six different categories, reaching number two in the United States and number one in the UK. He explains, "Playing the game shows you how to win in today's ever changing environment."  He further adds, "Now, as you'll probably agree with me, the world is consistently changing time and time again, and you really have got to understand what strategies are working for others and how you can apply them to your own business. How valuable would that be?"  The book covers topics such as franchising, how to create a vision, health, disruptive leadership, sales, and the importance of speaking the right language, neuroscience, emotional intelligence, relational capital, and more.
The Game Changers Experience
The Game Changers Experience is a podcast show that was created back in June of 2020 during the pandemic. The idea came off of a virtual event that Adam launched back in May of 2020, which was extremely successful. He says, "Our message was to help people go from a place of fear and anxiety to a place of safety and security." He further added that it was to help business owners and entrepreneurs move forward.
Adam always wanted to start a podcast and share ideas, techniques, and experiences that may help others in similar situations. The podcast aims is to interview some of the world's most influential business disruptors, game changers, and business executives, including Olympic athletes, and relate their stories to entrepreneurship. He says, "What can you learn from these people? What can you learn from their experiences and put into your own business? And our big vision is to help over 100,000 entrepreneurs or business owners thrive and create momentum so that they can continue to grow in the future. "
Illuminating the Significance of Leads
Adam had a conversation with the CEO of the company WD 40, Garry Ridge, based in San Diego, California, and they talked about the importance of business strategy. In conclusion, Adam and Garry both decided that building a company culture eats business strategy for breakfast. Each business strategy is based on this vision. Adam states, "What do you want to achieve? If you're doing activities that are working, then stick to them and double down on them. Stick to what works and don't try to reinvent the wheel. But if you haven't found a business strategy that hasn't worked, then continue to try, test, and measure everything."
According to Adam, for many years, businesses' biggest problem was lead generation. One of the main reasons why 95% of small businesses today don't survive is because they don't understand how to generate leads for their business. He suggests, "If you want to create a really unique business strategy or a roadmap. You've got to have a number of things." He also finds a vision, a focus, and proven methods of how one will create leads and turn them into clients or customers. "Share this knowledge with your team and get them on board. To create energy, passion, and empowerment so they can become as excited as you," says Adam.
The importance of Connection
Adam's responsibilities as the founder of The Game Changers Experience is, 'how can he be of service to others?" As Zig Ziglar said once, "If you help enough people achieve what they want, you will achieve what you want." Adam enjoys connecting with people, learning about their thoughts and feelings, and using applications like Clubhouse or Wisdom to provide fantastic material to his audience through podcasts and YouTube. Adam believes that work is taken too seriously, and that he has discovered the ideal method to get out of his day while having fun. He says, "I have lots of fingers in different pies, running different projects and companies."
Adam is a dad of four kids, and he still does the school run and enjoys doing that. He goes climbing a couple of days a week and loves to create podcast interviews. He says, "I get invited to speak virtually or in person at big events or companies regularly, and I love inspiring people to take action and helping them to achieve results." 
He suggests, "If you want to grow a business, speak to more people, understand their needs and wants, and put their needs first."  Adam still occasionally cooks because he prefers home-cooked meals and travels a lot, particularly between Scandinavia, the Mediterranean and the United Kingdom.
Seek out what you truly desire in life
Adam's message to aspiring business leaders is to have a purpose, create a vision in every area of your life, and live by your core values. He says, "Creating perceptional awareness will help you understand your strengths and weaknesses." He believes that as a leader, it's important people delegate their weaknesses and focus on their strengths."
Plans to Elevate Climate Change Initiatives
Adam is ecstatic about some of the amazing plans he and his team have for The Game Changers brand's future. The Game Changers Experience Summit is scheduled for the beginning of 2022. Over a three-day virtual event, the yearly event brings together 18 to 20 speakers, including some of the world's finest academics. Adam, says, "Our audience are established business owners and entrepreneurs that want to 10x their business without sacrificing their freedom."
Adam says that the company's will continue to focus on building the game changers inner circle tribe, a high-end private mastermind group for six-figure business owners and above who want high-level education, cooperation, and accountability. The team is also hosting the organization's inaugural retreat in the Mediterranean, which will include some of the world's most influential entrepreneurs, investors, and thought leaders. Adam clarifies, "This will be a five-day event. We're going to be doing million-dollar deals, learning from world leaders and, more importantly, having immense fun. "
Adam is working on a new initiative called the Oceanic, which is essentially a marine project that gathers, collects, and recycles ocean plastic using renewable energy, artificial intelligence, and data. The Mediterranean is a beautiful region, but it suffers from a serious plastic pollution problem. Climate change isn't going away and is a major subject right now, Adam is sharing his vision to raise capital from investors around the globe to get the project off the ground.