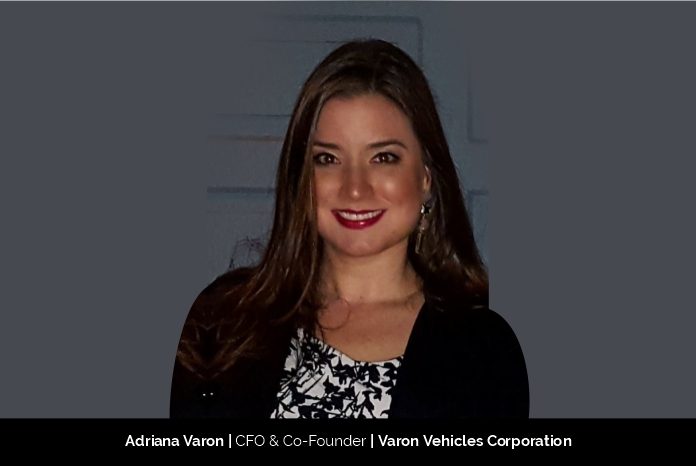 To bridge the lack of efficient mobility infrastructure in Urban cities, Adriana Varon, CFO and Co-founder of Varon Vehicles Corporation, is accompanying her visionary brother Felipe Varon to bring a transformation in the present scenario and building a promising future for Urban Air Mobility (UAM). Living in Bogota, she regularly gets trapped in worse traffic congestions and loses ample time in traffic. She believes that Varon Vehicles Corporation will bring forth ground-breaking socio-economic development with excellent technologies in urban aviation and advanced air mobility.
She shares, "Approximately five years ago, I decided to come on board with this dream because I strongly believe that it only takes one visionary who is completely convinced he can change the world in order for the world to change."
Hopping onto the New Journey
Before joining forces with Felipe, she gained 10+ years of experience working at the Colombian and international stock market. Not only did she serve the client's needs directly and render personalized solutions, but she also took the onus of managing and structuring all the investment portfolios. She adds, "In these years, I had the opportunity to work not only with amazing coworkers but learned that each person is a world in itself and that in the investment world, there's no such thing as one solution fits all."
Additionally, she has 7+ years of profound experience in high military tech and international commerce, where they mainly catered to humanitarian projects.
Working in different workplaces, her success definition evolved. She also wanted to live her life having the essence align with her daily decisions so that she could continue sleeping with a clear conscience. Now she also believes that her success also meant contributing to build a better society ahead. Although Adriana loved her job, she felt the call to do something else.
She says, "I realized that it was time to witness the call to change, to seek new challenges and continue growing as much as I could. I realized I had enough experience in the financial world to become Varon Vehicle's CFO and learn and face all the challenges this responsibility brings." At that moment, she got ready to join her brother's company and kick-start this exciting journey.
The Rise of Flexible-functioning Workplaces
Challenges are part and parcel of life. Adriana opines in the fact that every challenge on the success path helps in unleashing the true potential and strength that resides inside an individual.
Explaining her past challenging moments, she says, "When I was working as a Wealth Advisor & Portfolio Advisor in the international markets, Colombia and the world faced a different economic crisis that affected markets directly; for example, the financial crisis of 2008. Those moments taught me valuable lessons, like besides doing all you can to try to avoid big losses in the portfolio, always speak the truth to your clients and customers."
"Just like 2008, 2020 and 2021 also brought numerous noteworthy lessons to light. The flexible-functioning revolution has commenced, and all companies need to pivot towards this new reality to survive in this competitive environment."
Solving Urban Mobility problems with Varon Vehicles Corporation
Established in 2016, Varon Vehicles Corporation came into being as a US company striving hard to develop a new type of mobility infrastructure without any physical construction per mile. Inclined towards faster, greener, and safer urban and suburban transportation services, they are offering services to a plethora of customers such as logistics companies, tourism companies, hospitals, emergency responders, and transportation network companies (TNC's) for services like air taxis.
Breaking the traditional paradigms 
Maintaining a culture of integrity and innovation in the company is crucial to boost the growth of a new idea. Adriana believes that the first thing to ensure this culture is to select a solid team by analyzing their intellectual capabilities, morals, and character. "It is important to look beyond professional capabilities and see how they behave not only in their jobs but in their personal life."
She adds, "We have to permeate the culture we want our company to live by, and one of the most important ways to do it is by example, you cannot expect your team to live by values you don't believe or act by."
Together, the whole team is shaping the Urban Air Mobility concept into reality. The company is evolving the industry, creating a new way for people to connect, always hand in hand with the regulatory entities, and listening to people's needs.
Being a woman in the capricious industry, backing up a nascent idea is in itself a big achievement, and Adriana believes that anyone with the right potential and knowledge can rise and shine to mark its unique identity in any market.
She mentions that a good leader is defined by the person's capabilities, one's character, and determination, one's willingness to run the extra mile for chasing dreams while helping others become the best version of themselves. She states, "It doesn't matter where life puts you, It only matters where you want to go. Don't let anyone tell you that because you are a woman, you cannot do it and don't believe that because you are a woman, you are entitled to anything; women have come a long way and still have work to do in order to have real professional equality. But equality also means not having preferences because you are a man or a woman, rather becoming the best option because of who you are and what professional skills you have."
Backing up the innovative idea
Being the Economist with a PGDip in Finance and a MIT Certificate on Urban Mobility Disruptions to create better cities, Adriana handles the responsibilities of the CFO of the company diligently. Also, being the co-founder of the company, she backs up Felipe Varon, the CEO, in different aspects and supports the rest of the team in making smart decisions and devising innovative plans.
The COVID-19 pandemic came with its own set of challenges, but the team was able to evolve with the restrictions. The whole team embraced the shift to virtual meetings and adapted to new circumstances to keep climbing the ladder of success.
Visionary future plans
The company is working on making the UAM concept a reality and working to have a real operational case in some time. At the moment, they are creating Varon Vehicles Colombia and expect to launch their second seed round soon. Adriana adds, "We are working very hard on having all the structure ready for investors to join in. In 2020 we launched our Skyscraper 2020 company summit (www.varonvehicles.com/skyscraper2020), and this July, we will be starting to host our Think Tanks 2021. We also launched our UAM Names Challenge, where we are inviting everyone who wants to come and propose the new names for key elements of Urban Air Mobility for which names have not yet been widely adopted (www.varonvehicles.com/names-challenge)."