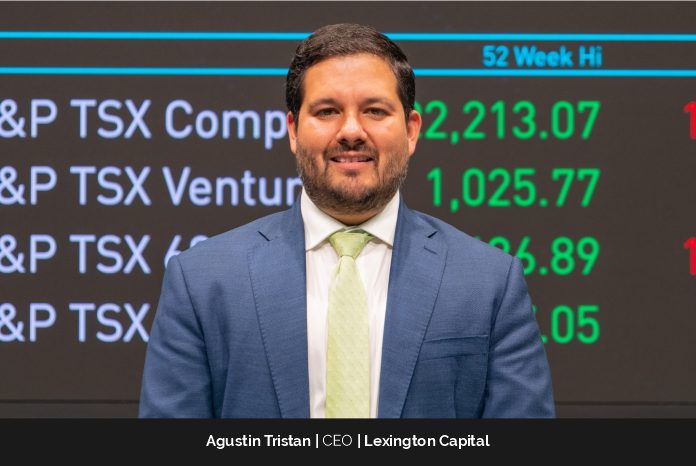 Starting out as an entrepreneur at the young age of 8 years old, Agustin Tristan Aldave, CEO of Lexington Capital, has always been passionate about identifying opportunities and developing businesses. When he was in college and grad school, he started four companies across different sectors and that re-confirmed his interest in investing and entrepreneurship.
After grad school, Agustin worked for five years at Goldman Sachs in New York where he got to learn a lot from a great firm and meet great people. In 2017 he decided to start his own company called Lexington Capital, a firm focused on developing and investing in Real Assets with a sustainable mindset. "I chose that name because my favorite street in New York was Lexington Avenue and the Chrysler building resembles my logo," he explains.
When he moved back to Mexico, he saw a big opportunity in four main sectors that he was extremely passionate about: Food & Agriculture, Water, Energy and Real Estate. In order to start the company, Agustin decided to cash out his 401k, the bonuses he had saved while working at Goldman and sold a house he bought when he was 19 from his savings from playing racquetball professionally.
Agustin's view on being a successful entrepreneur
Agustin says that he measures success by two things:
Sustaining my values over time regardless of the complexity of the markets or the macroeconomic/regulatory situation.
Executing complex projects while still having fun and embracing the process.
He states that his family has always been his driving force and is thankful for their support over the years.
Agustin's advice for his younger self would be that the most important thing for him should be to surround himself with great people, to not be afraid of making difficult decisions and making mistakes. "It is all going to be a great learning experience which will help him grow as an individual and as a business person. I would also advise him to learn to say "NO" to opportunities and put 100% focus on the things that he is passionate about and is willing to go through very difficult times in order to have success," he states.
Setbacks are a vital part of growth
"I've had many setbacks throughout my career, and many came at a very young age," says Agustin.
When he was 8 years old, he played his first racquetball world championship and remembers losing 15-0, 15-1. "I remember feeling very down on myself and that I never wanted to feel like that ever again. It took me 9 years to finally become a world champion and I ended up becoming a six-time world champion and that's what got me my scholarship to the University of Alabama where I also won three national intercollegiate championships," he recollects.
In his opinion, sports teach you a lot about how to deal with setbacks, continuous sacrifice, disappointment, and mental toughness. He claims to have learned an important lesson – as long as you try your best you should never feel bad if there is a setback. He takes these lessons learned from sports and approaches to life to business.
During his business career Agustin has had multiple setbacks, some by making decisions he shouldn't have made, partnering with the wrong people and dealing with regulatory issues which are outside of his control. "All these lessons have taught me something and I feel I have always bounced back stronger from these," he states.
Lexington Capital – Its products & services
Lexington Capital is a developer and Private Equity firm in the sense that they like to develop projects from scratch, and they use the same methodology across all the different verticals. They are obsessed with understanding the market need and making sure they develop a project which is not only aligned with market trends and the regulatory environment, but that they build exactly what the market is looking for. Throughout the entire process they also act as investors, but they take a very hands-on approach to developing these projects.
"There is always going to be competition in what we do. I would say the key difference has been in the methodology that we follow when executing these projects, how we mitigate risk and the fact that we start to invest capital in the early stages of a project. Most Private Equity investors like to start investing once the projects are much further along and don't typically take a hands-on approach like we do," explains Agustin.
Responsibilities and achievements as a CEO
"My days are very similar in the sense that no day is the same," says Agustin.
On any given day he could be working on developing an apartment complex or a touristic project, developing a hydrocarbon storage terminal, conducting due diligence on a water treatment facility and investing in a Food & Agriculture project. As the CEO, he has to look at everything from the strategy of the company, legal contracts, tax structures, financial models, investment decks, investment memorandums, negotiating with investors or lenders, and most importantly, project management.
Agustin's claims that his proudest moments have been being able to put together a great team to execute their vision and being able to navigate uncertainty and multiple challenges. "One of my proudest achievements has definitely been our recent IPO on the Toronto Stock Exchange in June of 2022 where we raised $138M dollars despite the current market conditions, the war, the pandemic and the multiple challenges in the world with regards to inflation, rising interest rates and many other factors," he further states.
Work-life balance and team building at Lexington Capital
As much as people think that Agustin is a workaholic, he happily states that he thoroughly enjoys what he does, and he is extremely passionate about what the company is doing. "As I always say, when you combine working on projects where you are intellectually challenged and you are having fun, and you are also working with nice people, then you are not working," he says. He enjoys spending quality time with his family and he thinks it's very important to keep a balance in everything one does.
Agustin believes what binds the Lexington Capital team is that they are all aligned in terms of what they are accomplishing together and where they see the firm in a few years. They have also stuck together through challenging times and now that all projects are coming together. "We feel very proud about our accomplishments as a team," he exclaims.
The roadmap to the future of Lexington Capital
As a successful development and investment company, Lexington Capital sees themselves as the top Real Asset group in Latin America in a few years, developing and investing in the most exciting projects with the highest international standards and also aligned to ESG (Environmental, Social and Governance) principles.
Agustin's first goal is to make sure that all the different verticals are fully funded, and they have several operating businesses. The second goal would be to have more assets under management in order to expand their footprint in the region and continue to develop exciting sustainable projects aligned to ESG principles, providing employment and having a positive impact in the economy.