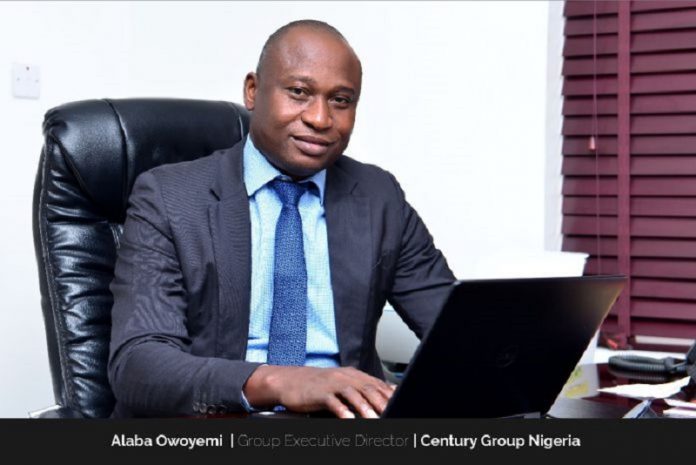 Alaba Owoyemi is a prominent business leader in Nigeria and currently serves as the Group Executive Director of Century Group Nigeria. Alaba, an alumnus of London Business School, and a Chartered Engineer with the Council Regulating Engineering in Nigeria (COREN), has over 24 years of experience in the fields of Oil & Gas, energy, marine, IT, and manufacturing.
With a wealth of experience in strategic planning, commercial operations, and crisis management, Alaba has helped to drive the growth and success of the Century Group. He has a proven track record as a business leader and entrepreneur, with expertise in delivering business goals and objectives through innovation and exceptional execution strategies. In addition to his professional achievements, Alaba commits to promoting work-life balance and individuality in leadership.
Life Before Century Group Nigeria
Before joining Century Group (CG) in May 2017, Alaba had an impressive career working for several reputable companies. From a little beginning, Alaba started his career with Dresser Rand, an American engineering and manufacturing company now owned by Siemens Energy that provide services equipment used in the extraction of petroleum and natural gas before moving to Shell Petroleum Development Company (SPDC). Because of his thirst to learn more and professional development, Alaba joined Invensys Foxboro Nigeria (now Schneider Electric) as Engineering Delivery Manager before he was promoted to the Country General Manager where he managed the entire business operation in Nigeria and other West African countries. After that, he became the Managing Director of Aggreko Nigeria, the world's leading temporary power generation and temperature control equipment company.
After his successful tenure at Aggreko Nigeria, Alaba joined General Electric (GE) as an Executive for Gas to Power Africa and a member of the Africa Leadership Team. He later transitioned to the Group Executive Director for Commercials, Business Development & Technology at Century Group (CG). He steers the companies' strategies, aligns them for revenue growth and optimal profitability, and drives commercial and operational excellence.
Besides his roles in various companies, Alaba also serves on the board of several organizations and has received numerous awards for his contributions to the industry. He is currently the Chairman of the Board of Fellows for the National Institute of Credit Administration (NICA).
Throughout his career, Alaba has demonstrated a strong passion for the energy industry, and his strategic thinking and focus on execution have been critical factors in his success in growing and transforming industrial companies with a global footprint. In addition, his business leadership and entrepreneurial achievements continue to impact the industry significantly.
"Whatever what doing, what doing well."
Motivation for Joining Century Group Nigeria
Two things have been a source of the inspiration career journey. The first is the vision of the Group CEO/Founder, which he describes as both insightful and forward-thinking. The second inspiration comes from his desire to contribute to local capacity building, especially given his extensive experience working for multinational companies.
As Group Executive Director – Commercials, Business Development & Technology, Alaba is responsible for steering the companies' strategies, aligning them for revenue growth and optimal profitability while driving commercial and operational excellence. It is no small feat, given the complex and ever-evolving business landscape in which companies operate.
Alaba is the Chairman of the Board of Fellows at the National Institute of Credit Administration (NICA). In this capacity, he brings his wealth of experience and strategic thinking to bear, helping to shape the future of the credit administration industry in Nigeria.
About Century Group Nigeria
Century Group is a leading Nigerian energy company that provides customized energy infrastructure and solutions to oil and gas industry operators. The company's mission is to meet its clients' energy needs efficiently, reliably, and sustainably while placing a high premium on safety, quality, and the environment.
As a pioneer in the domestic energy infrastructure sector, Century Group's vision is to remain at the forefront of the industry by providing cutting-edge solutions and services that exceed its client's expectations. The company aims to achieve this by using its experience and experience in the energy industry, investing in innovative technology, and building strategic partnerships with key players in the industry.
Century Group's operational portfolio includes three Floating Production Storage Offloading Units (FPSOs), four flow-stations, one Mobile Offshore Production Unit (MOPU), and two Floating Storage Offloading (FSO) vessels, which it operates on behalf of various clients in Nigeria. The company's extensive operational experience and proven track record have earned it a reputation as a trusted partner in the energy industry.
Century Group focuses on reducing its environmental impact through responsible waste management and adopting eco-friendly practices as part of its commitment to sustainability. The company aims to lead the charge toward a more sustainable energy industry in Nigeria and Africa. Overall, Century Group is a mission-driven company that aims to provide reliable, sustainable, and innovative energy solutions while maintaining the highest standards of safety, quality, and environmental responsibility.
Alaba's Contribution to the Growth and Success of Century Group Nigeria
Alaba's unwavering commitment to upholding policies, processes, and procedures has been a driving force behind the growth and success of Century Group Nigeria. With comprehensive training in this area, Alaba has set a benchmark of excellence for the entire organization through strict adherence to these principles.
Alaba's dedication to high standards has profoundly impacted Century Group's ability to navigate Nigeria's energy sector's complex and challenging operating environment. In addition, Alaba has fostered a culture of professionalism and excellence throughout the organization by championing policies that are non-negotiable, regardless of one's position in the company.
Alaba's invaluable contributions have been crucial in upholding the company's commitment to delivering innovative, sustainable, and high-quality energy solutions to clients while maintaining the highest standards of safety, quality, and environmental responsibility.
Culture of Integrity and Innovation
Alaba centers his leadership philosophy around two fundamental principles: integrity and innovation. As a leader, Alaba recognizes the importance of setting an example for the rest of the organization. By practicing what he preaches and maintaining a zero-tolerance policy for any behavior that compromises the integrity, Alaba has fostered a culture of trust and accountability within Century Group Nigeria.
Innovation is also a crucial aspect of Alaba's leadership style. He understands that to stay ahead in a rapidly changing business environment; organizations must be willing to take risks and embrace new ideas. To facilitate this, Alaba creates an environment where employees feel comfortable speaking up and sharing their thoughts and ideas without fear of retribution. In addition, he promotes teamwork and collaboration, recognizing that no one person has all the answers and that the best solutions often emerge from collective effort.
Alaba's approach to leadership has played a significant role in the growth and success of Century Group Nigeria. He has built a culture of excellence and openness by emphasizing integrity and innovation, allowing the company to adapt and thrive in a challenging and dynamic market. His commitment to these principles has also helped to establish Century Group Nigeria as a trusted and respected player in the energy sector, with a reputation for delivering high-quality services and maintaining the highest ethical standards.
Whatever you sow, you shall reap. (Law of Karma)
Alaba's Roles and Responsibilities at Century Group Nigeria
As a seasoned professional with a wealth of experience, Alaba's role at Century Group encompasses many responsibilities. Alaba serves as a key leader across the group, overseeing the strategic direction of various companies and driving initiatives to achieve revenue growth and optimal profitability. Alaba's keen eye for commercial and operational excellence allows them to identify areas for improvement and devise practical remedial actions when necessary. In addition, Alaba is well-versed in crisis management, swiftly navigating challenging situations to ensure the smooth operation of the group.
One of Alaba's key strengths is his ability to work collaboratively with colleagues. Alaba provides guidance and coaching to subordinate managers, fostering a positive and proactive working environment that encourages efficient teamwork. Alaba understands the importance of managing and developing a high-performance team and consistently strives to bring out the best in his team members.
Alaba's leadership style can be described as forthright, as they believe in being candid and direct in their communication. Alaba values open and honest dialogue, which fosters transparency and trust within the organization. Alaba's forthright approach allows for effective decision-making and promotes a culture of accountability and ownership among team members.
In defining himself in one word, Alaba chooses "Forthright." It embodies his commitment to transparency, candid communication, and directness in their leadership approach. Alaba believes being forthright is essential in building strong relationships, fostering teamwork, and achieving results in a dynamic and competitive business environment.
As a leader at Century Group, Alaba's contributions are integral to the group's success. Through their strategic leadership, commercial acumen, crisis management skills, and commitment to teamwork, Alaba continues to drive the group towards its vision of becoming a leading global industrial group that solves problems, empowers people, and creates value.
Definition of Success
In his own words, Alaba Owoyemi defines success as the "willingness and ability to impact lives and the environment positively." As an accomplished business leader and entrepreneur, Alaba's perspective on success goes beyond mere financial gains or career achievements. He believes that true success stems from positively influencing others and the environment.
Alaba has observed that many people associate success with material wealth or high-level achievements in their chosen fields. However, he holds a different view. For Alaba, success transcends the present moment and extends beyond one's lifetime. He believes one can measure a person's success by the positive legacy they leave behind, even after departing. According to Alaba, if a person's success does not continue to positively impact lives and the environment after their demise or exit from this world, their success may be incomplete.
Alaba's commitment to positively impacting lives and the environment extends beyond his professional life. He is actively involved in various charitable causes and serves on the board of several organizations focused on social and environmental issues. He believes that by giving back to the community and advocating for sustainable practices, he can contribute to a better world for current and future generations.
Alaba's holistic approach to success has earned him recognition and accolades in business. He has received numerous awards for his outstanding contributions to the industry and his commitment to social and environmental responsibility. Alaba has also received invitations to speak at various conferences and events, where he shares his insights on success, leadership, and sustainability.
Valuable Lessons from Alaba's Professional Journey
Alaba Owoyemi is a seasoned business leader with a wealth of experience navigating various challenges throughout his career. He understands that facing challenges is a natural part of achieving success. To Alaba, success is not just about reaching one's goals but also about developing a strong sense of resilience in the face of obstacles.
In his experience, Alaba has encountered numerous situations that demanded his skillful handling. Through these experiences, he has learned invaluable lessons that have shaped his approach to leadership.
Alaba says, "DO NOT COPY" and "ALWAYS BE YOUR REAL SELF." He believes that individuals who remain true to themselves are more likely to succeed and make a positive impact in their respective fields.
Another crucial lesson Alaba has learned is the danger of imitation. While learning from others and adopting best practices is essential, he believes replicating others' success is often counterproductive. Alaba notes that individuals who strive to imitate others risk losing their unique identity, which can hinder their ability to achieve success in their own right.
"No good thing comes easy."
Balancing Personal and Professional Life
Alaba maintains that achieving work-life balance is a personal journey that requires an individualized approach. The key is to work when necessary and make time for personal relationships and activities that promote good health. Alaba also underscores the significance of setting clear boundaries between work and personal time.
To achieve a healthy balance, Alaba practices effective time management and incorporates activities that promote physical and mental wellness into their routine. In addition, he believes creating a positive and productive work environment requires prioritizing personal well-being and respecting the boundaries between work and personal life.
As a leader, Alaba promotes work-life balance by fostering a culture that values productivity during work hours while respecting personal time and boundaries. In addition, Alaba aims to create a positive and productive work environment by supporting their team's well-being.
Alaba's Vision and Goals
Alaba believes that authentic leadership transcends industry or sector boundaries and that a leader's ability to disclose vulnerability is crucial. However, Alaba acknowledges that cultural behaviors sometimes hinder this aspect of leadership, as facts may not always support them.
Alaba's vision and plan for impacting the next generation of leaders, particularly in developing countries like theirs, involves championing child education. Alaba has observed that many potential leaders in their village and community could not fund their education, resulting in them engaging in petty politics on the streets.
To address this, Alaba advocates for free primary education up to high school for all children, with legislation supporting this initiative. In addition, in his capacity, Alaba currently runs a mentorship program and provides support for education to less privileged individuals, aiming to positively impact the next generation of leaders through education and mentorship.
Alaba has set a personal goal to establish a large-scale farm that will catalyze promoting food security, poverty eradication, and job creation. The farm is envisioned to produce various crops and livestock for consumption and commercial purposes. Through this initiative, Alaba aims to contribute to the economic growth and development of the community and country by creating job opportunities for locals and promoting self-sufficiency in food production.
Recognition & Awards
Alaba's outstanding leadership as a director was recognized and awarded by the National Institute of Credit Administration (NICA) with the esteemed title of "Best Director of the Year – 2020." This recognition highlights Alaba's exceptional achievements and contributions to the field of credit administration, showcasing their exemplary leadership skills and dedication to excellence. In addition, this accolade is a noteworthy achievement in Alaba's professional career, validating their expertise and commitment to success in the industry.
The Future of Work at Century Group Nigeria
Alaba firmly believes that life is not solely about personal achievement but also about contributing to society. As such, Alaba's vision for Century Group aligns with the organization's mission to become a global leader in problem-solving, empowering people, and creating value.
With this in mind, Alaba is committed to driving Century Group's vision forward, working alongside the team to achieve tangible results and positively impact the world. He says, "My vision and plan for CG is to drive the Group's vision which is to be a leading global industrial group actively involved in solving problems, enabling people, and creating value."
As an experienced leader with a strong track record of success, Alaba is confident in their ability to contribute to the group's growth and development.
Alaba's goal is to actively build a world that works for everyone, where businesses are profit-driven and focused on positively impacting society. Through their work at Century Group, Alaba hopes to inspire others to adopt a similar mindset and drive positive change in their spheres of influence.
Message To Aspiring Business Leaders
Alaba's message to aspiring business leaders is to always strive for authenticity and avoid the temptation to mimic others. In his view, effective leadership requires an original perspective and approach, and attempting to copy others can stunt personal and professional growth.
Instead, aspiring leaders should focus on developing their unique strengths and skills. Alaba encourages leaders to embrace their individuality and use it to drive innovation and growth within their organizations.
Alaba stresses the importance of embracing one's unique perspective as a leader in a world that often prioritizes conformity over creativity. By staying true to themselves and utilizing their strengths and ideas, aspiring business leaders can achieve their objectives and positively impact their organizations and communities.
Conclusion
Alaba Owoyemi is an experienced business leader who emphasizes the importance of authenticity, innovation, and work-life balance. As the Group Executive Director of Century Group Nigeria, Alaba's vision is to create a leading global industrial group actively solving problems, enabling people, and creating value. He believes in the power of collaboration and teamwork to achieve this goal, and they work across the group to steer the companies' strategies and ensure optimal profitability.
Alaba's approach to leadership centers on authenticity and originality. They believe authentic leadership requires focusing on personal strengths and skills rather than copying others. They encourage aspiring business leaders to embrace their unique perspectives and ideas and use them to drive innovation and growth in their organizations. In a world that often values conformity, Alaba emphasizes the importance of individuality and creativity in leadership.
Alaba's leadership philosophy is to be authentic, innovate, and have a work-life balance. His commitment to personal and team well-being is essential to creating a positive and productive work environment. Aspiring business leaders can learn from Alaba's example, focusing on their strengths and skills, embracing their unique perspectives and ideas, and prioritizing work-life balance to achieve personal and professional success.