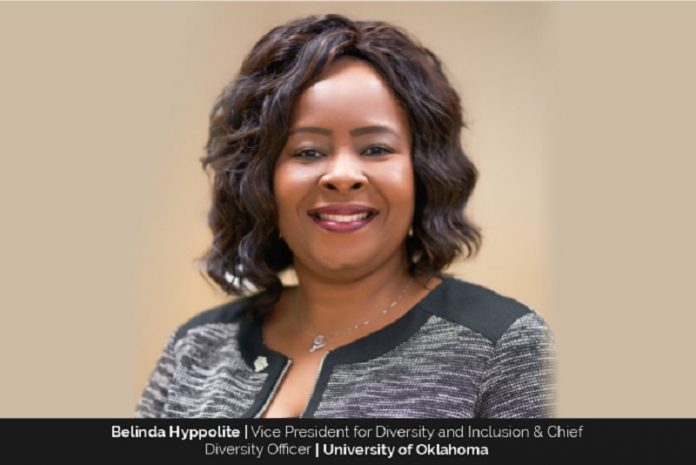 Belinda Hyppolite, the Vice President for Diversity and Inclusion at the University of Oklahoma, has a 26-year illustrious career in higher education. Under her guidance, the University has received notable recognition while fostering an inclusive atmosphere. Before this, she held diverse leadership roles at the University of Central Florida and The Ohio State University tackling social justice issues. She's also known for her active memberships in renowned organizations, serving in multiple positions. Hyppolite's educational qualifications, two Bachelor's degrees, two Master's degrees, and a Doctorate, reflect her commitment to education. Alongside her professional life, she's also a devoted wife and mother, embodying dedication, and inclusivity in every aspect of life.
Setting Clear Objectives for Impact: Hyppolite's Approach to Success
In Hyppolite's perspective, success isn't about victories or defeats in the conventional sense. Instead, it's about making a significant difference and having a positive influence on the lives of others.
Choosing a career is a critical decision that many base on their potential earnings or an aspiration to achieve a certain societal status. For Hyppolite, her decision to enter the field of education stemmed from a deep-rooted desire to support those on the periphery, both within and outside academia. This includes individuals from low-income backgrounds, those who are the first in their family to attend college, people living with visible or invisible disabilities, and those families often stereotyped and boxed in by society.
Her most profound sense of accomplishment surfaces when she can eliminate a barrier or create opportunities for those in need. Interestingly, Hyppolite views failure as an opportunity for readjustment, illustrating her resilience and dedication.
She says, "If you aim at nothing, you'll hit it every time." This thought encapsulates her approach to success, a blend of clear objectives and commitment to making an impact.
Beyond Title and Tokenism: Hyppolite's Vision for DEI Leadership
Hyppolite's journey unfolds within higher education institutions, serving in roles that allow her to uplift historically under-resourced communities. Her administrative and teaching posts directed her towards a path that would make a difference.
Initially, her aspirations veered towards the roles of dean of students, and vice president of student affairs, even culminating as a college president. But the academy provided her with numerous opportunities to cultivate departments centered on equity, inclusion, diversity, and belonging. Following her doctorate, she embraced these opportunities and began climbing the rungs in the DEI arena.
Her mission involves increasing access for all, targeting and dismantling obstacles that particularly impede marginalized communities. The DEI space doesn't need officers chosen for their skin color; instead, it calls for capable, seasoned leaders to infuse board rooms and administrative areas with fresh perspectives.
In her view, the roles of Vice President and Chief Diversity Officer should be occupied by professionals equipped and supported to drive change throughout their institutions. She emphasizes that more than the title is required. It is about commanding an operational budget, adequate staffing, and wielding influence at every organizational level. While pondering her next steps, she focuses on diligently serving her community.
Resilience in the Face of Unpopularity: Embracing Roadblocks as Part of the Leadership Journey
The insights about Hyppolite's professional challenges are deftly woven in a chapter of her upcoming book "Brave Women at Work: Lessons in Confidence," slated for release in June 2023. The narrative delves into internal and external hindrances that might paralyze female leaders from advocating for what is right.
Being a Black female executive at a predominantly white institution, Hyppolite symbolizes a constructive 'disruption.' She carries a unique lived experience, diversifying the pool of perspectives. Though her colleagues respect her, their problem-solving or prioritization approaches might differ.
Hyppolite approaches challenges by speaking the truth confidently, regardless of potential disagreements. She has learned to bring this perspective consistently and to champion her cause and those of others, even when facing dissent.
Throughout Hyppolite's career, she has encountered a myriad of obstacles. Critics, questioning her motives, claimed her lack of experience and education disqualified her from certain positions.
Others, devoid of her lived experiences, audaciously suggested she alter her work approach. Additionally, she found herself advised to avoid opportunities due to their potential unpopularity or political pitfalls. Despite the roadblocks, she firmly believes they are merely a part of life. Her handling of these roadblocks illuminates the strength of her leadership character.
Her words, "You can disrupt behavior without being disruptive," reflect her resilience. She chooses to take control, not of her reputation, but her integrity and leadership style, shaping her path through life's hurdles.
"Lead On, University": OU's Visionary Strategic Plan for Thriving Amidst Competition
Fierce competition and relentless change characterize the landscape of higher education today. According to Hyppolite, maintaining a cutting-edge position in innovation and relevance is the University of Oklahoma's top priority. Even before the pandemic, dramatic shifts were apparent in the sector, with recent years bringing about remarkable transformation. Moreover, colleges and universities have been wrestling with dwindling enrollments and financial setbacks across the country, issues that the pandemic only amplified.
As per Hyppolite, the pandemic's critical lesson is the crucial need for strategic planning and foresight. Thanks to the astute leadership of OU President Joseph Harroz Jr., the University launched its first strategic plan in decades, aptly named "Lead On, University," amid the pandemic in July 2020. The plan outlines the University's vision and mission, guiding all its activities. The core message behind OU's strategic plan is encapsulated in three powerful words – "We Change Lives." This clear, unwavering purpose permeates every facet of the institution.
In the four years since the strategic plan was set into motion, OU has demonstrated incredible progress, as recounted by Hyppolite. Evidence of their ongoing success includes setting records for the size of incoming first-year classes two years consecutively. Moreover, OU has made significant strides in research, setting new benchmarks for research expenditure. Further accomplishments include the swift transition of OU to the Southeastern Conference (SEC), enhancing the University's athletic reputation.
Not stopping at that, OU launched an ambitious fundraising campaign, seeking a historic $2 billion. This campaign, the largest in the history of Oklahoma's higher education, is a testament to OU's proactive approach and ambition. As these milestones accumulate, the foundation for the next chapter of the University's growth is unfolding right before our eyes.
Collaborative Partnership: DEI as a Catalyst for Positive Change at OU
At OU, the importance of diversity, equity and inclusion is not taken lightly. But, according to Hyppolite, these elements should be focused on something other than the culture and climate of an organization. Instead, she asserts that policies and practices should be designed to encompass everyone.
After joining OU in January 2020, Hyppolite witnessed positive, forward-thinking changes. One of the compelling features that attracted her to the role was the development of the new Strategic Plan. This initiative boldly weaves the elements of diversity, equity, inclusion, access, and belonging into the very fabric of the university community. The Strategic Plan is a living, active document that all levels of the University engage with, from the ground up to the top down.
The principles of belonging, access, and emotional support for the experience of students, faculty, and staff are central to the plan. Creating an inclusive campus community, as per Hyppolite, is the responsibility of everyone. She applauds how faculty, staff, and students have shown commitment, seeking ways to facilitate positive change across campus.
DEI is considered a collaborative partner with the campus community. The work within the OU community ensures that students receive the support they need to succeed. While they face daily challenges, Hyppolite believes they are implementing the correct processes to address and adapt to an active and ever-changing environment.
Cultivating a Culture of Integrity: Hyppolite's Approach to Team Ethics
Hyppolite firmly believes that integrity is a fundamental quality of leadership, and it is demonstrated by making good on one's commitments. She acknowledges that ensuring integrity is a complex task. Still, she attempts to bring on board individuals who fulfill their promises and consistently contribute to the betterment of the campus and neighboring communities.
According to Hyppolite, the focus of their effort should be geared towards service to others rather than self-centered goals. To fulfill this mandate, her team members need to be in a healthy state, both mentally and physically. While this may seem simple, it is a demanding expectation. After all, they dedicate their time, energy, and talents to serving others.
Hyppolite underscores the importance of deliberately setting aside time for self-care to maintain their capacity to lead with clarity and high integrity. It helps them remain holistic individuals capable of contributing effectively. This approach to leadership isn't necessarily black or white, as Hyppolite reminds us, "The work we lead is messy, definitely not black or white. We must learn to operate in the gray." This concept underscores the complexities and nuances of fostering integrity within a team.
From Small Beginnings to Impactful Leadership: Hyppolite's Career Trajectory
Embarking on her career nearly three decades ago, Hyppolite emerged as a critical figure in higher education. She crafted a dynamic and diverse path from humble beginnings at a small private college to holding leadership roles at multiple prestigious public research and land grant institutions. Her footprint is undeniable, whether within the classroom as a faculty member or administrator.
Driven by a focus on social justice, she has consistently addressed issues that impact faculty, staff, students, and the wider community. Access, belonging, and inclusion in higher education form the backbone of her unwavering commitment to social justice.
Hyppolite's support extends to a broad range of student populations. She has championed the cause of low-income and first-generation students, foster care individuals, students with diverse or no religious beliefs, and veterans. Those under Deferred Action for Childhood Arrivals (DACA) and Temporary Protective Status, as well as students without housing, have also benefitted from her advocacy. In addition, her work has influenced fraternities, sororities, multicultural organizations, and TRIO programs, echoing her commitment to fostering a diverse and inclusive environment.
In her endeavor to cultivate more inclusive spaces, Hyppolite has led teaching circles and symposiums, encouraging the adoption of universal design principles. She is particularly interested in mentoring women leaders, extending her support and guidance to help them flourish.
Finally, her mission extends to giving voice to the voiceless. She's committed to building supportive, inclusive communities through diversity education and reducing oppression. As a staunch advocate for social justice and an impassioned educator, Hyppolite firmly believes that education should be an accessible right for everyone, not a privilege for a select few.
Recognizing Excellence: Hyppolite's Trailblazing Spirit
While at the University of Central Florida in Orlando, Hyppolite earned the coveted Trailblazer Award, which had profound significance. This accolade was a testament to her pioneering spirit and entrepreneurial acumen, qualities duly acknowledged by students, faculty, and staff alike.
Hyppolite's capabilities extend beyond mere understanding, manifesting in her courage to enact the changes she envisions. She grasps the necessity of comprehending a university's mission and vision yet realizes that possessing an idea is merely half the battle won. It's the decisive action toward actualizing this vision that sets her apart. Her deliberate initiatives to instigate change and establish beneficial processes for all university community members are a testament to her exceptional leadership.
Thriving Against the Odds: Hyppolite's Impact as a Woman in Leadership
Thriving in a leadership role, mainly as a Black woman, Hyppolite has often found herself in spaces where she's a pioneer. She enters these spaces equipped to lead, ready to listen, and with an understanding of meeting individuals where they are. Of course, leadership is no walk in the park, but Hyppolite meets this challenge head-on daily.
She believes in leading with respect, regardless of its reciprocation. She does not shy away from speaking truths, even if they may not be widely accepted. Trusting the process is integral to her, even when the journey toward the ultimate goal becomes rough. In her efforts to bring about change, she seeks to leave a lasting impact and plant the seeds for a future where generations can reap the benefits.
Hyppolite strives to empower individuals to voice their opinions with empathy and understanding. She fosters an environment where different perspectives are respected, even in disagreement. To her, this contributes to a return to a much-needed sense of civility.
She hopes future generations will continue breaking barriers and opening doors for those often overlooked, especially while creating policies and procedures. As a role model, she seeks to exemplify compassion, care, and advocacy. Above all, Hyppolite focuses on influencing the conditions that foster success for faculty, staff, and students.
Strategic Direction for Diversity: Hyppolite's Vision for the University of Oklahoma
In the dynamic role of a Chief Diversity Officer, Hyppolite has no typical day. Instead, she views herself as a partner in progress, working hand in hand with the entire university community. She oversees planning and implementing programs and services that touch various facets of the faculty, staff, and student life cycles.
Hyppolite dedicates her efforts to actualizing the University's Strategic Plan, focusing on nurturing a sense of belonging and inclusion across all campuses. She provides the vision, leadership, and strategic direction required for various departments and units. An essential part of her role includes managing a budget responsibly.
In addition, she facilitates the growth and development of the community. She organizes regular training sessions and workshops to reduce barriers to success and oppression. She aims to promote an environment that supports increased access and belonging.
Hyppolite's role extends to addressing campus climate and cultural issues that could impede community members' success. She directs a team of remarkable leaders dedicated to serving the University of Oklahoma community across its three campuses. Hyppolite is vital in crisis response and offers continuous consultation to students, faculty, staff, community members, and stakeholders.
Engaging in meaningful dialogues, challenging barriers, and building collaborative relationships are integral components of her work. In addition, she aims to support a healthy, safe campus community that recognizes and respects cultural differences, fostering intercultural interaction, learning, and appreciation.
If one had to encapsulate Hyppolite's essence in a single word, it would undoubtedly be "Determined."
Professional Harmony: The Hyppolite Approach to Balance and Motivation
Hyppolite diligently works towards achieving harmony between balance and motivation. But, undoubtedly, there are moments when her demanding career calls for heightened attention, necessitating a reduced personal engagement.
Apart from being a business leader, she is a wife and mother. Fortunate to have an incredible partner, she ensures open communication lines and never hesitates to ask for assistance when necessary. Having grown up witnessing their mother's professional life, her children understand its demands.
Furthermore, she strives to be fully present in every situation at home or work. While she admits that maintaining harmony has yet to be entirely mastered, she is intentional and focused on every task she undertakes, with some days being better than others.
In terms of fostering motivation, Hyppolite views it as an inherent attribute, varying from individual to individual. A relationship-centric approach forms the foundation of her leadership, with personal relationships cultivated within her team. Professional and emotional support to her team is a priority, emphasizing their humanity in the work environment. This supportive framework nurtures an environment where individuals feel comfortable being themselves and asking for assistance when necessary.
Additionally, Hyppolite makes an effort to inspire her team through various means. She shares thought-provoking articles, supplies uplifting quotes, and promotes a collaborative atmosphere in team gatherings. Her belief is vital in the necessity of holistic well-being, insisting that mindfulness and self-care must intertwine with work, creating a healthier and more productive work culture.
Fostering Inclusion and Belonging: OU's Future Ambitions
The University of Oklahoma, Strategic Pillar IV, steered by Hyppolite, has initiated its Strategic Plan to direct its future. This roadmap aims to broadly impact the university community and society through a multifaceted approach.
The focal points of the plan include elevating research, enhancing career development and readiness, and improving access to education. Hyppolite is firmly committed to making quality education attainable for all, underpinning the Strategic Plan's mission.
A priority of OU's roadmap is fostering a climate of inclusion and belonging. Hyppolite strives to create spaces where every member feels valued and engaged.
The plan's impact transcends the local realm, aspiring to create a ripple effect through the city, state, and beyond. Under Hyppolite's guidance, OU is forging a future marked by educational advancements and societal contributions.
Integrity and Advocacy: Keynotes from a Woman in Leadership
Hyppolite sets forth clear personal goals as a leader. She aims to introduce process improvements and lead steadfastly while advocating for the voiceless. She stands as a courageous leader, consistently advocating for those around her.
Her advice to women aspiring for leadership roles is simple yet profound: be true to yourself. Embrace the skin you're in, and don't be afraid to showcase your authenticity.
A quote submitted by Hyppolite encapsulates her philosophy: "Be willing to build a foundation with the bricks others have discarded." It's a rallying call to women, encouraging resilience and ingenuity.
Unapologetically speaking the truth is a keystone in her leadership philosophy. She urges women to take risks and quiet their doubts, asserting they already possess all necessary leadership skills.
She champions the belief that each woman is enough in herself, dissuading any inclination to compare oneself with others. Instead, she emphasizes the real competition lies within, encouraging the pursuit of personal growth.
The drive to strive for a better version of oneself daily is one she advocates. Hyppolite accentuates the importance of setting and working towards goals. Uniquely defining success, she maintains, is an essential step towards achievement.
Conclusion
Hyppolite, an emblem of transformative leadership, blends integrity, advocacy, and growth in her strategic vision for the University of Oklahoma. Her life story inspires aspiring women leaders to embrace their individuality, paving their unique paths to success. Hyppolite marks the dawn of innovative, compassionate leadership in the dynamic business world.