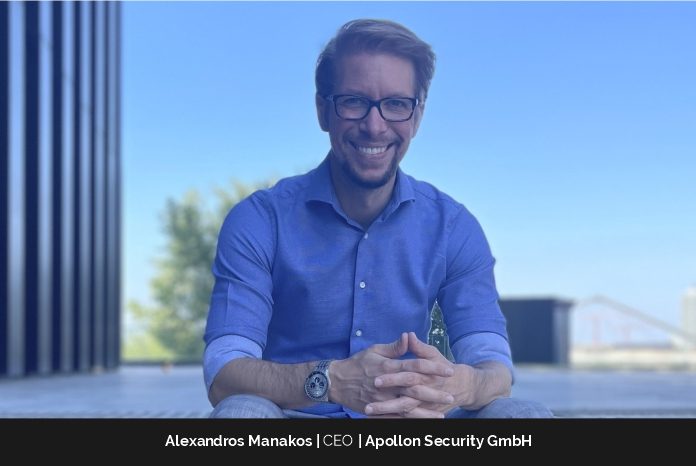 Alexandros Manakos, CEO of Apollon Security, is a thought leader at the executive level with a unique combination of skills in leadership, information technology and holistic security. He is an inspiring and business-minded person who is focused on achieving results that can be measured, where cybersecurity is not only a cost centre or a barrier to the business but rather an enabler.
When a computer virus attacked 16-year-old Alexandros, he was quite sad to no longer be able to use his computer. However, this circumstance inspired him to begin his quest to fortify his computer against viruses and online thieves. 22 years have passed since that time and Alexandros has now been able to defend countless additional businesses and people against online threats.
At Apollon Security, Alexandros' duties include advancing the business, ensuring the satisfaction of his staff and clients and giving his employees the greatest workplace possible in the cyber security industry. As a people manager, he enjoys inspiring his staff and coming up with novel and fun ways to keep them happy. As a natural visionary, he is constantly thinking of the next five brilliant ideas for how to advance the company, his team and himself.
It is quite challenging for Alexandros to sum up who he is in one word, yet he describes himself as a "forward thinker."
Seeing Success as a Subjective
According to Alexandros, success is possible in a wide range of domains, including business, personal relationships, health and mindset. From a business standpoint, Alexandros believes that the two things listed below constitute his greatest success:
"Having the greatest people around me/in my company and making them happy. Supporting my employees in any regard and watching them grow and making sure they are always feeling valued and heard. Having the ability to spend the time with people with the same mindset and values and achieving business growth is a stunning feeling of success."
"On the client side the most important thing is that we create true value which is being highly appreciated by our clients. We don't like just closing audit findings for the sake of a tick of a box exercise without enhancing the cyber security maturity. We love creating value that helps our clients to protect them against cyber-attacks. That's the reason why we also carefully select our clients and the projects."
Every Difficulty is an Improvement
"Every business challenge that you master changes you in some kind of way," says Alexandros. He discovered that a person's mindset is the most crucial factor in enabling them to overcome almost any obstacle that may stand in their way in both business and life. He shares, "I've managed many roadblocks during my career the following way: Don't stick your head into the sand, think about HOW to solve the CHALLENGE instead of having a PROBLEM. If you think about it in a psychological way, a problem stops you and makes you more often give up. A challenge on the other side gives you the feeling of a possibility to win and inspires you to find a way to win." He further explains that a challenge motivates you way more than a problem.
Alexandros suggests that after finding a way to win the challenge, divide it into "working packages" and maybe a timeline, and then DO IT. He opines, "Always focus on the solution instead of the problem. This way, you don't have your mind full of blockers but "working packages" for all the things you want to achieve. You will feel amazing once you've accomplished some big things that others see as problems, but you solved them as every other daily task because it was a summary of daily tasks like everything else."
Alexandros ran into trouble when he chose to outsource a specific cyber security procedure in a large bank under regulation. He realised it would probably take around 9 months to complete this extremely difficult and time-consuming effort for each process he wanted to outsource. The board demanded that this be contracted out within three months. Alexandros accepted the challenge and realised he needed to come up with new ideas if he wanted to finish it in three months. He overcame this challenge in the following way because he was very familiar with the legal and regulatory requirements: He examined the current outsourcing procedures to identify more effective ones while taking into account all the legal and regulatory requirements by working a night shift with one of his employees. He recalls, "We ordered a large pizza and we came up with a completely new process in line with all legal and regulatory requirements." He and his team went to the board of directors, presented their results, and the outsourcing department only added some slight parts to it and implemented the updated processes, resulting in a saving of 7 months for every outsourcing.
Leading Apollon Security and Revolutionizing the Sector
Alexandros observes that Apollon Security has had tremendous growth because it was fully booked before its April 2022 opening day. Four months later, the company has fifteen employees, five of whom are waiting to join in the coming months. It is still looking for excellent talent. He states, "What's very important to us is that we grow in a healthy and controlled way."
The hiring process is quite rigorous since the team at Apollon Security works closely together and it is crucial to uphold the high standard of professionalism and humanity the company has developed. Only those with a similar mindset and set of beliefs, both personally and professionally, are hired by the management.
Alexandros recalls that the company routinely shares its in-depth information with other cyber security specialists, clients, and other peers, citing one example of the firm's contributions to the industry. No matter if it's a presentation at one of the firm's clients or a speech at a conference or event. The group enjoys imparting knowledge and assisting others in avoiding common blunders. Alexandros states that the cyber security space is so full of secrecy to share issues, mistakes and experience, which is causing so many organisations to need to solve the same problems without enough expertise.
View on Achieving Personal and Professional Life Balance
At times, Alexandros worked seven days a week and even slept at his place of employment. He still finds joy in his work, despite having learned that one must take care of one's job. He says, "Your private life and your health, and not only one of those, as it might get very bad in the other ones if you don't prioritise the right way." Alexandros believes that having a wonderful personal life, being well, and being content with one's own work life are all crucial. He goes on to say that these three items should be handled with extreme caution, and he encourages and shields the company's employees as well as himself to avoid making the mistakes he did.
The team in Apollon does this through a variety of actions. The first thing is how they live their lives and how the management treats their employees.
Alexandros asserts, "How we work, the values we have, and the way we treat our personal and professional lives is providing them a mirror of what we expect from them." He personally makes an effort to limit his workday to 8 to 10 hours, makes an effort to eat healthily, enjoys playing basketball and cherishes his time with his loved ones. Additionally, he will be working from Greece for the next two weeks while enjoying the gorgeous weather and the sea in front of him. He shares, "Everyone at Apollon can do that as long as our clients have no restrictions on this. Our employees have flexible working hours, everyone can design their way of working that fits best with their life, start their ideas as projects with us and many, many more benefits."
Keeping Team Motivated for the Goal
According to Alexandros, maintaining motivation is not as simple as it may seem, but if one makes it a goal to constantly improve the business and its employees, it works like a charm. Although it takes a lot of work, many CEOs and Head Offs regrettably don't make the time since there is always something else that is more crucial. The cyber security industry is enormous and always evolving, but according to Alexandros, if one always remains on top of things and gives staff members interesting new projects and tasks, they will remain devoted.
An Achiever
Alexandros was always the youngest in everything he did and accomplished, whether it was in school, basketball practise, his studies, his role as a CISO at HSBC or managing employees with very large budgets. Now that he has his own business and is surrounded by so many amazing people, he is immensely proud and pleased. He shares, "I worked very, very hard to achieve those goals, but I still have so many on the line that I will never get bored." He further adds that he is not trying to be the Elon, Jeff, or Bill of Cyber Security, but there are so many great things ahead he is looking forward to and would love to achieve. He opines, "Even if we stay with Apollon Security the way we are right now, I would be extremely grateful and happy."
Best Recognition
After gaining years of experience, Alexandros believes that the praise he has received from his subordinates, other management peers, and cyber security peers represents the best recognition he has had as a leader. He is extremely honoured that so many people value working with him and realise the genuine value of what he does, thinks, stands for and adds to their lives.
Alexandros is also quite happy that he took first place in the "holistic" category of the Cyber Security Leader Award. He thinks that having such a fantastic team and the backing of the board of directors was the only reason this was feasible.
Plans for the Future
As Alexandros sees, Apollon Security will grow in the next few years, further and further from a people and revenue perspective. He states, "We will only grow in a very healthy way. If we won't be able to find great talents to join us with our values and mindset, then it is what it is and we will all be very happy."
The business has begun to expand across Europe as well as its services and customer base. According to Alexandros, the team will extend to the US after Apollon is established in Europe. The company will offer its workers even more beautiful areas to work from in the middle of the term (like Greece), where work and leisure may be ideally integrated.
Staying healthy, always improving oneself, spending time with friends and family, and making his staff happy are all personal goals for Alexandros.
A Note for Aspiring Visionaries
Alexandros' message to aspiring entrepreneurs is, "Try to find the people you want to work with—not the company or job for the CV. If you can combine the people, company, and job (or even two of those), that's a lottery win. Stay away from highly paid jobs with toxic people just to have a big name or title on your CV."
He continues, "Always treat others as you would like to be treated." He says that as one rises through the ranks of (big corporations), it might be quite difficult, but in the long run, it always pays off. In life, you will always cross paths twice.
Last but not least, never give up, said Alexandros. He says, "You will never be successful if you give up too early." He thinks many people fail simply because they give up too soon. Every successful person has faced numerous difficulties that they have overcome, but the average person will never know this. Only public success is visible to and acknowledged by the outsider.