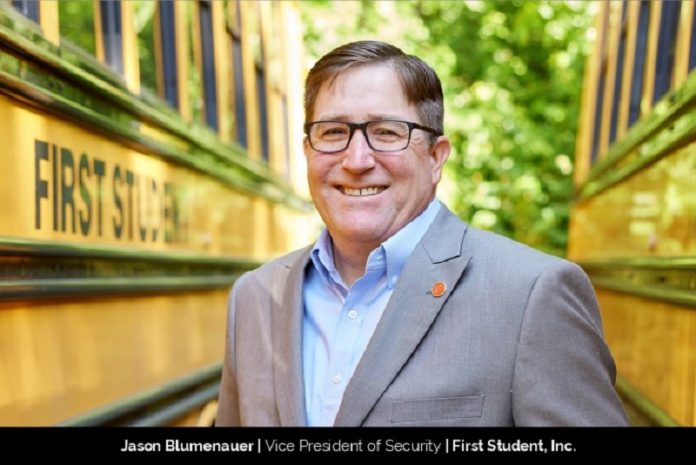 "Questions are invaluable when the individuals posing them take full responsibility for ensuring accurate answers are obtained"- These profound words have served as a great source of inspiration for Jason Blumenauer, the Vice President of Security at First Student, Inc. He epitomizes accountability, describing himself with a single word: "ACCOUNTABLE." His unwavering passion, determination, hard work, and sense of responsibility have propelled him to the pinnacle of success. Today, he holds a distinguished stature among "The 10 Most Influential Leaders Building a Better World Through Security, 2023."
Regarding success, this seasoned executive shares that it is defined in the dictionary as 'accomplishing an aim or purpose.' He explains, "I see it as identifying a need, mobilizing a plan to fill it, and then delivering a solution while understanding the strategic importance of continuous improvement." For Blumenauer, collaboration, thinking beyond the box, and ongoing improvement are the foundations of success. Success is never static; it is a continual process.
Finding Inspiration in First Student, Inc.: A Step of Faith
When asked about the inspiration behind joining First Student, Inc., Jason Blumenauer conveys that the decision was easy. This renowned company's foundation lies in a deep commitment to students and their well-being and a relentless pursuit of the safest and most secure transportation from home to school. By bringing together industry thought leaders and integrating cutting-edge technology, First Student continually strives for improvement and sets the bar high. Driven by a similar mindset, Blumenauer was naturally drawn to this organization. First Student comprises individuals who excel at transforming ideas into action while prioritizing efficiency and meeting customer needs. Being part of such a team resonates deeply with Blumenauer, fueling his ambition to develop and oversee an exceptional security program that mirrors the company's ethos.
The Empowering Effects of Challenges
Challenges, according to this experienced professional, make one stronger. If they approach them with a positive mindset, the strength gained will get them closer to overcoming that obstacle and preparing them for the next one. Jason Blumenauer has gained extensive experience throughout his career, having worked for various organizations in the federal, state, and private sectors across multiple countries. Throughout that period, he gained the understanding that obstacles are bound to arise, and the greater your self-assurance in your abilities, the better equipped you will be to surmount those obstacles. Collaborating effectively with colleagues at all levels of your organization is crucial.
He notes: "At the beginning of my career, I had a good idea of what was needed to manage a security program, but I found out quickly that was the easy part."
He emphasizes that one can know everything necessary to ensure a safe, secure, and effective organization. Still, it is challenging to accomplish a security program that provides success and a return on investment without the ability to persuade stakeholders to utilize the tools and resources.
First Student, Inc. and its Services
First Student, Inc. is North America's premier school transportation solutions provider. With over a century of experience, the company assists school districts in fulfilling their missions by ensuring a safe and reliable start and finish every school day. First Student understands the priorities of today's K-12 community and employs a dedicated workforce of 58,000 individuals. Their commitment is reflected in providing unmatched care and the safest transportation for over 5.5 million daily student journeys. Remarkably, First Student completes more trips on a daily basis than all of the airlines combined.
The Impact of Jason Blumenauer's Expertise on First Student, Inc.'s Growth and Success
Jason Blumenauer's expertise has played a crucial role in facilitating the growth and success of First Student, Inc. With his extensive knowledge in both security and business, he has worked towards establishing a reliable team that is proactive and prepared for unforeseen circumstances. Blumenauer emphasizes that the security team at First Student has implemented a comprehensive program, empowering field operations to make informed decisions during crises. This approach minimizes risks and establishes a strong foundation for proactive security measures, leading to improved organizational health and enhanced customer support.
The true strength of a security department lies in its ability to shape a business culture that prioritizes robust security practices. Blumenauer and his team actively engage with various stakeholders and maintain well-rounded expertise to provide exceptional service to both internal and external clients. They build and lead high-performing teams that thrive in complex, matrixed environments and develop programs and services that effectively mitigate risks and threats on a global scale.
Fostering a Culture of Integrity and Innovation Within His Team
"I understand I am not just responsible for my direct reports but also have an obligation to everyone within the First Student organization," says Blumenauer. "I empower those around me to strengthen their knowledge, grow their responsibilities, and build trust and collaboration while championing innovative ideas."
He believes that inspiring, motivating, and setting examples are crucial for individuals to achieve positive change. Establishing a clear vision, creating a plan of action, and fostering strong relationships with diverse teams are key components in developing cultural strength and integrity. Focusing on developing future leaders is crucial for achieving long-term success. By taking these actions, one can establish a cohesive team narrative that promotes integrity and innovation.
Life Before First Student, Inc.
Jason Blumenauer expresses deep gratitude for his extensive 31-year tenure in the enterprise security and law enforcement industry, and he eagerly anticipates many more years of professional growth and contribution. Before his current position at First Student, he was Vice President of Security at FirstGroup plc, a prominent transportation operator in the United Kingdom and North America. With an impressive annual revenue of £5.7 billion and a global workforce exceeding 100,000 employees, FirstGroup plc focused primarily on student transportation, transit transportation, and the esteemed Greyhound Corporation.
Before joining the esteemed FirstGroup team, Blumenauer served as the Director of Global Security and Head of Protective Services at Cardinal Health. Cardinal Health, a Fortune 50 company, boasted an impressive revenue of $181.4 billion. The company's core activities encompassed pharmaceutical distribution, manufacturing, and distribution of medical and laboratory products and offering performance and data solutions to healthcare facilities worldwide.
Blumenauer's illustrious career commenced in the U.S. Air Force, where he served as a Law Enforcement Specialist. During this period, he supervised and executed various law enforcement activities as a patrolman. These multifaceted duties encompassed resource protection, crisis management, investigation, training management, pass and registration, information security, military working dog program management, correction activities, and air base defense functions carried out globally. Notably, he possesses a master's degree in business, further enriching his professional acumen and expertise.
Navigating the Challenges of Leadership in the Security Industry
Thriving as a leader in the security industry has undoubtedly presented its fair share of challenges, and Jason Blumenauer is no stranger to these hurdles. However, he embraces the notion that "Future success is disguised as past failures," motivating him to overcome obstacles and forge ahead. He understands that being a successful leader in any industry requires overcoming obstacles. There are barriers to adopting security in his particular industry, but there are methods to overcome these barriers and provide best-in-class security solutions. It is essential to comprehend and implement programs and processes based on regulated requirements while exceeding customer expectations and linking this to the business strategy. It is a tricky balancing act that is required for a successful and productive security program.
Customers in the service industry desire to feel protected and secure when utilizing a service provider's offers. Creating a program and future leaders who recognize both internal and external requirements enable a program to be effective, efficient, and secure. When implementing a security program, key steps must be understood to establish risk-averse operations and a strong security program that resonates with customers.
These steps include:
Defining the business's strategy and aligning security efforts accordingly.
Understanding both internal and external expectations of the business.
Creating a well-defined and branded program that effectively communicates with the target audience enables influence throughout the organization.
Emphasizing the importance of engagement, fostering a strong security culture, and clearly demonstrating the return on investment.
Establishing a structured cadence that effectively manages and expands the security initiative while remaining attuned to the evolving business environment and its associated risks. This adaptability ensures swift pivoting as risks change over time.
Greatest Recognition as A Leader!
Among the various accolades he has received, Jason Blumenauer holds a special appreciation for being acknowledged as a thought leader by the esteemed Blue-Ribbon Study Panel in Washington, D.C., during his tenure in the healthcare supply chain industry. This panel was led by notable figures such as former Senate Majority Leader Thomas A. Daschle, former Senator Joseph I. Liberman, and other former Senators, Governors, and Homeland Security Advisors.
When Blumenauer was asked to join the Blue-Ribbon Study Panel on Biodefense, he was overjoyed at the opportunity. The purpose of convening this esteemed panel was to solicit valuable insights from the private sector regarding three key aspects:
The financial ramifications of large-scale biological incidents
The significance of public-private partnerships and collaboration before such incidents
The private sector can contribute to Biodefense, particularly in the period preceding the mobilization of federal resources and after the exhaustion of federal assets.
Blumenauer had the privilege of sharing his perspectives, drawing from his experiences, highlighting challenges, and proposing potential solutions concerning the most critical biological threats. The discussions revolved around identifying vulnerabilities across various industries and understanding the associated economic consequences. Additionally, they addressed the roles and responsibilities of the private sector before, during, and after responding to major biological events.
Being recognized as a thought leader and having the opportunity to share his expertise with such a noteworthy panel was an honor that remains etched in his memory.
Vision and Strategic Plan for the Future of First Student, Inc.
Like all great leaders, Jason Blumenauer also has a plan for the organization's future. To the question, "What is his vision and plan for the future of First Student, Inc.?" He responds that the proper security program and strategy may boost a company's health and brand by changing employees' perceptions of the security department and establishing it as a true business partner. As a result, the company may shift its focus from constantly reacting to threats to investing in its own expansion.
Cybercrime, terrorism, natural catastrophes, civil unrest, both internal and foreign criminal activity, and other risks are all part of today's rapidly evolving risk picture. Problems can swiftly escalate and become reputational catastrophes in record time due to the proliferation of networked technology and immediate communication, making it more critical than ever to establish a security program that can respond effectively.
"At the core of a best-in-class risk mitigation security program is a team championing the security resources and engaging the operations to help navigate the company successfully through security concerns," he remarks. "The approach is to focus on security from a holistic standpoint, taking into account the day-to-day reality of an organization and assessing the required security measures in this context."
Responsibilities as Vice President of Security at First Student, Inc.
Vice President of Security Jason Blumenauer is responsible for many critical tasks. Risk assessment, leadership, and coordination of the North American security program and security posture across all enterprises in the United States and Canada fall within his purview as he works to develop and oversee a world-class program for mitigating risk. He conveys that the security team encourages collaboration daily by analyzing and monitoring business activity with partners from other parts of the organization and planning for and preventing security concerns through proactive involvement. The same team is consistently managed and trained to be ready to respond to an emergency at a moment's notice, ensuring the right steps are taken and the correct information is communicated to those who need it. Keeping up with local, state, and federal regulatory standards is important to guarantee they meet and excel in these areas.
He states, "This is how we can set the highest standards with our security program to keep our children, school district customers, employees, properties, and assets secure and safe."
Blumenauer's Mantra for Work-Life Balance
Blumenauer has never had trouble balancing his personal and professional life because his interests in both areas complement each other. He says he continually expands his knowledge and understanding and that the personal benefits immediately translate to the professional realm. According to this seasoned leader, balancing is unnecessary when one loves what they do; instead, life is a journey filled with accomplishments, disappointments, and lessons. Anyone who stays on the path will experience consistent development on all fronts.
This veteran leader enjoys similarly inspiring others. In his own words, his motto is "constantly learn, strive for success, positively navigate through failures, and repeat!"
Personal Goals and Message to Aspiring Business Leaders
Blumenauer is one of those people who like maintaining order. He believes "the pain of discipline is far less than the pain of regret." 
Both his professional and personal objectives are simple yet poignant. He is always looking to expand his knowledge and put himself in situations that will test his abilities.
In his words: "I want to position myself to have opportunities to build future leaders. I always want to be able to provide the best of me in whatever I am doing."
His advice to budding leaders is to take the time to reflect on their unique qualities. Realize that speaking up isn't always the most crucial thing and that it's okay to take a back seat and listen sometimes. Acknowledge the validity of alternative points of view and their impact on a desired result. Learn to build trusting relationships and remember that returning the favor is just as crucial.