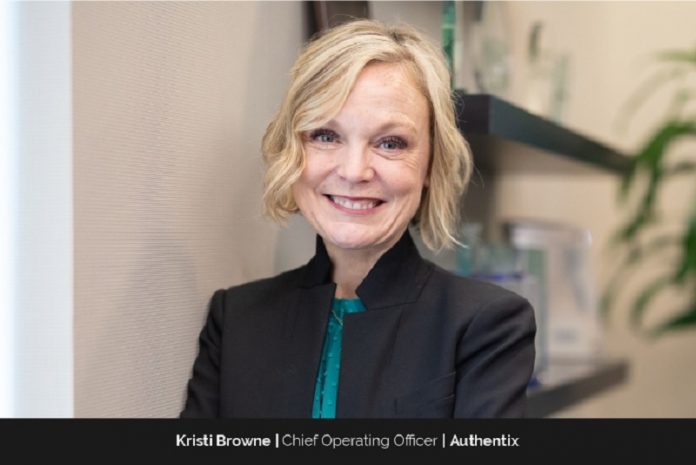 As one of few women earning a Chemical Engineering degree in 1993, Kristi Browne (née Jackson) was used to competing in this male dominated field of study, and it would come to serve her well in the years to follow. After graduating, she joined Vista Chemical, a sizable chemical manufacturing plant. Within a year, she was noticed there by a team that had just left Vista for a small start-up chemical company. She followed them as the main engineer to help start up this greenfield plant just across the Mississippi River from Baton Rouge, Louisiana. Within a few months, the small chemical plant was sold to a huge conglomerate, Alcoa.
Kristi stayed at Alcoa for seven years but realized that the small start-up was where she enjoyed working. In 2001, her mentor left Alcoa to take a new position with Isotag, a technology startup in Dallas, Texas specializing in the chemical tracing and identification of upstream and downstream sectors in the oil & gas industry.  Shortly after joining Isotag, that mentor asked her to interview with Isotag for a new position of application engineer. She was very excited to join a company where she could make a difference instead of being just a number among 100,000 employees worldwide.
Making the Most of Your First Day
Kristi knew things would be different at Isotag, but she became fully aware just how much different on her first day in February 2002, where she found herself in a small west Texas town on a large oil well fracking site. With a host of a few dozen oilfield roughnecks and field engineers, she was the only woman on the jobsite.  Bewildered at first, Kristi decided it was now or never and immediately stepped into the job involving the tracing and analysis of different fluids being injected into the earth with her goal to analyze the best 'flowback' to find the most productive zones. While at Alcoa, she says, "I had always sought out those with the most experience and asked for their guidance, bombarded them with questions, and listened attentively as they told their stories, talked about the company's history, and lamented about their dislikes in the management of the company. I never discounted their advice and always felt these learnings would help me more than anything." While on the job at the oil well, she did the same thing and picked up knowledge from the old-timers very quickly. In the time spent at the fracking site, Kristi gained the respect of the other crew members and to some degree, took advantage of being the only female to create a better outcome for Isotag. The results were outstanding, and the quick analysis and cost savings for the client created a new line of business for the company for several years to come.
After finishing up the job in West Texas and returning to Isotag headquarters, the new CEO fired almost all of the existing sales team.  In her short time with the company, Kristi had already figured out the complexity of the company's technology and how difficult it was to integrate, implement, and yes, even sell.  The move by the CEO actually made sense to her because selling these solutions required technical expertise and not just someone good at selling. She was impressed that even in a smaller company, an executive could take such swift and impactful action, which would have never happened with her previous employer.  In the next few months, the company brought on the right mix of sales talent with the appropriate backgrounds and technical capabilities. Kristi admired the bold move and was pleased to see such rapid change was possible in a company of this size.
On the Move
Over the next year, Kristi was assigned to various projects including the identification of marked thread in luxury apparel, other oil & gas molecular marking projects, and a host of other applications where she continued to learn and flourish in this highly nimble and agile nascent environment. After the company's first acquisition of a small New York based ink formulator in late 2002, the CFO asked her who might be the best employee to move to New York and integrate this new technology into the company's offerings. Without hesitation, Kristi volunteered. Single and free to take advantage of this chance, once again she was moving into new territory, being a pioneer, taking chances, and jumping into a new opportunity to prove herself and learn. After relocating to Manhattan in early 2003, and a few months of late nights, she had completed the successful integration of this newly acquired company. She was also instrumental in helping utilize the new technology to win a large pharmaceutical company contract on the east coast. She then returned to Dallas in late 2003 to carry on with her existing role, looking forward to the next exciting challenge. It wouldn't take long for that to present itself.
Shortly after returning to Dallas, Isotag merged with Biocode, its largest competitor based in the UK, and the two companies became one company, Authentix, Inc., now with several locations in the US and UK and customers in the US, UK, and Africa. Now an employee of Authentix, Kristi was selected in 2004 to become the company's first Program Manager, responsible for post-sale implementation and ongoing management of all project components including logistics, field service, and troubleshooting.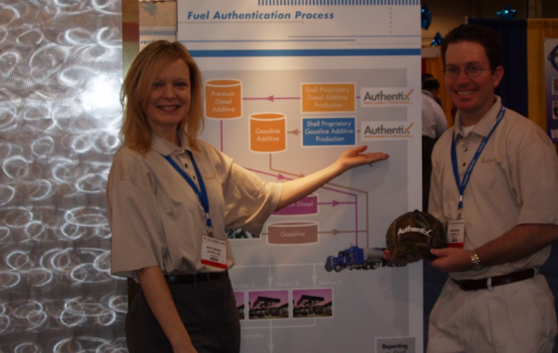 She had a large capacity for information and data and this job seemed to suit her well. However, after meeting with her mentor, Kristi gave thought to the advice he gave her. Kristi remembers "he told me rather than present all I know to whomever would listen, I should distill the information and present it in the time it takes to ride an elevator." She took that advice and her role in the company continued to advance over the next several years. In a pivotal event for the company in 2012, Authentix won a sizeable contract in the nation of Ghana to produce and manage the country's excise tax stamp program involving over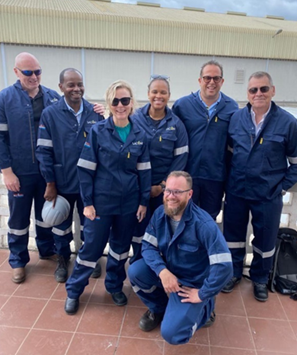 3 billion stamps printed annually and software to manage the production and tracking of these printed stamps on tobacco, alcohol, and other highly taxed products to ensure revenue collection by the government. Once again, the company needed a dedicated champion for the large program and Kristi quickly volunteered and travelled to Africa to help implement and get the program running. At this stage, she had been promoted as Vice President of Operations and had a staff of 12 people reporting under her. By now, she knew the science, the customer base, had the respect of senior management, and became the company's lead problem solver.
Personal and Professional Milestones
After being acquired by a private equity firm in 2008 shortly after the market crash and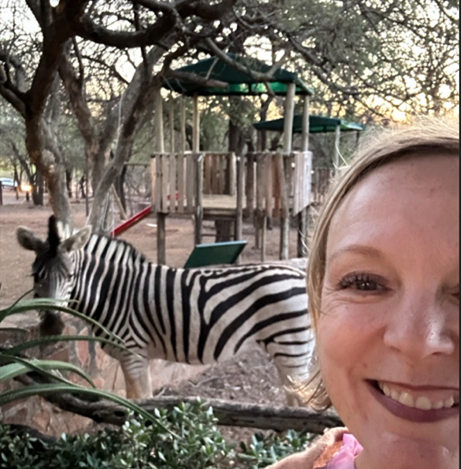 multiple industry bailouts by the government, Authentix, like many other firms, endured years of adversity and changes.  There were several shakeups in executive management and the strategy and focus of the company changed. Ironically, it was during this time that she became engaged to and later married Mike Browne, Authentix financial controller. Both continued to work at the company for several years and as Mrs. Browne herself later describes "it was both a blessing and a curse, but I attribute my gaining knowledge of the financial side of the business to my relationship and listening and learning from my husband." Mike left Authentix to pursue his career advancement in 2011. Despite these challenging years for Authentix, the company landed additional projects in Africa and South America in the oil & gas and tax stamp sectors and Kristi became quite familiar with Africa, Europe, and Asia as her role expanded and required her to travel and be on site in many project locations across the globe. She experienced new cultures, new ways of problem solving, and gained empathy for often unique circumstances that required a different approach and new way of thinking, Although Authentix had grown from a few dozen to over 200 employees during her time with the company, she also realized the value of collaboration and working across divisional lines. She made it a practice to conduct periodic face-to-face meetings with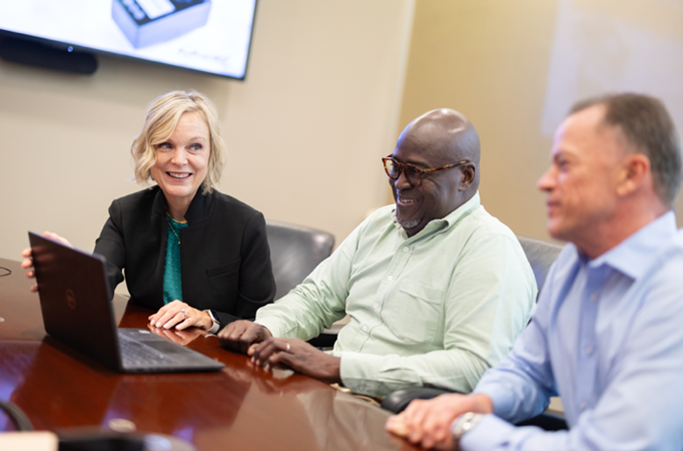 colleagues in other departments to share information and keep up to date with cross functional matters. She sought to listen to people and help them remove obstacles and the insight gained in the process was invaluable to her being able to quickly institute changes and make projects more successful. Basically, Kristi had unknowingly become a servant leader and it continued to be a catalyst for her growth at Authentix.
"I'm proud to be part of an organization that consistently develops game changing technologies that can detect, mitigate and prevent counterfeiting and other illicit trading activity across the globe."
The Reward for Staying the Course
In 2017 Authentix was sold by its private equity owners to a new owner located in the UK. More change for sure, but by this time Kristi had risen to Senior Vice President in charge of Global Services and had responsibility for over 50 employees worldwide. She knew the operations of the company better than just about anyone and enjoyed the daily challenges and creative process at Authentix.  She had seen numerous ownership and senior leadership changes but kept the focus on doing what she needed to do, listening to and supporting her employees, and continuing to step forward and take risks to solve problems. She credits part of her success to her mother who taught her the value of hard work and serving others. In fact, after Kristi graduated high school, her mother returned to college and received her PhD to go on and live out one of her dreams of being a college professor. Also, Kristi said the 2016 program for Women in STEM and Manufacturing at Case Western Reserve University, Weatherhead School of Management, was a game changer for her as well.
Armed with fresh equity and a new owner, Authentix moved to acquire three companies located in the US, UK, and India between 2019 and 2021 helping the company vertically integrate operations and diversify into security printing, online brand protection, and advanced covert technologies for product security in consumer goods. Kristi was instrumental in helping integrate the newly acquired operations over this three-year period. Having grown to over 400 employees with offices on four continents, the company appointed Kristi as its Chief Operating Officer in 2021. While her role has changed with her ascension to the executive team, Kristi continues to practice the same disciplines today that took her from an application engineer in a small startup working at oil well sites to her role as the second woman to serve on the executive team of a large global operation. "I'm honored that our CEO and board had the confidence to trust me with this tremendous responsibility" she commented. "It's been an insightful and rewarding experience during my 21 years at Authentix and I'm looking forward to the company's continued growth and watching other employees step forward to create their own opportunities to grow" she adds.
Indeed, shortly after taking on her new COO role, Authentix made another acquisition of a Netherlands-based security printing firm in April of 2023, growing the employee base to over 475 and further diversifying its lines of business and revenue sources.