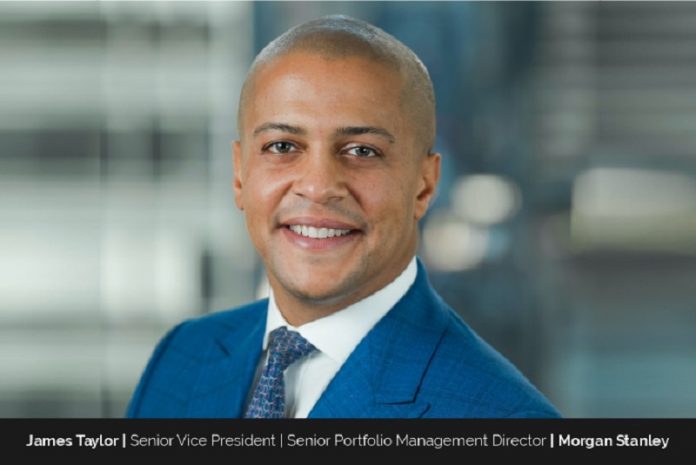 As a Senior Vice President and Senior Portfolio Management Director at Morgan Stanley, James Taylor defines success as having a purpose in what you do every single day. "A lot of people come into work and consider it a job, clocking in and clocking out. It's not work for me, I have a purpose," he insists.
Cultivating a Solid Work Ethic from a Young Age
Commencing his career as a sole practitioner at the age of 22, just out of school, James did not come from a privileged background, but rather from a sizeable and hard-working family residing in a small-town north of Manhattan. Being 1 of 10 kids, James showed his leadership skills from a young age, and his family believed in instilling a robust work ethic early on. His father was a vacuum salesman, and his mother was in marketing, and as a young child, James spent his time shampooing carpets to help support himself and his family.
"They instilled a work ethic early on, and as a kid, I didn't love it. I always had an interest in finance, I was great with numbers and people. When I started my career in finance, it was the height of the Financial Crisis, so being thrown into that fire was a great way for me to learn about the business from an investment philosophy perspective" he recalls.
After nearly a decade at his previous firm, James moved to Morgan Stanley in November of 2020. One of the first things that stood out for him at Morgan Stanley was their focus on principal protection from an investment standpoint, and financial planning. He was pleased to see that the firm's objectives aligned with his own values. James lives by the following principles both in his personal and professional life: elite, process, accountability, trust, service, and integrity. By following his principals, he ensures that he is always putting the best interests of his clients and their families first. He maintains this level of service through quarterly reviews, monthly calls, and weekly commentary for each client. James and his team take a wholistic approach and are constantly looking for innovative strategies to benefit their clients.
"Whether there are tax law changes or estate law changes, we make sure we are on top of it from an advanced planning perspective so that we can provide a higher-level service around both investments and financial planning. I have taken a wholistic approach from early on in my career and have used this to build out a team of specialists to provide the necessary services to all of my clients" he notes.
"Everything we do at Morgan Stanley is guided by our five core values: Do the right thing, put clients first, lead with exceptional ideas, commit to diversity and inclusion, and give back."
The Satisfaction of Building a Successful Team
For James, building the right team was paramount to his success – his goal was to bring together a group of individuals of different backgrounds to create a team to provide the highest level of service to his clients and their families. Everyone on the team has a defined outline of their respective roles and responsibilities to cover all of their client's needs. While developing the team took a great deal of time and effort, James considers the group he leads to be one of the achievements he is most proud of.
"We fought and clawed our way to where we are now and seeing how each individual has developed and grown in their careers has been amazing. I want to have an impact on people's lives, both my colleagues and my clients, that is my purpose. For my clients, that impact is making a connection and taking care of their financial life, but also always doing the right thing," James clarifies.
Every member of The Taylor Group at Morgan Stanley has bought into the principles, the process, and the values that James lives by each day. The team goal is to leave the world a better place by doing the right thing.
"If I can pull that out of individuals on our team, as well as our clients, that is my greatest achievement. It's not the accolades or the awards, it is the impact we are having daily," he maintains.
James considers himself fortunate to have such a great team behind him, where his role is to lead them. As The Taylor Group continues to grow, he is committing to evolving the team in order for them to be the best they can be while the industry is ever-changing.
A High-Touch, High-Service Model that Puts the Clients First
James is humbled by the fact that all of the clients he works with are advocates of The Taylor Group, and many of whom were around before the awards and accolades started pouring in. He believes that the loyalty of his clients stems from doing the right thing, and consistently putting the client's needs first.
"Putting clients first at every stage of the game and looking out for their best interest will only enhance the overall experience," he insists. "We want to be known as the best team out there, and that we did it the right way by being cutting edge, relevant, and providing a high level of service and expertise to individual clients. That is what they are demanding, and that is what they deserve."
James makes it a priority to let his clients know that the group is always looking out for their best interests and relaying the message that they genuinely care. He strives for his clients to be proud to work with The Taylor Group and holds himself, and the team, accountable by leading several team meetings each week to maintain their service model and enhance what they are doing on a day-to-day basis.
"The stuff this team has done is remarkable and their success has been unbelievable. It's not just me as a leader, but every individual on the team stepping up and doing what they need to do."
Working Towards Becoming the #1 Advisor on Wall Street
James admits that he teared up when the team hit a major milestone earlier this year, crossing $1 billion dollars in assets under management. He believes it is all about the journey, how they came together to get where they are now. The commitment to excellence and putting in the hard work has paid off for James and his team as they continue to grow.
He points out that his goals have evolved over time, and he is now looking to be the number one team on Wall Street. James notes that the leadership of the firm (Morgan Stanley) will continue 'skating where the puck is going', and with the amount they have invested in enhancing the client experience, he has no doubt he can get there.
The Taylor Group works with executives at publicly traded companies, focusing on strategies around their concentrated stock and options. With Morgan Stanley's acquisition of E*Trade, James says, "once we get that integration together, it's going to be unbelievable. The sky is the limit for the firm, and I'm excited to be here. When you see a firm providing you with resources to be your best, it's amazing."
Doing an Unbelievable Job of Embracing Diversity & Inclusion
James points out that Morgan Stanley does a great job of embracing diversity and inclusion – they are putting people in positions to succeed and advance in their careers. "We feel very welcomed as individual advisors. They provide our team with cutting-edge technology to provide a higher level of expertise for clients, which is amazing. Kudos to the firm for continuing to embrace that" he states.
He points out that many times companies try to embrace diversity and inclusion to simply check a box, whereas Morgan Stanley is providing resources and education at a different level. "Diversity and inclusion are extremely important to our team. We are working with people from different backgrounds, and there are a lot of nuances to those backgrounds. Incorporating that into our team, both in and outside of work, allows us to relate to our clients at a different level."
James explains that many people get caught up in the financial piece of the business, and while this is one of his areas of focus, he believes the human connection is equally as important. Being aware of and educated around different cultures is extremely important and allows us to deliver a much better experience to the individuals we work with.
He also is a big believer in coaching, and notes that when becoming a leader in this space, it is important to have a one-on-one relationship with every member of the team and beyond. James emphasizes that he wants to make sure he is creating a team culture where everyone feels valued and eager to reach their potential. He ensures that every member of the team is compatible, and able to work in an efficient and effective way.
"I'm so proud of the group of people I have built into a cohesive team, all coming from diverse backgrounds, and joining together to deliver world-class experiences for our clients. It has been a very cool and beautiful experience to watch people from different backgrounds get together and work together for one common mission," he says. James notes that at the end of the day, no matter what your background is, we're all human and need to come together to better the company and society. He explains that the more conversations we're having around diversity and inclusion, the more inclusivity there will be.
Be a Self-Aware Leader and Get the Best Out of Your People
James lists some essential qualities that leaders need to cultivate, including the skill to promote the best version of an individual by putting them in the right position to succeed. He believes that it is extremely important for a leader to hold him/herself and their team to the highest standard possible, but to also have empathy and understanding towards each member of the team. This is created by creating a team purpose and ensuring that every member is bought into this purpose. James has done this by motivating his team as a whole, and on an individual basis. When he thinks something is wrong, he will pivot, and immediately make a change. This is what makes him and The Taylor Group so versatile and competitive within their field.
"From a leadership perspective, self-awareness is huge. Otherwise, you're not going to grow and become a better person, a better human being, every day. How you treat people is extremely important. Like pealing back an onion, there are many layers in a relationship. To cultivate relationships, we need to be self-aware while pushing our teammates, and ourselves, to be the best they can be."
Staying Happy, Centered and Grateful
James is also a huge advocate for time management and believes this is an essential skill for any leader. His strict daily routine involves waking up at 4:30am, reading, going to the gym, and going to church, all before he arrives at the office before 8:00am. He says his morning routine takes care of his mind, body, and soul, keeping him centered and grateful each day.
He also loves going to work every day. In his position, he is client-facing on a day-to-day basis, spending the entire day in the office, interacting with clients and team members. James repeats that stepping into his office in the morning does not feel like going into work, he sees his career as his purpose in life, and he stands proud with his team behind him every single day.
"I'm very fortunate, and I thank God every single day that I have a great family, friends, and team. I have surrounded myself with unbelievable people that have provided an immense amount of support for me and my dreams. I have so much more I want to do, and I want to give back to the community, to the individuals we work with, and to my team."
In his inspiring message to aspiring business leaders in the industry, James offers the following words of advice: Educate yourself, stay cutting-edge, stay aware of current events, and expand your knowledge. Challenge yourself every single day. Life is short, life flies by, and if you want to make an impact on the world, do it. You are the only one holding yourself back, stay accountable. It is all about making the commitment to excellence and sticking to a process to get where you want to be.
About Morgan Stanley:
Morgan Stanley Smith Barney LLC offers a wide array of brokerage and advisory services to its clients, each of which may create a different type of relationship with different obligations to you.  Please visit us at http://www.morganstanleyindividual.com or consult with your Financial Advisor to understand these differences.
Morgan Stanley Smith Barney LLC ("Morgan Stanley"), its affiliates and Morgan Stanley Financial Advisors or Private Wealth Advisors do not provide tax or legal advice. Individuals should consult their tax advisor for matters involving taxation and tax planning and their attorney for matters involving trusts, estate planning, charitable giving, philanthropic planning or other legal matters.
Morgan Stanley Smith Barney LLC.  Member SIPC.
CRC5644746 04/23