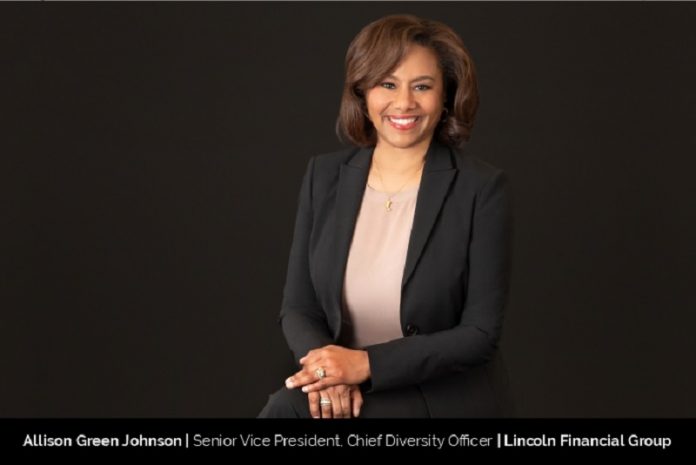 A firm commitment to diversity, equity and inclusion is essential for organizations to maximize leadership accountability, retain talent and impact the organization through growth in the workplace, marketplace, and community.
Allison Green Johnson, Senior Vice President, Chief Diversity Officer, and Head of Culture & Engagement for Lincoln Financial Group is a passionate advocate for diversity, equity, and inclusion. She leads her team and business with 7 successful diversity, equity, and inclusion leadership traits.
Diversity, equity, and inclusion at Lincoln Financial Group
Green Johnson joined Lincoln Financial Group in 2011 charged with a mission to create the company's first diversity and inclusion function. As a new leader in the company with leadership of a brand-new function, she was challenged to think big, communicate pragmatically and take action.
Green Johnson first needed to understand where the company was in the diversity, and inclusion space so she met one-on-one with the top 70 leaders. During these first 90 days, she asked these leaders a series of questions which allowed her to get a sense of their definition of diversity, strengths, weakness and opportunities and their personal contributions to diversity.
Based on the feedback, she created Lincoln's first-ever diversity and inclusion strategy, which included focuses in three areas: the workplace, marketplace and community. The workplace section focused on representation, training, and recruiting. The marketplace section focused on understanding opportunities in the multicultural marketplace. The community section focused on tapping into communities where Lincoln could improve its footprint and access to talent and customers.
"Our overall goal was to create a focus where every business and every leader could contribute, based on their work, which was a unique approach," Green Johnson says.
Over the years, this strategy has evolved and the function has grown. Now called Diversity, Equity, and Inclusion, the team has doubled in size to meet the need of increasing support for Lincoln's business. This includes enhanced diversity initiatives, practices and programs across the enterprise. With a fully staffed team, they continue to implement sustainable and integrated practices to enhance recruiting, retention and employee development. Lincoln's strategy requires commitment and partnership with recruiting and talent.
In 2020, with the national reckoning with race, Green Johnson along with Lincoln leaders and Board of Directors created a plan to be bold, innovative and take risks. The 8-part action plan focused on social justice and equity added to the foundational work of the team and was shared publicly. The plan focuses on actions including increasing the minority leadership representation at the officer level by 50% over the course of 3 years with a special focus on the Black officer population, in addition to tying leadership compensation to diversity, equity and inclusion objections.
In alignment with Lincoln's 8 actions, Green Johnson increased minority leadership representation throughout the company by gathering suggestions and feedback from officers and employees through one-on-one conversations, engagement interviews, surveys, referrals, and focus groups. Her team promotes conversations about race across the organization, from town halls, leadership meetings, and individual team huddles. She continues her successful approach to "listen, learn, and then lead" while being transparent and encouraging transparency.
Across Lincoln, employees of all levels are committed. Feedback and actions show they understand their assignment, and Lincoln's great leaders serve as examples of a true culture of belonging. Employees continue to show their commitment through a variety of volunteer led diversity, equity and inclusion groups, including diversity action teams in all of Lincoln's business areas.
Committed to advocating for change
Green Johnson says she has learned tremendously throughout her career but one of her most valuable lessons is how to be an advocate. At this point in her career, that's what she spends a substantial amount of time on –  advocating for change that supports Lincoln's overall diversity, equity and inclusion strategy.
Green Johnson ensures Lincoln's population is as diverse, if not more, than the country, and advocates for equity in all Lincoln does, which is reflected in policies and practices. Once employees are at Lincoln, she advocates and ensures there is a culture of inclusion.
She focuses on accountability – spending time on diversity, equity and inclusion metrics, accountability and compensation.
Green Johnson regularly works with Lincoln's senior leadership team – advocating, educating, teaching, learning, collaborating and promoting. Green Johnson says, "I ensure my team contributes to the strategy and have the ability to operationalize our work." This ultimately equips her team with the tools to serve as advocates and the ability to influence others.
This work doesn't just take place internally at Lincoln. Externally, Green Johnson spends time on investor calls talking about Lincoln's commitment and working with the businesses, so their clients and customers see the commitment.
Life outside of Lincoln
Diversity, equity and inclusion is core to Green Johnson. She values demonstrates and expects integrity and ethics inside and outside of the workplace. She has been involved as a leader, volunteer, mentor, member, and contributor to community organizations nationally and in the Philadelphia region, and has been frequently honored as a leader in diversity, through various media outlets.
She is currently involved with several Chief Diversity Officer Roundtables, and is a member of the World 50 Inclusion & Diversity Impact community, the i4cp Diversity Board of Directors and Board Development Committee for Girl Scouts of Eastern Pennsylvania.
Although extremely involved at Lincoln and beyond, Green Johnson does her best to maintain a balance. She often reflects on advice from a mentor who stated, "You know where you need to be." These words help Green Johnson tap into another successful diversity, equity and inclusion leadership trait – being decisive. Breaking things down ensures that she is clean on her priorities are work and at home. "I honor my priorities. I share this view with my team and always encourage them to do the same."
Roadblocks, success and balancing hard truths with optimism
Green Johnson believes that roadblocks and obstacles must be balanced with hard truths and optimism. The roadblocks and hurdles often take you to a place you would not have gone if they weren't there. She says they allow her to think differently and push her harder – creating time to think in a different way, to re-approach a situation and see a situation in a different light.
Diversity, equity and inclusion work presents its fair share of roadblocks but Green Johnson says these roadblocks promote innovation.
"The goal is never to stop – it's finding a way to move past," she says. Green Johnson defines success as the ability to influence others. "I feel a sense of success when I've brought someone along or enlightened them and can move forward in the manner intended," she says.
Green Johnson leans on the wise words of her company's namesake: "Be sure you put your feet in the right place, then stand firm." – Abraham Lincoln
Supporting women and minorities in the workplace
Green Johnson is an avid supporter of women empowerment and constantly seeks ways to promote Lincoln's women's efforts and achievements, internally and externally.
Her message to aspiring businesswomen is a quote from Shirley Chisholm, the first African-American woman elected to the United States Congress, "If they don't give you a seat at the table, bring a folding chair."
About Lincoln: Headquartered in Radnor, Pennsylvania, Lincoln Financial Group (NYSE:LNC) provides advice and solutions that help people take charge of their financial lives with confidence and optimism. The company has more than 17 million customers in its retirement, insurance and wealth protection areas to help address lifestyle, savings and income goals, and guard against long-term care expenses.
Lincoln is a committed corporate citizen, included on major sustainability indices such as the Dow Jones Sustainability Index North America and FTSE4Good. The company ranks among Newsweek's Most Responsible Companies and FlexJobs' list of the Top 100 Companies to Watch for Remote Jobs in 2022.
Lincoln has also appeared on transparency benchmarking indices such as the Corporate Equality Index, the Disability Equality Index and the Bloomberg Gender-Equality Index, which is attributed to its focus on diversity, equity and inclusion.
Learn more about them at LincolnFinancial.com and sign up for email alerts at http://newsroom.lfg.com. They are also available on Facebook, Twitter, LinkedIn, and Instagram.