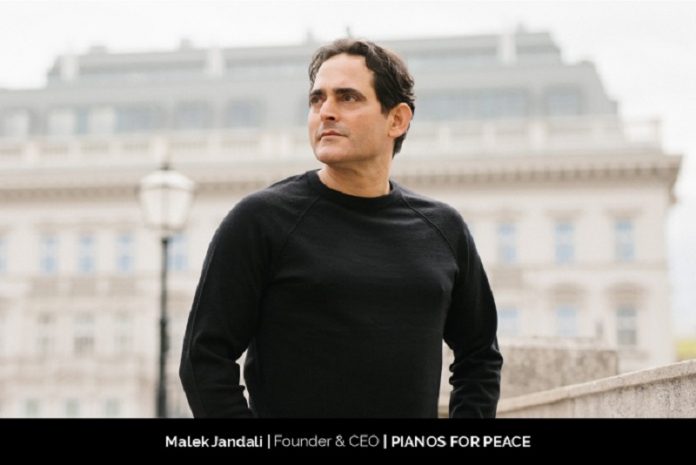 Art has the power to heal, inspire, influence, and change lives. And when the "Human" harnesses its power to uplift lives and transform communities, he helps create a better world. That is what composer, pianist, and "human" Malek Jandali is doing through his non-profit organization Piano for Peace.
Atlanta-based Piano for Peace aims to make arts accessible to everyone so that communities can transform and live a better life. To accomplish this mission, it engages artists as volunteers for its service programs. Malek, founder and CEO of Piano for Peace, says that they serve the community through four meaningful programs. Arts Education, the program that targets students, delivers meaningful art education to students of schools in underserved communities. Its objective is to empower youth. Annually, more than 39,000 students are benefiting from this program, Malek says.
The second program Healing Arts taps into dynamic healing arts programming and music therapy workshops to serve 3,750 patients, seniors, and people with different needs.
Piano for Peace's third program, Community Arts, takes the help of Atlanta's largest arts festivals to elevate and unite communities. This program impacts the lives of around 1.2 million people every year. And Cultural Diplomacy, the fourth program, uses the soft power of art to foster understanding between nations, groups, and individuals across the world. The program aims to build cultural bridges.
All the four programs are defined by three things, Malek says. "The needs of our partner communities, the volunteer service of our artists, and our commitment to building peace through music and education."
Piano for Peace Built On the Passion for Self-Expression 
Music is the passion of Malek's life. When he was a child, his father would take him to concerts. "I always imagined myself sitting on that piano," he says. And one day, he pointed to the stage and said to his father, "I want to be up there on stage where I belong!" That was Malek's dream then, today, he is living it.
He dreamed of being part of the music scene, but it is only after he witnessed a brutal attack on his parents that he realized the power of music. In July of 2011, soon after Malek's performance in Washington, his parents, who lived in Homs, Syria at the time, were attacked by three men. After beating them brutally, they locked them up in a bathroom and ransacked the house. His mother had heard the men say, "this is a lesson to teach you how to raise your son Malek."
"The attack was the response of the brutal Syrian dictator to my music and the voice of the children," Malek says. "It was then that I understood the soft power of art and the role of music in uplifting lives and transforming communities." That realization was the "pivotal point" of his life. And it also became the source of inspiration to launch the Pianos for Peace movement, which believes in the "soft power" of music.
Through Pianos for Peace, Malek also wants to give back to the community. "I was constantly looking for a meaningful organization through which to give back to the community—Pianos for Peace was the answer," he says.
The organization focuses on the needs of underserved communities. Its programs are striving to bring peace to people in schools, healthcare facilities, nursing homes, refugee camps, and communities across the world. "We partner with organizations that share our mission of empowering people to build peace through music and education," Malek says.
And, in order to make music accessible to all, Malek and his team organize the annual Pianos for Peace Festival. Colorful, playable pianos, painted by local artists, are showcased in parks and public spaces across metro Atlanta. And people are encouraged to play them. Once the festival ends, 50 of these colorful pianos are donated to schools, nursing homes, and healthcare facilities. "We're proud to say that the Pianos for Peace Festival is one of Atlanta's largest annual public arts projects, impacting a staggering 1.2 million people every year," Malek says.
On Sept. 21, 2021, five colorful pianos, adorned with paintings from local artists and students, were placed at public locations in Charlotte. And, later in October, they were donated to Charlotte-area nursing homes and Title I schools. Charlotte was a natural choice after Atlanta for Pianos for Peace Festival, as Malek is the composer-in-residence at Queens University of Charlotte, his alma mater.
Life before Launching Pianos for Peace
Malek's life before starting Pianos for Peace was that of constant travel. "I was always flitting around on concert tours around the world, having fun but knowing that something was missing."
Since the beginning of his musical journey, Malek has been in constant search of a meaningful way to combine his talent with community service. And that search has led to the establishment of Pianos for Peace. "Traveling the world on my concert tours made me appreciate the concepts of home and community, two things that became core to the mission of my organization," Malek says.
Challenges Help Cultivate Gratitude and Compassion
It is not easy to start a non-profit organization. It is "challenging in a variety of ways," Malek says. It is a challenge to champion sustainability, engage and retain donors, attract the right volunteers, and maintain strategic plans to serve communities in need. "Every non-profit organization has to overcome these challenges," Malek says.
And, for him, the biggest challenge was building a team of capable leaders who could go out and lead their own united teams. "That's the meaning of Symphony or Sinfonia: to unite and sing together in harmony," he says.
Malek quotes Rumi, "The wound is the place where the light enters you," adding that the Sufi poet taught him that "Hope is not comfortable or easy; it's a daily challenge to consult your dreams instead of your fears."
And he also believes that challenges are the only way to cultivate "gratitude" and "compassion," — the two key factors for the equation of true success.
Success Means Having Inner Peace
Influenced by Booker Taliaferro Washington's thoughts on success, Malek looks at success through the lens of overcoming adversity.
Malek quite early in his life learned from the American educator that "not to measure a man by his success in life, but by the obstacles he has overcome while trying to succeed." It is something his parents, too, have exemplified through their strong human values of justice, equality, and peace, Malek says.
And, for him, success also means having "inner peace" and the "freedom to live one's life, serving people in need."
"When you do the right thing at the right time and for the right reason with passion and true love, this is how you know that you're truly successful," Malek adds.
Music Can Transform and Inspire
Music cannot be seen or touched. But, it still has the power to transform, inspire, and create moments of happiness. Malek recalls that during one of his trips to a refugee camp to present musical instruments to children in need, he witnessed the beautiful smile of a little girl who was overjoyed to receive the gift of music in her life.
And Malek also remembers a courageous woman who told him that his music had helped her during the darkest days of her life. She was subjected to torture and inhuman treatment in prisons as she had raised her voice against the brutal dictatorship of Assad. "She told me how she used to hum my music to help her cope with the pain from torture," Malek says.
The little girl's bright smile and the courageous woman's incredible and heartbreaking story made Malek realize hands-on the healing power of music. And for him, these stories are more rewarding than any physical accolade he could ever receive – even though these two awards only exist in his memory.
Pianist and Composer of His Own Thumbprint
Malek is both the pianist and composer of his own thumbprint and identity. He also feels it is his duty to preserve and present the rich heritage of his homeland Syria as it is systematically getting eradicated.
As a composer, he is currently writing a full opera and his seventh symphony. "My music integrates ancient themes from Mesopotamia in Western classical forms," Malek says. "This furthers my effort to preserve and present my rich heritage and leave a legacy for future generations." His latest symphonies were recorded with the Vienna Radio Symphony orchestra under the baton of world-renowned conductor Marin Alsop.
And, through his music, Malek has been trying to give the voiceless a voice. His last word tour "The Voice of the Free Syrian Children," performed at some of the world's renowned concert venues such as Sydney Opera House, Carnegie Hall and the Vienna Konzerthaus, had a simple mission. Along with giving voiceless a voice, he also wanted his tour to raise awareness and much needed humanitarian aid to help the children staying in refugee camps. "There is nothing that captures the indescribable magic and everlasting impact of music to me than making my own music on stage and sharing it with the world for such a noble cause," Malek says.
One-Word Definition – Human   
Malek is a man who cares about people and the community. And he is not merely paying lip service but is actually using his music to make the world an equitable place. Hence, it is no surprise that he describes himself as a "Human."  Perhaps that's why the Carnegie Corporation of New York honored him as a "great immigrant" alongside Arianna Huffington, Yo-Yo Ma and Elon Musk.
"We are all fallible" is what Malek has learned as the CEO of Pianos for Peace. But, at the same time, he says, "We are all an integral part of what makes this organization work." And he considers everyone working at Pianos for Peace as "Ambassadors for Peace." He does not see them as employees. And Malek believes that everyone's role in the organization is as vital as his role as the CEO.
And, as the CEO, Malek sets strategic goals for Pianos for Peace, manages the leadership team, board of directors, partners, and corporate donors. He is, however, open to new ideas and believes in listening to his team. "We end every meeting by reading anonymous feedback notes," Malek says. "This helps each and every one of us improve our performance and ensure the success of our organization."
Malek works close to 15 hours every day. His morning starts early, and it begins with a staff meeting to discuss their mission, strategic goals, metrics, and innovative ways to measure the impact of the organization's programming in the community. After that, he has lunch meetings lined up – meeting corporate sponsors or strategic partners. Post-lunch meetings, he manages the budget, finances, and marketing plan of the operation.
"But honestly, even with the 15 hour days, I never feel like I'm really working," Malek says. "It's fun and rewarding to be the founder and CEO of Pianos for Peace!"
Commitment to Expanding Access to Art
Committed to expanding access to art, Pianos for Peace is bringing meaningful arts programs to underserved schools and senior care facilities. "We have shown that creating a world at peace is possible one step at a time," Malek says. "Through careful planning and commitment to our goals, we can start building that future today."
Increasing the number of directors on the board and solidifying financial sustainability are the two short-term goals of Pianos for Peace. And the long-term plan is focused on the organization's strategy and impact.
Malek points out that they have begun replicating their successful Atlanta model in states from Oregon to Vermont to North Carolina. They have branched out internationally as well, with Sydney, Australia being their first stop outside the U.S. They have plans for further international expansion, Malek says.
"The more people to whom we can expose the healing power of music, the closer we'll be to building peace," Malek says, adding that music changes people, and people change the world.
"The roadmap to building peace through music looks like a symphony—all of us united and singing together in harmony."
********************