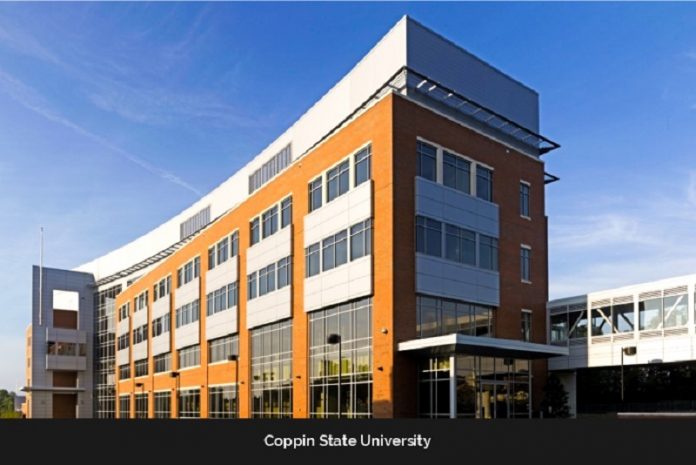 Coppin State University has established its reputation as a public Historically Black Institution, that removes boundaries and transforms lives over its more than 120 year-history. The university is actively working to expand the reach and impact of its global brand, which has drawn students and faculty from across the United States, and dozens of international countries.
Coppin is located in Baltimore, MD, a city which was once home to titans of 20th century manufacturing, and now bustles with hubs of innovation in research, medicine, entrepreneurship, finance, and education.
Coppin is an anchor institution in West Baltimore, providing educational and co-curricular opportunities for students of all ages, from all walks of life. Coppin instills values of leadership, civic engagement, cultural diversity and inclusivity in the members of Eagle Nation, and creates opportunities for economic development and entrepreneurship through its work in the surrounding community, and its Center for Strategic Entrepreneurship.
A Foundation Built on Education
Coppin State University was originally founded in 1900, as a one-year training program to prepare Black teachers, which then evolved into a two-year program. It became Coppin Teachers College in 1939, which awarded four-year Bachelor of Science degrees and in 1963, the institution become Coppin State College. Coppin State College became Coppin State University in 2004.
The University is named for Fanny Jackson Coppin, a former slave who would go on to graduate from Oberlin College, become a teacher, and the first African American woman to become a school principal in Philadelphia. She understood the importance of education and the freedom it could bring, writing years later: It was in me to get an education and to teach my people. This idea was deep in my soul. These words are inscribed at the base of the Fanny Jackson Coppin Statue, at the center of the Coppin State University campus.
Overcoming challenges in Coppin State's Growth Process
The current President of Coppin State University is Dr. Anthony L. Jenkins, who was appointed, in May 2020. "Coppin is, historically, a university on the rise that has overcome several challenges to remain a fixture and key resource in the community," says President Jenkins.
President Jenkins says one of the major challenges for Coppin State University, during its growth process, was the expansion of education programs at other Maryland institutions and their increased ability to issue four-year degrees. This led to more competition in an already crowded market. President Jenkins says the funding those institutions received allowed them to offer more need-based and merit-based scholarships. In turn, Coppin saw the need to pivot and strengthen its efforts to recruit, retain, and graduate students. "We faced shifts and changes and needed to readjust how we met the needs of our students. We did not adjust to these challenges as quickly as we would have liked," he says.
Eventually, the university found opportunities to expand its footprint with more in-demand academic programs and build stronger partnerships that enhanced educational access and opportunities for its students. "Coppin State University is resilient in the face of internal and external challenges we have faced, some of which were in or beyond our control," says President Jenkins. "We take all matters head-on. We soar against the headwinds and keep moving forward."
Affordable, Innovative Programs
Coppin State University is the most affordable four-year institution in Maryland, offering 61 academic programs: 33 bachelor's programs, 13 master's programs, 14 certificates, and one doctoral program. Courses of study available include criminal justice, data science, education, entertainment management, polymer and materials sciences, social work, urban arts, health information systems, and nursing. Coppin State University is redefining the education landscape while also remaining true to its roots.
"Coppin State University originated as a school that developed educators, and this is still very much part of our DNA," affirms President Jenkins. Coppin recently received nearly $4 million in federal grants to support the Pathways to Professions Program, which focuses on supporting teacher diversity and boosting student success in rural and urban schools.
Coppin has also launched an online Bachelor of Science in Early Childhood Education Human Development degree program. The curriculum integrates theory, content, and method to prepare professionals working in early learning centers, for meaningful, culturally responsive interactions with students, through enriching learning activities that will improve school readiness in young children from birth to age five.
President Jenkins emphasizes the benefits of the online program, which provides flexibility for students and empowers them to pursue their education by removing barriers related to affordability, scheduling, and geography.
Shaping Scholars and Global Citizens
In discussing the academic rigor and culture of Coppin, President Jenkins praises the faculty at the forefront of their fields, who conduct research and work across disciplines to ask and answer key questions that lead to innovation and an improved quality of life. Faculty members at Coppin help transform the student experience, by providing students with opportunities to learn in the field and have hands-on experiences with research.
Coppin State University's core values include integrity, character, engagement, embracing diversity, multiculturalism, and inclusivity.  "Our core values drive who we are, what we do, and how we do it," he states. "We try to weave our core values throughout the student experience here at the University: through our academic curriculum and our student-affairs co-curriculum."
President Jenkins stresses the same standard of excellence exists for all members of Eagle Nation, as do the need for accountability and self-reflection. "At the outset, we must have a clear expectation of what it means to join our community of scholars, whether it is faculty, staff, or students. With the faculty who come to Coppin, the expectation is that you teach at a high level, you perform research at a high level, and that you are ethical in all your dealings with our students and our institution."
Students come to Coppin from 35 different states and 30 international countries. The multicultural makeup of Coppin builds on realizing the expectations outlined by the core values, and serves as an asset for students, as well as the wider community. "We help our students understand that, if you are to graduate from Coppin State University, these things are what set you apart from others. Just earning your degree doesn't make you an educated person," President Jenkins shares. "It's the principles and values that you stand upon, your willingness to live those values, and make every environment you are in, better."
Nurturing Potential and Optimizing the Student Experience
President Jenkins says the Coppin State University brand is as strong as it ever has been, with Coppin graduating more students and raising more money than at any other point in the institution's history.  Coppin continues to utilize new and innovative tools and initiatives to enhance the student experience and raise its profile as a leader in urban higher education.
A group of faculty and staff were recently recognized by Anthology + Blackboard with a 2022 Catalyst Award for Optimizing Student Experience. The team, known as 'The Visionaries', utilized Anthology's Reach, Apply, Succeed, and Occupation Insight tools to enhance the student experience, improve student engagement, and foster student success. The use of the Anthology + Blackboard platform led to increased follow-through from students on important assignments, and improved recruitment and retention data for the institution. The Coppin State University College of Business has also redesigned courses to better align them with the knowledge and capabilities companies are seeking in new graduates and provide students with deeper insights into possible career paths.
The Anthology + Blackboard platform will be incorporated into the new Eagle Achievement Center (EAC) at Coppin, a centralized resource hub designed to improve the holistic development and completion rates of students. The EAC, when it formally opens during the Spring 2023 semester, will feature a host of critical student support services in a central location, including advising, first and second-year experience, math and writing labs, international student services, career services, as well as mentoring programs.
Coppin student-athletes have a reputation for competing at the highest level in the classroom and on their chosen field of play, winning conference championships and achieving an 89 percent Graduation Success Rate, the highest in the Mid-Eastern Athletic Conference (MEAC).
The new energy on the Coppin State University campus is drawing new and familiar supporters, including alumni, according to President Jenkins. "Our alumni and the business community are engaging with Coppin at higher levels than we have seen before. There is unmatched excitement at the university we are proud of. There are a lot of wonderful things going on, because of the teamwork happening across campus."
President Jenkins envisions Coppin State University building on its position as an anchor institution in Baltimore, and legacy of excellence by providing greater access to the resources and people who can help shape their futures.
"We are going to expand the number of students we teach, and the platform with which we will do that, whether they live five miles or 5,000 miles from our campus," President Jenkins remarks. "We are focused on expanding access and opportunity, as we continue nurturing potential and transforming lives."