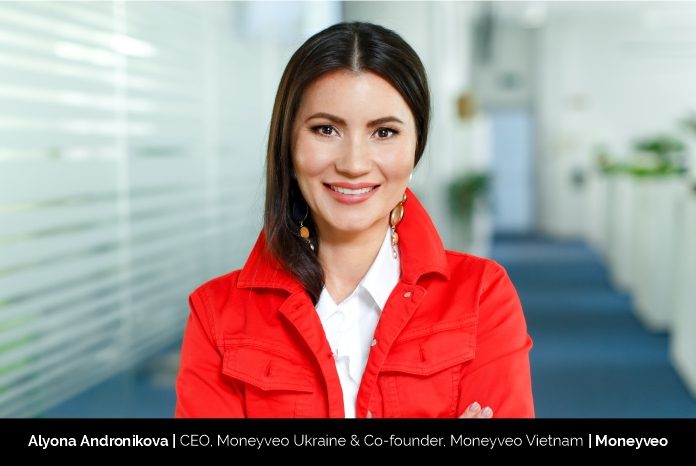 For some people, success is the result of constant personal transformation and continuous work to improve one's competencies. Knowledge sharing is also an integral part of continuous development. As a strong follower of this philosophy, Alyona Andronikova, Moneyveo's Group CEO, has been always striving to demonstrate growth and make the company grow faster than the market. She adds, "I steadily work to broaden my horizons and increase my knowledge in related areas."
Climbing the ladder of success
Alyona has been in the business for over 20 years. She has three University degrees, also: ACCA DipIFR, Black Belt Six Sigma, and she is Certified Auditor of Ukraine.
She says, "My dream has always been to develop in fintech. I have experience of work at Maxi Card, the first operator of electronic money in Ukraine. Also, I led the TaxFree4U startup, the VAT refund service based on a mobile app for non-EU citizens purchasing goods in Europe."
In 2017, she was invited to lead the operating activity at Moneyveo. Moneyveo is the pioneer in the fintech industry of Ukraine, which launched an online lending service. Alyona always wanted to get a deep insight into the fintech industry, so she joined the company as the COO.
Having prior experience in strategic transformation and business process reengineering, she was able to handle her responsibilities on a high professional level. Her innovative ideas helped the company achieve new goals and heights. So, in a year, she was offered to become a CEO.
Overcoming the obstacles on the way
On her path, Alyona learned several important lessons that developed her as a person. In 2016, she launched a mobile application for online booking of beauty services. She handled every aspect of her work with a high level of customer care. Although, some needs of beauty salons were too specific to be embraced by this app. So, not having completed all the ideas she was having in her head, she learned the need for deeper involvement of all interested parties in the process of elaboration of new products so as to make them fully satisfied.
Of course, running the business during the COVID-19 at Moneyveo pandemics was tough. The entire industry changed dramatically. For instance, the number of online applications for loans has significantly increased, but she has adopted a risk-oriented decision to revise the credit scoring process. That led to the reduction of the planned lending volume but allowed avoiding putting customers at the risk of default. With rapid changes in the business environment, Alyona guided her team to stand their ground and transform to deliver the customers only the best experience.
Better services to the clients of Moneyveo
Moneyveo is the leader of online lending in Ukraine. In April 2020, the company entered the Asian market by starting a business in Vietnam.
Alyona says, "During the quarantine, we successfully and fully remotely launched a business in Vietnam and recently introduced a new technological product in Ukraine – "veomini". Veomini is available only through a smartphone and is designed to support young people who need super quick lending to cover small needs. Right now, we are working on the technologies of Face ID, image and voice recognition, NFC, and data-driven management. All these help us give simpler and faster customer experience."
Revamping the fintech industry in Ukraine with Moneyveo
Being the leader, Moneyveo revamped the landscape of the fintech industry in Ukraine. It has implemented a multi-product strategy, revolutionary for the current lending industry.
Today, Moneyveo has many breakthrough solutions that have changed the standards of the fintech industry. It's constantly looking for new solutions to forestall customer needs.
Moneyveo's team assuredly leads the industry, demonstrating to other companies a comprehensive and systematic approach to the information security of customer data.
She expresses, "We are now implementing the GDPR (European General Data Protection Regulation) requirements in all our business processes. We were the first and only company in our sector so far to receive a PCI DSS compliance certificate. In 2020, we upgraded to the Service Provider Level 1 and confirmed it in 2021. In addition, in 2021 we have introduced a product-led growth strategy that enables going deeper to the customer needs through the values translation, quick customers' adoption and self-exploring the product and conclude on the value that the product delivers."
Fueling the growth of the company as the CEO
As the CEO of the group of companies, Alyona is responsible for corporate strategy development and implementation via continuous transformation.
She says, "My main target is to make my team happy, effective, and goal oriented. I personally interview all applicants for key positions to be sure that they share our corporate values."
Under her guidance, the company has launched a number of new lending and IT products, elaborated a comprehensive information security management program and a corporate ecosystem to grow the company's talents. Also, she evangelizes lean management and data-driven management approaches to retain a competitive advantage in the market.
She believes that visionary work supported by clear strategic goals is the recipe for successful progress. She stresses, "A vision without tactics is the slowest way to success, and tactics without vision are vanity before defeat."
According to her, it is important to understand the goals and to plan clearly from the objectives. The plan should be flexible, though. The larger the growth dynamic is, the more short-term planning is required.
She says, "Fintech is a non-static segment. Therefore, such methodologies as Agile Scrum and similar flexible techniques increase the chance for a company to be super-efficient."
Achieving work/life balance
Alyona believes that the idea that a woman cannot be successful in business and personal life at the same time is a stereotype. With accurate time management, anyone can achieve better results on both fronts.
She thoroughly schedules her business days to cover all tasks. As a company leader, she undertakes full responsibility for her team and generously shares her experience with employees. Through proper training programs and ample individual growth opportunities, she makes sure everyone in her team stays highly motivated.
Due to her attentive time management approach, her time is thoughtfully distributed among business, family, friends, and herself.
The future of the company
The company has a clear plan and strategic objectives for the next five years. Alyona says, "We will continue the development of our multi-products and customer-centric strategies in Ukraine and Vietnam, improving short-term and long-term lending products to meet customer needs." "Veocard", a credit card product, recently presented in 2021, is another proof of the company's constant growth under Alyona's professional leadership.