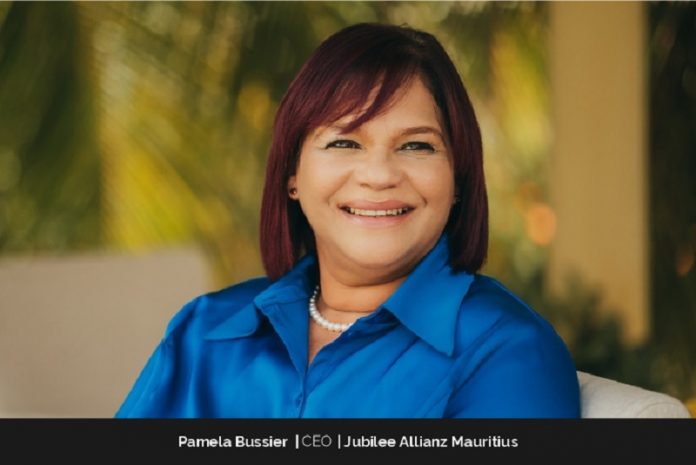 Mauritius's insurance industry has been traditionally dominated by men. And, before 2018, a woman CEO was nonexistent. Pamela Bussier made history by becoming the first woman CEO of an insurance company in Mauritius. She has been leading Jubilee Insurance (Mauritius) since June 2018 and Jubilee Allianz since 2022.
In 2021, Pamela was also elected as the President of the Insurers Association of Mauritius (IAM). She is the first woman in the association's history to hold this post. For her, getting elected to the position of IAM's President is an "important recognition" and a "wonderful experience."
An open-minded leader, Pamela has the ability to see things from different perspectives. She also respects different views and opinions. One of her personal goals is to improve as a person and a leader. "We always learn no matter our age and experiences, and whether good or bad, it will help shape the person we will be in the future," says Pamela.
"Success isn't about how much money you make; it is about the difference you make in peoples' life."- Michelle Obama
The Start in Insurance Industry
Pamela was originally interested in making a career in banking. But a meeting with her parents' friend changed the direction of her career.
Pamela recalls that about 34 years ago, after her studies, when she was looking for a job, she met a friend of her parents. He was working in the insurance sector, and he suggested that she apply at an insurance company. "I had never thought of joining an insurance company as I was more interested in banking," Pamela says. As she was looking for a job, she decided to try her luck.
Albatross Insurance offered Pamela a job in its finance department. Her first job experience, according to her, was wonderful. While working for Albatross Insurance, Pamela also realized that insurance is all about offering protection and carrying risks to support those in need while supporting the economy.
Now, after more than 30 years in the insurance industry, Pamela says, "Insurance is one of the best professions for me."
Joining Jubilee Allianz Mauritius as CEO
In 2018, Jubilee Insurance (Mauritius) was searching for a new CEO to lead it. On behalf of the company, a headhunter company approached Pamela. Her extensive experience in the insurance field made her confident that once she was appointed to the top post, she would bring value to the company.
Pamela was also keen on sharing her experience and knowledge with the company. But there was a big problem. No woman had ever helmed an insurance company as a CEO in Mauritius. "However, as the sky has no limit for me, I tried my luck," Pamela says.
Fortunately, the shareholders and board of Jubilee shared Pamela's vision. They also trusted her to lead the company. In June 2018, Pamela joined Jubilee Insurance as CEO, becoming the first woman to do so in the history of Mauritius's insurance industry.
When Allianz Africa Holdings acquired a 66 percent stake in Jubilee Mauritius, there were questions about Pamela's future in the company. The shareholders of Jubilee Allianz Mauritius soon quashed them by retaining her as the CEO. They continue to trust her abilities to steer the company toward greater heights.
About Jubilee Allianz Mauritius and its Services
In the 1950s, Jubilee Insurance (Mauritius) Ltd (JIML) was first established through a chief agency on the Island and then incorporated locally in 1997. Until 2022, the company was a subsidiary of the largest Insurance group in East Africa, Jubilee Holdings Ltd (JHL). After Allianz became the majority shareholder of the company, its name was changed to Jubilee Allianz General Insurance (Mauritius) Limited in September 2022.
As an insurance company, Jubilee Allianz Mauritius's expertise lies in providing insurance solutions to enable people to overcome uncertainty. "We offer a wide range of short-term insurance solutions ranging from Motor Insurance, Health insurance to more complex Asset insurance as well as Specialized Financial Lines products," Pamela says.
The Allianz group is one of the world's largest insurers and financial services groups. With around 159000 employees around the world, it serves 122 million customers in more than 70 countries.
Pamela says that Allianz Africa is committed to serving its customers better across Africa, both individual customers and global businesses.
Steering the Company Toward Growth
Pamela is not only a veteran of the insurance industry but is also an accountant by profession. And, under her exemplary leadership, several strategies have been implemented at Jubilee Allianz Mauritius. These include having the right person in the right place and improving teamwork. Pamela says that they came up with that strategy after reviewing their human capital.
The company has also implemented new processes by leveraging technology. The other strategies focus on the promotion of the brand image, changing the product mix, and improving the company's customer service.
Pamela has developed a solid culture of integrity and innovation at the company. She has done that through empowerment, accountability, and ownership. "Encouraging our people to take responsibility and rewarding them for creative ideas is our motto," Pamela says.
In the highly competitive insurance market, Jubilee Allianz is known for being innovative through technology. Pamela says that this is only possible if they, as leaders, empower people to share their ideas and support them during implementation. People trust her abilities and vision, and Pamela facilitates their growth and success.
As for Jubilee Allianz Mauritius's future, Pamela wants to make it "the preferred service provider and employer in the Mauritian Market while being a customer-centric organization."
Responsibilities of the CEO
In addition to helping the company grow sustainably, Pamela's role as the CEO requires her to provide solutions to their stakeholders. She points out that her responsibilities also include protecting the interests of the shareholders, the board, and employees while ensuring a good return on investments (ROI) for the shareholders. "Working with integrity and ethically is also key for the position of CEO," she adds.
Pamela's average day at work usually involves attending physical or virtual meetings. She also communicates with the team and the various stakeholders to ensure business strategies are properly implemented and takes decisions as and when required. "And, in times of crisis, my duty is to give direction and ensure that risks are properly managed and mitigated," Pamela says.
For her, motivation is an important aspect of people management. She keeps herself and her team motivated by having attainable targets. And, through rewards, recognition, and training, she ensures that her staff is happy at work. "Happy employees will ensure that our customers receive the best service and stay happy," says Pamela.
And, despite her hectic work schedule, Pamela tries to maintain a work-life life, which, she points out, is not always easy. As far as possible, she makes sure to spend quality time with her family. "Quality for me is more important than quantity," she says. "So, I dedicate my full attention to my family when I am home."
"The purpose of our life is to be happy." – Dalai Lama
A Woman in a Man's World
Pamela is an inspiration and role model for women in the insurance industry as well as other industries. She is successful today because she did not allow challenges to thwart her journey to the top.
Since her childhood, Pamela has faced various challenges. "And the lessons that I have learned have made me the adult I am today," she says. She believes that challenges help one to develop physical and mental strength. They also develop their resilience capacity. "Overcoming challenges is a solid foundation for success in everyday life," she says.
During her professional journey, the main challenge that Pamela faced was because of being a woman in a man's world. She says that women have to make greater efforts to show that they have the required talent to be a leader and gain the respect and trust of their business partners and colleagues.
"Yes, being a woman in our industry is a synonym for trying harder to reach one's goal," Pamela adds.
Message to Aspiring Business Leaders
Pamela believes that leaders should lead by example and inspire others through their actions so that they can leave a legacy for future generations. The world after the COVID-19 pandemic, according to her, has evolved and changed, and leaders should be capable of adapting to changes. So, they can prepare the next generation of leaders as well as close leadership gaps to prepare for the future.
"That can be done by empowering the future generation to develop the skills and confidence they need to be able to influence others, improving on their soft skills and sharing their strategic vision for a new future," Pamela says.
And, in a message to aspiring business leaders, she says, "You must stay focused. Success comes with tenacity, perseverance, and passion for what we do."
What Is Success?
Pamela has carved out a special place for herself in the history of Mauritius's insurance industry. She has thrived in the male-dominated sector by unlocking her potential through hard work, motivation, and passion. And she has learned from her failures as well, which has helped her grow. "Learning from our mistakes can guarantee future success," Pamela says.
And, for her, success does not mean the CEO position, accolades, or monetary gains. "For me, success is being able to do what makes me happy," she says. "If I am happy in my mind, the sky has no limit."