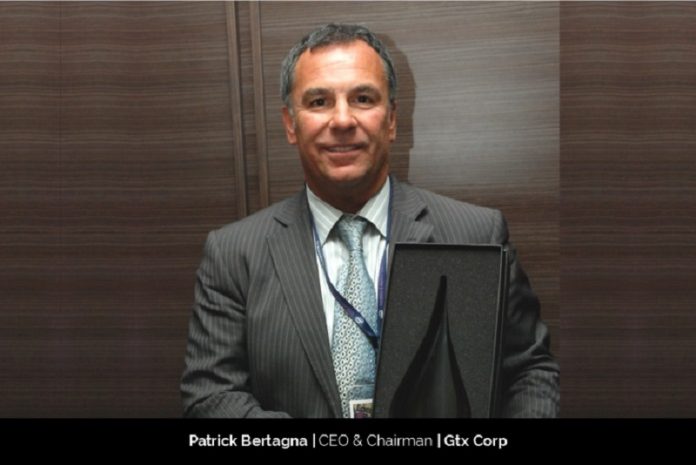 Many thought leaders have been using smart technological IoT-driven solutions to make their mark on world. One such Innovator is the Founder, CEO and Chairman of GTX Corp, Patrick Bertagna, who is a successful serial entrepreneur and a trailblazer in wearable technology and the IoMT industry. Early on he wanted to make an impact on people's lives and provide them with a practical solution that had purpose, to the age-old question of 'Where is.' Whether you are looking for a family member, employee, pet, or just anyone or anything of value, he wanted to develop the perfect solutions to answer that question in a practical and affordable way. That was the beginning of GTX Corp short for Global Trek Xploration.
After several years of development, he shares, "Back in 2007, we did our first trade show to introduce our GPS Smart Shoe, and we had hundreds of people and the media in our booth for 2 days, everyone was wowed when we sent someone outside wearing our shoes, and on a computer screen, we were able to watch their every step."
Clearing Roadblocks to Attain Success
GTX Corp is creating a revolution in advancing the current wearable technology market and making its products small, robust, and low power consuming. However, on its path to keep up with the transforming wireless carrier platforms be it, 2G, 3G, 4G, 5G, there were many hurdles that the company faced in achieving success and making a difference in people's lives.
Patrick says, "When you make a product that could help find mom in the middle of the night if she wandered off or locate a child in a school during a fire drill or making sure a soldier is not in the line of fire during a live ammunition exercise, this creates a huge responsibility for all the stakeholders." The GTX team handled that responsibility with a never-give-up attitude, believing in the mantra, "Only the committed win." Slowly with their consistent efforts, they fulfilled their dream and went beyond becoming a just-for-profit company to a For-Profit-with-Purpose company.
Innovative Solutions and culture with GTX Corp
GTX provides smart wearables, medical devices, and NFC/Blockchain logistic solutions in the Health and Safety sector. With most of the products being patented, unique, and niche-specific, they are ready to push the technological industry in the right direction. Renowned for their award-winning patented GPS SmartSole®, they have designed the world's first invisible and innovative wearable technology tracking device for all those who may get lost and not remember due to Alzheimer's, dementia, autism, and traumatic brain injury.
He says, "The more a device can collect data, and that data can be analyzed to draw conclusions through AI, the more we are going to see the proliferation of devices attached to everything we touch, from our bodies to vehicles, medical devices to household appliances and of course logistics."
The future lies in the hands of smart devices, and soon, they will start to impact the decision-making process. Simple questions like should you go to the doctor or not, let the person at your front door in or not, make a left turn or not, have the package you ordered online left at your doorstep or not, will soon not need any human intervention. These questions that have been answered by humans will soon be governed by an IoT-driven platform and AI software algorithm.
GTX Corp is a brand name in creating intelligent mobile and wearable GPS tracking and recovery location-based solutions in the field of health and safety that are 100% committed to utilize the latest technology and launch exceptional products to serve the needs of people. Patrick shares, "Our task at hand is for our team to be there early enough to seize and act on the opportunity and introduce a new commercially viable solution to the marketplace. That desire to bring useful and purposeful solutions to the marketplace is what drives our innovation and passion."
Scaling towards exponential growth
With valuable partnerships, GTX Corp progresses forward using the collaborative effort. Having customers, vendors, suppliers, and partners in 6 continents is useful to have an eclectic mix of talents as well as perspectives in different domains be it, innovation, design, manufacturing, or distribution. Moreover, the reason behind its groundbreaking success also lies in its exhaustive intellectual property portfolio. This helped GTX get a competitive edge and strengthened their place in the marketplace.
Sharing the two main strategies that marked the growth, he states, "First, it's a big market – there are over 100 million people in the world that need some type of oversight and second, we approached our distribution from all angles–B2B and B2C, domestic and international, private and government. We started selling internationally right away, many companies wait years before they begin to export, and many companies start with either B2B or B2C. We did both."
The employees are well aware that GTX Corp designs products that create an impact on people's lives and render both peace of mind and save lives. Thus, they give their best efforts to drive more growth ahead.
Transforming technology in Health and Safety
With the pandemic disrupting the world's functioning, GTX Corp is trying to incorporate the power of technology into health and safety. With the pandemic soon ending, they will look toward innovation to deliver the best solutions in this area. For instance, telemedicine, contactless technology, track & trace and artificial intelligence "AI" became a lot more prevalent during the pandemic. This new demand for purposeful technology is going to stay, creating new opportunities for GTX Corp to pave the way and develop new remote, digital, wearable, and contactless tech for the health and safety market.
The company has even been recognized with numerous accolades that has helped them gain reliability. He adds, "GTX, for the most part, stays on the cutting edge of technology, not the bleeding edge. But its main contribution to the industry is taking complex technology and wrapping it into simple-to-use products that have purpose and value."
In the future, Patrick wants to expand the company's product lines and distribution so that their products and customers span the world.
Contribution in GTX Corp's Growth
As the CEO and Chairman of GTX Corp, (OTC: GTXO) Patrick has the main role of setting the overall vision and formulating an effective strategy so that it is perfectly communicated with all the stakeholders, from employees to shareholders. Moreover, he works in developing, cultivating, and nurturing relationships while ensuring that they have enough funds in the bank to operate. His main work revolves around three core points, namely, the company's purpose, building relationships to achieve the purpose, and having sufficient funds to execute and grow."
Born in the South of France and raised in Beverly Hills, California, he attended Cal State University Northridge, with a business major and psychology minor. With an international business-oriented mindset, he has conducted business in over 20 countries and lived abroad in countries like France, Hungry, and Colombia and has gained fluency in French and Spanish. Throughout his career, he has formed alliances with different Fortune 500 companies including IBM, T-Mobile, EE, Verizon, AT&T, Google, Federated Stores, Netscape, and GE and has presented as a keynote speaker at numerous industry trade shows and conferences, with an illustrious opportunity to speak at the United Nations General Assembly. Besides work, he is an avid skier, art-lover, foodie, enjoys travelling and collecting wine.