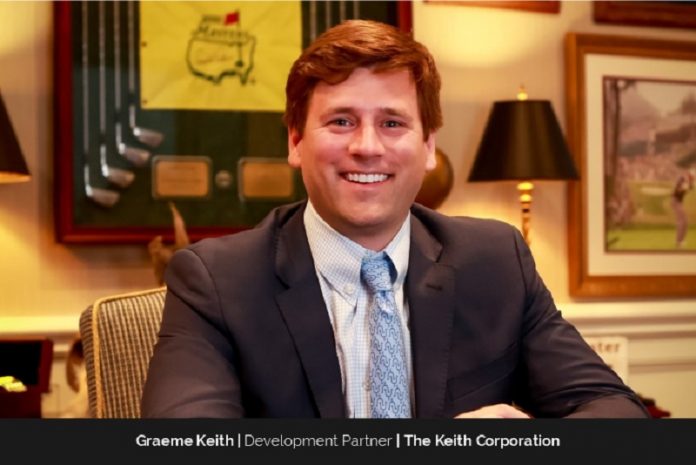 Making the best use of his abilities, skills, and talents, Graeme Keith III, the "hyper goal-oriented" Development Partner of The Keith Corporation (TKC), has demonstrated innovative and distinctive leadership. He has spearheaded multiple projects across the U.S, transacting more than $500 million worth of business since joining the company in 2011.
Graeme is of the opinion that The Lord gives everyone their own unique set of skills and talents, but also paradigms through which they view success, which means success looks different to each person. Some see it as rewarding interpersonal mentoring relationships, while others may define it in terms of climbing the professional ladder. Some may also view success through the lens of financial security.
For Graeme, success means trying to get the best out of his God-given talents and abilities. "One of my greatest fears is getting to Heaven and God asking me why I didn't get more out of the skills, talents, and abilities that He blessed me with," he says.
Graeme does not believe in shortcuts to success. For him, the road to success is an exercise in persistence and self-belief.
Start of a Business Career and Roadblocks
Graeme's business career started when he was very young arbitraging Krispy Kreme doughnuts to neighbors on Saturdays in his neighborhood. It transitioned to buying and selling cars, followed by starting and running an artificial turf landscaping and wholesale business while he was in law school. After he took and passed the South Carolina bar exam, he transitioned into real estate and has been working in the family business ever since 2011.
Starting off with a wrong idea is the most "impactful" roadblock Graeme has encountered in his professional life. He points out that one can have the most motivated, talented team in the industry, but if the premise upon which the business is based isn't a good one, there's no amount of hard work that's going to help. "You lost the bet on the first tee," says Graeme.
He recalls that when he first started in the business, he rode the roller coaster of emotion – super high highs, but also super low lows. As a result of that, he has learned to stay pretty steady throughout the highs and the lows and maintain a positive attitude throughout.
Graeme also considers himself very fortunate that he has a great relationship with his dad. One of the founders of The Keith Corporation, his father has been immensely successful and has incredible wisdom that he imparts to him daily. He believes it's "wise to learn from experience, but wiser to learn from the experience of others" and freely shares the lessons he has learned with his son.
"Without my father, there is no way I would be where I am," Graeme says.
The Keith Corporation 
The Keith Corporation, a fully integrated real estate development firm, offers build-to-suit and fee development services in the Office, Retail, Industrial, Healthcare, and Airplane Hangar sectors. In addition, it also offers brokerage as well as property management and facility maintenance services.
The company strives to be on the cutting edge of technology and innovation. Under Graeme's leadership, they have created a Digital Leadership Task Force responsible for evaluating ways that can enable them to proactively set the standard instead of simply reacting to the changes as they happen.
At the time of founding The Keith Corporation, Graeme's father and grandfather chose Customer Service as one of the main tenets. The company continues to be hyper-focused on providing the best customer service in the industry. "We intend to double and triple down on that philosophy," says Graeme.
The Weakest Link
As a Leader, Graeme tries to find the most talented people and put them in positions where they can succeed. He points out that one of the greatest misconceptions about leadership is that it's the Leader who drives the results. "In my opinion, it's the exact opposite," Graeme adds. "The Leader may chart the course, but it's the team who is most responsible for the outcomes."
He also does not think that one can be a transformational leader without being a great leader. In his opinion, great leaders need to build great teams that buy into the strategy/direction of the company, and in order to do that, a Leader needs to earn the trust of their team before trying to transform anything.
"Faith is belief in something unseen and, often, team members can't necessarily see the Vision that the Leader has," Graeme says. "So, the Leader must build trust with their team so that they can have faith in the direction their Leader is charting."
And, unlike other Leaders, Graeme believes in being the weakest link on the team – a very similar philosophy is followed by all the companies he is involved in. He says that if he is the weakest link, they are going to have a competitive team. Graeme imbibed this Biblical philosophy while competing in mud runs and adventure races across the country. "The same goes for business as well," he says.
The Bible says in Proverbs 27:17, "As iron sharpens iron, so one man sharpens another." Likewise, Graeme explains, "if you want to be faster, train with faster athletes. If you want to be smarter, spend time with smarter people. If you want to be more successful, surround yourself with people who are more successful than yourself." He, therefore, makes sure to surround himself with the best. It has enabled him to build an incredible team of dealmakers, project managers, accountants, administrative professionals, and others at The Keith Corp.
At MedChat, where Graeme is the Chief Operating Officer, he has an "amazing team" of developers and engineers, as well as very talented sales, implementation, and customer success teams. "This is the same at the other companies I'm involved in," Graeme says. "The common theme at all of these organizations is that I am one of the weakest members on the team!"
And Graeme takes "very seriously" the honor to lead various organizations and "intensely feel" the weight of the families who rely on those organizations for their paychecks.
Sports Are an Integral Part of Life
Sports have always been a huge part of Graeme's life. He has learned many of the most important lessons in life through it. Athletics, he says, has taught him the disciplines of hard work, persistence, mental toughness, and the importance of a short memory.
"I was not blessed with prodigious athletic ability and was rarely the most talented person on the team, but I was blessed with an incredible work ethic – you may beat me because you're better than me, but you will never beat me because you outwork me," Graeme points out.
One of the "greatest things" he learned because of sports is "persistence," meaning always show up, even when one does not feel like it. Graeme explains that the law of compounding effort shows that small, consistent efforts make a huge difference over the course of a year:
(1.00)365 = 1.00
(1.01)365 = 37.7
After finishing his career in organized sports, Graeme wanted to do things that would challenge him physically, mentally, and emotionally – for example, taking part in 24-hour Adventure Races and IRONMAN triathlons. Once he took part in these races, he realized that they helped build extraordinary mental toughness, which he believes to be irreplaceable in business.
Sports also taught Graeme that it is crucial to have a short memory. He says that it is important to celebrate wins and learn from defeats, but there is no need to overanalyze them. He adds: "When you make a mistake, learn from it, let it go, and move on!"
"Things turn out best for those who make the best of how things turn out," Graeme quotes from legendary basketball coach John Wooden to highlight that a positive attitude and an optimistic posture are somewhat of a self-fulfilling prophecy. "All of these characteristics are important from a leadership standpoint," he adds.
"Without sports, I would not have the work ethic, persistence, mental toughness or short memory which I think are imperative to my Leadership style," Graeme says.
Recharging to Perform at Highest Level
As Graeme is a part of the Executive Leadership team, he is involved in all aspects of the business, some greater than others. He not only works directly in the management of strategy and risk but also manages their IT and Marketing teams. In addition, Graeme also works very closely with their HR Department, with intentionality about maintaining their great family-oriented culture.
At work, each day is different, and Graeme considers it one of the great things about his job. "From a deal standpoint, I may be chasing a land platform one day, negotiating a lease for a retail tenant the next day, and then working on design and budgeting for an office tower later in the week," he says.
And it is very important for Graeme to recharge so that he can perform at his highest level. "Work-life balance looks different to everyone but finding whatever it is that recharges you is a fundamental piece to operating at a high level on a consistent basis," he says. And he recharges himself by spending every afternoon that he is in town with his son and by planning an "epic trip or event" annually, which challenges him mentally and physically.
As someone who has always been competitive and played sports from a young age through college, Graeme also likes to recharge himself by competing in Ironman Triathlons, summiting Half Dome with the cables down, going on heli-skiing trips, and rafting some of the world's most dangerous rivers. "I find it incredibly centering and cathartic to challenge myself and regularly push beyond the bounds of mental and physical comfort," he says.
The Innovation Thesis
"Skate to where the puck is going, not to where it is" is Graeme's innovation thesis. He explains that in order to do that, one has to limit their implicit biases associated with the industry to think creatively and ask oneself a lot of "what if" questions from a macro industry perspective.
A venture capitalist in Silicon Valley once told Graeme: "When you create change from within an industry, you create evolutionary change. When you create change from outside an industry, you create revolutionary change" – it is because one doesn't have the same legacy constraints through which they're evaluating the problems.
Graeme points out that often times, "because we've always done it this way" doesn't mean it is the best way to do something. It can be the largest impediment to progress and innovation. "So, we try to evaluate our industry holistically de novo on a regular basis," Graeme adds.
He and Matt Yagey, the CEO of MedChat, have a thought exercise that they perform on a monthly basis for several of their companies where they ask themselves: "What would put our company out of business?" and then, they try to angle towards that sort of disruption so that they can be on the forefront of innovation and the cutting edge of thought leadership in each respective industry.
Professional and Personal Goals
Graeme loves to create and be innovative. Over the coming years, he plans to create a handful of new and exciting companies. He also hopes to be involved in the web3 space, as, according to him, the web3 movement has the potential to become the most disruptive movement since the creation of the internet.
Graeme also has a list of personal goals he would like to achieve. Some of them include hiking the entire Appalachian Trail, seeing Mavericks or Jaws – big wave surfing spots – from the water, driving 200mph in a car, and making someone's lifelong dream come true. "I would like to start ticking off some more of those goals over the next few years," says Graeme.
Advice for Aspiring Leaders and Entrepreneurs
Graeme's advice for aspiring leaders and entrepreneurs is simple: "Keep your head down and focus on your end goal." He points out that there are no shortcuts to success despite what one may see on social media – he is only on LinkedIn.
Additionally, in his advice, Graeme stresses the importance of character. "Character, unlike money, is much easier kept than recovered," he quotes Thomas Paine, political philosopher, and writer, to say that one's reputation and character should never be put on the line.
"An easy way to determine that in a bright line test is to think about someone you admire and look up to," Graeme says. "Then think of the behavior in question to accomplish the goal you're seeking to accomplish – would you be proud or ashamed if the person you admire found out about how you acted to accomplish that goal?"
"Your character and reputation are precious and no amount of success is worth risking them," he adds.