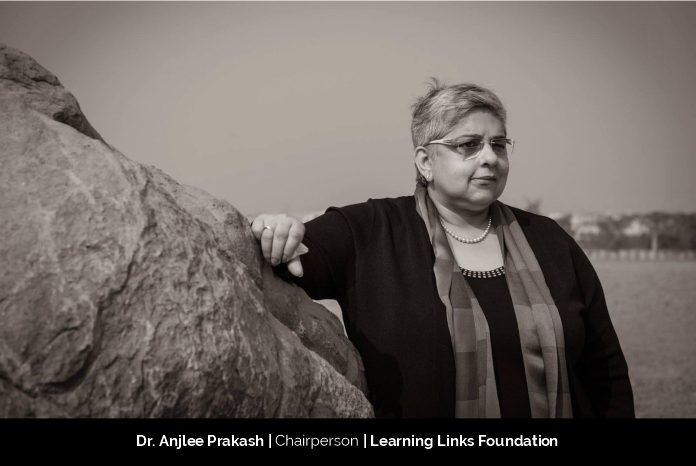 Many developing nations, such as India, continue to approach education largely through an academic lens, with a focus on grade-level performance. Anjlee Prakash, Learning Links Foundation's Founder and Chairperson, founded the organisation with the goal of enriching people's lives through learning. Guided by the mantra of 'Educate, Innovate and Transform' throughout her professional life, the impact of Dr. Anjlee Prakash's career is tangible across the educational spectrum in both private and public sectors.
Dr. Anjlee Prakash's consulting experience as a techno-pedagogue has nurtured some of the country's most successful charitable projects on tech-integrated education. In addition to being the chairperson of Learning Links Foundation, Dr. Anjlee has held positions of authority in various noteworthy institutions, some of these being – Board member of NIT, Delhi; Mentor of Change for NITI Aayog; and Advisory Board member of WEP (Women's Education Project). Her perspectives on policy and practise are highly recognised and she has received several honours as a female leader aiming for excellence in education.
Learning Links Foundation
Learning Links Foundation's education solutions go beyond the school syllabus to enable lifelong learning, bridging the learning gap and driving systemic change in schools. The skill-building initiatives focus on educators' professional development and help youth and adults acquire job preparedness, financial literacy, and entrepreneurial skills. Its technology and innovation initiatives employ a human-centered design thinking approach to encourage creativity, innovation, and a growth mindset.
Learning Links Foundation's teams have worked with partners from 27 countries over the last two decades to catalyse change in education. Its learning paths, which are aligned with the UN's Sustainable Development Goals, provide answers to a wide range of educational challenges.
Learning Links Foundation is ISO 9001:2015 certified, as well as approved by the Tata Institute of Social Science in India and GuideStar India. The organisation has won various honours and accolades, the most recent of which was the Mahatma Award in the area of Quality Education and Skilling for 2021. This worldwide award honours change-makers and impact leaders who have made substantial contributions to social good.
The organisation has grown tremendously over the years, from a team of ten to over 1000 committed employees. The impact of their work has been far-reaching and gratifying with 1.8 million pupils, 2.2 million instructors, and 6.8 million community children and adults benefiting from the foundation's programmes. Anjlee opines, "Our work has brought us much respect and recognition and today we are privileged to be a trusted advisor on education strategy development and systemic change."
Proposing an Equal Opportunity to Learn for All
Anjlee was leading a successful commercial endeavour at a senior strategic level before starting Learning Links Foundation and entering into the development sector was undoubtedly a risk. She took this move because of what she observed around her. In a country like India, the education of females is sometimes overlooked, and Anjlee wished for all children to be able to reach their full potential. She also observed that, despite their enormous potential, pupils in government schools do not have access to good learning opportunities. She wanted to alter this, and she realised that education might help to level the playing field. Anjlee wished for every child, adolescent, and adult to gain from quality education, regardless of location, socioeconomic background, gender, or caste. This planted the seed for a non-profit that today offers programmes for people of all ages with the goal of activating the learning gene for life. She states, "The vision of enriching all lives with learning and unlocking its lifelong role and impact is at the heart of the Learning Links Foundation—its raison d'être, as I see it."
Seeing Learning as a Lifelong Process
As a non-profit, Learning Links Foundation is truly inspired by its vision 'foster purpose and progress by unlocking lifelong learning'. Anjlee emphasizes, "For us, learning goes beyond books and schools. It is the lifelong process of transforming information and experience into knowledge, skills, behaviours and attitudes. Inherently progressive in nature, learning encourages us to question and create solutions as we navigate ambiguity and challenges in life."
She also adds, "We leverage the power of data to make definitive and action-oriented conversations around accountability. Our programmes are designed to collect relevant data, analyse it, and share insights with all the stakeholders. This plays an instrumental role in not just tracking and measuring the progress we are making but also empowering us to guide policy reform that shapes the education ecosystem. "
Learning Links Foundation's staff is always evolving through questioning and re-evaluating its work as well as developments in education. The foundation has had the honour of sitting at important tables, such as the consultation workshop for the National Education Policy, 2020. According to Anjlee, this new guiding document contains many of the ideas that the foundation deems vital for effective education and has been applying in its programmes for a long time.
A View on the Changing Landscape of Education
The globe has been undergoing tremendous transformation in recent years, especially during times of epidemic, and the ramifications are deep. Children growing up in these times, according to Anjlee, will face several environmental, economic, and social issues. Access to not only material resources but also a high quality of life has never been more crucial. She believes that children must be given the tools they need to become active, responsible, and engaged citizens who can help design a more inclusive and sustainable future.
The aim of the Learning Links Foundation is to influence a change in learners by preparing them to use their knowledge and skills in unpredictable and dynamic situations, allowing them to reach their full potential and better the world around them. The goal, according to Anjlee, is to raise children who will be future change agents and have a beneficial influence on their environment. She believes that in order to do this, we must change the way we involve children in their educational journey.
Relentless in Pursuit of Positive Change
"Maintaining a work-life balance is like a juggling act. You may not be able to keep all the balls in the air all the time, but you do have fun trying," says Anjlee. In whatever she does, she has the backing of her family and the participation of her core staff, so it's a lot easier than it would be otherwise. Striking a balance between work and personal life, according to Anjlee, is like riding a seesaw, and one is constantly overpowered by professional responsibilities.
Anjlee's regular day at work begins with a 'quick huddle' time slot that is available to her senior leadership team to discuss any urgent matters, and this is followed closely by an hour focused on decisions, sanctions, and approvals awaiting her response.
Anjlee oversees organisational dashboards covering statutory compliance, human resources, business development, operations, and financial management. She also explores the professional network for fundraising opportunities, reviews organisational policies and processes, and suggests measures for improving efficiencies. She provides advice to teams on organisational risk management for various functions and projects, acts as the chief custodian of the brand, and drives strategic initiatives on better employee and external stakeholder engagement to maintain a favourable brand image.
After dealing with internal matters, the day develops an outward focus with meetings, communication and calls to be done with stakeholders and donors. Then it's back to key functions for as long as required. Anjlee also represents Learning Links Foundation as a thought leader on a national and worldwide level as Chairperson of the organisation.
Shaping the World of Tomorrow
Innovation is the catalyst for change in education, allowing it to stay up with the times and deliver the best for students. Learning Links Foundation's solutions frequently employ highly tailored, localised, and unique implementation strategies to achieve successful outcomes. It is now a trusted expert on education strategy creation and systemic change, with over two decades of expertise in building solutions and sharing best practises abroad. The best practises it promotes are based on on-the-ground observations, a data-driven strategy, and deliberate programme execution across many regions. Anjlee asserts, "Our advocacy initiatives serve as a catalyst for nonprofits, government bodies and other institutions to respond to factors that can influence policy and outcomes." This is where Anjlee sees the foundation growing stronger in the future – providing accurate grass-root level information on issues that matter in the education ecosystem and supporting decision-making bodies to usher change.
A leadership goal that Anjlee attaches great value to is being 'future focused' in what one is doing. She says, "For us, this is designing and implementing programmes that aim at transforming the education ecosystem."
As Eleanor Roosevelt says, "no knowledge is terminal". Anjlee believes that recognising shifts and new trends is critical because it allows an organisation to adapt and capitalise on possibilities that come as a result of change. This is particularly important in the sphere of education. Learning Links Foundation's entire mission is to develop human capital that will change the world of tomorrow.
Success for Anjlee; caring, empowering, enjoying
Anjlee's definition of success is driven by three key words: caring, empowering, enjoying. She opines, "Be concerned about the world you live in, do what you can do to make things better, and most importantly –love what you do."